Sod Poodles Post 18 Hits to Halt Hooks Win Streak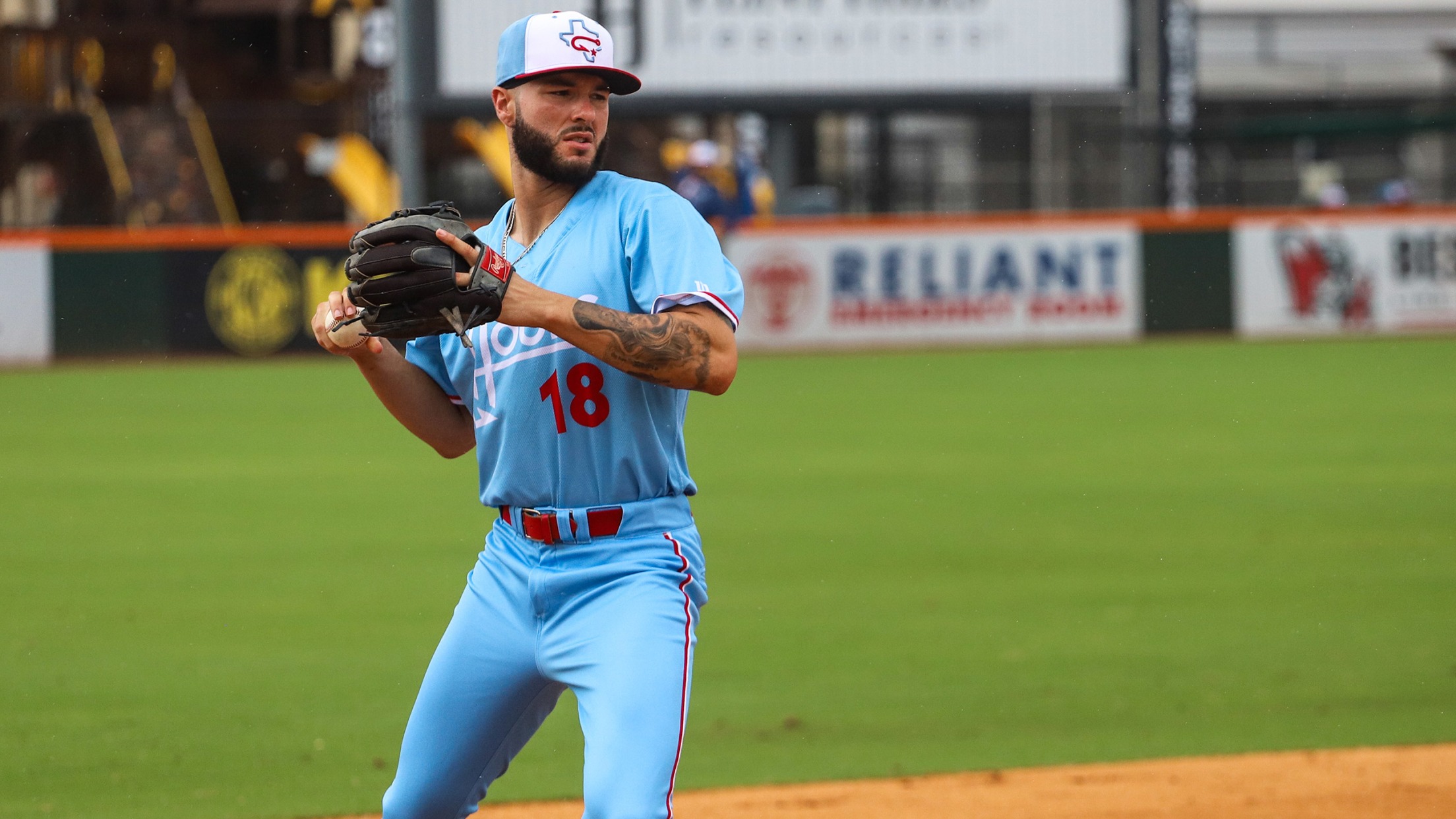 Joe Perez, who went 4-for-5 Wednesday, is batting .302 with 12 runs, seven doubles, two dingers and 11 RBIs in his last 23 games. (Daniel Reiner)
AMARILLO – Stone Garrett clubbed a pair of home runs Wednesday night to lead the Sod Poodles to a 12-8 victory at Hodgetown, snapping the Hooks win streak at five games. The setback withstanding, Corpus Christi has won seven of its last nine. Amarillo struck for eight runs on eight
AMARILLO – Stone Garrett clubbed a pair of home runs Wednesday night to lead the Sod Poodles to a 12-8 victory at Hodgetown, snapping the Hooks win streak at five games.
The setback withstanding, Corpus Christi has won seven of its last nine.
Amarillo struck for eight runs on eight his over the first three innings against Cesar Rosado. In the first, Garrett cashed in two walks with a three-run homer to left.
The Hooks went deep twice in the third thanks to long balls by Chandler Taylor and Joe Perez.
Perez, who went 4-for-5 on the night, is batting .302 with 12 runs, seven doubles, two dingers and 11 RBIs in his last 23 games.
Yorbin Ceuta, making his Double-A debut, added a two-bagger down the right field line in the third. Cueta wound up scoring on the play as Garrett's throw to second sailed into foul ground in left field.
Corpus Christi made it 8-4 with a marker in the seventh but Amarillo upped its advantage in the home half with a two-out RBI single by Alek Thomas.
Ross Adolph and Corey Julks both extended their hit streaks to eight games. In the eighth, Adolph launched a line drive to right field for a double. Initially ruled a home run, the swing netted two to make the score 9-6.
The Sod Poodles pulled further away in the eighth with a three-spot against Devin Conn. Garrett's second homer began the rally.
David Hensley plated two with a base hit to center in the ninth as Corpus Christi sent seven men to bat. Mack Lemieux recorded a strikeout to end the game with the tying run on deck.
Layne Henderson served as the bright spot on the hill for the Hooks, striking out five over 2 2/3 scoreless innings.
Drey Jameson fanned eight in seven innings to pick up his first Double-A win.
CC sends lefty Jonathan Bermudez to the mound Thursday night. First pitch is 7:05.