Soto, Chiefs, fall 8-4 to Braves
Chiefs outhit Braves with 12 base hits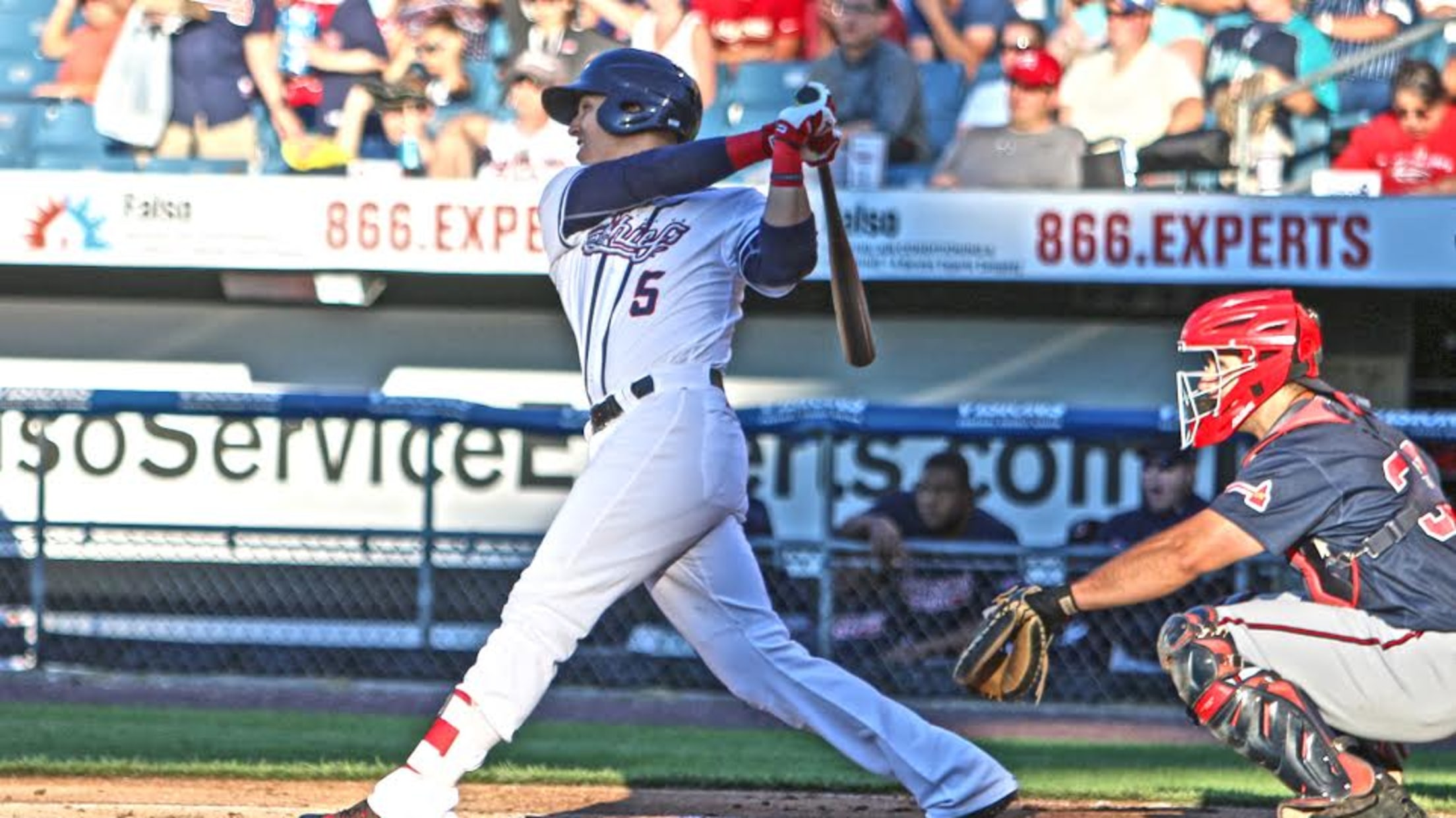 Neftali Soto smashed a pair of doubles on Saturday night. (Danny Tripodi)
The Syracuse Chiefs fell to the Gwinnett Braves, 8-5, on Saturday night at NBT Bank Stadium. Syracuse outhit the Braves, 12-11, and Neftali Soto smacked two doubles in the loss.19-year-old Ronald Acuna kicked things off for Gwinnett (52-53) with a bang off Shawn Kelley on the third pitch of the
The Syracuse Chiefs fell to the Gwinnett Braves, 8-5, on Saturday night at NBT Bank Stadium. Syracuse outhit the Braves, 12-11, and Neftali Soto smacked two doubles in the loss.
19-year-old Ronald Acuna kicked things off for Gwinnett (52-53) with a bang off Shawn Kelley on the third pitch of the game. He crushed the ball over the left-center fence to put Gwinnett up 1-0. Kelley struck out two in an inning of Major League rehab after the homer.
Phillips Valdez replaced Kelly in the top of the second. In the third, the Braves exploded on a two-out rally. Acuna and Jace Peterson both reached on infield singles. In his second game with Gwinnett, Dansby Swanson knocked a single to right, plating Acuna and moving Peterson to third. Rio Ruiz followed with a liner to right, scoring Peterson. Sean Kazmar gave Gwinnett its fifth straight hit on a ground ball that squeaked by shortstop Irving Falu into the outfield. Swanson and Ruiz both scored on the play.
Syracuse (38-67) made the game closer with runs scored in back-to-back innings. Jhonatan Solano led off the bottom half of the third with a blooper off Matt Wisler into center that fell for a base hit. Valdez then laid down an attempted sacrifice bunt. However, Valdez dashed to first and beat the throw from catcher David Freitas for a single. Zach Collier grounded out to second but Solano and Valdez moved a bag over. Irving Falu followed with a sacrifice fly to right that scored Solano.
In the bottom of the fourth, Clint Robinson continued his hot stretch for the Chiefs with a double down the left-field line. After Brandon Snyder struck out swinging, Alejandro De Aza doubled to right-center, scoring Robinson. A wild pitch from Wisler moved De Aza to third. Solano, who will be inducted to the Syracuse Baseball Wall of Fame Sunday afternoon, stepped up again two batters later. Solano singled on a ground ball to left, plating De Aza and putting the Chiefs within 5-3.
Kevin Jepsen replaced Rafael Martín in the top of the seventh, who had thrown three scorless innings. Acuna led off with an infield single and Peterson followed with a lineout to center. Swanson reached on a fielding error from Neftali Soto at third and Rio Ruiz followed with a walk. Acuna scored on a Kazmar sacrifice fly. With Peterson at the plate, a wild pitch by Jepsen moved Swanson and Ruiz over. Peterson crushed a line-drive double to right, plating Swanson and Ruiz and giving Gwinnett a five-run lead.
The Chiefs made things closer in the bottom of the eighth. With one out in the inning, Soto slapped a line-drive double to center, his second extra-base hit of the game. Pinch-hitter Michael Almanzar singled on a line drive to center, scoring Soto.
Syracuse added another run in the bottom of the ninth off A.J. Minter. With one out, Bengie González and Zach Collier both walked. Gonzalez scored on Falu's second sacrifice fly of the game. David Peterson replaced Minter and induced a Soto groundout to end the game.
The Chiefs return to action Sunday afternoon at 1:05. Jacob Turner will pitch for Syracuse while Andrew Albers is on the hill for Gwinnett.