Sounds Torch I-Cubs For 13 Runs
Nashville rides big nights from Dorrian, Singleton to 13-2 win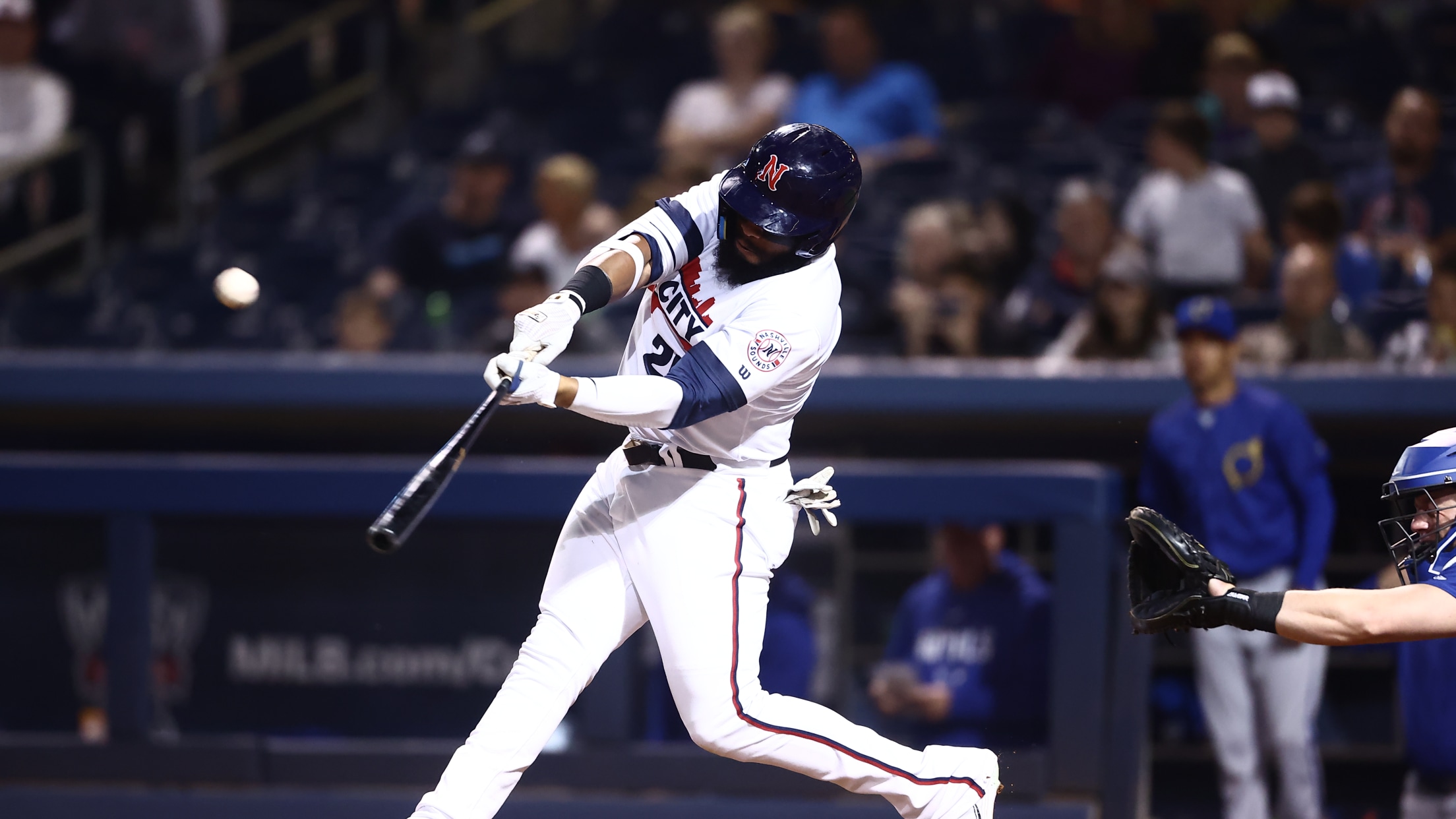 NASHVILLE – The Nashville Sounds (24-22) plated a season-high 13 runs on 10 hits in a 13-2 shellacking of the Iowa Cubs on Wednesday night at First Horizon Park. Jon Singleton fell a single short of the cycle while Patrick Dorrian picked up three RBI. The Sounds came out swinging
NASHVILLE – The Nashville Sounds (24-22) plated a season-high 13 runs on 10 hits in a 13-2 shellacking of the Iowa Cubs on Wednesday night at First Horizon Park. Jon Singleton fell a single short of the cycle while Patrick Dorrian picked up three RBI.
The Sounds came out swinging in the first inning. After Singleton drew a two-out walk and Luke Voit smoked a single up the middle, Dorrian roped a liner over the right field wall for a three-run homer. Andruw Monasterio followed him with a solo blast of his own, adding an exclamation point to a four-run first.
Iowa closed it back to 4-2 with runs in the second and third, but Singleton deposited a baseball on top of The Bandbox to lead off the bottom of the third. After a Brian Navarreto bases-loaded walk and a pair of RBI groundouts, the Sounds were cruising with a 8-2 lead. Singleton added a triple in the fourth, eventually scoring on Dorrian's fielder's choice. It was Singleton's 14th career triple in affiliated baseball.
The Sounds offense did not let off the gas, putting up another four-spot in the seventh inning. The frame was highlighted by Singleton's two-run double, his third hit of the night.
While the bats put on a show, Pedro Fernandez (W, 2-2) took care of business on the mound. He tossed a personal season-high 6.0 innings, allowing just two earned runs. Clayton Andrews came on to relieve him in the seventh, tossing two hitless frames. Bennett Sousa polished off the 13-2 blowout with a perfect ninth.
Singleton drove in four and tallied nine total bases, the most by a Sounds player this season. He and Monasterio both scored three runs. Dorrian (2-for-5) and Michael Reed (2-for-4) also smacked multiple hits.
Southpaw Robert Gasser (2-0, 4.74) will get the ball for Nashville tomorrow against Iowa right-hander Hayden Wesnecki (1-0, 0.00). The first pitch is set for 6:35 p.m. CDT from First Horizon Park.
Post-Game Notes
Andruw Monasterio reached four times tonight, extending his on-base streak to 25 games. Over the span, he's hitting .292 (26-for-89) with 21 runs, three doubles, four homers, 15 RBI and 22 walks.
Dorrian and Monasterio teamed up to deliver the third pair of back-to-back homers for the Sounds this season. Dorrian and Brent Diaz did it in game two of a May 7 twin bill, then Jon Singleton and Keston Hiura did it again on May 9.
Eleven runs is the largest margin of victory for the Sounds since they embarrassed the Louisville Bats 17-1 on September 21, 2022. The previous high this season was eight runs, coming on May 9 vs. Gwinnett.
Pedro Fernandez earned his first win as a starter since July 20, 2018 vs. Tulsa with Double-A Northwest Arkansas. It was his first quality start since June 21, 2016 vs. Arkansas, also with the Naturals.
Luis Urias went 0-for-4 in his first game on rehab assignment and made a great sliding play at third base. Luke Voit reached three times in the fourth game of his rehab assignment. Voit is hitting .100 (1-for-10) with a .500 on-base percentage for Nashville.
The Nashville Sounds are the Triple-A affiliate of the Milwaukee Brewers and play at First Horizon Park. Season ticket memberships for the 2023 season are on sale now. For more information call 615-690-4487 or e-mail [email protected].