Sparkling Pitching Gives Loons Second-Straight Win
Great Lakes shuts out West Michigan in final eight innings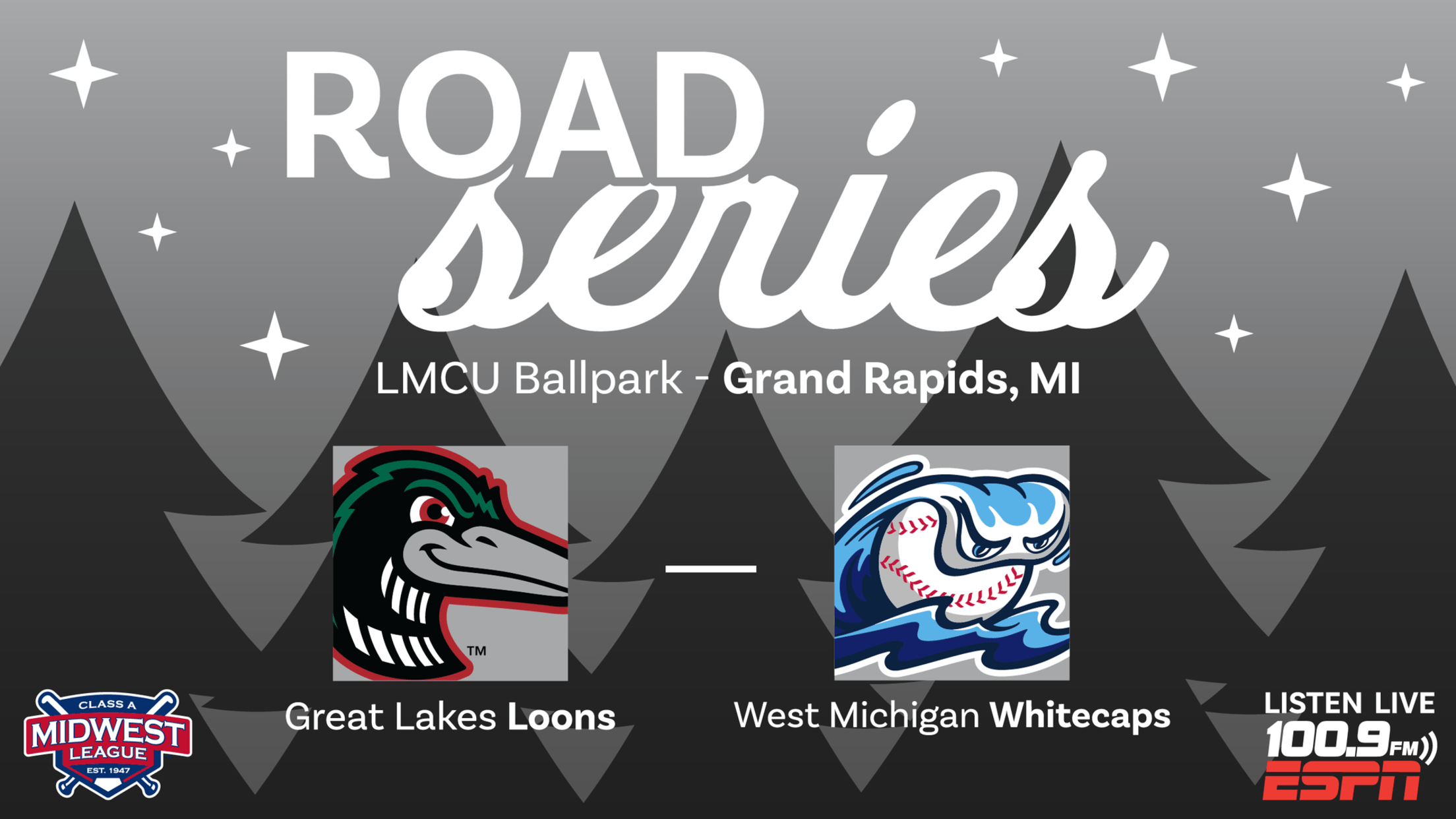 For the second day in a row, the Great Lakes Loons found themselves in an early deficit. On Wednesday afternoon at LMCU Ballpark in Comstock Park, Mich., the Loons trailed the West Michigan Whitecaps, 1-0, after the first inning. And for the second day in a row, Great Lakes battled
For the second day in a row, the Great Lakes Loons found themselves in an early deficit. On Wednesday afternoon at LMCU Ballpark in Comstock Park, Mich., the Loons trailed the West Michigan Whitecaps, 1-0, after the first inning.
And for the second day in a row, Great Lakes battled back.
The Loons scored three runs in the top of the second inning and never trailed after that, defeating West Michigan, 5-1, in the second contest of a six-game series.
Great Lakes (7-10) now has wins in consecutive games for the second time of the young season, and can look for its first three-game winning streak of 2022.
The Whitecaps (7-10) scored first, however, in the first inning. After Wenceel Perez reached on a one-out walk, Colt Keith smacked a double to score him, and the home side put themselves in front 1-0.
After that, Loons starter Nick Nastrini did not allow another hit, tossing two innings of one-run baseball, allowing a hit and three walks but striking out four batters.
The Loons got the run back and then some in the very next frame. West Michigan right-handed starter Dylan Smith (L, 1-2) allowed two men to reach on a walk and a hit batsman, then Edwin Mateo made him pay, walloping a two-run double to plate both baserunners. Mateo then scored on a single by Eddys Leonard, and the Loons left the second inning with a two-run lead.
The Loons bullpen was flawless after that. Antonio Knowles (W, 1-2) faced the minimum in his two innings, allowing neither a hit nor a walk while punching out five Whitecaps. Loons southpaw Julian Smith followed that up with two scoreless frames of one-hit ball, picking up a strikeout. Cole Duensing allowed two hits and a walk in his two frames, but kept West Michigan off the board in the seventh and eighth innings. Adam Scoggins finished the game on the hill for Great Lakes, striking out two while allowing just one base on balls in the ninth inning.
West Michigan, the Detroit Tigers' High-A affiliate, collected just four hits in the game, and only one for extra bases. Meanwhile, Loons pitchers fanned 12 Whitecaps over the nine-inning game.
Great Lakes picked up two insurance runs in the final two frames. In the eighth inning, Kekai Rios made the Whitecaps pay for a pair of walks, looping an RBI single into left field to put the Loons ahead 4-1. One frame later, Jorbit Vivas doubled and was knocked in on a single from Zac Ching. That gave Great Lakes its fifth and final run.
The Loons, High-A partners of the Los Angeles Dodgers, altogether had an above-average day at the plate. Great Lakes was averaging just six hits per contest coming in, and they collected nine hits, led by Leonard, who went 3-for-5. Jonny Deluca also had a multi-hit game, going 2-for-5 with a double. Great Lakes also struck out only eight times offensively, holding the West Michigan pitchers below their season average of 11.43 strikeouts per nine innings.
Great Lakes now holds a 3-2 lead in the season series over West Michigan, and a 2-0 lead in this six-game set. For game three on Thursday evening, the Loons are scheduled to start southpaw Lael Lockhart (1-0, 0.00 ERA). West Michigan will throw right-hander Ty Madden (1-1, 2.77 ERA), who was the first-round draft pick of the Tigers organization last June. First pitch is scheduled for 6:35 p.m. Pregame coverage begins at 6:20 p.m. on ESPN 100.9-FM with the Loons On-Deck Circle, driven by Garber Chevrolet Midland.
The Great Lakes Loons have been a Single-A partner of the Los Angeles Dodgers since the team's inception in 2007. Dow Diamond serves as the team's home and also houses the Michigan Baseball Foundation, a 501(c)(3) non-profit public charity, and ESPN 100.9-FM. For tickets or information about the Loons, call 989-837-BALL or visit Loons.com.