Reyes burns PCL, own strikeout records
Top Cardinals prospect whiffs nine in a row during 13-K outing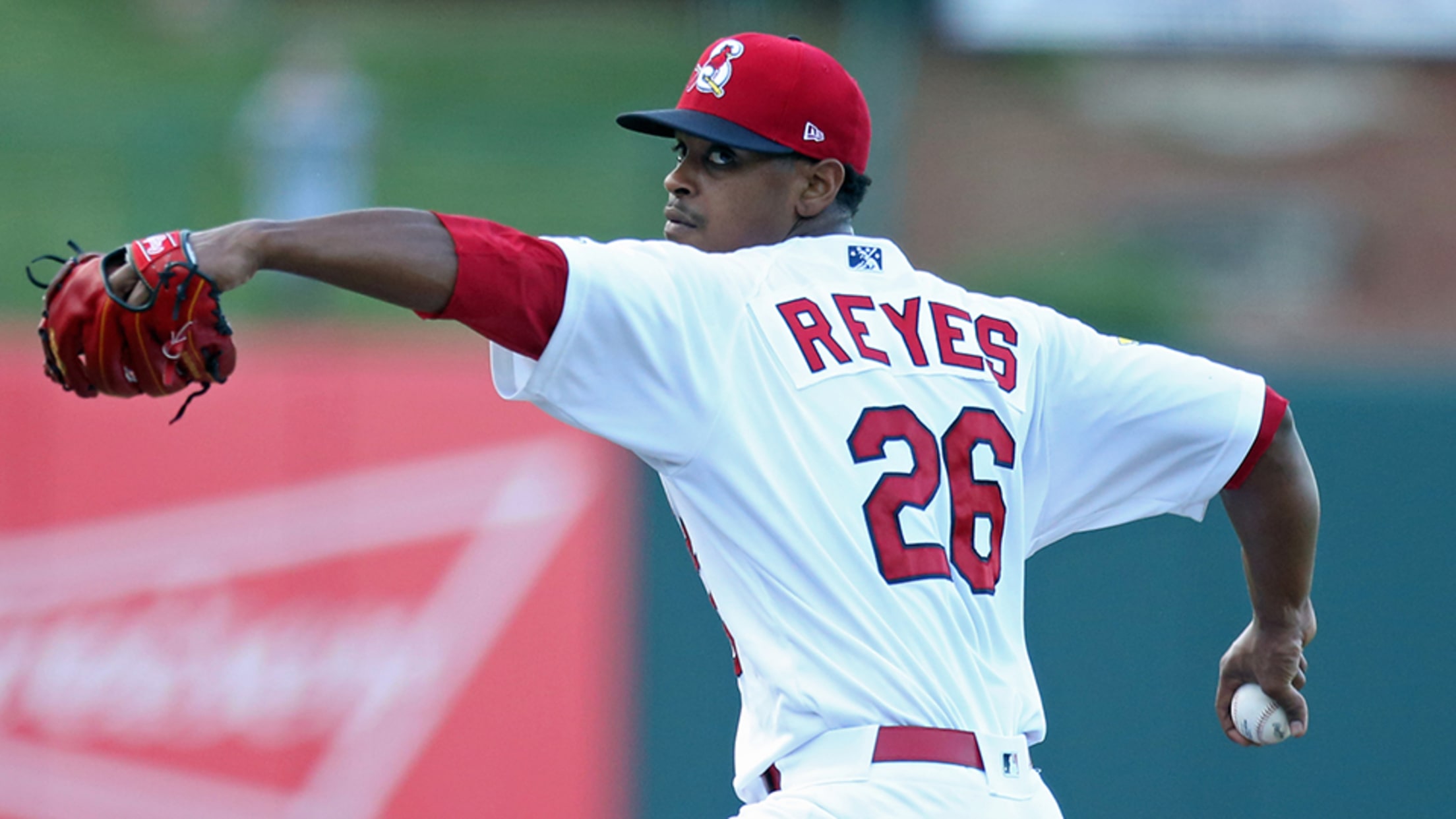 Alex Reyes has struck out 38 of the last 67 batters he's faced during his rehab assignments. (Chris Parker/Springfield Cardinals)
Over the course of four rehab starts, what Alex Reyes has been able do on the mound would be hard to replicate on a video game console.St. Louis' top prospect allowed one hit and matched his career high with 13 strikeouts over seven scoreless innings as Triple-A Memphis defeated Oklahoma
Over the course of four rehab starts, what Alex Reyes has been able do on the mound would be hard to replicate on a video game console.
St. Louis' top prospect allowed one hit and matched his career high with 13 strikeouts over seven scoreless innings as Triple-A Memphis defeated Oklahoma City, 7-4, on Thursday night at AutoZone Park. Reyes (1-0) allowed two baserunners, set down the last 15 batters he faced and became the first pitcher in the 116-year history of the Pacific Coast League to record nine consecutive strikeouts.
Through four rehab starts -- one each with Class A Peoria, Double-A Springfield, Palm Beach and Memphis -- MLB.com's No. 17 overall prospect has surrendered seven hits, seven walks and whiffed 44 of 82 batters in 23 scoreless frames. Opponents are hitting .048 against him during his rehab assignments.
"It's fun to go out there and pitch," Reyes told reporters after the game. "I've had a few bumps along the road. It's honestly fun to put that past me and be able to go out there and work and go out there and perform."
Featuring a fastball routinely clocked in the 98- to 99-mph range, Reyes showed he is more than ready for a return to the Majors. The 23-year-old worked around a two-out walk to Kyle Farmer in the first inning. Jacob Scavuzzo led off the third with a single, the last batter to reach against Reyes. The right-hander fanned Breyvic Valera to end the frame, kicking off a stretch of nine consecutive punchouts on 36 pitches. Valera ended the streak when he grounded out to shortstop Wilfredo Tovar for the final out of the sixth.
Gameday box score
"The confidence I was able to get in 2016 in the big leagues, I think it plays a huge part," Reyes said about the difference between him now and before the injury. "And being able to execute my pitches down in the zone consistently is something I've been able to do."
Reyes' nine consecutive whiffs topped the previous mark of eight held by Portland's Vean Gregg (1910), Phoenix's John Montefusco (1974), Iowa's Ruben Quevedo (2000) and Fresno's Trent Thornton, who achieved the feat on April 23.
Reyes fanned Henry Ramos for his 13th and final punchout in the seventh to match his career high. He's racked up a baker's dozen twice before, including his previous rehab start for Springfield on May 15. It marked Reyes' third straight double-digit strikeout performance and the 12th of his Minor League career.
"I don't remember if I've ever done that before," Reyes said about his nine consecutive strikeouts. "I didn't realize it until they put the highlights on the scoreboard. That just shows how focused I am on the mound."
Signed as an undrafted free agent in 2012, Elizabeth, New Jersey native posted a 20-21 record and a 3.50 ERA in 60 career starts in the Minors before heading to St. Louis in 2016. Reyes went 4-1 with a 1.57 ERA in 12 appearances for the Cardinals, including five starts. He felt discomfort at the start of last year's Spring Training and underwent Tommy John surgery, which kept him out for the entire 2017 season.
"I feel ready. I feel 100 percent," he said. "I've been feeling good my last three or four starts. I think [the Cardinals] did the right thing by [making me take] my time, but my body is feeling good now and I'm excited. I've learned how to be patient and I've learned that I'm a tough guy. I've been through a lot of up-and-down situations and just being able to roll past that and look to the future instead of dwelling on the past is something I appreciate that I've been able to harness in the last year."
Cardinals No. 10 prospect Oscar Mercado went 4-for-5 with three RBIs, two runs scored and a stolen base for the Redbirds. It was his seventh multi-hit effort -- and second four-hit game -- in the last eight contests. Randy Arozarena extended his hitting streak to 14 games with a double and single. St. Louis' eighth-ranked prospect also walked and scored twice.
Oklahoma City starter Dennis Santana (1-1) gave up three runs on seven hits and two walks over five innings. The 10th-ranked Dodgers prospect struck out three.
Valera went deep in his third straight game for the Dodgers.