Memphis' Gomber celebrates a sweet 16
Cards' No. 14 prospect ties franchise single-game mark with 16 K's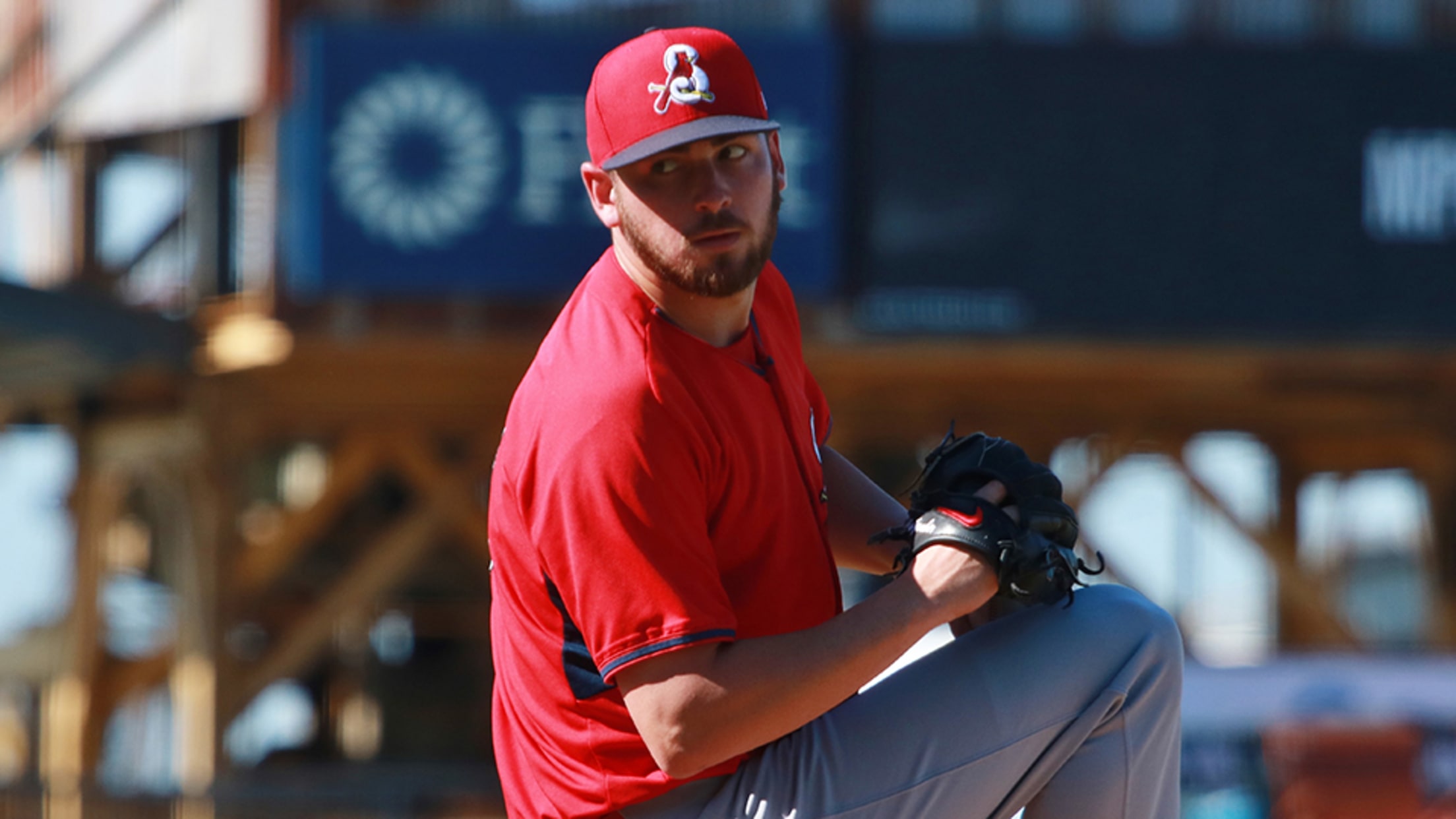 Austin Gomber struck out 140 batters in 143 innings with Double-A Springfield last season. (Tammy Tucker/MiLB.com)
When a pitcher strikes out more batters in eight innings than he had in his three previous starts combined, chances are it was a pretty good day.Such was the case for Austin Gomber, who did that and more during a record-setting performance in his fourth Triple-A start.The No. 14 Cardinals
When a pitcher strikes out more batters in eight innings than he had in his three previous starts combined, chances are it was a pretty good day.
Such was the case for Austin Gomber, who did that and more during a record-setting performance in his fourth Triple-A start.
The No. 14 Cardinals prospect tied a franchise-single game record and set a career mark with 16 strikeouts over eight innings to lead Triple-A Memphis past Iowa, 3-0, on Monday afternoon at Principal Park. The southpaw surrendered six hits and did not walk a batter while throwing 85 of his 112 pitches for strikes.
Lance Lynn held the record, set during a playoff game on Sept. 10, 2010. The previous regular-season single-game mark was held by Anthony Reyes and Bill Pulsipher, who both fanned 15 in 2005. Gomber (2-0) fell three whiffs shy of equaling the Pacific Coast League mark of 19, which was accomplished three times, most recently by Hawaii's Ralph Garcia in 1974.
"Everything was working out there for me today," the Florida native said. "I came into the game with the mindset of throwing more curves early on and I executed that plan to the best of my ability. That's probably the best game I've ever pitched. It was a good time out there.
"Obviously I'm honored to be in the company of someone like Lynn. The Cardinals are a great organization and many of the guys up there who have had a lot of success stopped here first. To be able to do something not many of them have done is very special."
Gameday box score
The 24-year-old's day began inauspiciously after he hit Mike Freeman and allowed consecutive singles to Stephen Bruno and Efren Navarro to load the bases with nobody out in the bottom of the first inning. Gomber escaped the jam unscathed by punching out Cubs No. 13 prospectMark Zagunis and then starting a pitcher-to-home-to-first double play on a comebacker by Taylor Davis.
"Their hitters came out early with good game plan," Gomber said. "They were ambushing me a bit and I hit [Freeman] with a curve and then gave up consecutive first-pitch hits. I almost didn't have time to think about the situation I was in because it happened so quickly, but when I got that first out, it was a big weight off my shoulders. Then getting that one-hopper [for the double play] really boosted us up and I took off from there."
Beginning with Davis' double play, the Florida Atlantic product retired the next 15 Cubs in order, 11 via the strikeout. He had more punchouts at the end of the sixth than he did in his first three starts combined (11 in 17 2/3 innings). Bruno's two-out single in the sixth snapped the streak, but Gomber continued to miss bats. He struck out two in the seventh and two more in the eighth to blow past his previous career best of 11 set last Aug. 31 with Double-A Springfield. Monday's performance was the fourth double-digit strikeout start of his career.
"I've never had a stretch [of strikeouts] like that in my career, at any level," Gomber said. "But they were going after and looking fastball, which played into my game plan to get the curve over early in the count. They were sitting on them and allowing me to get ahead."
Gomber spent all of 2017 with Springfield, posting 10 wins and a 3.34 ERA with 140 strikeouts in 26 starts. He realizes that a performance like Monday's will grab attention in St. Louis, but until the call comes, he's focused on doing his job.
"A [potential promotion] doesn't weigh on me," he said. "This level is still new to me, so my first thoughts are excitement at being in Triple-A with an unbelievable team and being a part of something special. But having seen a few teammates get the call and seeing their reaction, the thought of going up does creep in. However, it's out of my control. the Cardinals have a good team and right now there's not much of an opportunity for me, so I'll stay here and put myself in the best position I can to earn that call when it comes."
Mike Mayers struck out one in a perfect ninth to collect his second save and secure the Redbirds' second shutout of the season.
Cardinals No. 10 prospect Max Schrock had two hits, including an RBI single in the first, and No. 12 Yairo Muñoz smacked a two-run homer later in the frame to account for all of the offense.
Iowa starter Alec Mills (0-3) allowed three runs on seven hits with three strikeouts in a seaon-high seven innings. The No. 21 Cubs prospect did not walk a batter but lost his third consecutive decision to open the year.