Gorman blasts off twice for Cardinals
No. 19 overall Draft pick extends hitting streak to six games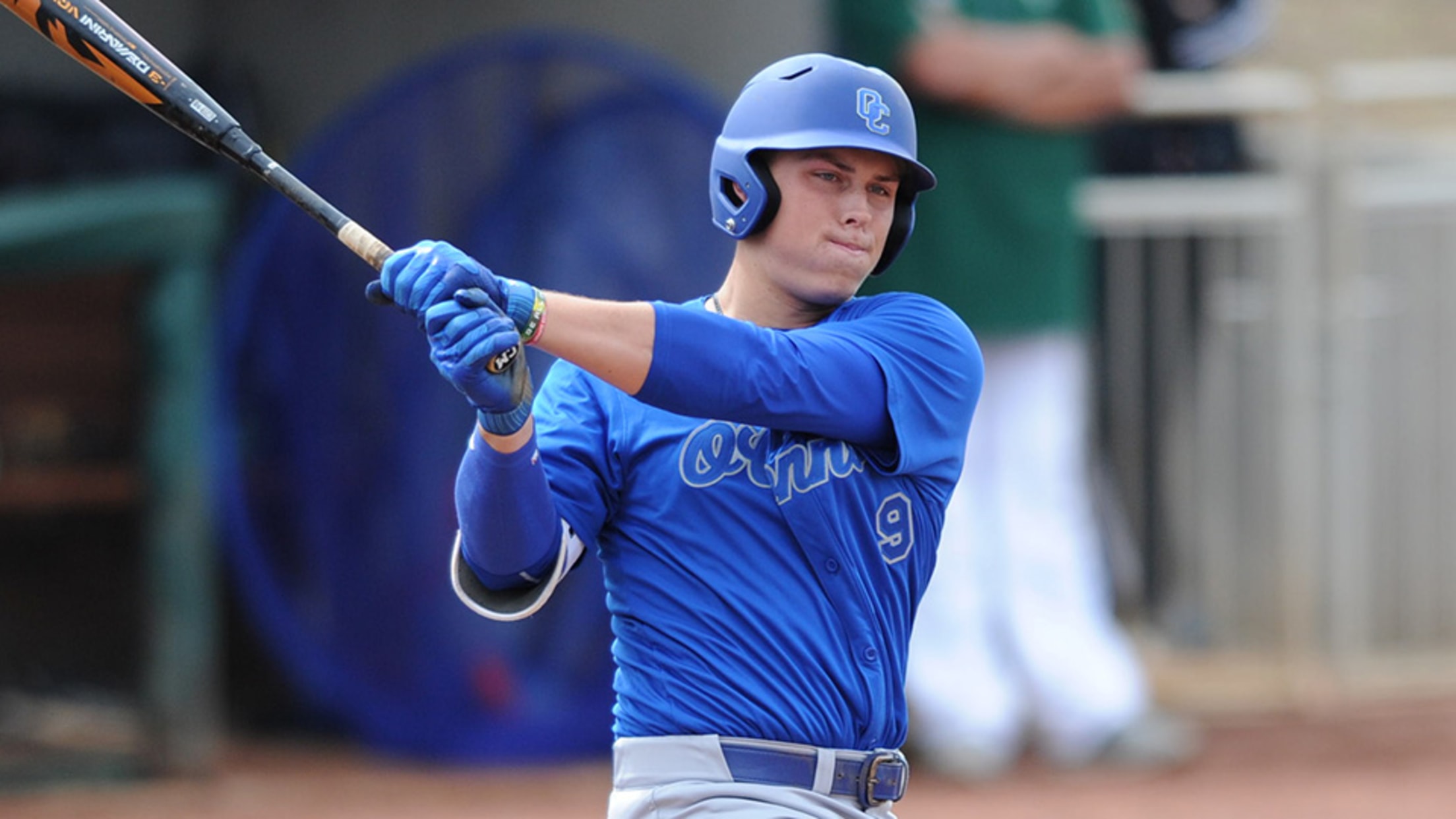 Nolan Gorman collected 32 RBIs in as many games during his senior season at Sandra Day O'Connor High School. (Tracy Proffitt/MiLB.com)
Leading up to this month's Draft, scouts praised the raw power Nolan Gorman showcased in the Arizona high school ranks and at a national level. Now, in an early sample as a professional in the Rookie-level Appalachian League, he's making good use of that tool.The Cardinals' first-round pick blasted two
Leading up to this month's Draft, scouts praised the raw power Nolan Gorman showcased in the Arizona high school ranks and at a national level. Now, in an early sample as a professional in the Rookie-level Appalachian League, he's making good use of that tool.
The Cardinals' first-round pick blasted two homers and drove in four runs to power Johnson City to a 12-6 victory over Kingsport on Saturday at Hunter Wright Stadium. After his first career multi-homer game, Gorman has three long balls and has hit safely in six straight games.
Gameday box score
Manager Roberto Espinoza and his Johnson City staff are more than pleased with the work Gorman has put in, both on and off the field. That preparation is paying off when it comes to game time.
"We are really surprised with the talent he has and the kind of talent he brought into the Cardinals," Espinoza said. "He's a young guy, an 18-year-old high school player, but he's got a really mature approach at the plate. He never really tries to hit those bombs. He's got that mature approach and has good exit velocity, so the ball flies and jumps off his bat."
The first player born in the 2000s ever selected in the Draft, Gorman raked with Sandra Day O'Connor High School in Phoenix, batting .421 with 10 homers in 32 games as a senior. Last summer, he made plenty of noise, winning both the All-Star Game High School Home Run Derby at Marlins Park and the Under Armour All-American Game Home Run Derby at Wrigley Field.
He committed to play at the University of Arizona, but the Cardinals used the 19th overall pick on Gorman on June 5. Six days after the Draft, the third baseman signed with St. Louis.
Since joining Johnson City, Gorman has hit safely in seven of nine games, sporting a .267 average and .989 OPS. The team hasn't made any specific adjustments to his swing, but the Cardinals are working on keeping his power line to the middle. But putting the hit and power tools aside, Espinoza sees a player who takes a hard-working approach to the field each day. That mentality will pay off in the long run for the youngster, according to the skipper.
"We are more impressed with his work ethic and his character and his discipline on and off the field and in the clubhouse and in batting practice," Espinoza said. "He's not the kind of guy that'll just crush balls during batting practice. He's showing us that he has a really mature approach and he's working on keeping that with our hitting coach [Cody Gabella]. It's really impressive to see that from a young kid."
With Leandro Cedeno on first in the opening inning, the Arizona native had an early opportunity to create damage. Working the count to 2-0, Gorman cranked the next pitch from right-hander Noah Nunez deep over the right field wall for a two-run homer.
After flying to center in the third and grounding to first in the fifth, Gorman stepped to the plate with Cedrano on first again in the seventh. Facing reliever Nelson Leon, he crushed a 2-2 pitch over the fence in right again.
The second homer stood out to Espinoza because it represented the type of mentally strong and talented hitter Gorman is at a young age. It's only nine games into his professional career, but the manager thinks he's got the right makeup to succeed.
"He's showing us that he's really going to battle every at-bat," Espinoza said. "He's not afraid to get into two strikes. [Gabella] and myself got a really good first impression of him in this first week. ... That's what we're trying to teach in the Cardinals organization. We want hitters that are going to fight every at-bat and compete every single time. It doesn't matter the score, doesn't matter what game you're in -- whether you're in the first game of the season or last game of the season. Those are the kind of guys we're looking for.
"This was a great, great selection by our scouting department. And now what we're going to see what those guys saw for a couple of years."
Gorman had a chance for a third hit in the eighth, but shortstop Shervyen Newton made a diving stop on a hard grounder.
Cardinals No. 12 prospectJonatan Machado and Carlos Soto also went deep as part of three-hit performances for Johnson City.
Andrew Battifarano is a contributor to MiLB.com. Follow him on Twitter, @AndrewAtBatt.