Balestrieri spins no-hitter for Chiefs
Cardinals prospect yields lone baserunner on first-inning error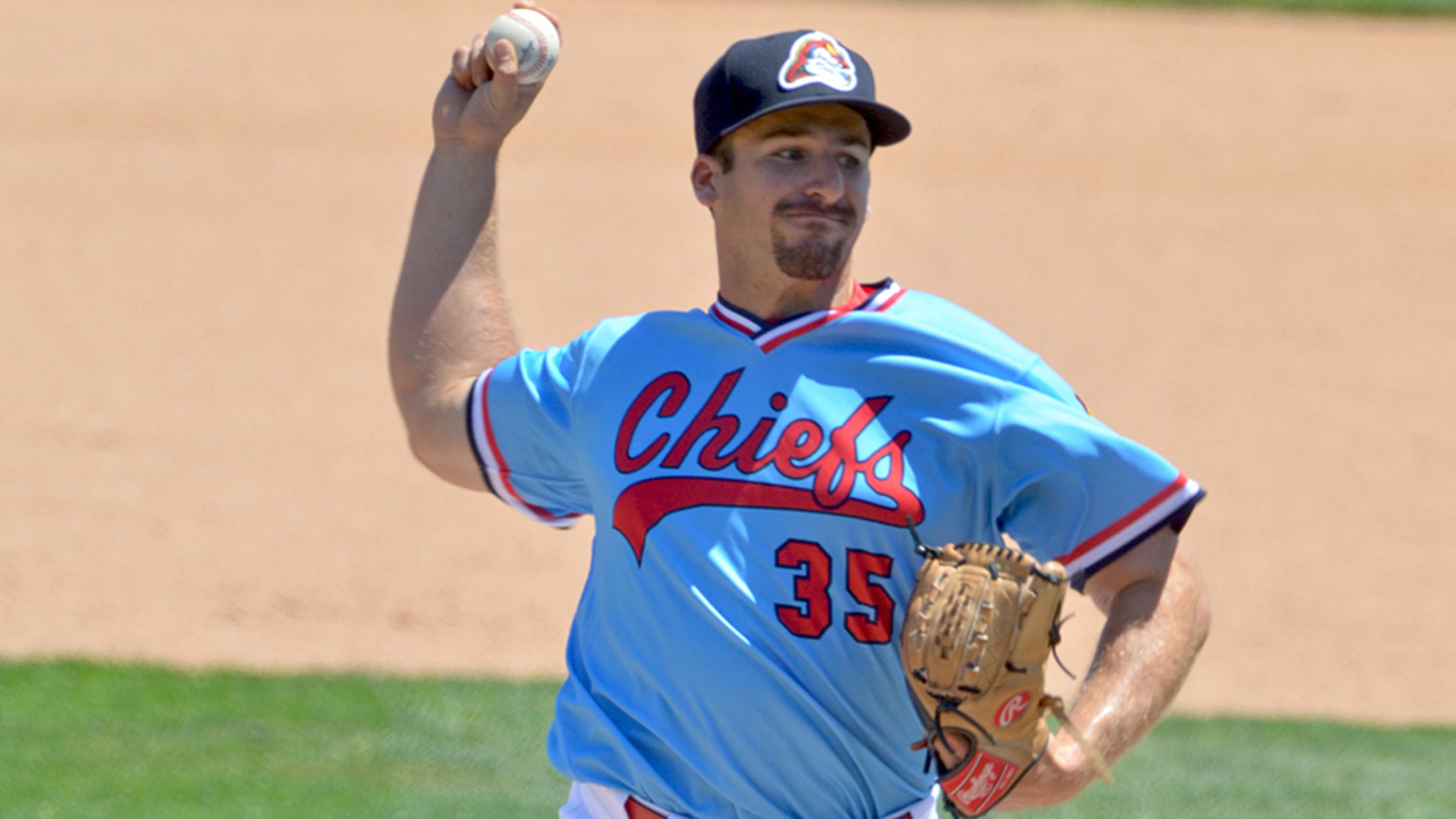 Paul Balestrieri's no-hitter was the fifth in the Midwest League this season. (Allison Rhoades/Peoria Chiefs)
Paul Balestrieri's 100th pitch for Class A Peoria on Thursday night cemented his place in Midwest League history.The Cardinals' prospect no-hit Kane County, allowing one baserunner on a first-inning error in the Chiefs' 8-0 victory at Northwestern Medicine Field. He struck out six and lowered his ERA to 4.09 in
Paul Balestrieri's 100th pitch for Class A Peoria on Thursday night cemented his place in Midwest League history.
The Cardinals' prospect no-hit Kane County, allowing one baserunner on a first-inning error in the Chiefs' 8-0 victory at Northwestern Medicine Field. He struck out six and lowered his ERA to 4.09 in his fourth start of the season.
"I mean, nights like these -- you can do everything right and not have a night like this," the 23-year-old said.
Kane County got its only baserunner when Chiefs first baseman Yariel Gonzalez misplayed a grounder off the bat of Yoel Yanqui with two outs in the first.
"That's just part of the game, especially when they're putting the ball in play as much as they were, that happens," Balestrieri said. "The ball was hit pretty well. My defense, there was a lot of pressure put on them and they did an incredible job. They made some really great plays tonight."
Balestrieri retired the next 25 Cougars -- 14 via groundouts -- and completed the milestone on his 100th pitch by getting Gabriel Maciel swinging on a full-count offering.
"To see it come to and end like that and throw that pitch, I almost couldn't believe that it was a strikeout, it was just tons of emotion and just a really fun night playing baseball," he said.
The penultimate pitch by the West Windsor, New Jersey native missed the strike zone by a somewhat significant margin, but was still close enough to enduce an emotional response from many in attendance.
"In that situation, anything close is going to make your heart kind of skip a beat," Balestreri said. "It was certainly close, but it was a ball. It was definitely a ball but, because of the magnitude of the situation, everybody kind of held their breath for a second."
The no-hitter was the 10th in club history, the 12th in the Minors this season and second in as many days in the Midwest League, which already has produced five no-nos this year. Balestrieri is the third pitcher this season to accomplish the milestone by himself, with the others -- Shane Bieber and Adam Plutko -- pulling off the feat for Triple-A Columbus. On Wednesday night, South Bend right-handers Rollie Lacy and Ben Hecht combined to keep Fort Wayne hitless.
Gameday box score
Balestrieri, a 26th-round pick out of Cornell University last June, made six appearances in relief to begin his first full season at Class A Advanced Pam Beach. He was stretched to four innings in his first relief appearance with Peoria on May 16 and has remained in the rotation since.
"The player development office, they're going to put players in situations that they're going to grow the most and that they're best suited for," Balestrieri said. "I'm very happy starting, I'm very comfortable starting. ... It was an adjustment for a little bit, but at the end of the day, you're throwing pitches over the plate. It doesn't matter if you come in after somebody, your job is the same."
Before Thursday night, the 23-year-old had pitched into the sixth inning just once as a professional. That came last July 16 while pitching for Class A Short Season State College when he yielded a run on six hits over six frames against Brooklyn.
Cardinals No. 27 prospectScott Hurst led off the game with his second homer and Angel Moreno chipped in a two-run shot in the ninth. Moreno added an RBI knock in the third, while Nick Plummer doubled, singled and drove four runs for Peoria.
Gerard Gilberto is a contributor to MiLB.com. Follow and interact with him on Twitter, @GerardGilberto4.