State of the System: Pittsburgh Pirates
Hayes, Gonzalez, Draft offer hope for future after dismal season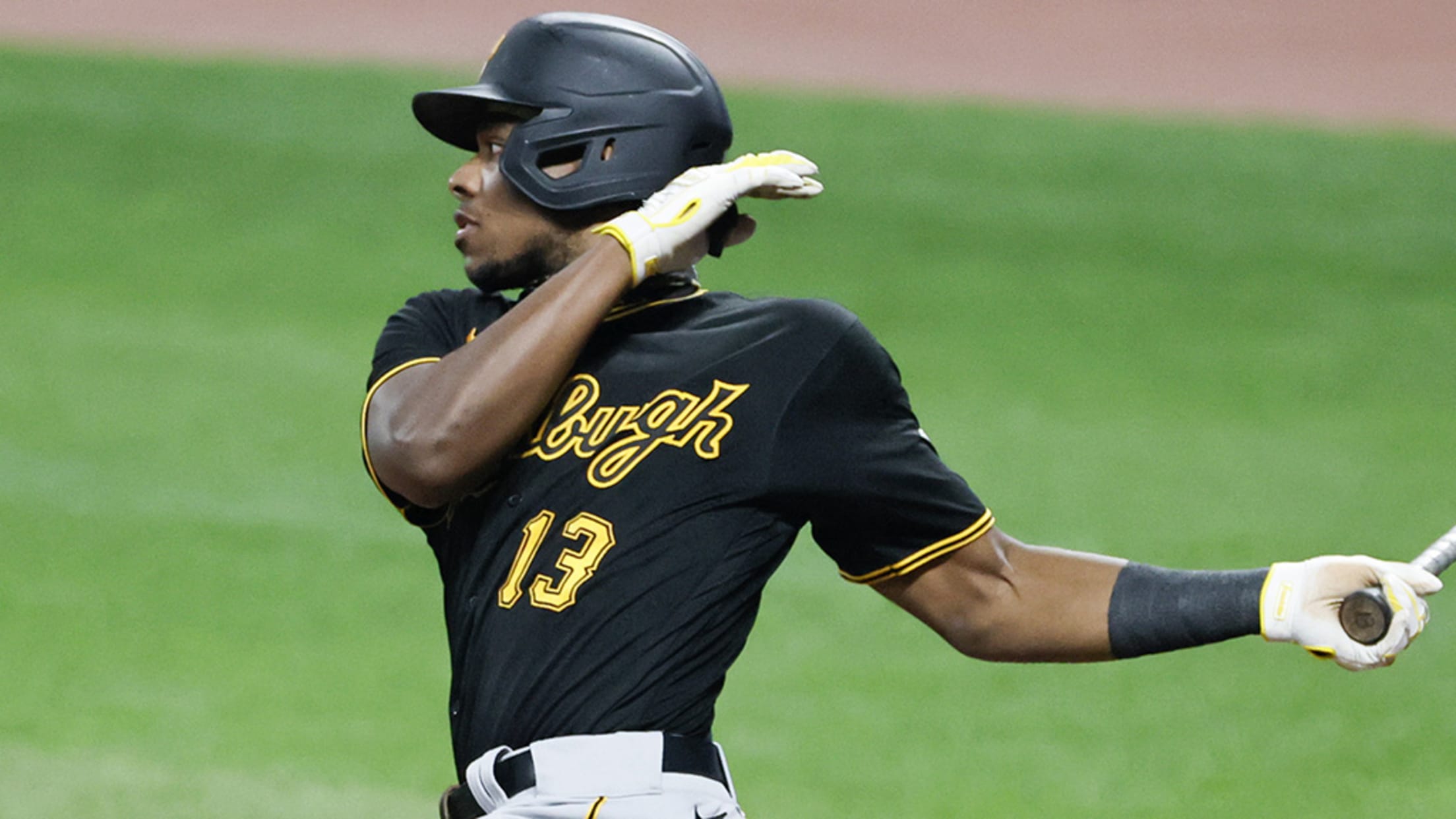 Ke'Bryan Hayes was named NL Rookie of the Month for September after posting a 1.124 OPS. (Ron Schwane/AP)
Starting in October and running through the end of the year, MiLB.com's State of the System series evaluates the strengths and weaknesses of each Major League organization, highlights prospects who've made the biggest strides in 2020 and offers a peek at 2021.
Starting in October and running through the end of the year, MiLB.com's State of the System series evaluates the strengths and weaknesses of each Major League organization, highlights prospects who've made the biggest strides in 2020 and offers a peek at 2021.
2020 was a bad year for the Pittsburgh Pirates.
Having lost top starter Jameson Taillon to his second Tommy John surgery and traded away Starling Marte, arguably their best position player, the Bucs weren't expected to vie for a title. But FanGraphs' preseason prediction model had them going 26-34 -- better than five other clubs, including the Marlins, who ultimately reached the postseason. Instead, they went an MLB-worst 19-41 and secured the top pick in the 2021 First-Year Player Draft.
Nevertheless, there are reasons for optimism. The abbreviated season was Pittsburgh's first under new general manager Ben Cherington and field manager Derek Shelton, who took over after a 2019 campaign that was disastrous both on and off the field. First-rounder and top prospect Nick Gonzales demonstrated impressive hitting skills at the Pirates' alternate training site in Altoona, Pennsylvania, and has the club thinking he can play almost anywhere in the infield. And second-ranked Ke'Bryan Hayes was so good in 24 games -- he didn't debut until Sept. 1 -- that he was easily the team's most valuable player for the entire season.
Go ahead and add a game-tying homer to Ke'Bryan Hayes' big night in the Burgh. pic.twitter.com/2xn0XuurQx

— Minor League Baseball (@MiLB) September 2, 2020
System strengths: The Pirates own the first overall pick in the Draft for the first time since 2011 and fifth time overall. In 2011, they selected Gerrit Cole, who has gone on to become one of the top pitchers in the game, albeit with other teams. (The less said about their selection of righty Bryan Bullington in 2002, the better.) With so few college and high-school games played this year and no assurance that next spring will be different, the uncertainty around amateur scouting will be unprecedented, but the rewards are potentially franchise-altering. Among the top possibilities are Vanderbilt right-handers Kumar Rocker and Jack Leiter, who combined to strike out 50 batters over 30 2/3 innings in 2020.
Areas for growth: Pitching prospects and overall depth. Despite missing the playoffs for the fifth straight year, the Pirates currently have just three prospects ranked among MLB.com's Top 100 -- all of them infielders. That Pittsburgh failed to obtain impact prospects from the trades of Cole, Marte and Andrew McCutchen -- and indeed dealt away promising right-hander Shane Baz in the ill-fated Chris Archer swap -- has left its farm system weaker than it should be, particularly on the mound.
One of those Top-100 infielders, shortstop Oneil Cruz was involved in a traffic accident that killed three people in the Dominican Republic last month. Cherington said the Pirates have "no reason to believe he wouldn't be available for Spring Training."
What's changed: Longtime farm head Larry Broadway has been reassigned within the organization, so the Pirates are looking for a new director of Minor League operations. Given Cherington's reputation as a "talent magnet," it will be interesting and telling to see who ultimately gets the job.
Cherington and Shelton have a clear mandate to remake the Pirates organization. Five of the Bucs' six picks in this summer's Draft were right-handed pitchers, and four of them came from the college ranks. While pitching is an area of need for Pittsburgh, the team tended to avoid collegiate hurlers under previous GM Neal Huntington. With Ray Searage serving as Pirates pitching coach for most of the past decade, the organization stressed throwing fastballs -- typically sinkers, rather than four-seamers -- pitching inside and pitching to contact while inducing ground balls. The new administration has the Pirates catching up to the latest developments in analytics in the hopes that future versions of Tyler Glasnow and Charlie Morton can thrive in Pittsburgh, rather than after leaving it.
"You don't have to look too far around the league to see the paths that teams have taken to success, and it's usually built on acquiring and developing and integrating really good, young talent," Cherington told MLB.com. "That's what we've got to do, and I think that's an exciting thing to be a part of."
Alternate site standouts: Gonzales, the Pirates' first-round pick out of New Mexico State, impressed the organization with his 60-grade hit tool. The 21-year-old batted .399 in 128 career games with the Aggies, and while he may not replicate his college power in the pros -- he hit 12 homers in 16 games this spring -- MLB.com's Jonathan Mayo favorably compares him to Milwaukee's Keston Hiura, with Gonzales better in the field.
"The swing is so short and fast and impressive, how much hard contact he made against older pitchers," Cherington told MLB.com of the impression Gonzales left.
No. 11 prospect Cody Bolton dominated the Florida State League early in 2019, but struggled after a midseason promotion to Double-A Altoona. Back at Peoples Natural Gas Field this year, he continued to hone his mid-90s four-seam fastball and power slider. How his future develops will likely depend on the development of his changeup.
"Cody has really good stuff," Cherington said. "The time in Altoona was really valuable in learning how to harness that stuff in the zone and use it most effectively. He's really hard to get good swings off."
Impact rookies: Everyone knew Hayes, the winner of three Minor League Gold Gloves at third base, could play the field. Finally getting a shot in the Majors in September, he showed he can swing the bat as well. In 24 games, the 23-year-old son of former big leaguer Charlie Hayes hit .376/.442/.682 with five homers, seven doubles and 17 runs scored. Despite playing less than half the season, Hayes produced 1.8 bWAR and 1.7 fWAR, making him far and away the most valuable Pirate. He also ranks as good or better by those measures than NL Rookie of the Year candidates Jake Cronenworth of the Padres and Devin Williams of the Brewers. Hayes was admittedly boosted by an unsustainable .450 batting average on balls in play, but his remarkable first month and elite defensive skills point to him locking down the Pirates' third-base job for years to come.
"You get some of these guys in Cleveland, you get [Javier] Báez, you get [Anthony] Rizzo and you get [Francisco] Lindor -- these guys, their internal game clock works differently. Ke'Bryan has that," Shelton told MLB.com. "His game clock works differently. How he goes about what he's doing on the field is special. It's not something you can teach. It's something he has. When you watch him do something that maybe looks pedestrian that's really hard, it stands out."
Note to self: do NOT try to bunt on Ke'Bryan Hayes. pic.twitter.com/GIq406r3RK

— Minor League Baseball (@MiLB) September 12, 2020
Next big thing: Whoever the Pirates select first in the 2021 Draft instantly will become the face of their farm system. Will it be a college product who fans can expect to reach Pittsburgh in a year or two or a longer-term high-schooler with huge potential upside? Will Cherington and company go for an ace starter, with all the injury risk that entails, or an everyday player whom a lineup can be built around? It's an enormous opportunity that will have ramifications at PNC Park for the next decade.
John Parker is an editor for MiLB.com.