Indy's Brault posts eight zeros on board
Pittsburgh's No. 8 prospect matches season high with nine K's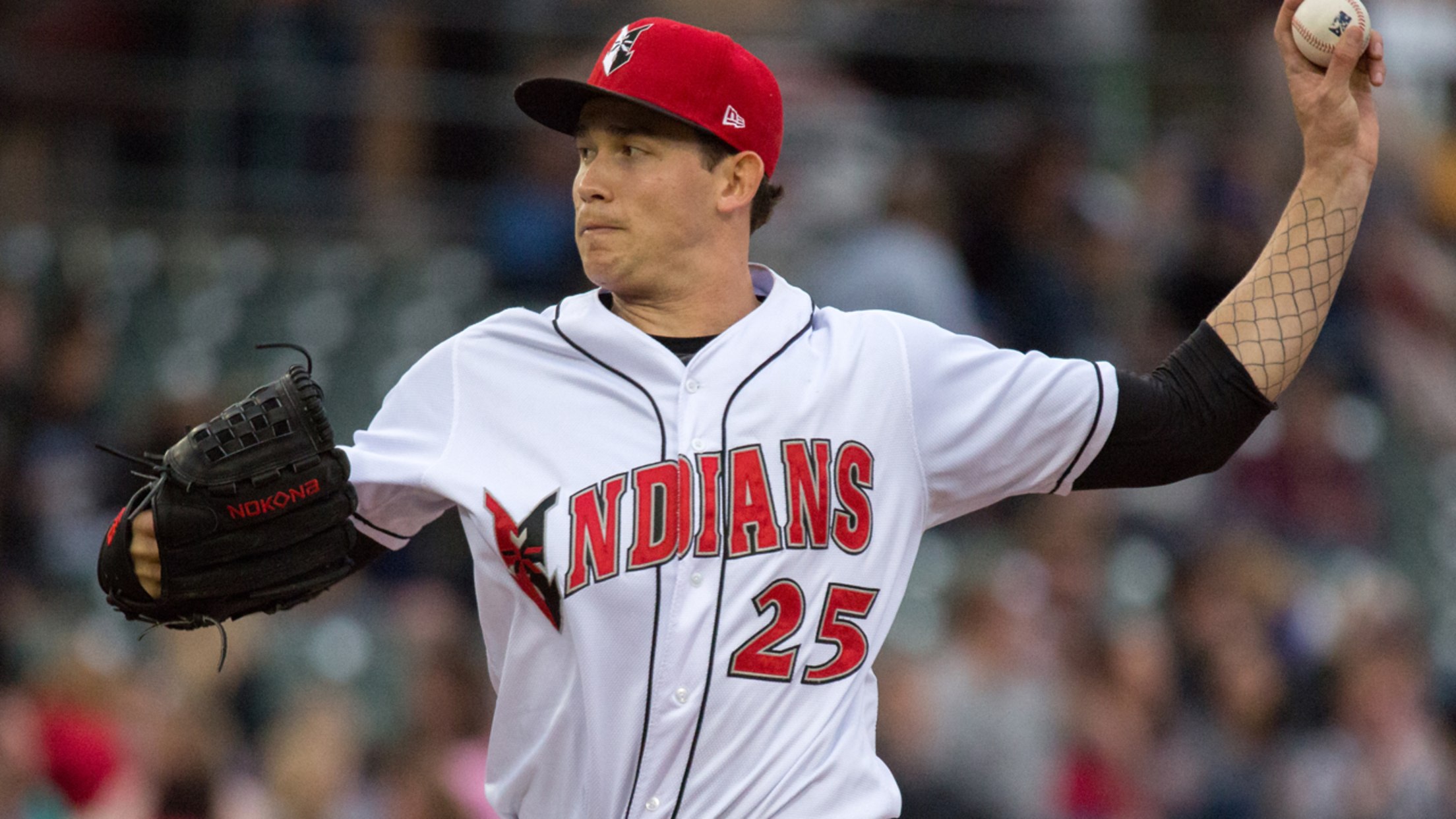 Steven Brault has won all five of his starts in June for Triple-A Indianapolis. (Adam Pintar/MiLB.com)
After being staked to an early two-run lead Thursday night, Steven Brault made sure it stood up with an efficient and dominant performance. Pittsburgh's No. 8 prospect scattered four hits and a walk while striking out nine and tying a career high by going eight innings as Triple-A Indianapolis silenced Durham, 4-0, at
After being staked to an early two-run lead Thursday night, Steven Brault made sure it stood up with an efficient and dominant performance.
Pittsburgh's No. 8 prospect scattered four hits and a walk while striking out nine and tying a career high by going eight innings as Triple-A Indianapolis silenced Durham, 4-0, at Victory Field.
"At this point in the season, as a pitcher, you know what's working for you," Brault said. "When it comes to facing a team -- especially like Durham -- that's a good hitting team, you have to go to the scouting reports and make sure that you're not pitching to somebody's strengths.
"It's a mixture of both. I think there's a fine line you've got to walk, but you can't get yourself out of your own game."
Backed by RBIs from Joey Terdoslavich and Erich Weiss in the first inning, Brault tailored his approach by getting the Bulls to swing early.
"That's a really aggressive team," he said. "We knew that coming in, that they liked to swing the bat. They're good at hitting the ball, but if you can get them on the ground early, get them swinging, they get a little aggressive. You can get through quick innings like what happened tonight.
"That was kind of the gameplan. If we're effective in the zone and we can get them swinging, then we can get through innings really efficiently and hopefully get really deep into the game."
Brault retired the first 13 batters before Patrick Leonard roped a one-out double in the fifth, but he was left stranded. The Indians hurler erased Cade Gotta's leadoff single in the sixth by inducing Alec Sole to ground into a double play.
Tampa Bay's No. 4 prospectJake Bauers singled in the seventh and fifth-ranked Casey Gillaspie beat out an infield single in the eighth, but neither made it past first base.
Gameday box score
"The big goal is to go out every start and actually give your team a chance to win, but there are always things [to work on]," the Regis University product said. "My changeup wasn't exactly where I wanted it to be. Moving forward, that's going to be something I work on a little bit more, focus on a little bit. Basically, the idea is there's always going to be something that's not quite right. You're not going to be perfect.
"Fastball command was good for me tonight, but my changeup, it could've been a lot more effective if I'd used it and been able to locate it better."
Even without his off-speed in top form, Brault (7-3) commanded his pitches well and struck out at least one batter in six innings. The California native finished his night by fanning Sole on his season-high 106th pitch. The nine whiffs also matched the career mark he set April 21 in a 1-0 win over Scranton/Wilkes-Barre, and it was his first eight-inning outing since Sept. 4, 2015 with Double-A Altoona.
"If you can have a quick inning and the team can go out and score some runs like they did and put that team on their heels a little bit, then their backs are kind of up against the wall," Brault said. "When your team scores in an inning, you want to go back out there and get a quick zero because it can really shift the momentum in your favor."
Indianapolis was bolstered by leadoff hitter Eury Pérez, who stole four bases and scored twice.
"Of course he's fast, which you have to be, but he's also smart," Brault said of the Dominican Republic native. "If he doesn't get a good jump, he shuts it down. Then a pitcher tries to pick him off and he doesn't. Then he goes the next pitch. It's incredible. He's amazing.
"Talk about keeping people on their heels. He was just attacking all game and that's what our team does. That's why we've been winning a lot of ballgames recently."
Indianapolis has won 12 of its last 16. Brault has notched victories in three straight starts and is 7-0 in his last 10, including nine starts.
Brent Honeywell Jr. (7-7), MLB.com's No. 23 overall prospect was charged with three runs on eight hits over five innings for Durham.
Tyler Maun is a contributor to MiLB.com. Follow him on Twitter @TylerMaun.