Stevenson, Chiefs run past RailRiders, 5-2
Stevenson three hits and three stolen bases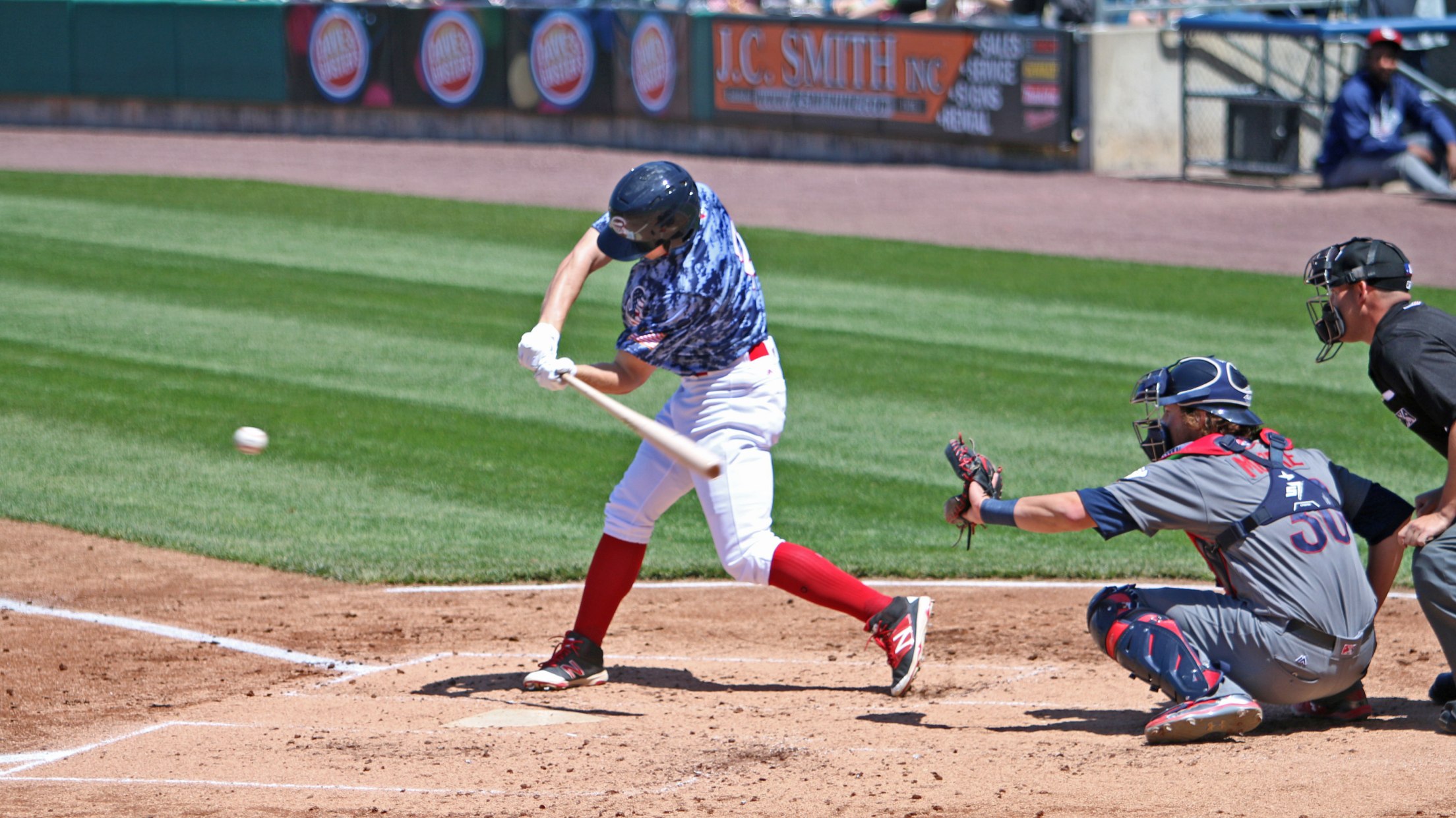 Andrew Stevenson had three hits and three stolen bases (Danny Tripodi)
Moosic, PA (June 21, 2017) - Andrew Stevenson had three hits and three stolen bases, and the Syracuse Chiefs beat the Scranton/Wilkes-Barre RailRiders, 5-2, Wednesday night to split the four-game series. Stevenson picked up his seventh multi-hit game in his last 15, and his three stolen bases were the most
Moosic, PA (June 21, 2017) - Andrew Stevenson had three hits and three stolen bases, and the Syracuse Chiefs beat the Scranton/Wilkes-Barre RailRiders, 5-2, Wednesday night to split the four-game series. Stevenson picked up his seventh multi-hit game in his last 15, and his three stolen bases were the most by a Chief since Jeff Kobernus on September 1, 2013.
Syracuse (23-46) began the scoring in the opening inning. Stevenson singled with one out against Domingo Acevedo and stole second. Stevenson scored on Clint Robinson's single for a 1-0 lead.
The Chiefs added another run in the third. Wilmer Difo walked and moved to second on a balk. After Stevenson walked to put runners on first and third, Brandon Snyder hit a sacrifice fly to right to score Difo for a 2-0 advantage.
In the fourth, Adrían Sanchez doubled to lead off the inning. Three batters later, Emmanuel Burriss picked up his first of two RBIs with a single to extend the lead to three. Acevedo then walked Difo, and Stevenson singled for the third time in the game to score Burriss and give Syracuse a 4-0 lead.
The Chiefs added another run in the sixth. Spencer Kieboom doubled to lead off the inning. After a groundout, Burriss picked up his second RBI, singling home Kieboom to make it 5-0.
Scranton/Wilkes-Barre (43-28) broke the shutout in the sixth inning on Tyler Austin's two-run home run.
Sammy Solís threw an inning on Major-League rehab, posting two strikeouts in a 1-2-3 seventh. Solis relieved Sean O'Sullivan, who allowed just two runs and four hits in six strong innings, with two walks and five strikeouts. Wander Suero threw two scoreless innings to pick up his second save of the series.
Syracuse returns home to open an eight-game homestand, starting with a four-game series against the Buffalo Bisons Thursday at 6:35 p.m. Dustin Antolin is scheduled to start for the Chiefs opposite Lucas Harrell for the Bisons.