Storm Rage Back to Defeat Rawhide
Lake Elsinore Rallies for Five Runs in Seventh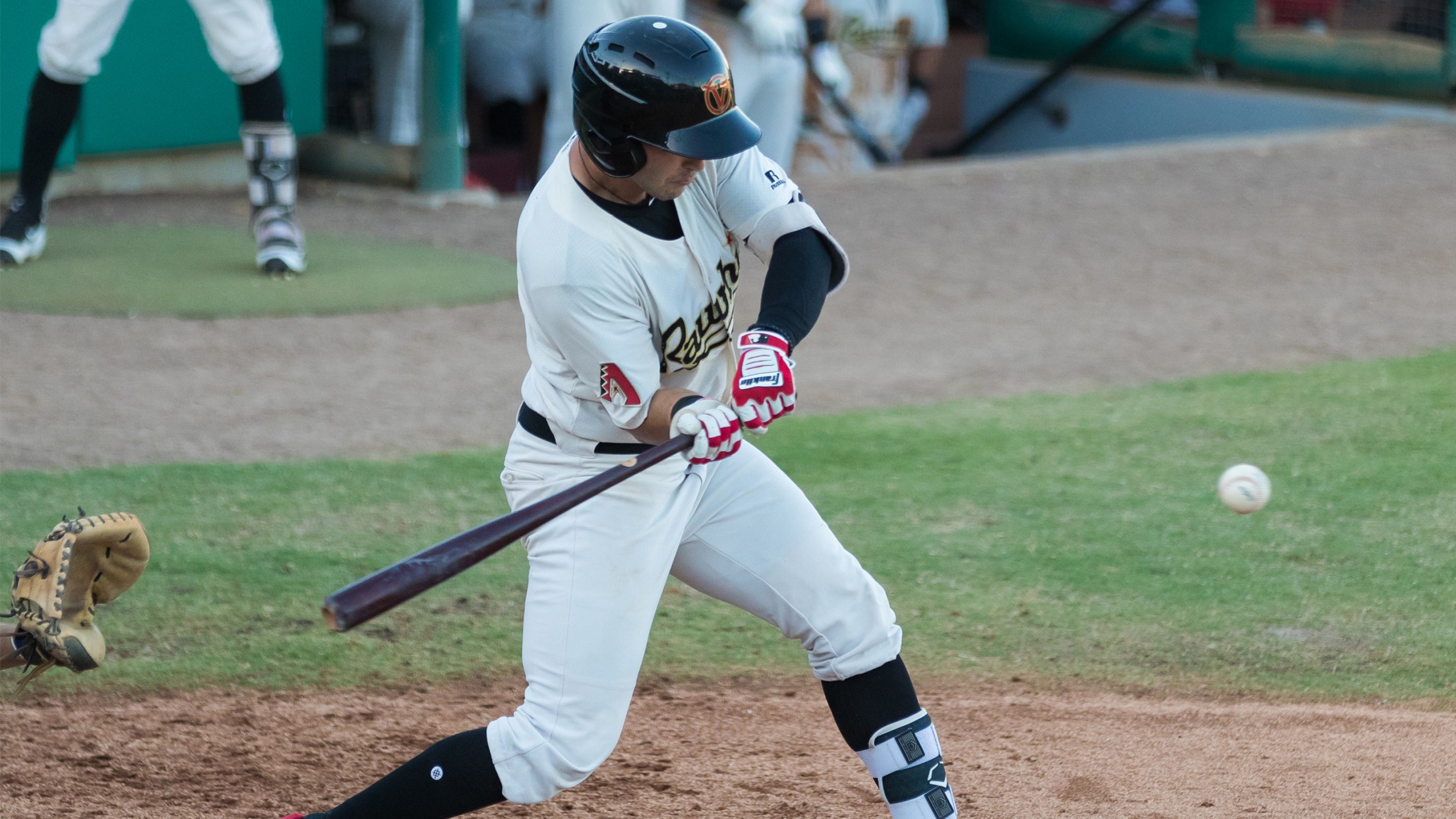 (Aaron Provencio)
LAKE ELSINORE, CA - After a four-run fourth and a two-run blast by Pavin Smith (8) in the fifth, the Rawhide had rallied from a three-run deficit to take a 7-4 lead. Going to the seventh, a bullpen that had carried a 2.83 ERA as a unit into the game
LAKE ELSINORE, CA - After a four-run fourth and a two-run blast by Pavin Smith (8) in the fifth, the Rawhide had rallied from a three-run deficit to take a 7-4 lead. Going to the seventh, a bullpen that had carried a 2.83 ERA as a unit into the game took over to seal the comeback win.
But tonight, Visalia's bullpen was unable to hold on. Lake Elsinore (41-45/7-9) jumped on Carlos Bustamante for two infield singles and a hit batsman to start the inning, which prompted Joe Mather to summon Matt Brill to work out of the bases-loaded jam.
But Brill (L, 1-1) was unable to do so. He allowed a two-run single to Kelvin Melean and a game-tying double to Nate Easley. Then with one out, Luis Torrens added on with a two-run single to put the Storm ahead, 9-7.
Mark Karaviotis would single to lead off the ninth and, once again, the Rawhide looked to spark a late comeback. But a fielder's choice and a double play ball ended the game and sent Visalia (45-41/8-8) to their third straight loss.
The Rawhide offense woke up after two quiet games to open the series. Led by two-hit performances by Karaviotis, Jason Morozowski, and Adam Walton, Visalia erased an early 4-1 Storm lead. Walton led Visalia with three RBIs, all of which came on a bases-clearing double in the fourth to tie the game.
Karaviotis following by driving home Walton to put the Rawhide ahead. Smith's first home run since June 12, a missile that cleared the 40-foot high wall in right, gave Visalia a three-run advantage.
Though he struggled early, Connor Grey settled into a rhythm and held the line for Visalia once they had taken a lead. He retired each of the last six, and 12 of his final 13, Storm hitters. Grey pitched through the sixth inning for the fifth time this season, and for the first time since June 8. He was on the hook for four runs on six hits with six strikeouts.
Storm starter Reggie Lawson was shelled for a career-high seven runs on six hits with five strikeouts over five innings. The Rawhide were unable to score against a combination of Cody Tyler (W, 1-0) and David Bednar (SV, 6) over four combined innings of relief.
Visalia has now fallen to Lake Elsinore in a series for the first time this year after a pair of series victories in Visalia in April and June respectively. Tonight marked just the third time that the Rawhide have lost when holding a three-run lead.
Visalia continues the series in Lake Elsinore tomorrow night. The Rawhide will send RHP Tyler Keele (1-1, 4.63) to the hill against Storm LHP Nick Margevicius (0-0, -.--). First pitch will be at 6:00 PM and the live radio broadcast will be available on Rawhidebaseball.com.
The Visalia Rawhide are a professional baseball team in the Class A Advanced California League and are the only professional sports team in Tulare and Kings counties. The team has been an affiliate of the Arizona Diamondbacks since 2007 and is entering their 72nd year of play in 2018. The Rawhide renovated their home at Recreation Ballpark in 2009 and have since become the largest gathering of individuals in Tulare County, having set an attendance record for the seventh time in the past eight seasons in 2017. In 2018, the Rawhide look to continue their reputation for hosting competitive baseball while providing affordable family entertainment. To be a part of the 2018 Visalia Rawhide season, please contact the Visalia Rawhide Ticket Office at 559.732.4433, visit us online at rawhidebaseball.com, or follow us on Facebook (TheRawhide), Instagram (@VisaliaRawhide), and Twitter (@VisaliaRawhide).