Stott named Phillies MiLB Player of the Year
Shortstop wins 2021 Paul Owens Award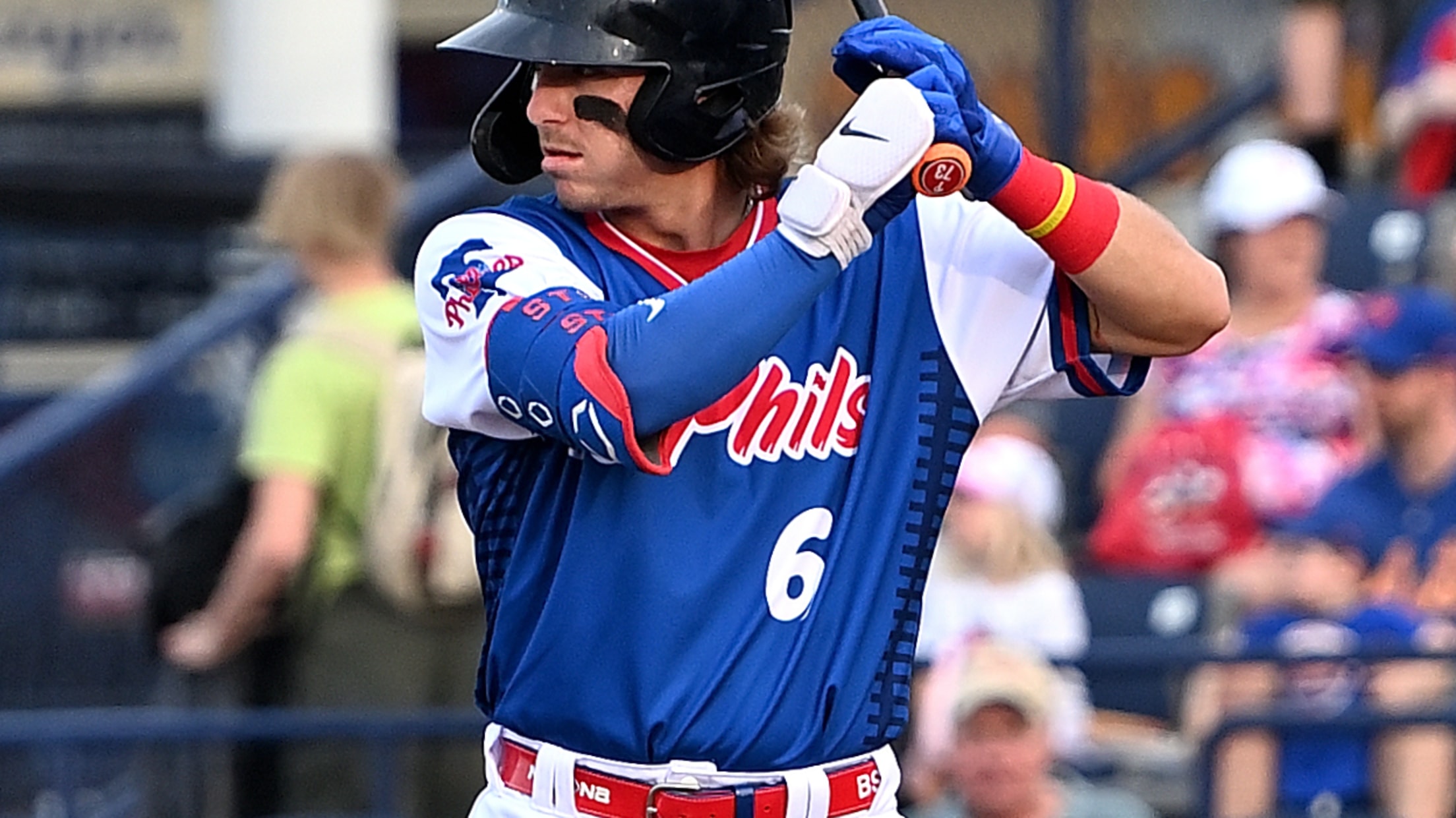 The Reading Fightin Phils are excited to announce that 2021 MVP Bryson Stott has been named the Philadelphia Phillies Paul Owens Award winner. This honor is given to one player and one pitcher who has led the farm system throughout the season. Bryson Stott, 23, split time this summer between
The Reading Fightin Phils are excited to announce that 2021 MVP Bryson Stott has been named the Philadelphia Phillies Paul Owens Award winner. This honor is given to one player and one pitcher who has led the farm system throughout the season.
Bryson Stott, 23, split time this summer between high-A Jersey Shore and double-A Reading. He made the jump in levels after being starting at second base for the National League squad in this summer's Futures Game at Coors Field. Stott has posted a .296/.361/.480 slash line with 22 doubles, two triples, 10 homers and 36 RBI with Reading. He enters play tonight with the third-highest batting average among qualifying Double-A Northeast hitters this season.
Defensively Stott has spend time a three infield positions this summer. He's dabbled at second (4 G) and third (4 G) while being the starting shortstop the rest of the time. His fielding percentage is exceptional having only made five errors in 275 chances. Stott has helped turned 25 double plays.
Cumulative this summer, Stott is batting .294 (111-377) with 26 doubles, two triples, 15 home runs, 46 RBI, 64 runs, 55 walks, nine stolen bases, a .381 on-base percentage and a .493 slugging percentage in 100 combined games this season between high-A Jersey Shore (22 G) and double-A Reading (78 G).
Outside all of his on-field success, Stott has been an incredible presence in the clubhouse and the dugout. He can often be found taking extra hitting practice and in the weight room. Reading's Manager Shawn Williams has plenty of good things to say about Stott. "Bryson is a true baseball player, which is the ultimate compliment. He does everything to help the team win. Bryson is great teammate, plays the game right way, and is great player in all areas."
The left-handed hitter was named Phillies Minor League Hitter of the Month in both May and August, collecting the most hits (42) across the minors during the latter month. Stott leads all Phillies minor leaguers in hits, on-base percentage (min. 220 PA) and total bases (186). He reached base safely in 31 of 32 games from July 31 through Sept. 14, which included a 19-game on-base streak (8/15-9/14) during which he posted a .411/.477/.630 slash line.
The Las Vegas, Nev., native was recently named the No. 100 prospect in all of baseball by MLB.com. Stott was selected by the Phillies in the first round (No. 14 overall) of the 2019 MLB Draft out of the University of Nevada, Las Vegas.
The Paul Owens Award was instituted in 1986 and is named for the late Paul Owens, who spent 48 years in the Phillies organization as a scout, farm director, general manager, manager and senior advisor. Many R-Phils have received this award and gone on to have much success in Philadelphia. The last Baseballtown player to be named the Paul Owens Award winner was Alec Bohm in 2019. Pat Burrell, Ryan Howard, and Rhys Hoskins are notable players to top the Phillies Minor League system.
The 2021 Paul Owens Pitcher of the Year is Jean Cabrera who spent the season in Rookie Ball. The players will receive their awards on the field on Monday, Sept. 20, prior to the Phillies' 7:05 p.m. game against the Baltimore Orioles.