Stouffer's Honors Minor League Baseball CommUNITY Heroes; July Nominees Announced
Stouffer's and Minor League Baseball have teamed up to honor local CommUNITY Heroes who have gone above and beyond to serve their communities across the country this year. Each month this season, 15 Minor League Baseball teams will select and honor a CommUNITY hero from their market. These 75 individuals
Stouffer's and Minor League Baseball have teamed up to honor local CommUNITY Heroes who have gone above and beyond to serve their communities across the country this year.
Each month this season, 15 Minor League Baseball teams will select and honor a CommUNITY hero from their market. These 75 individuals will be honored for their commitment to their community and their support of the three core pillars CommUNITY Heroes program: Service, Disability, and Sustainability.
Here is a look at the 15 CommUNITY Heroes selected for July:
Kyle Auckland (Akron RubberDucks), Police Officer, Kent, Ohio
Officer Auckland was recently shot in the chest in the line of duty as he responded to a call. Thankfully, Auckland was wearing his vest, which certainly saved his life. Kent police Lt. Michael Lewis said in a news release, "We could not be more proud of these courageous and heroic officers, Officer Lenny Kunka and Officer Kyle Auckland."
Lisa Hahn (Altoona Curve), Executive Director, Family Services, Inc.
Lisa and Family Services have helped so many in the Altoona community as a multi-faceted nonprofit organization that provides an array of services including social services to victims of sexual assault, domestic violence, runaway and homeless youth, homeless individuals and families, individuals in need of counseling and persons with intellectual disabilities. The services they provide became even more necessary during the pandemic as quarantining can lead to domestic issues, mental health issues, etc.
Morris Madden (Charlotte Knights), Co-Founder of Carolinas Metro Reds
Morris is the Co-Founder of Carolinas Metro Reds, a local organization that helps kids reach their full potential by giving underprivileged kids a chance to play baseball. They also provide academic and life skills development programming in an effort to give every child a chance to be successful in life. A former MLB pitcher, Morris helps serve disadvantaged youth, providing a safe opportunity to develop baseball skills and teach life skills and academic success.
Amber Hudson (Columbus Clippers), U.S. Navy Veteran, Founder & President of M.A.S.H. Pantry & Resource Center
Following her own struggles as a veteran, Amber pawned her Jeep and jewelry and founded the Military and Service Heroes (M.A.S.H) Pantry and Resource Center. The non-profit provides food, toiletries, clothing and hygiene products, as well as emotional and physical support and resources to military personnel and veterans throughout the Columbus metropolitan area. Amber has grown the M.A.S.H. Pantry to three pantry locations across Central Ohio & nine greenhouse gardens in the community.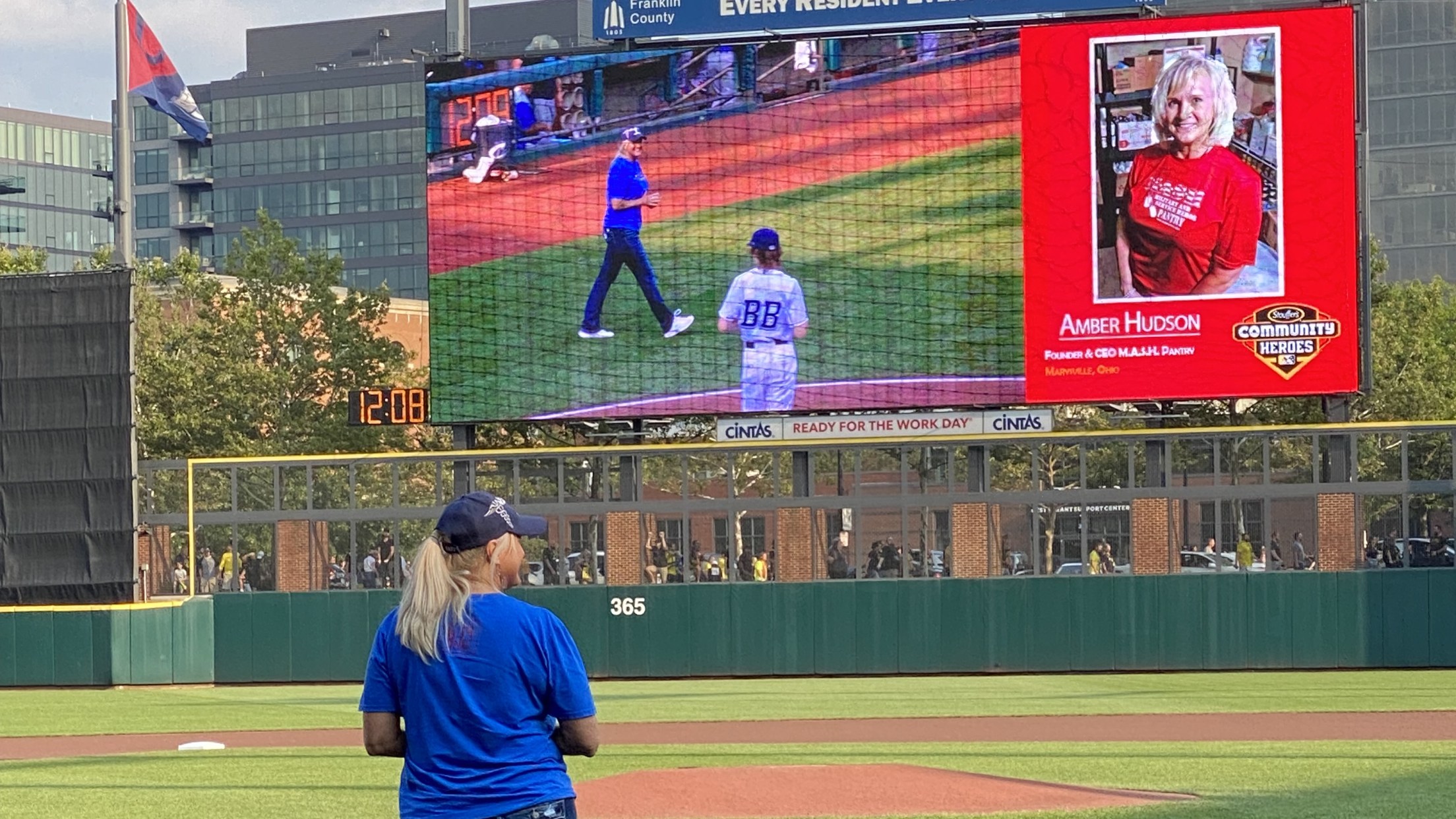 Captain Robert Gaddy Jr. (Durham Bulls), Durham Police Department
With over 26 years of law enforcement experience, Captain Gaddy is highly competitive, passionate and persuasive leader that believes that nothing is impossible. In addition to his duties as Captain, he serves as the National Diversity Committee Chairman, North Carolina State Vice President, and Local Vice President of the Fraternal Order of Police. He also serves as the Vice President of the Eastern North Carolina Chapter of the National Organization of Black Law Enforcement Executives (NOBLE). He is also an active volunteer with the Grace Church of Durham, Omega Psi Phi Fraternity, the Durham Rescue Mission and the Durham Mobile Food Market initiatives.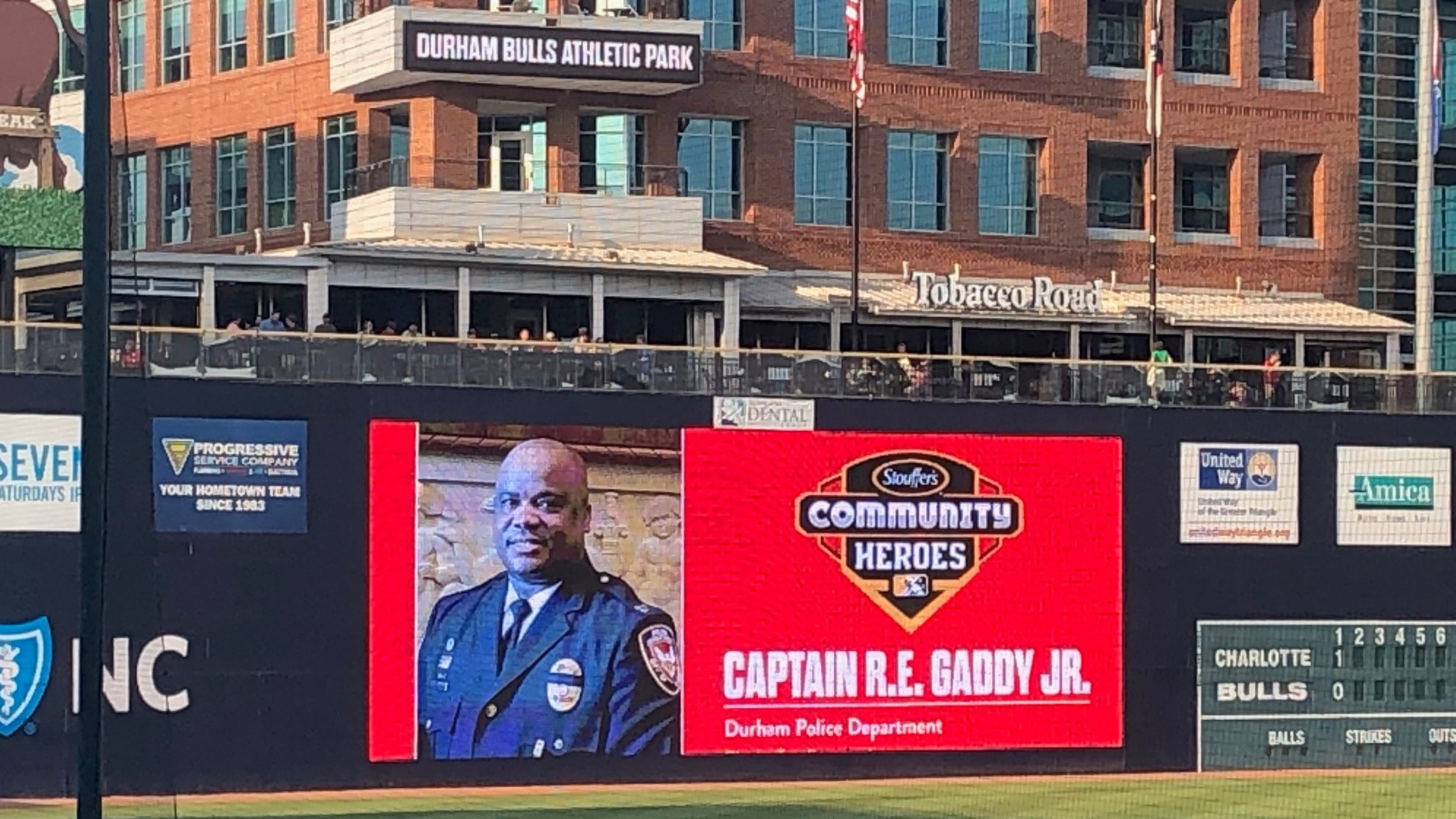 Deputy Rob Rush and Deputy Beth Kidwell (Indianapolis Indians), SRO Officer at Tippecanoe Sheriff's Office
Deputy Rob Rush and Deputy Beth Kidwell from the Tippecanoe Sheriff's Office have been strong supporters and contributed countless hours to the Indians' youth leadership camps and have always been great when interacting with local youth. They are an inspiration to the community and represent law enforcement with class.
Brandon Mack (Jacksonville Jumbo Shrimp), Director, Corporate Partnerships & Community Outreach at Duval County Public Schools
Brandon consistently serves the Jacksonville community (specifically Duval County) on a constant basis through community outreach programs which specifically target school youth. He has been an inspiration to many in Jacksonville as he develops programs to keep kids engaged in education and service to the community.
Dawn Haddad (Lansing Lugnuts), Director of Development - Ele's Place
After years of serving the Lansing community for years with the Holt Public School system, Dawn now serves the children of Lansing as Director of Development for Ele's Place, an organization that helps children ages 3-18 who have experienced the death of a parent, sibling, or someone else close to them. Ele's Place provides onsite and school-based bereavement programming at no cost to the families, and provide children and teens an opportunity to safely grieve.
Rachel Beck (Lehigh Valley IronPigs), Guidance Counselor at Ritter Elementary School
Rachel was a first-year Guidance Counselor for the 2020-2021 school year at Ritter Elementary School, which began amid a pandemic. She has been a rock for the families of Ritter Elementary, making home visits to help kids get connected to school online programs and upload assignments and helping deliver food and hygiene products to kids in need on weekends. She has also helped arrange online workshops to provide parents information on how to handle the stress of remote learning during a pandemic and assisting students with social-emotional learning needs.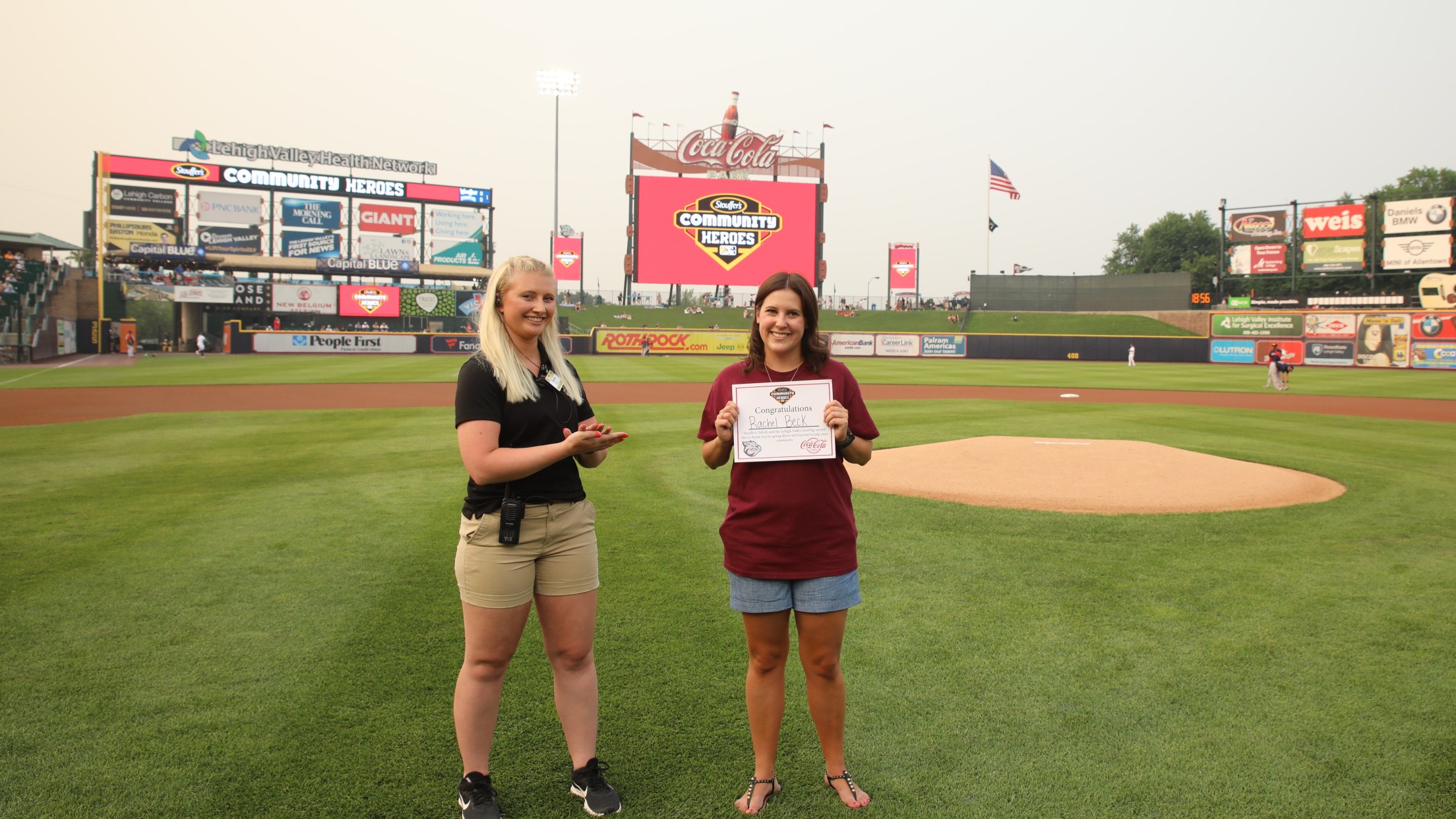 David Rainwater & Bobbi Finch (Louisville Bats), Love Doesn't Count Chromosomes Car Show
David and Bobbi just held the second annual "Love Doesn't Count Chromosomes Car Show" in Clarksville Indiana, to raise money for Down Syndrome of Louisville. As relatives of a seven-year-old with Down Syndrome, they were able to run an incredibly successful event, which raised more than $6,000 and generated significant awareness for Down Syndrome in the area.
Pastor Jim Wood (Norfolk Tides), Pastor, First Presbyterian Church of Norfolk
In collaboration with the faith community and other partners, Norfolk operates a NEST (Norfolk Emergency Shelter Team) program during the winter months to keep the homeless out of the cold. While this program usually rotates from church to church, due to Covid protocols, Pastor Wood offered to host the entire winter and spring seasons with socially distant measures in place, and his church family carried the burden of coordination and following strict cleaning protocols for months, undoubtedly saving lives in the Norfolk community.
Fran Kelly (Reading Fightin Phils), Title Insurance Broker, Volunteer for Baseballtown Charities
Fran is the voice of the Baseballtown Charities Dream League games, serving as the public address announcer at games twice a week. Fran has also been a leader of several fundraising efforts to help sustain the Dream League and provide the children a league and facility where they have the opportunity to participate in the game of baseball.
Jim Wheaton (Richmond Flying Squirrels), Firefighter, Henrico County Division of Fire
In addition to serving his community as a firefighter during the pandemic, Jim was heavily involved with Glen Allen Youth Baseball, helping the league prepare to re-open by establishing Covid protocols for players, coaches and fans. As the league's commissioner, he worked with coaches to send out training videos for players and teams since they were unable to practice.
Jessica Sivick (Scranton/Wilkes-Barre RailRiders), Elementary school teacher
A fifth grade teacher in Wilkes-Barre, PA, Jessica has collaborated on military projects between her class and soldiers in various active duty US Army units and her classes have donated items to multiple units during their deployments. During COVID, she even led a Google Meet event on Veteran's Day, where her children did a special Q&A session with members of the unit. Jessica is a dedicated teacher and ardent supporter of the veteran community.
Officer in Charge ( Commander) Captain Michael Porter S3 (Executive Officer) , 1st Lieutenant David Walsh NCOIC (west) Master Sergeant Timothy Bellville NCOIC (east) Sergeant First Class Dywane Corbin (Toledo Mud Hens), Ohio Army & Air National Guard Units and Ohio Military Reserve
With stay at home orders at the beginning of the Covid 19 pandemic, it was quickly realized that many people in the community that were experiencing food insecurity did not know where to turn. The state activated members of both the Army and Air National Guard and the Ohio Military reserve, starting Operation Steady Resolve and deploying them in key location throughout the State to assist established foodbanks that were being overwhelmed. As the need for these services continued to grow, these servicemembers never faltered. Eventually, the servicemembers participated in Covid testing sites and delivering samples to labs, distribution and even administering vaccinations to the public.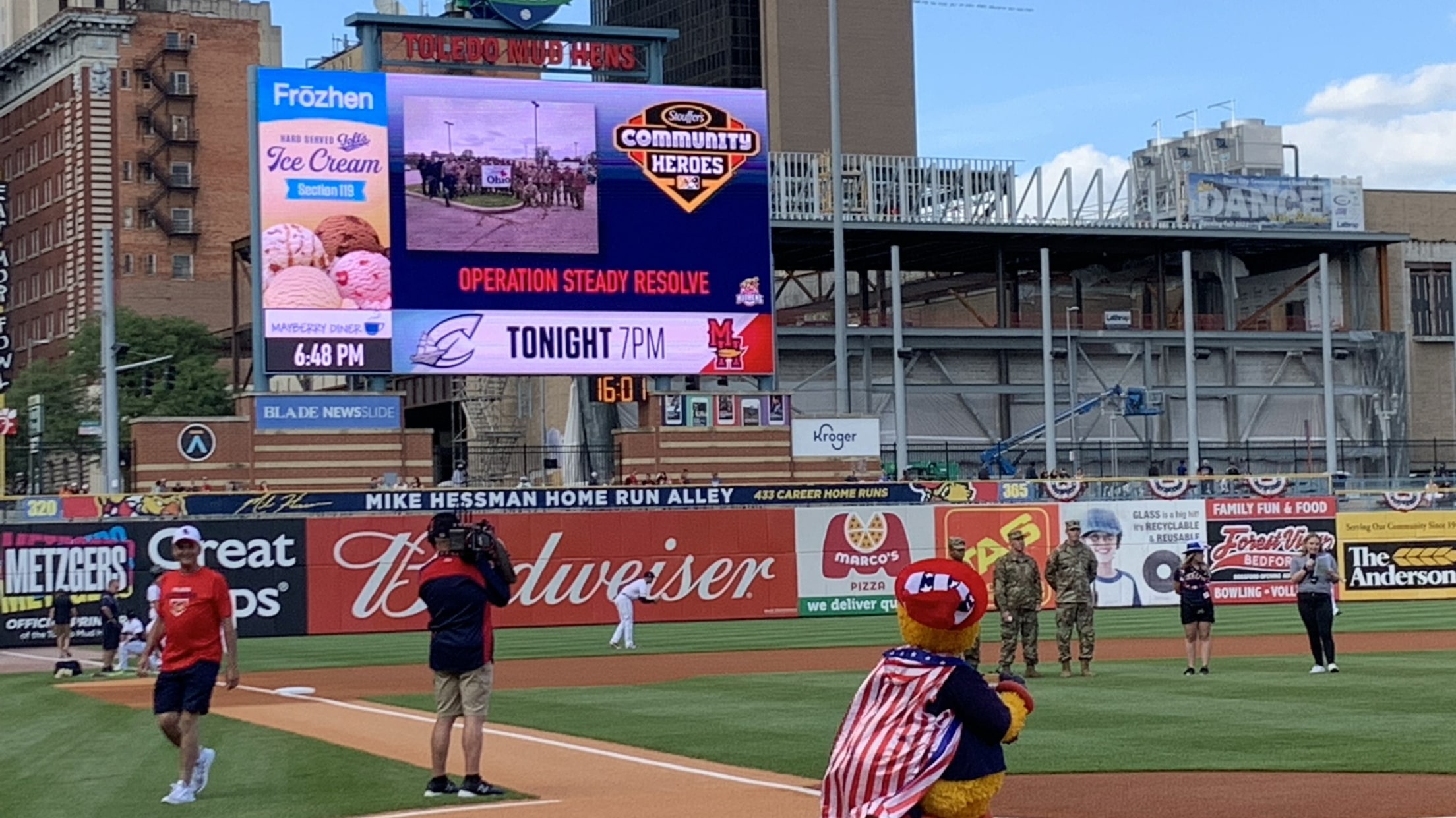 Each of these CommUNITY Heroes will be honored and recognized at a home games throughout the season, with their achievements and accomplishments highlighted, providing Minor League Baseball fans an opportunity to show appreciation for the work these incredible individuals have done.
Be sure to check back each month for the latest CommUNITY Hero, sponsored by Stouffer's. As the official Mac & Cheese of MiLB, Stouffer's supports these inspiring people who go above and beyond to make a difference. And, with MiLB being back in full swing, Stouffer's is the proud to be associated with the comfort that comes with warmer weather and America's pastime in stadiums all around the country.