Stouffer's honors Minor League Baseball CommUNITY heroes; May nominees announced
Throughout the 2021 Minor League Baseball season, the Stouffer's Minor League Baseball CommUNITY Heroes program will honor and celebrate those who have gone above and beyond to serve their communities across the country. Each month this season, 15 Minor League teams will select and honor a CommUNITY hero from their
Throughout the 2021 Minor League Baseball season, the Stouffer's Minor League Baseball CommUNITY Heroes program will honor and celebrate those who have gone above and beyond to serve their communities across the country.
Each month this season, 15 Minor League teams will select and honor a CommUNITY hero from their market. These 75 individuals will be honored for their commitment to their community and their support of the three core pillars of the CommUNITY Heroes program: service, disability, and sustainability.
Here is a look at the 15 CommUNITY Heroes selected for May: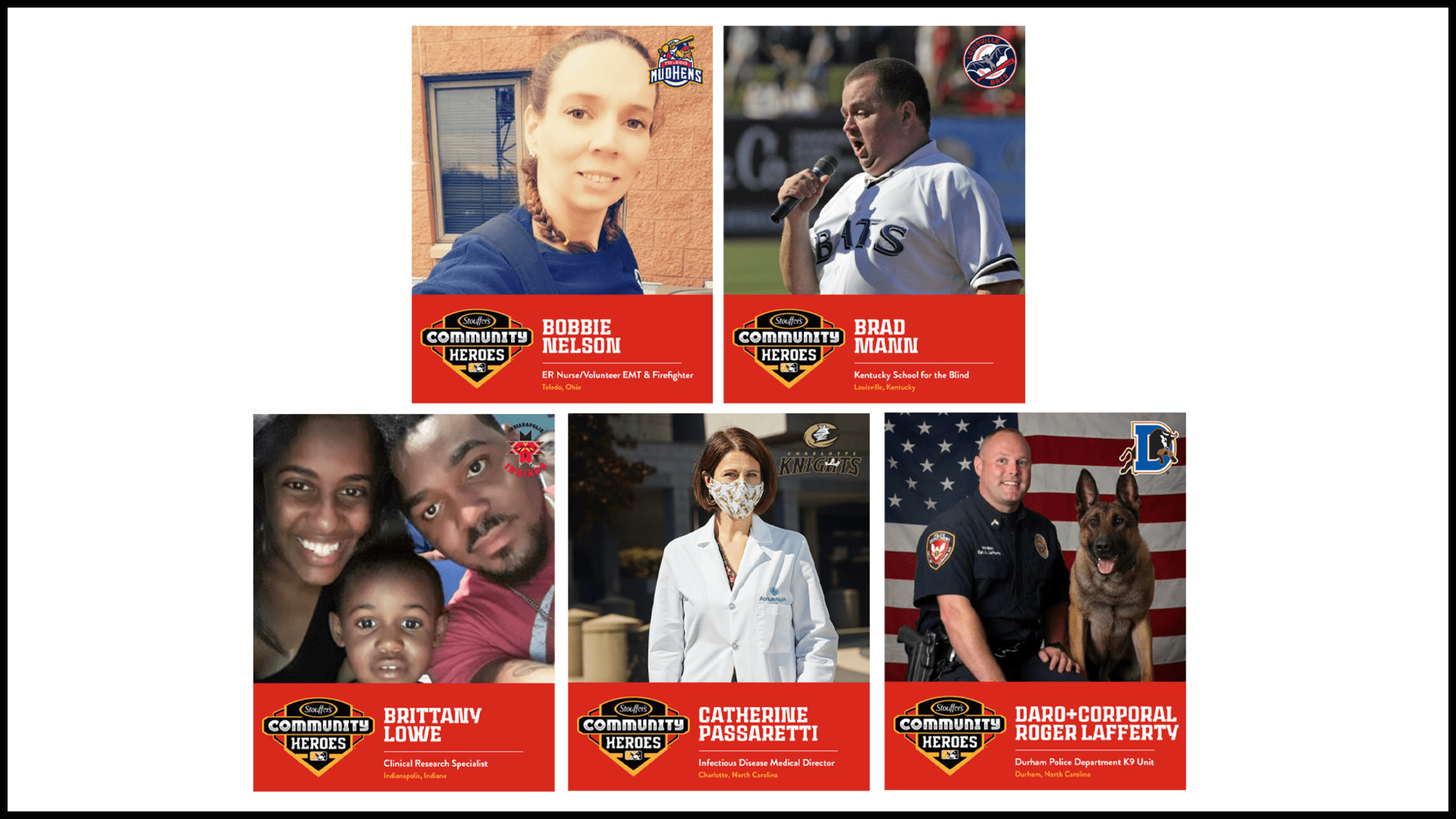 Bobbie Nelson (Toledo MudHens), ER Nurse, Volunteer EMT & Firefighter
A registered nurse in an emergency room that was the only facility in her area accepting Covid patients at the start of the pandemic, Bobbie is also a volunteer firefighter and EMT with the Lakewood Township Fire Department. She recently became a sexual assault nurse to help those who come to the hospital following an assault.
Brad Mann (Louisville Bats), Kentucky School For The Blind
Born partially blind and later diagnosed with Asperger syndrome, Brad is a passionate and talented individual that does not let his challenges in life stop him from living his dream. A talented singer, Brad is recognized around the Louisville community and has had the opportunity to perform the National Anthem at several Louisville Bats' and University of Louisville Cardinals' sporting events.
Brittany Lowe (Indianapolis Indians), Clinical Research Specialist
Brittany and her husband started the Indiana chapter of Alternative Baseball in honor of their son, Damien, who is on the autism spectrum. Only five years old, he is not yet old enough to play, but the Lowes were inspired to create a league in which he will be able to participate, while also providing others in the Indianapolis community a place to play baseball through the Alternative Baseball organization.
Catharine (Katie) Passaretti (Charlotte Knights), Infectious Disease Medical Director
Katie, the Medical Director of Atrium Health's Infectious Disease sector, has led the city of Charlotte's efforts to combat the coronavirus. Atrium Health has been a leader in Charlotte's fight against COVID with mass vaccination events at Bank of America Stadium, home of the NFL's Carolina Panthers, and her efforts earned her the honor of 2020 Charlottean of the Year.
Daro and Corporal Roger Lafferty (Durham Bulls), Durham Police K9 Unit
On March 30 in Durham, Police K9 Daro, and his handler, Corporal Roger Lafferty were called to assist in the tracking of an armed suspect through a Durham cemetery. Daro and his handler quickly picked up the trail and led the officers to the suspect, who was hiding in a ditch. Sadly, prior to being apprehended, the suspect shot Daro in the mouth. Thankfully, Daro is expected to fully recover.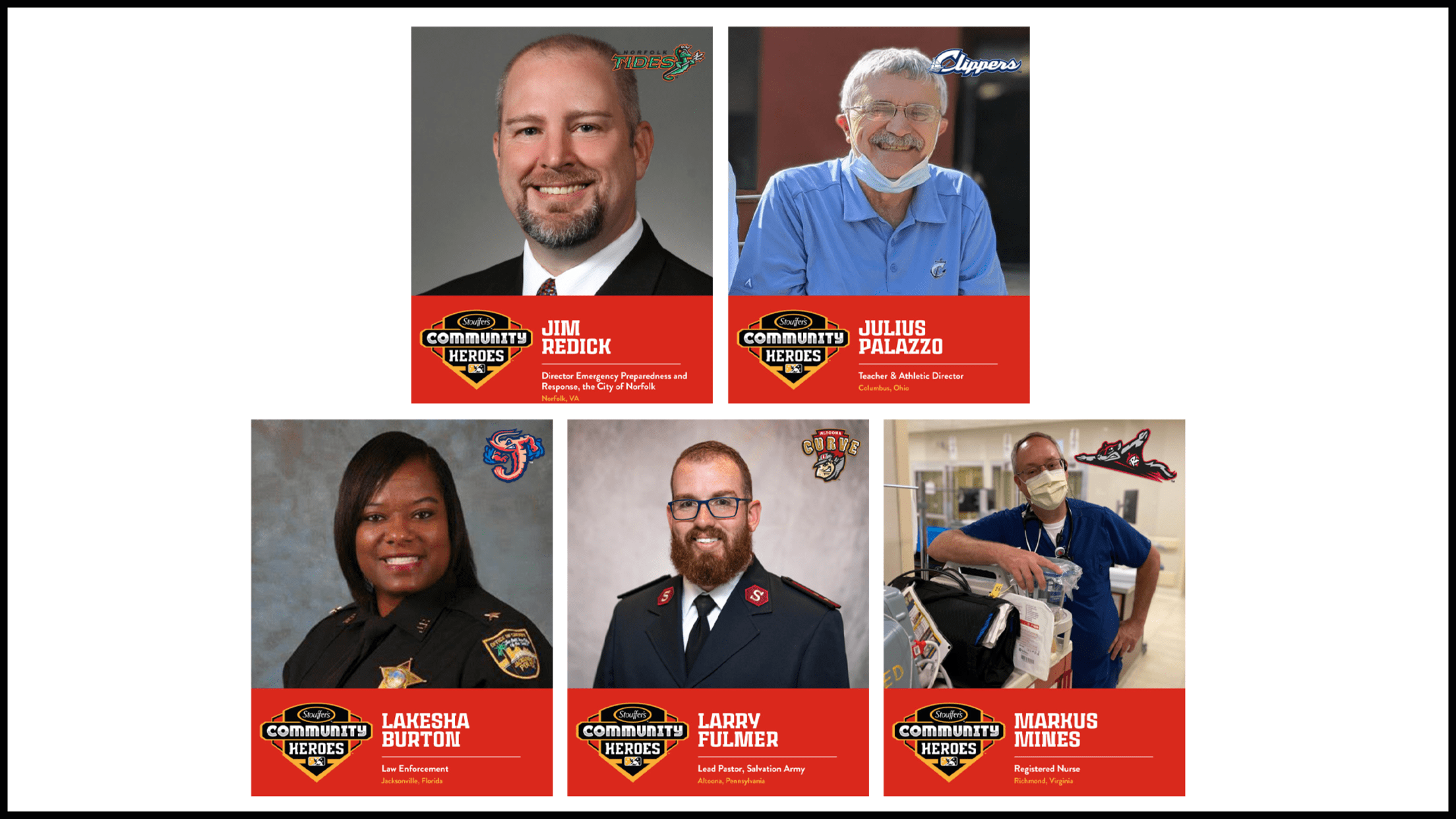 Jim Redick (Norfolk Tides), City of Norfolk Director of Emergency Preparedness and Response
A tireless worker on behalf of his community, Jim does much of the important behind-the-scenes work that most people take for granted. In addition to running the city emergency preparedness department, including the 911 call center, he has led the city's efforts to ensure citizens had access to food and now is leading the coordination of the vaccinations for Norfolk citizens.
Julius Palazzo (Columbus Clippers), Teacher & Athletic Director
After over four decades of serving as a teacher and athletic director at St. Mary Magdalene and the Catholic Diocese of Columbus, Julius is retiring. Julius has taught and led hundreds of students in his role as an athletic director of the grade schools in the Diocese.
Lakesha Burton (Jacksonville Jumbo Shrimp), Law Enforcement Officer
A 22-year veteran of the Jacksonville Sherriff's Office, Assistant Chief Burton has unselfishly given her time and energy to her community in several different capacities. In addition to serving as the first woman executive director of the Police Athletic League, Burton sits on several community boards and has been honored by several different organizations in the Jacksonville community.
Larry Fulmer (Altoona Curve), Lead Pastor for Salvation Army
Larry and the Altoona Salvation Army were already a staple in this community before COVID-19, but have become even more so throughout the pandemic. Before the pandemic struck, the Salvation Army provided food assistance, financial assistance for utilities and emergency disaster services, to name a few. When it became obvious that the community needed assistance as the pandemic grew worse, Captain Fulmer also took on free weekly meal distributions as well as providing funding to those who have been affected by COVID-19.
Markus Mines (Richmond Flying Squirrels), Registered Nurse
Markus has spent the last 10 years as an emergency room nurse with Bon Secours St. Mary's Hospital and has played an integral leadership role as Charge Nurse throughout the COVID pandemic in the Adult Emergency department. Working mostly evening shifts, Markus has dedicated himself well beyond the call of duty to not only address the influx of COVID patients in the emergency department, but to ensure his team was safe and emotionally supported. Markus was responsible for implementing new procedures in alignment with public health guidelines; such as developing new intubation processes with physicians to maintain staff safety and educating staff on ventilators and the COVID disease process.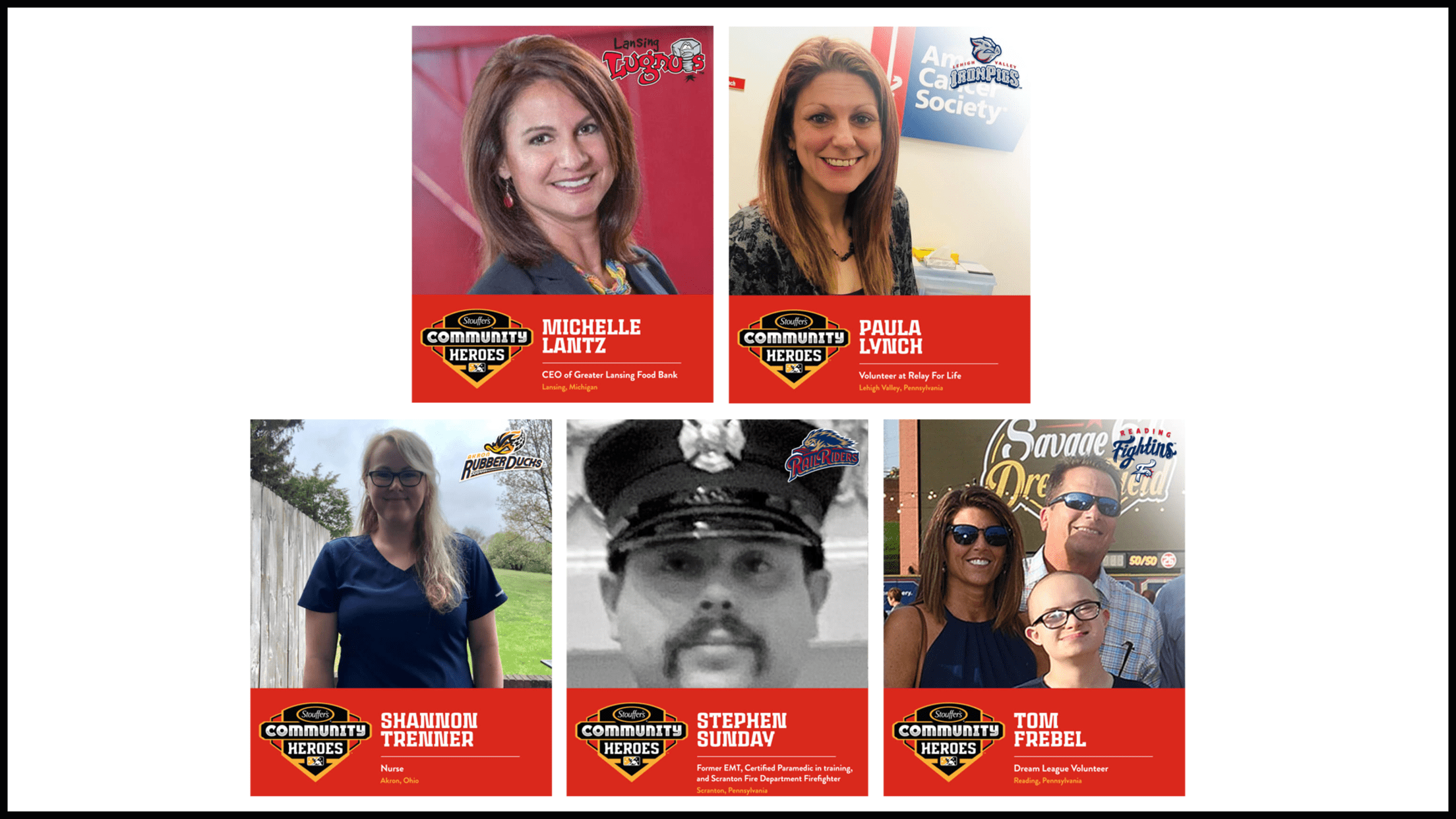 Michelle Lantz (Lansing Lugnuts), CEO of Greater Lansing Food Bank
Food banks across the country were stretched thin across the country during the pandemic, and Lansing, Michigan was no different. Due to Michelle's tireless work on behalf of those in need of a meal, hundreds, if not thousands of Lansing families were the beneficiaries of her efforts in their greatest time of need.
Paula Lynch (Lehigh Valley IronPigs), Volunteer for Relay For Life
After serving as the lead for a Relay For Life event for 15 years, Paula now oversees the process of combining three relay events into one giant Relay For Life event in the region. A model volunteer, she gives endless hours of passionate work to the fight against cancer. Whether it is volunteering at an event, assisting with a social media or email outreach campaign, or connecting with participants and sponsors, Paula can always be counted on in the fight against cancer.
Shannon Trenner (Akron RubberDucks), Nurse
Shannon was a rock as a nurse in Akron, never missing a single day of work throughout the pandemic despite the challenges she faced as a single mother of twins during a pandemic.
Stephen Sunday (Scranton/Wilkes-Barre RailRiders), City of Scranton Firefighter, Paramedic in training
A firefighter and EMT for the Scranton Fire Department, Stephen, 28, was in the process of receiving his paramedic's certification when he passed away unexpectedly and tragically in December due to complications from COVID-19. A native of Scranton, Stephen exemplified bravery, honor, and cared deeply about helping others in his community and his efforts will not soon be forgotten.
Tom Frebel (Reading Fightin' Phils), Baseballtown Charities Dream League Volunteer
Thanks to volunteers like Tom Frebel, the Fightin' Phils' Baseballtown Charities Dream League has quickly become one of the top Dream League programs in the country. Tom's dedication and commitment to the league and all of the participants who face various challenges in life has been nothing short of remarkable since the Opening Season in 2017. He has made an incredible difference with his "you can do anything attitude" that brightens the lives of the kids of the Dream League through positivity every time he is around.
Each of these CommUNITY Heroes will be honored and recognized at a home games throughout the season, with their achievements and accomplishments highlighted, providing Minor League Baseball fans an opportunity to show appreciation for the work these incredible individuals have done.
Be sure to check back each month for the latest CommUNITY Hero, sponsored by Stouffer's. As the official Mac & Cheese of MiLB, Stouffer's supports these inspiring people who go above and beyond to make a difference. And, with MiLB being back in full swing, Stouffer's is the proud to be associated with the comfort that comes with warmer weather and America's pastime in stadiums all around the country.