Stratton's quality start, pair of homers just enough
West Virginia completes third series sweep of the season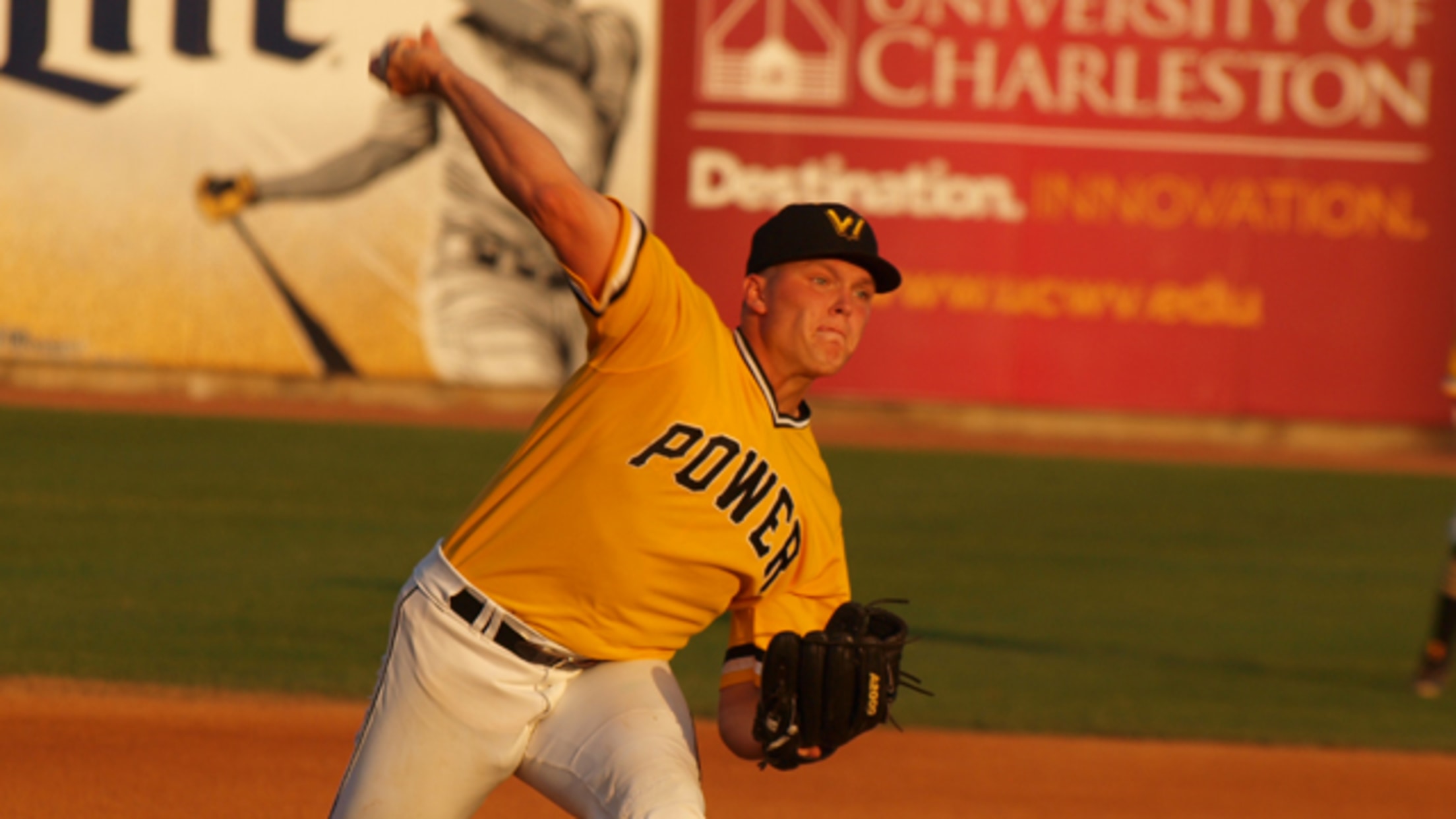 Hunter Stratton recorded his first career quality start Saturday with six stellar innings. (Robin Black)
HICKORY, N.C. (June 23, 2018) - A three-run homer from Brett Pope and a quality start from Hunter Stratton led West Virginia to an 8-6 win and a series sweep of the Hickory Crawdads Saturday evening at L.P. Frans Stadium.Stratton (3-3) worked a career-high six innings while wringing up six batters and allowing just
HICKORY, N.C. (June 23, 2018) - A three-run homer from Brett Pope and a quality start from Hunter Stratton led West Virginia to an 8-6 win and a series sweep of the Hickory Crawdads Saturday evening at L.P. Frans Stadium.
Stratton (3-3) worked a career-high six innings while wringing up six batters and allowing just four hits. After the first inning, Stratton set down 15 of the 16 batters he faced. The Walters State Community College product notched his first career quality start with the win Saturday.
Pope's home run came in the fifth after Hickory starter A.J. Alexy (2-6) allowed Lolo Sanchez and Oneil Cruz to single with two outs in the frame. Pope then clocked a three-run blast to right field, his third home run of the season, that pushed West Virginia (3-0, 40-29) ahead 5-1.
Cruz's single advanced his hitting streak to a team-high 12 games. During that stretch, Cruz is averaging .426 (23-for-54) with two home runs and 11 RBI.
The Power infielder would tack on his second home run of his streak in the ninth with a one-out bomb over the 32-foot tall sign wall in right field, giving West Virginia an 8-6 lead that they would not relinquish. Cruz's homer was his 10th home run of the season, tying his season total from 2017 with the Great Lakes Loons and West Virginia.
Cruz was not the only member of West Virginia's lineup to continue their hitting streak. Chris Sharpe tripled in the sixth and came around to score off a Ryan Peurifoy single and a throwing error for the Power's sixth run of the game, extending Sharpe's streak to 11 games.
West Virginia scored in the first inning for the third straight game. The offense did not get moving until Alexy had recorded the first two outs. The next batter, Ben Bengtson, roped a double to right-center field. He stole third while John Bormann was at plate, who, with two strikes against him, then hustled out a tapper down the third base line that scored Bengtson and gave the Power a 1-0 lead.
In the bottom of the first, the Crawdads (0-3, 30-41) evened it up with three consecutive singles from Pedro Gonzalez, Ryan Dorow and Yohel Pozo. Pozo's single drove in Gonzalez and moved Dorow within 90 feet, a run that would have granted Hickory their first lead of the series.
In the second, West Virginia took the lead for a second time. Peurifoy lined a double down the right field line before advancing to third on a passed ball. Jesse Medrano later scored Peurifoy on a sacrifice fly to deep center field, putting the Power in front 2-1.
Following Stratton's stellar outing, the first West Virginia reliever, Ike Schlabach, struggled in the seventh inning, giving up three runs off a pair of homers from Pozo, who led off the inning with his blast, and Sam Huff, who stroked a two-run home run.
Samuel Reyes experienced his first trouble in relief with the Power in the eighth, as he allowed two hits and a run on a Justin Jacobs single that closed West Virginia's lead to one at 7-6.
After Cruz launched his ninth-inning homer that put the Power back up by two, Beau Sulser (S, 3) stranded two Crawdads in the bottom of the inning to finish off the game for West Virginia.
The Power scored 12 of their 21 runs in the series with two outs. Of those 12 runs, eight were scored with the first runner reaching after two outs were already recorded.
West Virginia begins a six-game homestand Sunday afternoon with a three-game set against the Lakewood BlueClaws. First pitch from Appalachian Power Park is set for 4:05 p.m. Gavin Wallace (5-1, 3.59 ERA) takes the hill for the Power, while the BlueClaws counter with southpaw David Parkinson (6-1, 1.07 ERA). Pregame coverage begins at 3:45 p.m. on The Jock 1300 and 1340 AM, as well as online at www.wvpower.com and via the TuneIn Radio App and MiLB First Pitch App.
The Power return to Appalachian Power Park tomorrow for a Kidz Sunday Funday against the Lakewood BlueClaws. During this six-game homestand against Lakewood and Hickory, the Power will have a Two for Tuesday and Thirsty Thursday, sponsored by Rock 105, a Pets in the Park night and postgame fireworks Friday, brought to you by MVB Bank and Electric 102.7. For tickets and more information, call the Power at 304-344-2287 or visit wvpower.com.