Streak Hits 7 With Win Over Cardinals
Travs have won seven in a row with series opening victory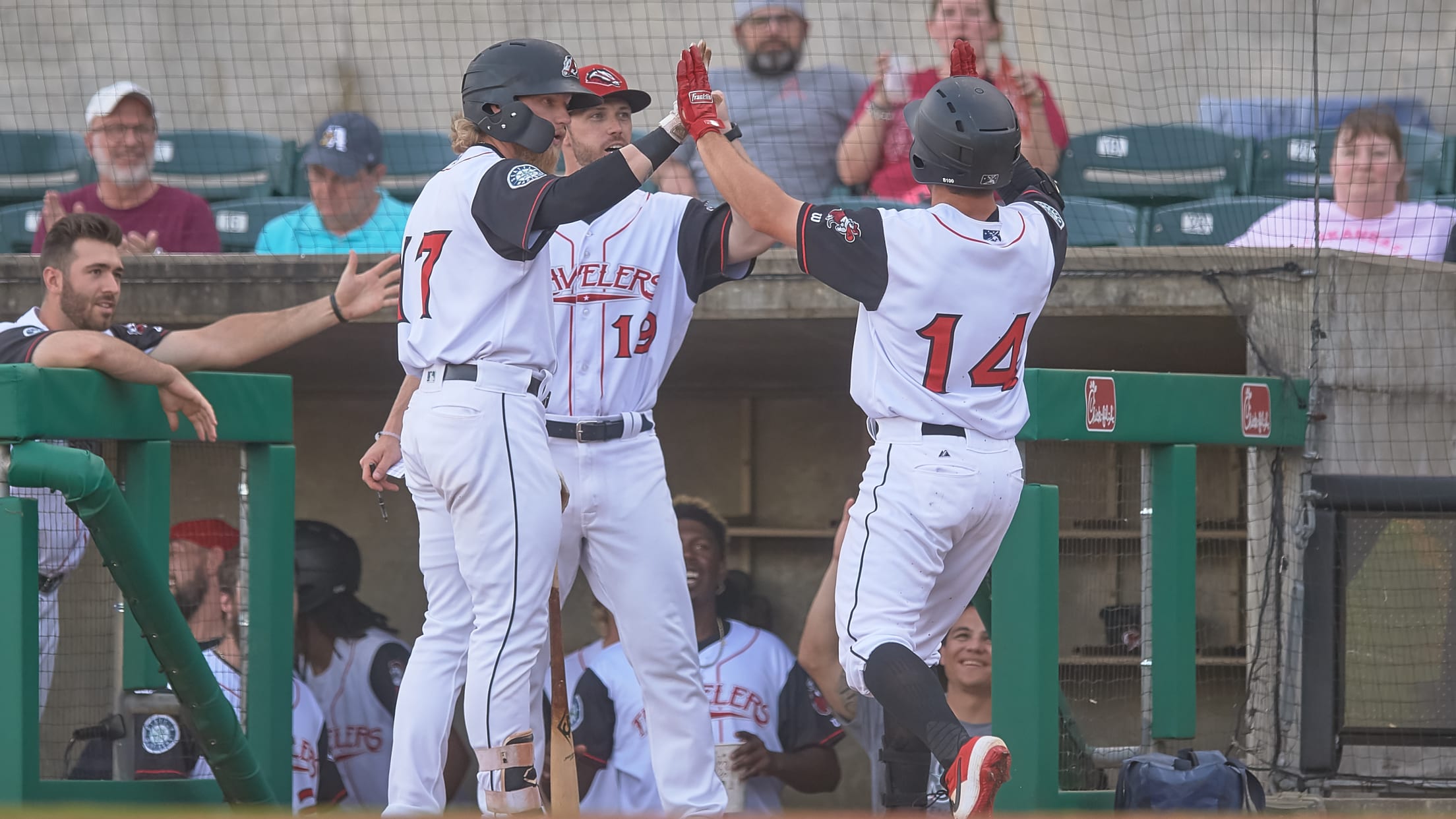 Donnie Walton was congratulated after his leadoff homer on Thursday night. (Mark Wagner)
North Little Rock, AR-The Arkansas Travelers stretched their season-best win streak to seven games with another dramatic victory, knocking off the Springfield Cardinals 4-1 on Thursday night at Dickey-Stephens Park. After the Cardinals knotted the game at one in the top of the eighth inning, Arkansas responded by scoring three
North Little Rock, AR-The Arkansas Travelers stretched their season-best win streak to seven games with another dramatic victory, knocking off the Springfield Cardinals 4-1 on Thursday night at Dickey-Stephens Park. After the Cardinals knotted the game at one in the top of the eighth inning, Arkansas responded by scoring three times in the bottom of the inning for the winning margin. It is the sixth time during the seven game winning streak that the Travs have plated the winning runs in their final at-bat. The Travs were 0-8 with runners in scoring position on the night until Logan Taylor's groundball single up the middle with one out scored Jake Fraley. Andrew Moore delivered a spectacular start for Arkansas facing the minimum over six shutout innings. He allowed just one hit while striking out seven and throwing only 73 pitches. Springfield starter Angel Rondon struck out nine over six innings. With the win, the Travs remain 5.5 games ahead of Tulsa in the division race.
Moments That Mattered
* Donnie Walton led off the bottom of the first with a homerun to right field.
* Taylor's go-ahead hit followed a pair of walks by Fraley and Kyle Lewis. Jordan Cowan, Mike Ahmed and Joseph Odom all followed with base hits as well.
Notable Travs Performances
* DH Donnie Walton: 2-4, run, HR, RBI
* 3B Logan Taylor: 2-4, run, RBI
* SS Mike Ahmed: 2-4, 2B, RBI
* RHP Andrew Moore: 6 IP, H, 7 K
News and Notes
* Mike Ahmed made his Travs debut as the starting shortstop and went 2-4 with a double and an RBI. Ahmed, who played parts of the past two seasons with Tulsa, joined the Travs today after being acquired by the Mariners from the Dodgers in a minor league trade.
* Dan Altavilla earned his fourth save in as many tries with a perfect ninth inning.
Up Next
Game two of the series is Friday night at 7:10. Right-hander Darren McCaughan (2-3, 3.74) makes the start against lefty Austin Warner (2-3, 4.37). After the game, fans 18 and over can dig for a Rolex in the infield dirt with the winning fan getting their very own watch. The game will also be broadcast on the Sports Animal 920, the First Pitch App, TuneIn radio and milb.tv.