Stripers Snap Road Slide Behind Casteel, Ynoa
Huascar Ynoa flirts with perfection, Ryan Casteel drives in four in 10-5 win at Norfolk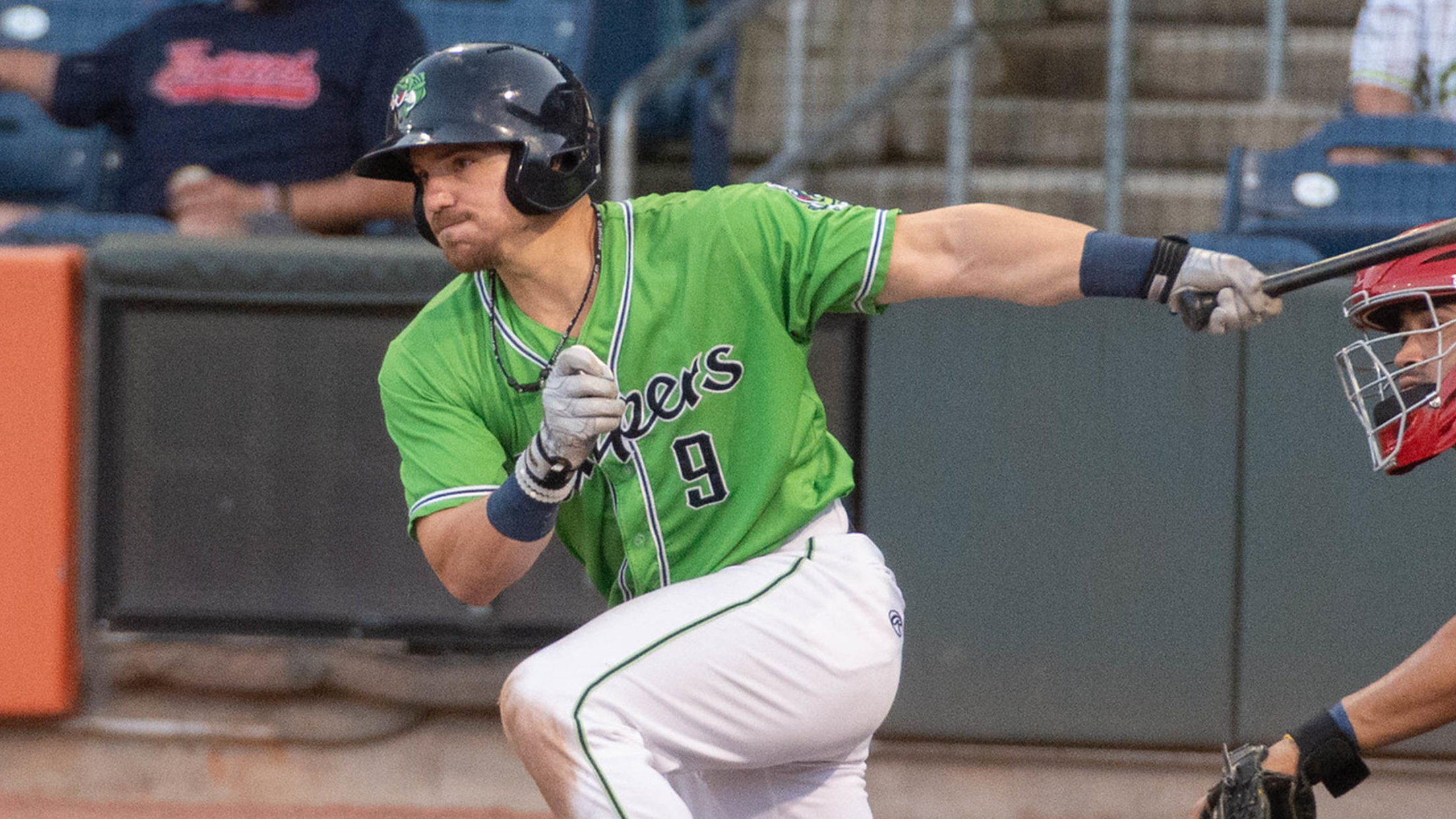 Ryan Casteel went 2-for-4 with a double, two-run homer (7) and game-high four RBIs for the Stripers on Thursday in Norfolk. (Bernie Connelly)
NORFOLK, Va. – Starter Huascar Ynoa carried a perfect game bid through 5.2 innings and Ryan Casteel went 2-for-4 with a home run and four RBIs as the Gwinnett Stripers (36-39) snapped a five-game losing streak with a 10-5 victory over the Norfolk Tides (36-39) on Thursday afternoon at Harbor
NORFOLK, Va. – Starter Huascar Ynoa carried a perfect game bid through 5.2 innings and Ryan Casteel went 2-for-4 with a home run and four RBIs as the Gwinnett Stripers (36-39) snapped a five-game losing streak with a 10-5 victory over the Norfolk Tides (36-39) on Thursday afternoon at Harbor Park.
Decisive Plays: The Stripers never trailed after Casteel launched a two-run homer (7) off Tides starter Mike Baumann (L, 0-5) in the second inning. Casteel added a two-run double in the sixth, and an RBI double by Ryan Goins and RBI single by Eddie Rosario later in the frame made it 6-0 Gwinnett. Greyson Jenista's two-run single boosted the lead to 8-0 in the seventh. After a grand slam by Dylan Harris (3) off Brandyn Sittinger cut the lead to 8-5 in the bottom of the seventh, back-to-back solo homers by Pat Valaika (7) and Alex Dickerson (7) made it 10-5.
Key Contributors: Ynoa (W, 4-4) retired 17 straight batters to start the game before giving up a two-out double to Greg Cullen in the sixth. He worked a shutout through 6.1 innings and exited after allowing a bases-loaded walk to Cadyn Grenier in the seventh. Harris's grand slam tacked three more runs to Ynoa's final line (6.2 IP, 2 H, 4 ER, 3 BB, 8 SO). Casteel (2-for-4, double, homer, 4 RBIs) and Jenista (2-for-5, 2 RBIs) combined to drive in six of Gwinnett's 10 runs.
Noteworthy: Of Casteel's 17 hits this season, 12 have gone for extra bases (70.6%), including four doubles, one triple, and seven homers. Valaika and Dickerson recorded Gwinnett's second set of back-to-back homers this year, first since John Nogowski and Jenista did it on April 12 vs. Nashville. Right-hander Jay Jackson made his Stripers debut, logging 1.0 scoreless inning on a rehab assignment for Atlanta.
*Next Game (Friday, July 1): *Gwinnett at Norfolk, 7:05 p.m. at Harbor Park. LHP Kyle Muller (4-4, 2.96 ERA) for the Stripers vs. LHP DL Hall (1-3, 5.17 ERA) for the Tides. Radio Broadcast: 6:50 p.m. on MyCountry993.com.
Next Home Game (Monday, July 4): Gwinnett vs. Charlotte, 7:05 p.m. at Coolray Field. Radio Broadcast: 6:50 p.m. on MyCountry993.com. Join the Stripers for Independence Day, featuring a special pregame BBQ (purchase online at GoStripers.com) and a patriotic Fireworks Extravaganza after the game. Stripers players and coaches will wear specialty Patriotic Jerseys, which will be available for purchase in an online auction at GoStripers.com.