Express Swat Skeeters 6-4 to Open Series in Round Rock
2B Domingo Leyba, SS Ryan Dorow Finish Perfect in Win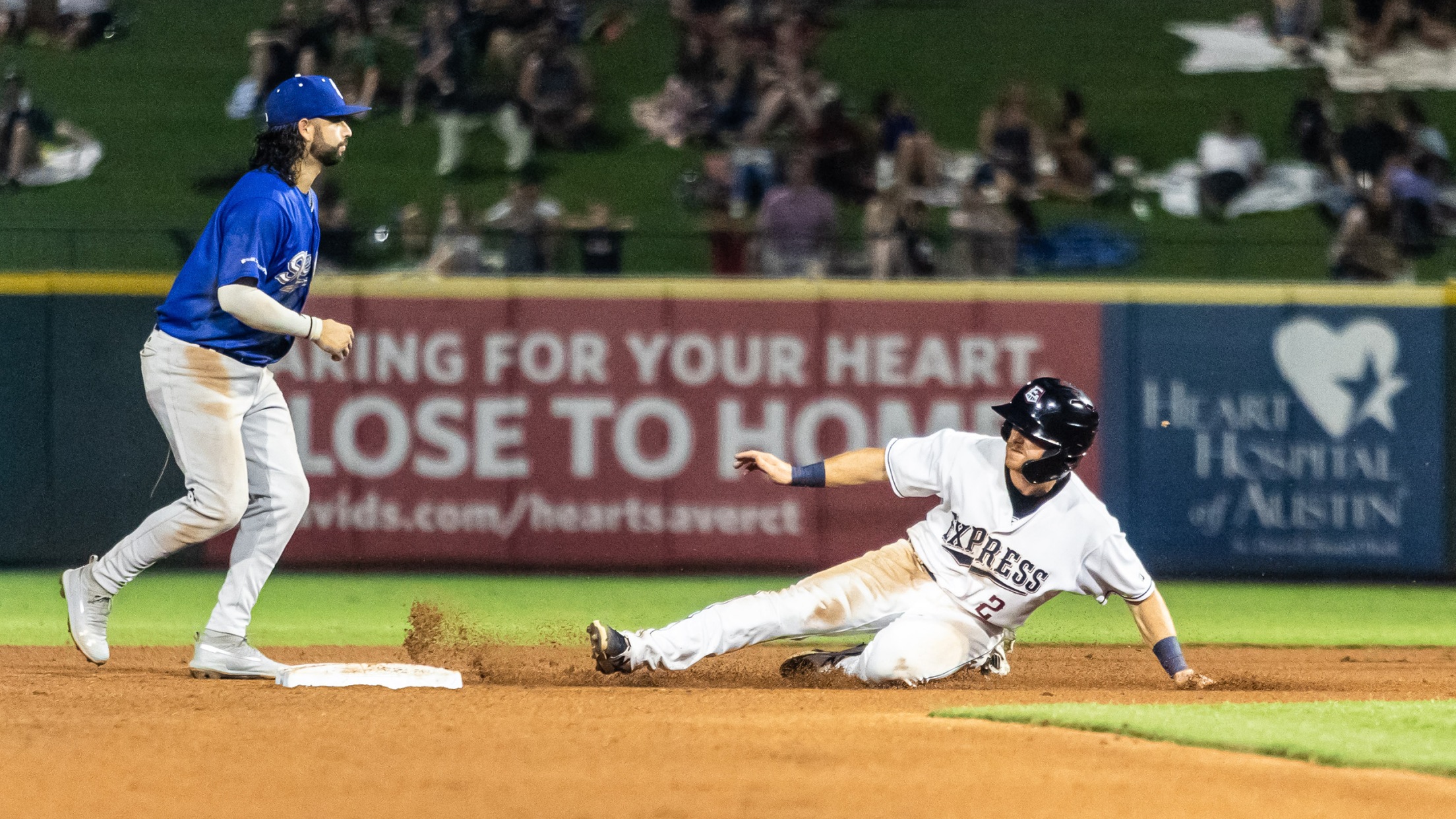 (Matthew Brooks)
ROUND ROCK, Texas – The Round Rock Express (55-53) secured a 6-4 win to open its series against the Sugar Land Skeeters (63-46) on Thursday night at Dell Diamond. Express 2B Domingo Leyba finished perfect on the night, hitting 4-4 and just a home run shy of the cycle. The
ROUND ROCK, Texas – The Round Rock Express (55-53) secured a 6-4 win to open its series against the Sugar Land Skeeters (63-46) on Thursday night at Dell Diamond. Express 2B Domingo Leyba finished perfect on the night, hitting 4-4 and just a home run shy of the cycle. The infielder also drove four runs in and scored one.
Round Rock starter LHP Jake Latz (1-0, 3.32) worked his way to the win as he threw 5.0 innings that saw three runs, all unearned, on three hits with four strikeouts. The loss went to Sugar Land starter RHP J.P. France (4-1, 3.61), who allowed five runs on seven hits and two walks during his 4.0 innings on the mound.
The Express opened things up in the first inning with four runs. SS Ryan Dorow led off the frame with double and was joined on base as LF Steele Walker singled. After two Round Rock strikeouts, DH Curtis Terry worked a walk, loading the bases. All three runners came home thanks to a triple from 2B Domingo Leyba that put him in prime position to extend the lead even further. CF Elier Hernandez singled to drive Leyba home and make it a 4-0 game.
Dorow increased Round Rock's advantage to 5-0 in the second with his fifth home run in the last six contests, a solo dinger to left-center field.
Sugar Land trimmed the lead to 5-3 in the fifth when RF Marty Costes, DH Michael Papierski and C Drew Butera loaded the bases on an Express error, single and walk, respectively. With two outs, SS Jeremy Pe**ñ**a hit a two-RBI single to score Costes and Papierski before 1B Jacob Wilson sent Butera in with a single of his own.
The Skeeters added a run in the seventh inning when Butera and 2B Alex De Goti knocked back-to-back doubles that sent Butera across home plate for a 5-4 total. The good guys plated an additional run of their own in the eighth as Terry, who had doubled to right-center field, scored on a double from Leyba to regain a two-run lead.
Round Rock RHP Buck Farmer secured the 6-4 final with his sixth save in as many outings with a ninth-inning appearance in which he pitched to one flyout and a double play after walking the second batter of the frame.
Round Rock and Sugar Land are back in action at Dell Diamond on Friday night for game two. Express RHP Collin Wiles (5-2, 4.50) is scheduled to take the mound up against Skeeters RHP Chad Donato (2-2, 5.59). First pitch is set for 7:05 p.m. CT.
For more information about the Express, visit RRExpress.com or call (512) 255-2255. Subscribe to the E-Train email newsletter and keep up with the Express on Facebook, Instagram and Twitter!