Suns Claim Opener vs 'Hoppers in Extras
Beat Hoppers for Fifth-Straight Road Win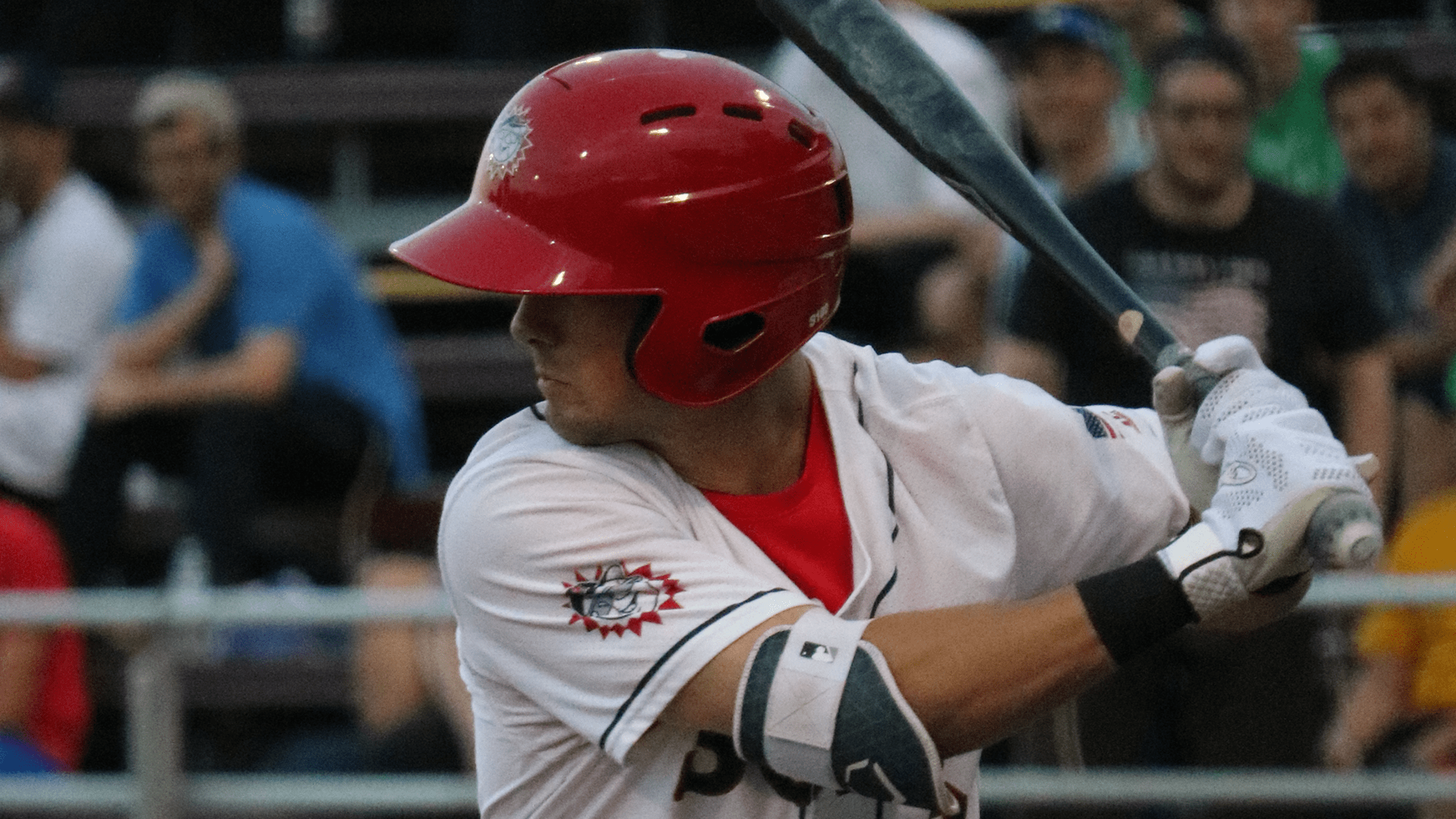 Jackson Cluff hit his first professional homer in the second inning before driving in the game-winning run in the tenth against the Greensboro Grasshoppers Monday night. (Abby Choi/Hagerstown Suns Staff)
GREENSBORO, NC (July 15, 2019) - The Suns used a Jackson Cluff base knock to score Phil Caulfield in the tenth to upend Greensboro 6-5 at First National Bank Field Monday evening.Cluff had a big night for the Suns (40-54, 10-14). He hit his first professional home run in a four-run second inning prior to
GREENSBORO, NC (July 15, 2019) - The Suns used a Jackson Cluff base knock to score Phil Caulfield in the tenth to upend Greensboro 6-5 at First National Bank Field Monday evening.
Cluff had a big night for the Suns (40-54, 10-14). He hit his first professional home run in a four-run second inning prior to driving in the go-ahead run in extras. It was his second game-winning hit of the year in extras. The shortstop finished the night 2-for-5 with two RBI.
The Suns started the scoring in the second inning after Israel Pineda singled and Kyle Marinconz doubled to set the field for Caulfield, who smoked a one-out double to right to score the two runners. The second baseman has driven in six runs in the last two games. Cluff hit his homer after and then Armond Upshaw added a solo shot, his first of the season.
Greensboro (57-36, 13-11) did not go away quietly though. The Grasshoppers tagged Jackson Stoeckinger out of the game with a run in the fifth and three in the sixth before Ryan Tapani (BS, 4; W, 5-5) came in to finish the game.
Stoeckinger spun four perfect innings before getting into trouble and Tapani gave up the tying run in the seventh before twirling three scoreless to close out the game.
Yerry De Los Santos (L, 3-1) gave up the run in the tenth to fall for the first time this season.
These two teams continue their three-game series tomorrow at 7:00 p.m. at First National Bank Field. Hagerstown sends RHP Francys Peguero (2-7, 2.60 ERA) to the bump, while Greensboro utilizes righty Luis Nova (3-2, 5.01 ERA).
The Suns return home for a four-game series with the Hickory Crawdads July 18-21. The homestand is littered with promotions from a Jimmy Buffett-themed Thirsty Thursday, an Early Halloween Party, Friday, Wrestling Night, with an appearance from Bob Backlund before we wrap up the homestand with a Kids Sunday Funday.