Suns Drop Memorial Day Double Header
Scudder hits a slam and Luis Garcia has three hits in game one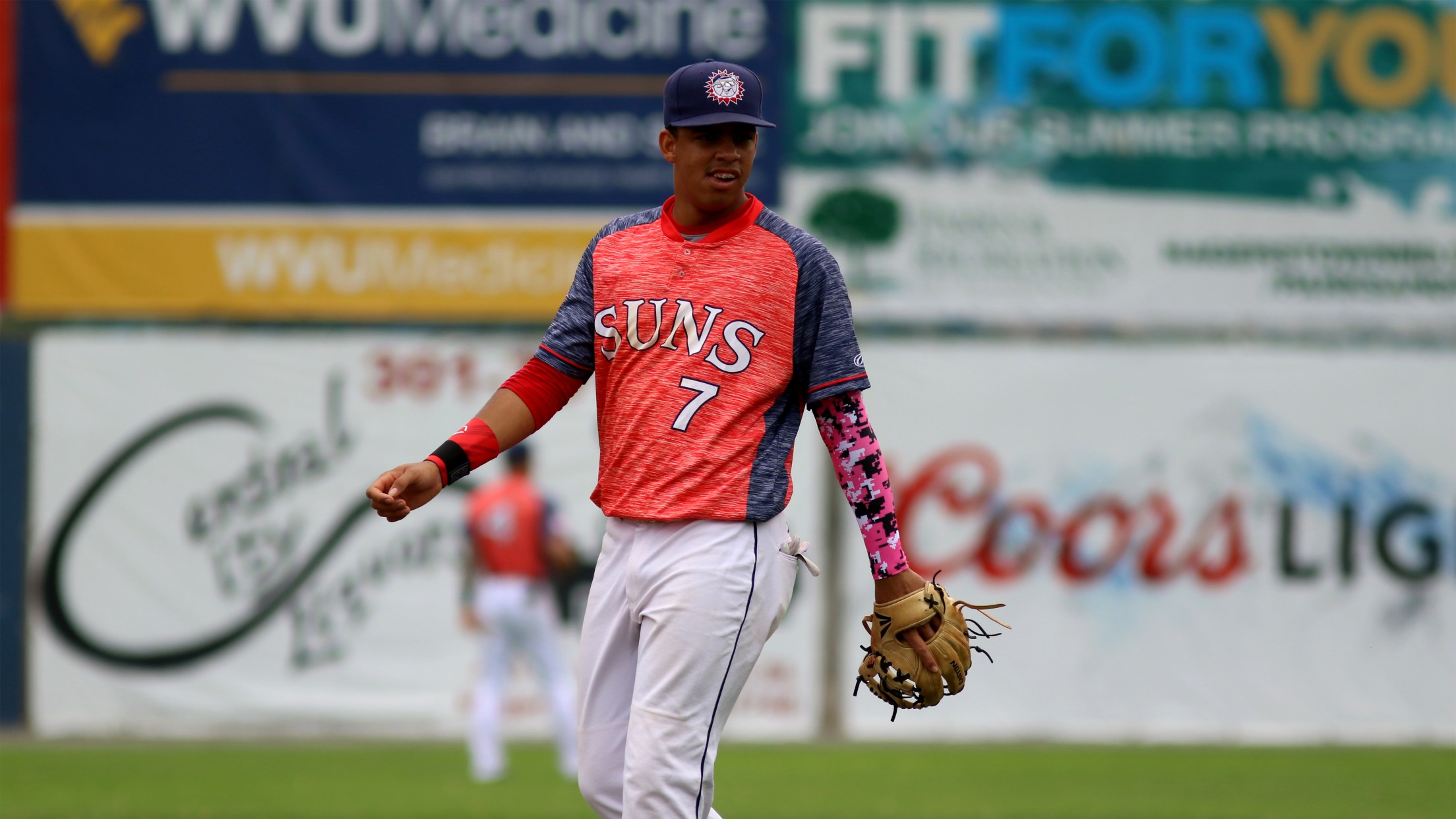 (Andy Grosh)
Hagerstown, MD - After Sunday's game was suspended due to rain, play was resumed in the fourth inning on Monday afternoon. The Greensboro Grasshoppers came back and upended the Hagerstown Suns, who had a three-run lead, defeating the Suns 8-5 in game one. Greensboro took game two 6-1, sweeping the
Hagerstown, MD - After Sunday's game was suspended due to rain, play was resumed in the fourth inning on Monday afternoon. The Greensboro Grasshoppers came back and upended the Hagerstown Suns, who had a three-run lead, defeating the Suns 8-5 in game one. Greensboro took game two 6-1, sweeping the double header while dropped the Suns to 18-32 overall. Hagerstown welcomes the Hickory Crawdads to Historic Municipal Stadium on Tuesday for a three-game series with a 7:05 PM first pitch.
The Grasshoppers were first to score on Sunday, with A.J. Bogucki on the mound for Hagerstown. With one out, Cameron Baranek hit a double high off-the-wall in center field and scored when Lazaro Alonso doubled to the right-center field gap to give the Grasshoppers a 1-0 lead.
Hagerstown immediately answered back in the bottom of the frame, scoring five runs against Grasshoppers starter Taylor Rogers. Cole Freeman led off with a double to left center and Yasel Antuna was hit by a pitch. Aldrem Corredor walked to load the bases and with two outs, Luis Garcia singled to left to score Freeman and keep the bases loaded with a tie game. Jake Scudder hammered his second home run of the season in the next at-bat, improving the Suns lead to 5-1. Scudder's grand slam traveled 369 feet over the right field wall and was his first homer at Historic Municipal Stadium this season.
The Grasshoppers loaded the bases in the fourth against Bogucki, but the Greensboro rally was cut short by rain. Alonso led off with a single to right and Marcos Rivera walked behind him. Sam Castro reached on an infield single to load the bases, and Zach Sullivan walked to push Alonso to the plate, making it a 5-2 lead. The rain, which had begun falling in the top of the third, intensified to the point where play could not be continued. The game entered into a delay and eventually the game was suspended due to the inclement weather.
The game continued on Monday with Carlos Acevedo taking the bump in place of Bogucki with the bases loaded and no outs. B.J. López grounded out to short to re-start the inning, with Rivera scoring to make it a 5-3 game. Garvis Lara singled to right, driving in Castro and Sullivan to tie the game, and Baranek singled to right, plating Lara to give Greensboro a 6-5 advantage.
Greensboro added two runs in the ninth, taking an 8-6 lead that the Suns could not overcome. Bogucki threw three innings, allowing five runs on four hits with three walks and five strikeouts. Acevedo (0-3) took the loss, throwing five innings while allowing one run on three hits with two walks and four strikeouts. Jared Brasher hurled one inning with two runs on two hits, a walk and one strikeout.
Game two began with Greensboro taking the lead with two outs in the first against Suns starter Matthew DeRosier. Baranek walked and Alonso singled to left, but Baranek scored when Rivera singled to right and gave the Grasshoppers a 1-0 lead.
Greensboro touched DeRosier up for three more in the third inning to extend their lead. Thomas Jones led off with a walk and scored when Jose Devers doubled to center, making it a 2-0 Grasshoppers lead. On the next pitch, Baranek homered to center field doubling Greensboro's lead and giving the visitors a 4-0 advantage.
The Suns fought back in the sixth, with Aldrem Corredor scoring on a Jeyner Baez single to cut the Grasshoppers' lead to 4-1, but Greensboro added two insurance runs in the seventh and went on to win, 6-1.
DeRosier (2-2) threw six innings in a losing effort, allowing four runs on six this with two walks and six strikeouts. Phil Morse threw the seventh, allowing two runs (one hit) on one run with two walks.
Notes: Scudder's grand slam in game one was the Suns second of the season… It was the first grand slam since Antuna hit one against the Lexington Legends on April 20… Freeman has his ninth multi-hit game of 2018 in game one… Corredor has his ninth as well… Garcia had his 12th multi-hit effort… He has five three-hit games this year… Three of them have come in the month of May, where he's batting .374… Scudder had his second multi-RBI game… His four RBIs set a new career-high… DeRosier's six innings ties a season-high… He's allowed six hits in a game three times this season… DeRosier has at least five strikeouts in all of his starts… Three of the four starts are six-strikeout games… Alonso hit a ball in game two that had an exit velocity of 112 MPH for Greensboro… The Suns begin a three-game series with the Hickory Crawdads on Tuesday with a 7:05 PM first pitch… The Suns will start LHP Jackson Stoeckinger (2-3, 7.85 ERA) while Hickory has yet to name a starter… The broadcast can be heard, starting with the pregame show at 6:50 PM on www.hagerstownsuns.com by going to multimedia and "Listen Live" which also has downloads for a free app on the iPhone, iPad, Blackberry, and Android... The broadcast is also available on the Hagerstown Suns Radio Network in the Tune-In Radio App.