Suns Go Back-to-Back in Comeback Win
Garcia and Banks homer in the eighth in 8-6 win Tuesday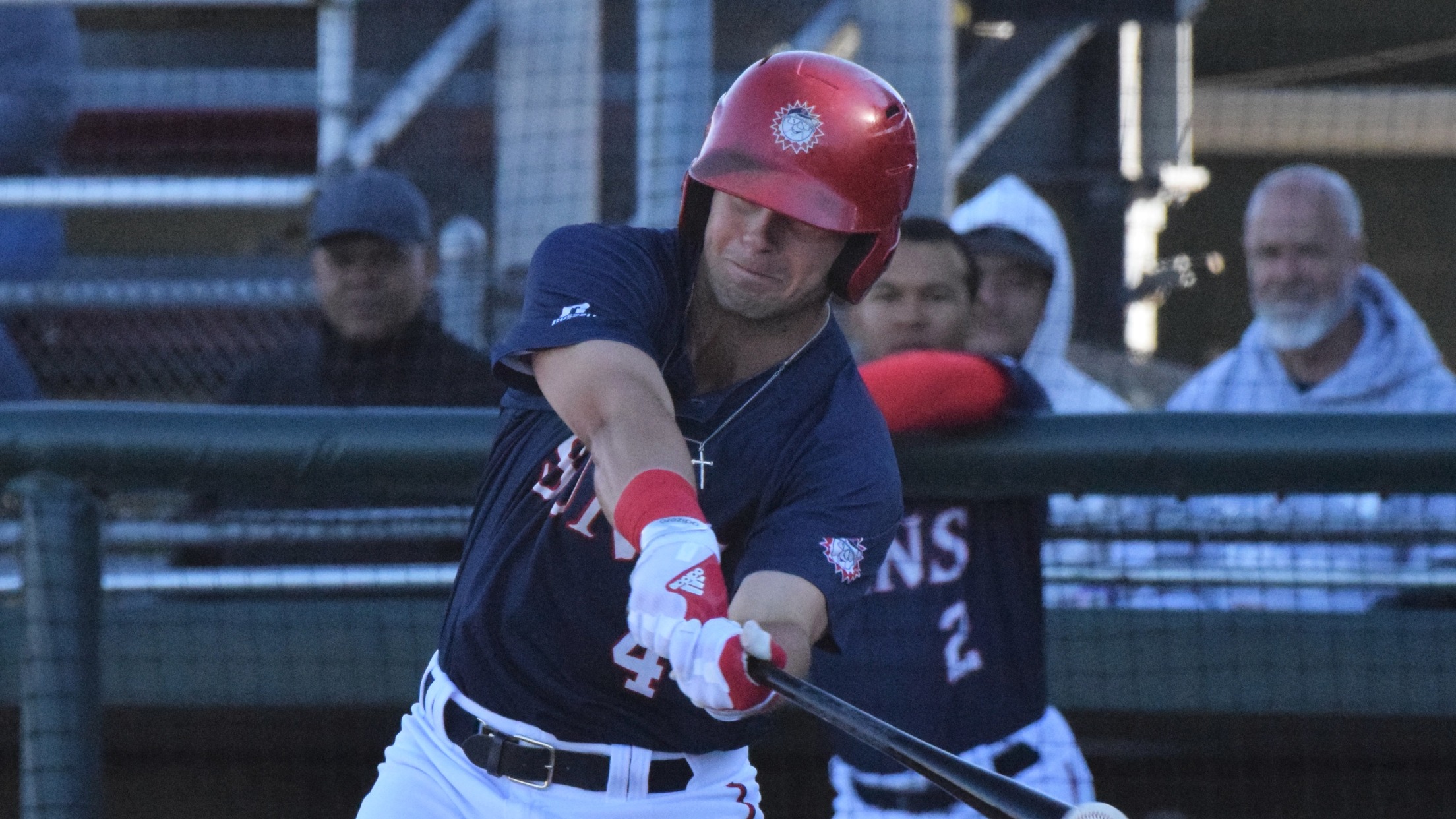 Greensboro, NC - Luis Garcia blasted his first home run of the season and Nick Banks followed up with an insurance homer in the eighth inning as the Hagerstown Suns beat the Greensboro Grasshoppers 8-6 on Tuesday evening at First National Bank Field. The Suns improve to 8-17 overall and
Greensboro, NC - Luis Garcia blasted his first home run of the season and Nick Banks followed up with an insurance homer in the eighth inning as the Hagerstown Suns beat the Greensboro Grasshoppers 8-6 on Tuesday evening at First National Bank Field. The Suns improve to 8-17 overall and will play the Grasshoppers in the second game of a three-game set on Wednesday with a 12:00 PM first pitch.
Greensboro took an early lead on the Suns against Hagerstown starter Jackson Tetreault. In the first inning, Jose Devers led off with a single to right and with one out Isael Soto doubled to center. Devers scored to make it a 1-0 Greensboro lead, but Lazaro Alonso doubled to right allowing Soto to score and give the Grasshoppers a 2-0 advantage.
The Grasshoppers extended their lead in the fourth against Tetreault and Suns reliever Ben Braymer. Marcos Rivera homered to left, his first of the season, to give Greensboro a 3-0 lead. With one out, Zach Sullivan singled to center and stole second base. Jhonny Santos walked and Braymer entered the game from the bullpen to replace Tetreault on the mound. Braymer retired the first hitter he faced, but Samuel Castro singled to right, scoring Sullivan to make it a 4-0 Greensboro lead.
In the fifth, the Grasshoppers tacked on two more insurance runs with Braymer still on the mound. Alonso singled to left field to lead off the inning and Micah Brown homered to left. Brown's second homer of the year gave Greensboro a 6-0 lead.
Hagerstown got on the board in the sixth against Greensboro starter Brandon Miller and reliever Colton Hock with a four-run inning. With one out, Kameron Esthay doubled to right and Armond Upshaw walked. Jack Sundberg singled to center, scoring Esthay and moving Upshaw to second. A wild pitch moved Upshaw to third and Cole Freeman singled to left, plating Upshaw and making it a 6-2 game. Sundberg scored when Yasel Antuna reached on a fielding error and with two outs Anderson Franco doubled to drive in Freeman and narrow the deficit to two runs at 6-4.
The Suns put up four more runs in the eighth inning to take their first lead of the game against Hock and 'hoppers reliever Nestor Bautista. Sundberg singled to left and went to second when Hock made an errant throw on a pickoff attempt. With two outs, Franco singled to left and Sundberg scored to make it a 6-5 game. The Suns went back-to-back, with Garcia giving the Suns the lead after a two-run shot to right-center followed by a solo homer to right by Banks to put the Suns on top by a score of 8-6. Jeremy McKinney struck out the side in the ninth to secure Hagerstown's eighth win of the season.
Tetreault allowed four runs on seven hits with a walk and four strikeouts over 3.1 innings in a no decision. Braymer (3-0) earned the win, tossing 3.2 innings while allowing two runs on five hits with a walk and two strikeouts. McKinney earned his first save of the season, throwing a perfect two innings of work with five strikeouts.
Notes: Garcia went 94 at-bats before hitting his first home run of the season… Sundberg had his first multi-hit game of the season… Freeman had his sixth multi-hit game… It's his second two-hit game in a row… Franco had his sixth multi-hit game and his first multi-RBI game of the year… He has a hit and an RBI in each of his last three games… Garcia had his second multi-RBI game of the year for Hagerstown… McKinney tied a career high with five strikeouts, which he set on July 13, 2017 in the New York-Penn League against the Aberdeen Ironbirds… Tuesday night was the Suns third win this season when trailing after the seventh inning… Eight Suns had a hit in the game… Hagerstown's 12 hits ties a season high from April 21 against Lexington… The Suns and Grasshoppers will play the second game of the series on Wednesday at 12:00 PM… Hagerstown will send RHP Tomas Alastre (0-1, 6.00 ERA) to the hill against Grasshoppers RHP Taylor Braley (1-2, 4.09 ERA).