Suns Hit Three Homers; Lose in Extras in Home Opener
Flores, Banks, and Esthay all homer while Tetreault K's eight in loss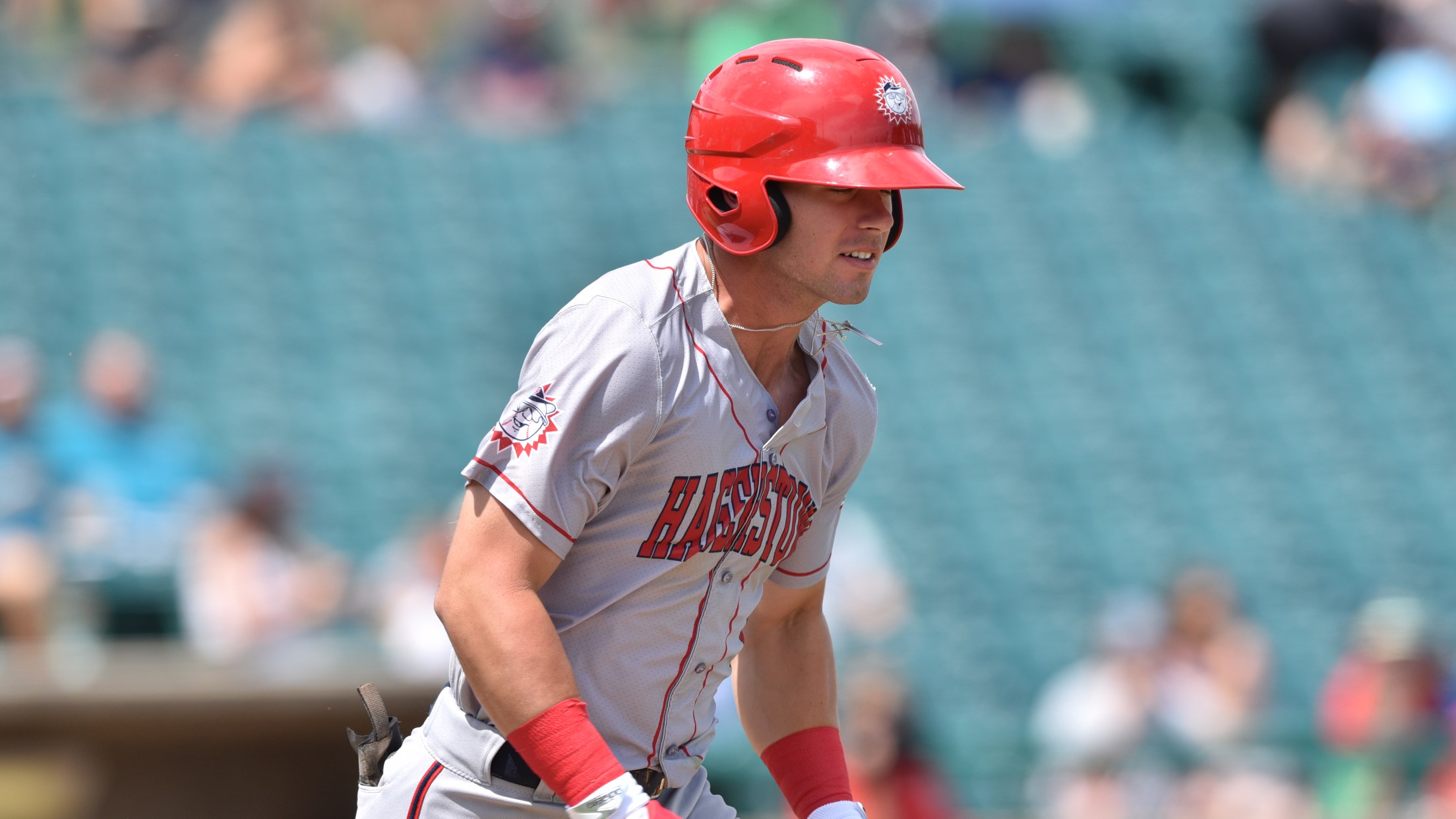 Hagerstown Suns right fielder Nick Banks (4) (Ken Inness/MiLB.com) (Ken Inness/MiLB.com)
Columbia, SC - Three Hagerstown Suns homered on Thursday night while Jackson Tetreault racked up eight strikeouts, but the Suns fell 10-9 in extra innings to the Greensboro Grasshoppers in Hagerstown's home opener. The Suns are 2-6 overall and will play the second game in the four-game set with Greensboro
Columbia, SC - Three Hagerstown Suns homered on Thursday night while Jackson Tetreault racked up eight strikeouts, but the Suns fell 10-9 in extra innings to the Greensboro Grasshoppers in Hagerstown's home opener. The Suns are 2-6 overall and will play the second game in the four-game set with Greensboro on Friday at Municipal Stadium with a 6:05 PM first pitch.
Hagerstown scored in the first inning against 'Hoppers righty Brandon Miller, who made a spot start after Nestor Bautista was a late scratch. With one out, Luis Garcia singled to center and Juan Soto walked behind him, but Nick Banks grounded into a fielder's choice that moved Garcia to third and retired Soto. With runners at the corners and two outs, Yasel Antuna singled to drive in Garcia and give Hagerstown a 1-0 lead.
The Suns scratched across four more runs in the second inning against Miller. With one out, Alex Flores launched his first home run of the season to right-center field and gave the Suns a 2-0 advantage. With two outs, Cole Freeman was hit by a pitch and Garcia singled to move Freeman to third. Garcia went to second on a wild pitch and Soto doubled to left to drive both runners in and make it a 4-0 Suns lead. Banks followed with a single to score Soto and give Hagerstown a five-run cushion.
Greensboro cut into the Suns lead in the third against Tetreault. Zach Sullivan led off with a single to right and Sam Castro bunted for a single. Both runners moved up one base on a passed ball and Garvis Lara walked to load the bases. Isael Soto hit a sacrifice fly in foul territory to left, scoring Sullivan to make it a 5-1 ballgame.
The Grasshoppers scored two more in the fourth inning against Tetreault to narrow Hagerstown's lead to two runs. Micah Brown doubled to left and with two outs, Sullivan struck the first pitch he saw over the left-field wall to make it a 5-3 game.
The Suns extended their lead in the bottom of the inning against Miller in his final inning of work. With two outs Soto walked again, and Nick Banks took the first pitch of the at-bat over the right-center field wall. The homer was Banks' first of the season and gave Hagerstown a 7-3 cushion.
Greensboro scored one run in the fifth inning and pulled within a run in the seventh. A.J. Bogucki was on the mound for the Suns and Lara led off the inning with a double to right. With two outs Brown homered to center to cut Hagerstown's lead to 7-6.
The Suns last offensive gasp came in the seventh against reliever Tyler Frohwirth. Kameron Esthay led off the inning with a homerun to extend the Hagerstown lead to 8-6. With one out, Flores reached and went to second on a throwing error and with two outs Freeman was hit by a pitch. Garcia singled to left to score Flores and give the Suns a three-run lead, 9-6.
Greensboro scored in the eighth to pull within two and in the ninth inning they tied the game. Lara worked a leadoff walk and Soto double to left-center, moving Lara to third. Eric Gutierrez grounded out to third base, but Lara scored to make it a 9-8 Suns lead, and Soto moved up a base to put to tying run on third. Brown lofted a sacrifice fly to center field, scoring Soto and tying the game at 9-9.
In the 10th, Michael Hernandez started the inning on second base due to new MiLB extra-inning rules with Max Engelbrekt on the mound. Sullivan laid down a sacrifice bunt to move Hernandez to third and with two outs Aaron Knapp doubled to right-center, driving in Hernandez for the go-ahead run.
Hagerstown faced Manuel Rodriguez with Freeman being placed on second to start the bottom of the inning. Garcia attempted to move Freeman to third with a bunt, but Hernandez fielded the ball and threw Freeman out at third with Garcia reaching on a fielder's choice. Soto walked to advance Garcia into scoring position, but Banks lined into a double play to end the game with the Suns taking their sixth loss of the season, 10-9.
Tetreault went five innings in a no decision, allowing four runs on eight hits with a walk and eight strikeouts. Bogucki earned a hold, throwing two innings while allowing two runs on two hits and a strikeout. Brasher blew a save over two innings with three runs, two hits, two walks, and a strikeout. Engelbrekt (0-1) went one inning in a loss, allowing one unearned run on a hit.
Notes: Thursday was the first extra-inning game the Suns played this season… It's also the first game the team has played under the new extra-inning rules… Garcia had a career-high four hits… Flores tied a career-high with three hits… Freeman was hit by a pitch three times, and has been hit four times this season… The Suns tied their season-high in runs scored with nine… They also set a season-high with 13 hits… The three home runs are the most by the team in a single game this season… Tetreault set a career-high with eight strikeouts, which is also the most for a Suns starter this season… Thursday was the first time an opponent scored 10 runs against Hagerstown since August 23 of last year… Greensboro's five doubles ties the most allowed by Suns pitching this year… They also had more extra-base hits (8) than any other opponent this season… The Suns will play the second of four games against Greensboro on Friday with a 6:05 PM first pitch… Opening weekend continues on Friday… Fans who attend the game will receive a 2018 Hagerstown Suns Magnetic Schedule (while supplies last)… Hagerstown will send RHP Tomas Alastre (0-1, 9.64 ERA) to the mound against Greensboro RHP Ryan Lillie (0-0, 5.40 ERA)… The broadcast can be heard, starting with the pregame show at 5:50 PM on www.hagerstownsuns.com and going to multimedia and "Listen Live" which also has downloads for a free app on the iPhone, iPad, Blackberry, and Android… The broadcast is also available on the Hagerstown Suns Radio Network in the Tune-In Radio App.