Suns Pitching Combines for First Shutout of Season
Irvin Finishes Out Shy of Quality Start in 3-0 Win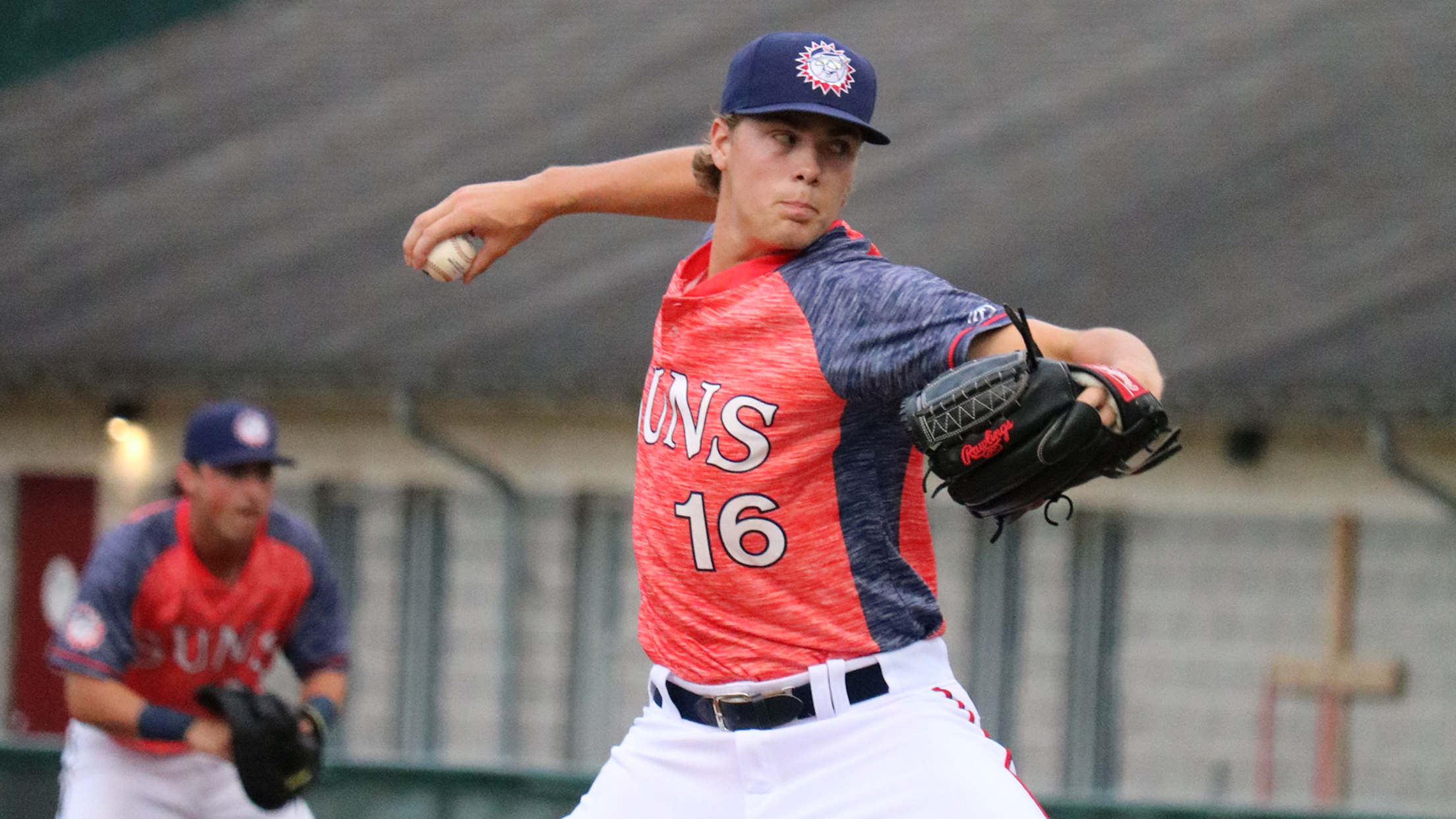 Jake Irvin spun 5.2 scoreless innings in Hagerstown's first shutout since August 20, 2018 against the Columbia Fireflies (Abby Choi)
HAGERSTOWN, MD (May 10, 2019) - The Hagerstown Suns pitching staff, led by starter Jake Irvin, blanked Lakewood 3-0 to close out a three-game series at Municipal Stadium Friday night.Irvin (W, 2-3) finished with 5.2 innings pitched, while allowing just four hits and wringing up a career-high eight batters in the start before
HAGERSTOWN, MD (May 10, 2019) - The Hagerstown Suns pitching staff, led by starter Jake Irvin, blanked Lakewood 3-0 to close out a three-game series at Municipal Stadium Friday night.
Irvin (W, 2-3) finished with 5.2 innings pitched, while allowing just four hits and wringing up a career-high eight batters in the start before handing the ball to Aaron Fletcher . The lefty spun out of trouble in the sixth before finishing the seventh and eighth without allowing a hit. Jackson Stoeckinger (S, 2) closed out the game, working a scoreless ninth to cap off the Suns (16-18) first shutout of the 2019 season. Hagerstown's last shutout came August 20, 2018 in a 7-0 win over the Columbia Fireflies.
The offense kicked things off early, scoring a run in three of the first four frames. Kyle Marinconz knocked a one out double into left in the first to get the Suns on the bases, then Jacob Rhinesmith drove him in with a double to push Hagerstown ahead of Lakewood (11-23) 1-0.
The bats did not stop there. Tyler Cropley hit his first of two two-baggers on the evening in the second. After that, Pablo O'Connor poked a single through the hole up the middle to score Cropley and move the Suns' advantage to 2-0.
Hagerstown's final run came home in the fourth on Cropley's second double of the game to usher designated hitter Israel Pineda across home.
Francisco Morales (L, 0-3) was tagged with the loss for Lakewood. He allowed all three runs in four innings of work before handing the ball to the bullpen, who finished the game throwing four scoreless innings.
The Suns travel to Delmarva to take on the first-place Shorebirds tomorrow. Patrick Anderson sends RHP Francys Peguero (1-1, 2.45 ERA) to the hill. Delmarva counters with lefty Drew Rom (1-0, 2.53 ERA).
Historic Municipal Stadium plays host to the Suns again May 17-24 as Hagerstown brings Hickory and Kannapolis to town for eight games. There are tons of reasons to head out to the ballpark including Comic Con May 18, Bark in the Park May 22 and Thirsty Thursday May 23. For tickets or more information call 301-791-6266 or visit hagerstownsuns.com.