Suns Split DH with Late Rally in Game Two
Hagerstown scores four run late in game two to split twin bill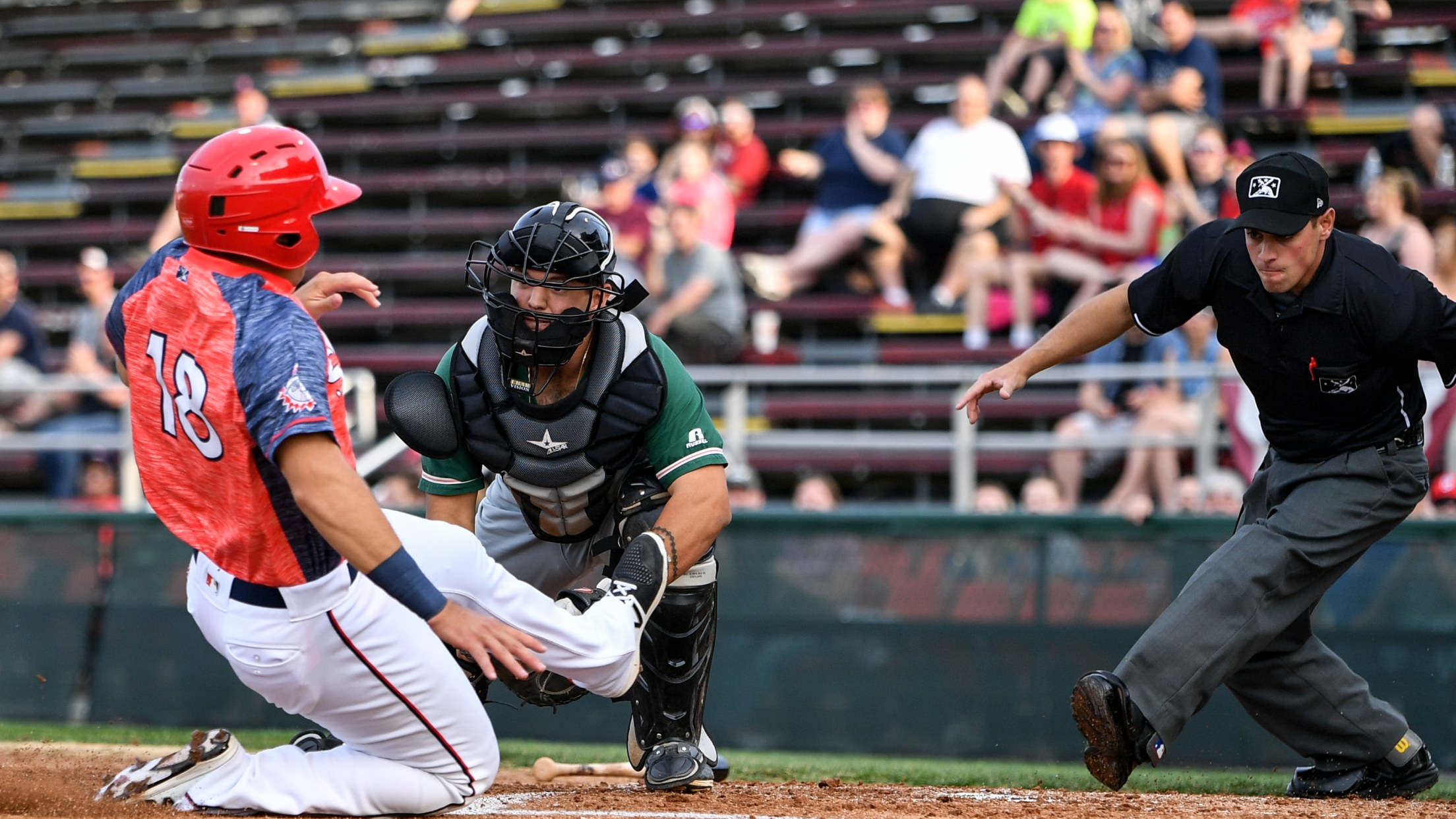 (Terrance Williams)
Salisbury, MD - The Hagerstown Suns rallied late in the second game of a double header on Sunday against the Delmarva Shorebirds to earn a split and an overall series win with an 8-5 game-two win, while falling in game one 4-0. The Suns improve to 15-26 overall and will
Salisbury, MD - The Hagerstown Suns rallied late in the second game of a double header on Sunday against the Delmarva Shorebirds to earn a split and an overall series win with an 8-5 game-two win, while falling in game one 4-0. The Suns improve to 15-26 overall and will begin a four-game series against the Lakewood BlueClaws with Monday's first pitch coming at 6:35 PM at FirstEnergy Park.
The Suns kicked off the second game of the twin bill by scoring four runs in the first inning against Delmarva starter Ryan Wilson. Cole Freeman led off the ballgame with a double to left and scored when Luis Garcia doubled to right. Yasel Antuna walked and Branden Boggetto singled on a bunt, loading the bases. With one out, Aldrem Corredor walked to plate Garcia and Alex Flores drew a base on balls to score Antuna, making it a 3-0 Suns lead while keeping the bases full. Kameron Esthay lifted a sacrifice fly to left, scoring Boggetto from third to cap the scoring with the Suns staked to a 4-0 lead.
The Shorebirds pecked away at the Suns lead over the first four innings of the game. Andrew Lee made a spot-start for Hagerstown, allowing two runs with five walks over 1.2 innings, and A.J. Bogucki entered out of the bullpen in the second to allow a run in the third before giving up the lead in the fourth. Jean Carrillo singled and Jaylen Ferguson was hit by a pitch to put the go-ahead run on base. With one out, Mason McCoy tripled to center, clearing the bases and giving the Shorebirds a 5-4 lead.
In the seventh, Hagerstown staged a comeback against Shorebirds reliever Timothy Naughton. Antuna and Boggetto both walked and Nick Banks laid down a sacrifice bunt to move both runners up a base. Corredor walked to load the bases and Flores ripped a double to center field, scoring Boggetto and Banks to give the Suns a one-run lead. Esthay singled to center, driving in two more and the Suns seized an 8-5 advantage to take their second-straight series win.
Lee threw 1.2 innings with a hit, two runs, five walks, and three strikeouts in a no decision. Bogucki pitched 3.1 innings in relief, allowing three runs on three hits. Sam Held (2-2) earned a win over 2.0 innings of work, allowing two hits with a strikeout.
In game one, the Suns were shut out by Delmarva, being held to three hits. Delmarva scored three runs in the first inning with Mason McCoy hitting a two-run blast and Trevor Craport hitting a solo shot to make it 3-0. Zach Jarrett added a solo homer in the sixth and Delmarva went on to win game one 4-0.
Tomas Alastre (1-2) threw five innings, allowing three runs on three hits with a walk and a strikeout. Phil Morse threw the sixth inning, allowing one run on a hit with two strikeouts.
Notes: Freeman had a hit in each game, extending his team-best hit streak to 10 games… Boggetto did not play in game one, but did have a hit in game two to extend his hit streak to seven games… Upshaw has a four-game hit streak… Esthay has a hit in three straight games… He also had his third multi-hit game of the season along with his third multi-RBI game this year… Flores had his second multi-RBI game of the season… It was his first three-RBI game of the year as well… Alastre has four starts of 5.0 innings or longer… Lee made his first start for the Suns since 2016 where he made 11… The Suns take on the Lakewood BlueClaws on Monday to start a four-game series with a 6:35 PM first pitch… Hagerstown will send Jackson Tetreault (0-4, 7.47 ERA) to the hill against a BlueClaws starter yet to be named… The broadcast can be heard, starting with the pregame show at 5:50 PM on www.hagerstownsuns.com by going to multimedia and "Listen Live" which also has downloads for a free app on the iPhone, iPad, Blackberry, and Android... The broadcast is also available on the Hagerstown Suns Radio Network in the Tune-In Radio App.