Suns Win on Cluff's Walk-Off Single
Hagerstown takes the series in extra innings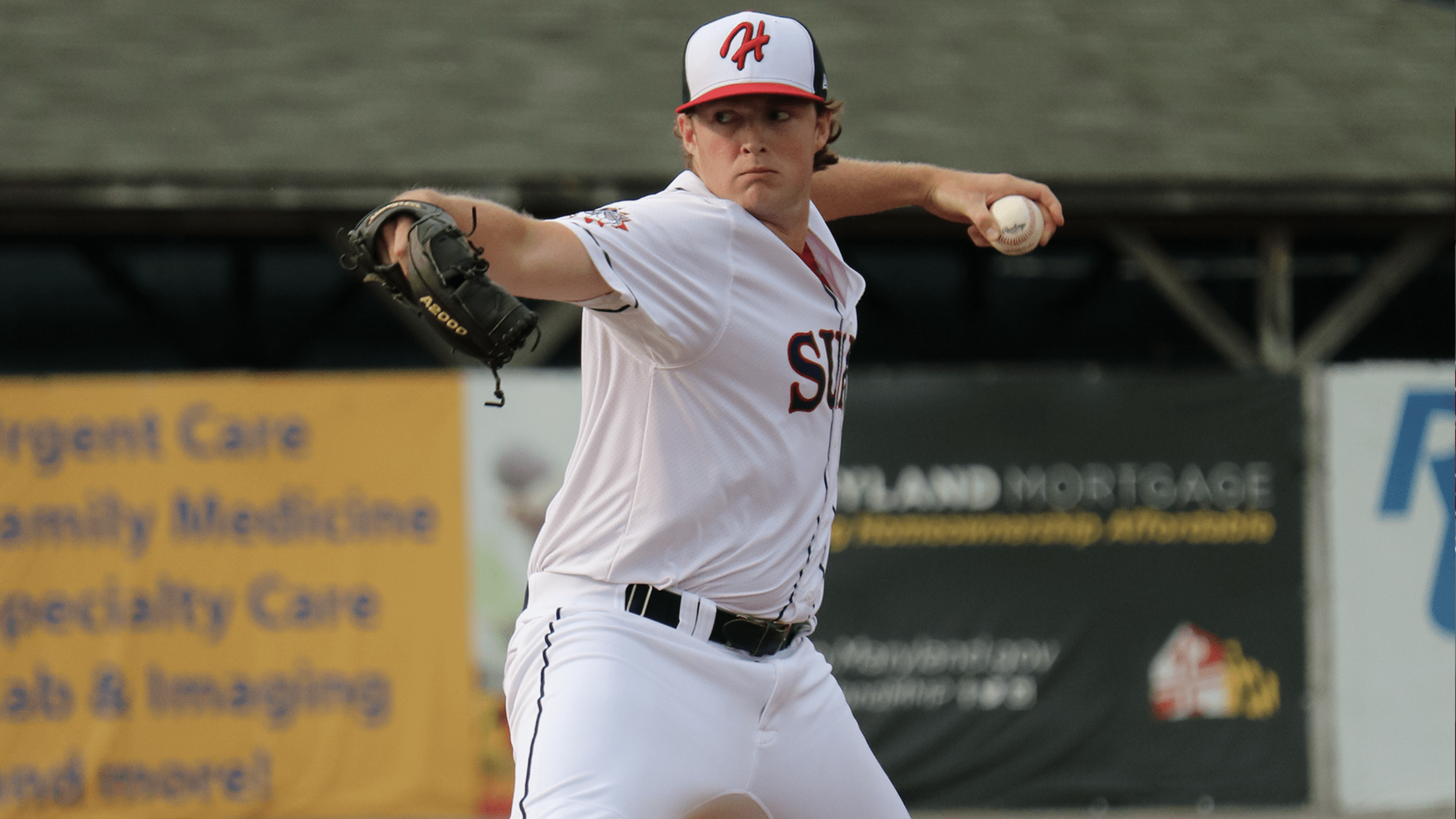 Christian Vann dominated, allowing just one walk and no runs in the 10th and 11th innings. (Abby Choi/Hagerstown Suns Staff)
HAGERSTOWN, MD (July 3, 2019) - With the bases loaded and one out in the bottom of the 11th inning, Jackson Cluff ripped a walk-off single into right field to propel the Suns to a 3-2 win over the Greensboro Grasshoppers at Municipal Stadium Wednesday. Christian Vann (W, 1-1) made the win possible
HAGERSTOWN, MD (July 3, 2019) - With the bases loaded and one out in the bottom of the 11th inning, Jackson Cluff ripped a walk-off single into right field to propel the Suns to a 3-2 win over the Greensboro Grasshoppers at Municipal Stadium Wednesday.
Christian Vann (W, 1-1) made the win possible with two scoreless innings in relief in extras. After each team failed to score in the 10th, Vann escaped a bases-loaded, no-out jam in the 11th to keep the game tied and set up the dramatic Suns (35-49, 5-9) victory.
Chandler Day, who had already pitched two scoreless innings, came back out in the ninth with a 2-1 lead, looking for a save that would have ended the game in nine innings. However, the inning started with an error that allowed Mason Martin to reach second with nobody out. He got to third with two down, and then a Jack Herman single tied the game.
Tomas Alastre got the start for the Suns and spun a gem, but was not rewarded with the win.The righty struck out a career-high eight batters while walking just one over six strong innings. The only run against him was a Michael Gretler solo home run that tied the game in the sixth.
While the Suns offense didn't show off the same fireworks that the fans saw after the game, Hagerstown's three runs were just enough to pick up the victory. Cody Wilson broke the scoreless tie in the fifth with an RBI single after Cole Daily started the frame with a double against Greensboro starter Colin Selby. Selby allowed just that one run over five innings of work.
The initial go-ahead run came in the sixth against Grasshoppers reliever Will Gardner. Justin Connell walked with one out and got to third with the help of an error. He then came across to score on a wild pitch to give the Suns the lead without the team getting a hit in the inning.
Greensboro's bullpen was able to come in and keep it close and get the game to extras. Cam Alldred threw a scoreless seventh whileCristofer Melendez didn't given up any runs in the eighth or the ninth. But it was John O'Reilly (L, 0-2) who allowed the winning run in the 11th.
Hagerstown travels to Delmarva tomorrow to start four-game series against the Shorebirds. RHP Reid Schaller (0-0, 4.50 ERA) gets the ball for the Suns while RHP Hector Guance (5-3, 3.90 ERA) will toe the rubber for Delmarva.
After the four-game road series and an off day, the Suns return to Municipal Stadium for a three-game home series against the Lexington Legends July 9-11 that includes Bark in the Park and Thirsty Thursday! For tickets or more information visit hagerstownsuns.com or call 301-791-6266.