Rainiers, Bees play game of chase
Trying to avoid tags leads to amusing incidents on basepaths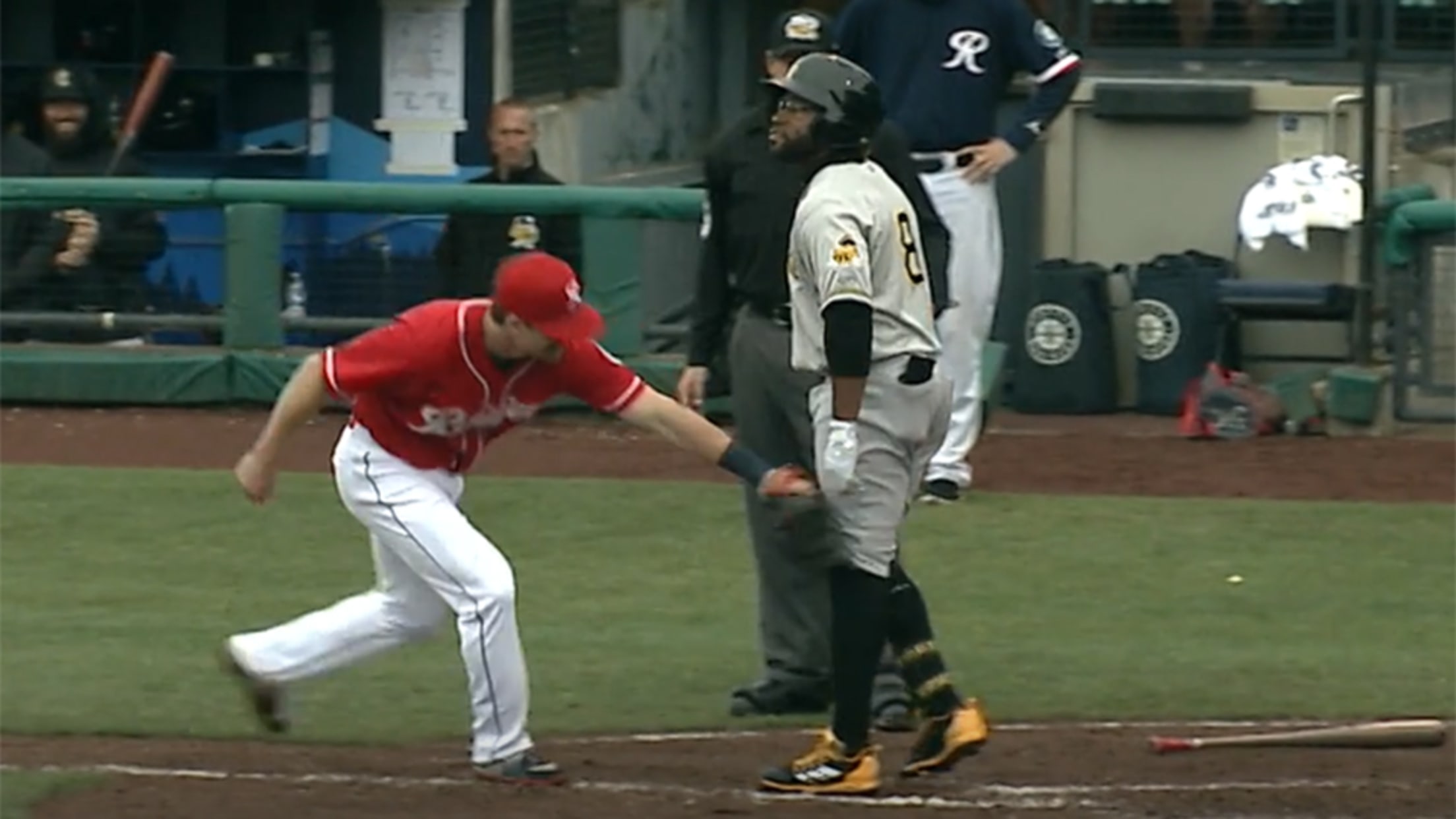 Eric Young Jr. made Tacoma first baseman Gordon Beckham work a little harder for a ninth-inning putout. (MiLB.TV)
Making an out in baseball is inevitable, but David Fletcher and Eric Young Jr. decided to make things a little more entertaining and a bit more strenuous on their opponents Sunday.The Salt Lake Bees duo was involved in a pair of plays with catcher Mike Marjama and first baseman Gordon
Making an out in baseball is inevitable, but David Fletcher and Eric Young Jr. decided to make things a little more entertaining and a bit more strenuous on their opponents Sunday.
The Salt Lake Bees duo was involved in a pair of plays with catcher Mike Marjama and first baseman Gordon Beckham that will probably be left on the cutting room floor when the next fundamentals video is produced.
With runners at the corners and the Bees ahead, 2-1, in the seventh inning, Rainiers reliever Ross Detwiler attempted a pickoff at first base. Beckham fired to shortstop Adam Law, who then threw home after Fletcher broke for home. The 21st-ranked Angels prospect tried to slap the plate with his left hand as he slid by.
Not realizing that plate umpire Clayton Hamm had yet to signal safe or out, Marjama slowly began moving toward Fletcher. When Marjama looked away, the 24-year-old made one last attempt to dart around him, but the catcher applied the tag.
The hijinks didn't end there.
Leading off the ninth, Young chopped a ball to Beckham, who moved toward the line for what he thought would be an easy tag. However, Young was in no mood to concede the out. In a mano-a-mano showdown between two players with more than 1,600 Major League games under their belts, Young stopped and begin to high-step back to the plate.
Beckham walked, then began to trot after after him. The duo went nearly all the way back to the batter's box before Young finally stopped and allowed Beckham to apply the tag for the first out of the inning.
Fletcher went 2-for-3 with a walk and a run scored, while Young was hitless in four at-bats in the Bees' 2-1 win.