Nationals Prospect Primer: Capital talent
Kieboom, Agustin trying to follow Robles on road to Washington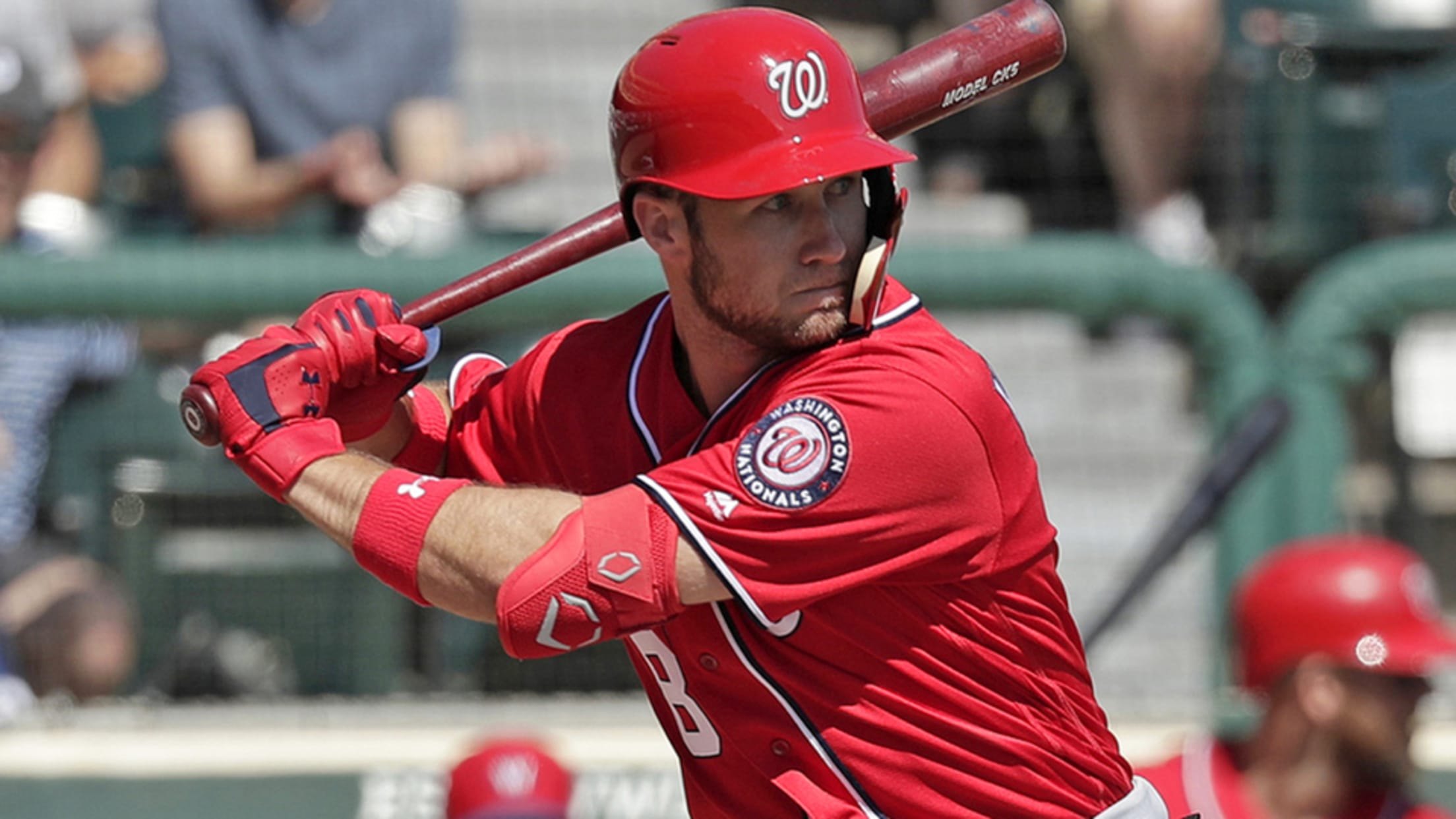 Some players are on the verge of stardom, others are entering a crucial phase of their development and still others are getting their first tastes of full-season ball. With the 2019 season approaching, MiLB.com takes a look at the most intriguing prospects from each MLB organization.Major League-ready: Victor Robles, OFMLB.com's
Top prospects opening 2019 in the Majors
Tatis, Jiménez, Robles lead large crop on MLB's Opening Day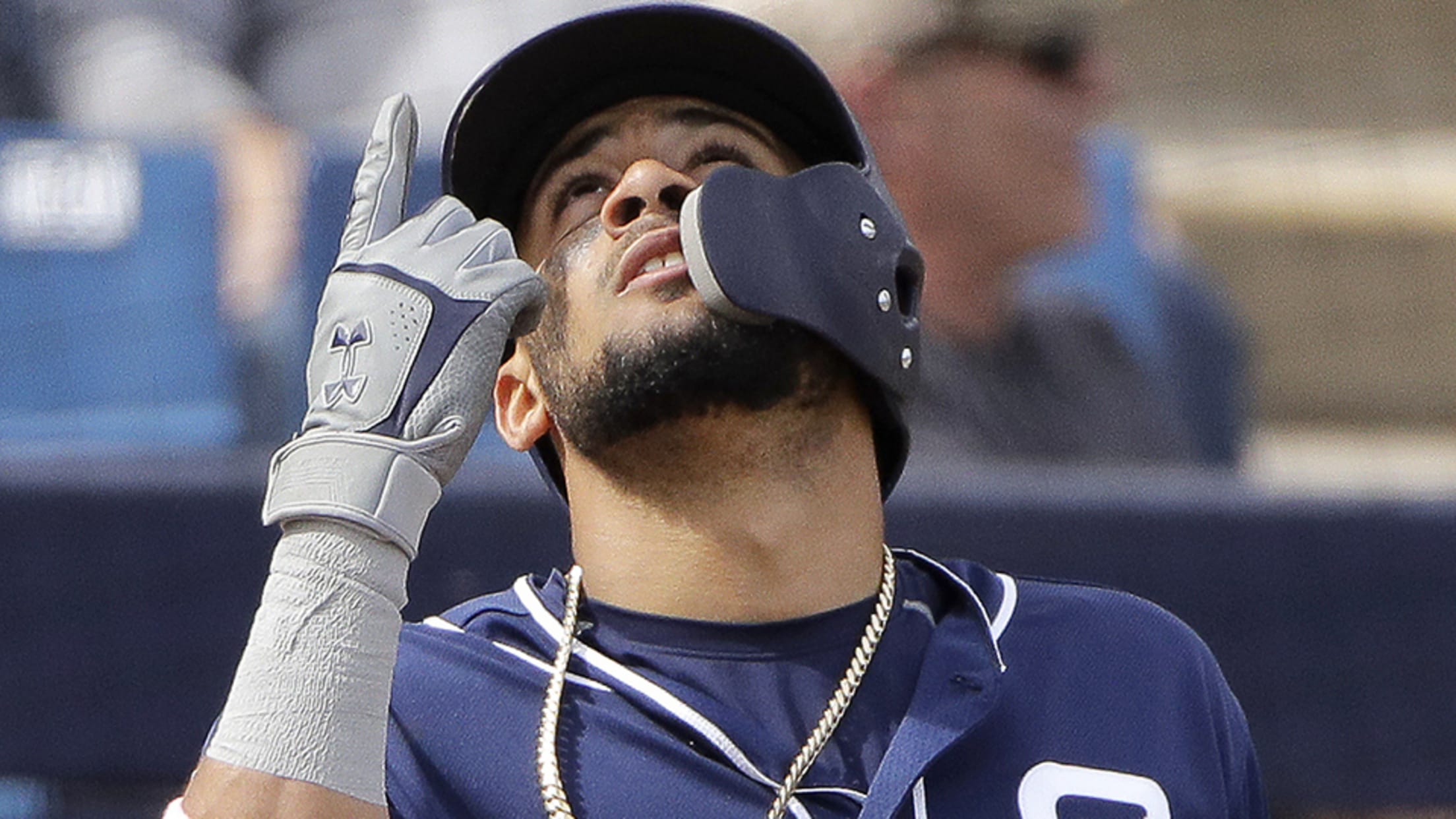 Are the tides turning?This is perhaps the most aggressive teams have been in pushing top prospects to the Major Leagues in recent memory. In 2018, nine of MLB.com's Top 100 Prospects found themselves on Major League Opening Day rosters. This year -- when 28 of the game's 30 clubs will
Robles makes the cut with Nationals
Washington's top prospect joins young phenom Soto in outfield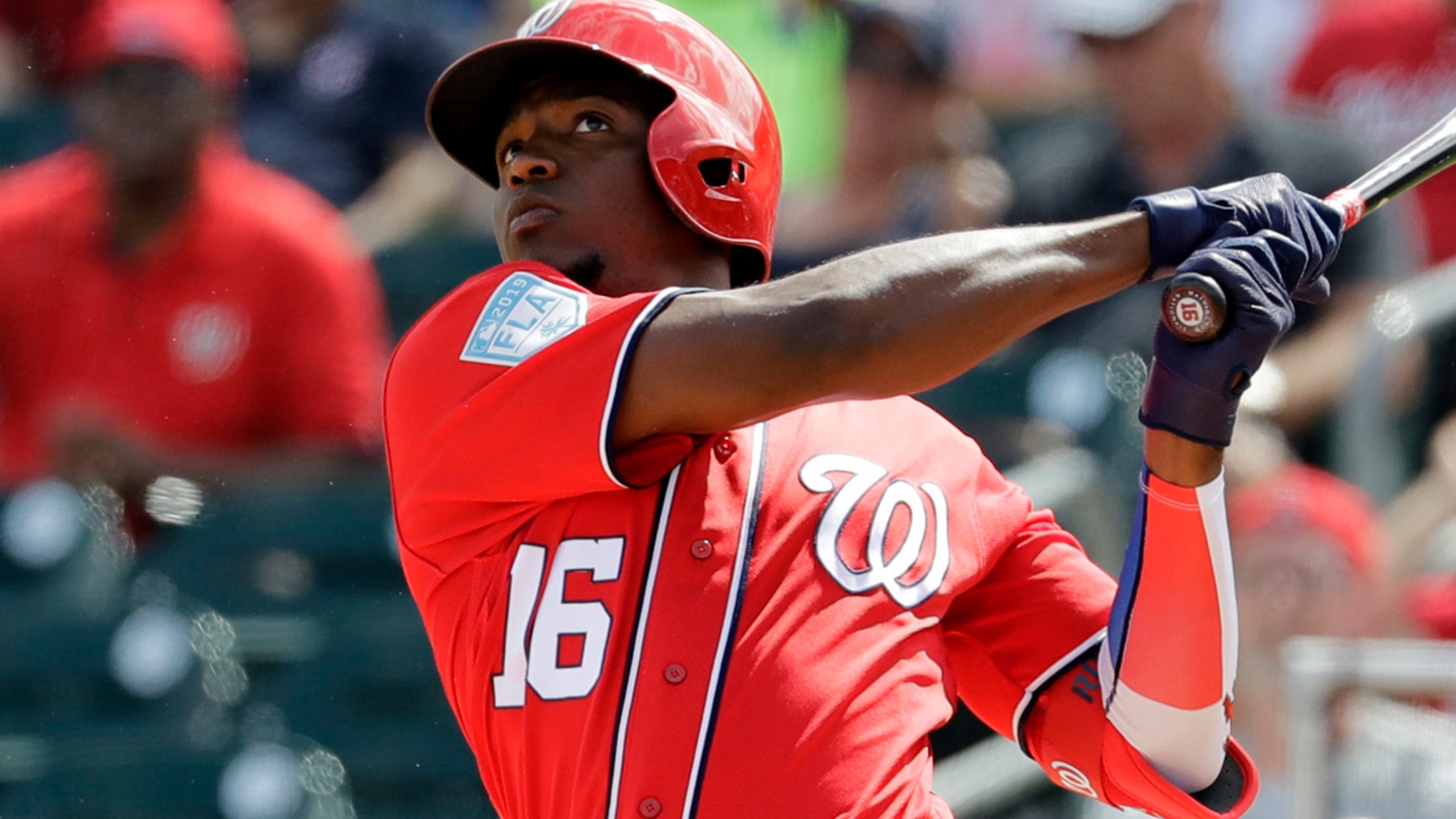 The parade of top prospects making their big league club's Opening Day rosters just got a lot faster.Baseball's No. 4 overall talentVictor Robles will be with the Nationals when they open the regular season Thursday at home against the Mets.
Toolshed: Rookie of the Year candidates
Jays' Vlad Jr., Nats' Robles lead 2019 contenders for hardware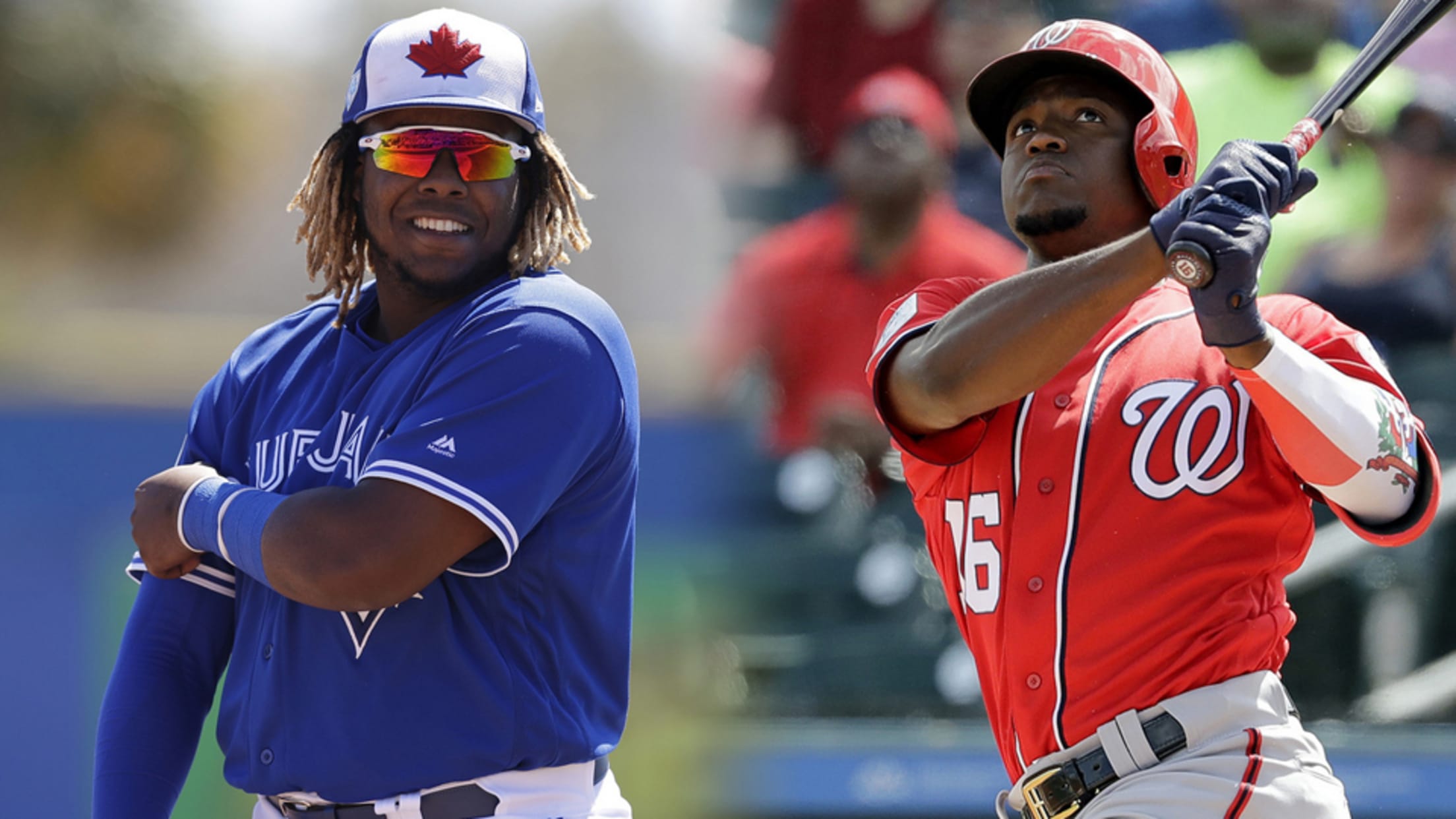 All right, we'll let the Major Leagues take the limelight for once.For most clubs, Major League Baseball's Opening Day is Thursday -- the A's and Mariners played in Japan last week -- and before first pitches are thrown across the continent, many more people will toss out their predictions for
Eloy celebrates contract with perfect day
Top White Sox prospect goes 3-for-3 with solo homer, walk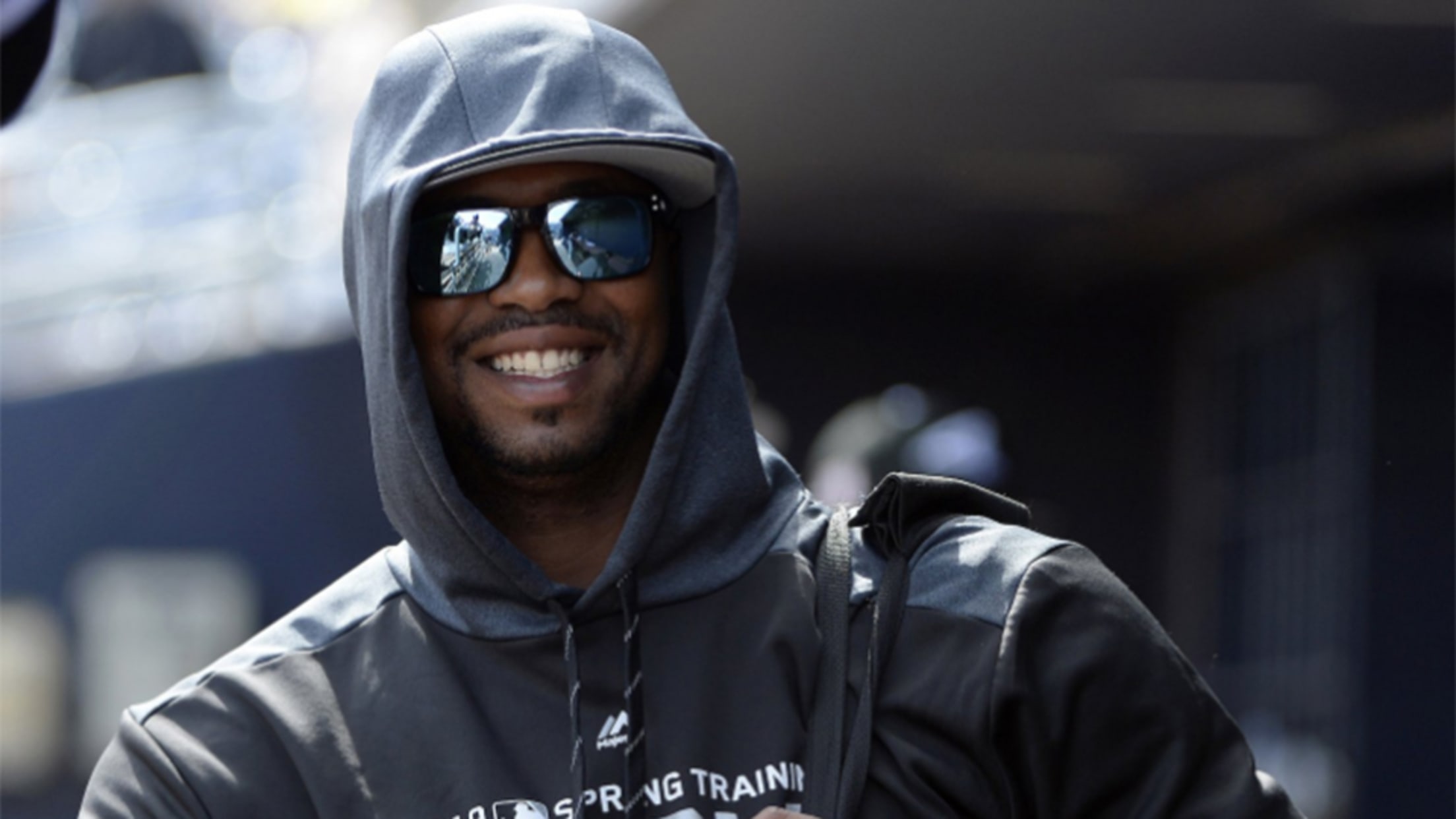 Eloy Jiménez played like a man with a new contract. The top White Sox prospect homered and reached in all four plate appearances Saturday in a 5-1 Cactus League victory over the Dodgers at Camelback Ranch. 
Nats' Robles extends hot spring with homer
No. 4 overall prospect batting .375 to date in Grapefruit League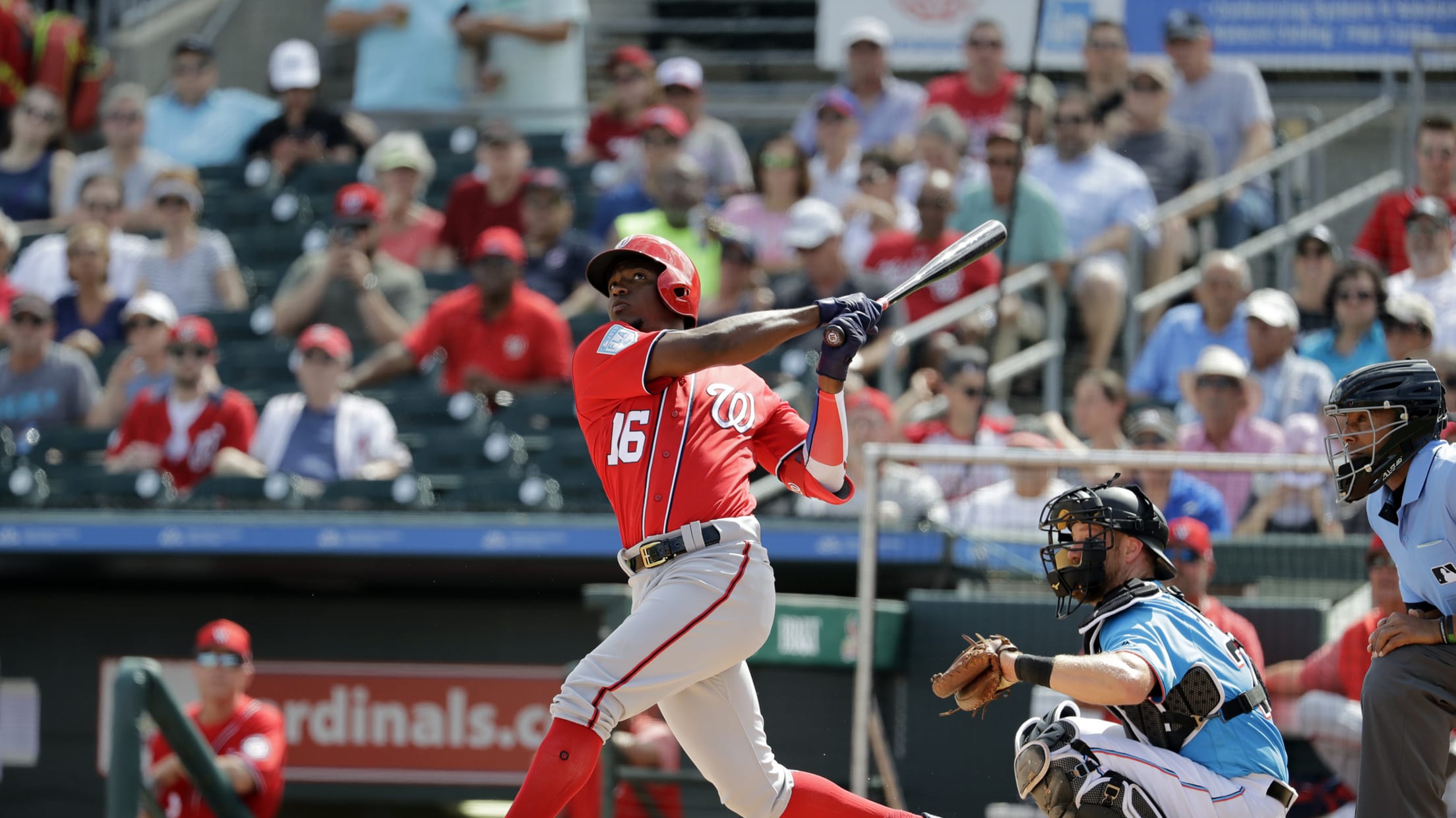 Victor Robles isn't letting up in his quest to earn an outfield job by Opening Day.The top Nationals prospect went 2-for-4 with a long home run to help Washington past Minnesota, 10-4, in Fort Myers on Thursday. Robles slugged his second homer of the spring in the second inning, knocking home
Nationals' Robles takes center stage
No. 4 overall prospect homers, doubles, scores pair of runs
Bryce who?One day after news broke that the All-Star was headed to the Phillies, Victor Robles showed why the future of the Nationals outfield might still be quite bright.MLB.com's No. 4 overall prospect homered, doubled and scored twice on Friday to lead the Nats to a 5-4 Grapefruit League win over
Toolshed: 2019 Spring Training preview
Top-100 prospects head to Arizona, Florida with plenty to prove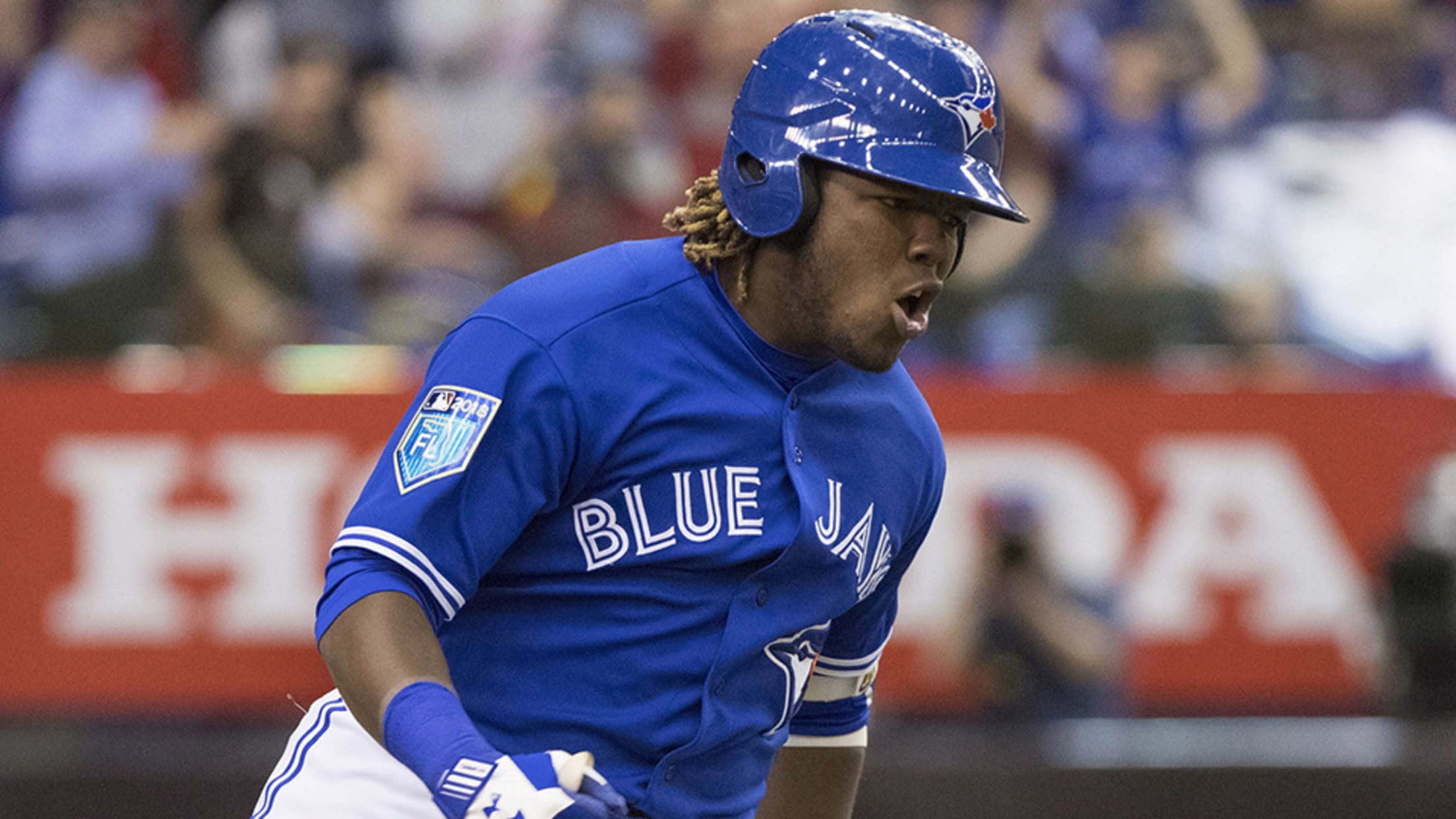 Pitchers and catchers are coming, pitchers and catchers are coming.One of the most optimistic times of the year arrived Sunday when pitchers and catchers reported to Oakland Athletics camp in Mesa, Arizona, officially beginning Spring Training in 2019. Most other tandems will report Tuesday and Wednesday with position players coming
Vlad Jr. tops new prospect rankings
Padres boast 10 players, including Tatis Jr., seven pitchers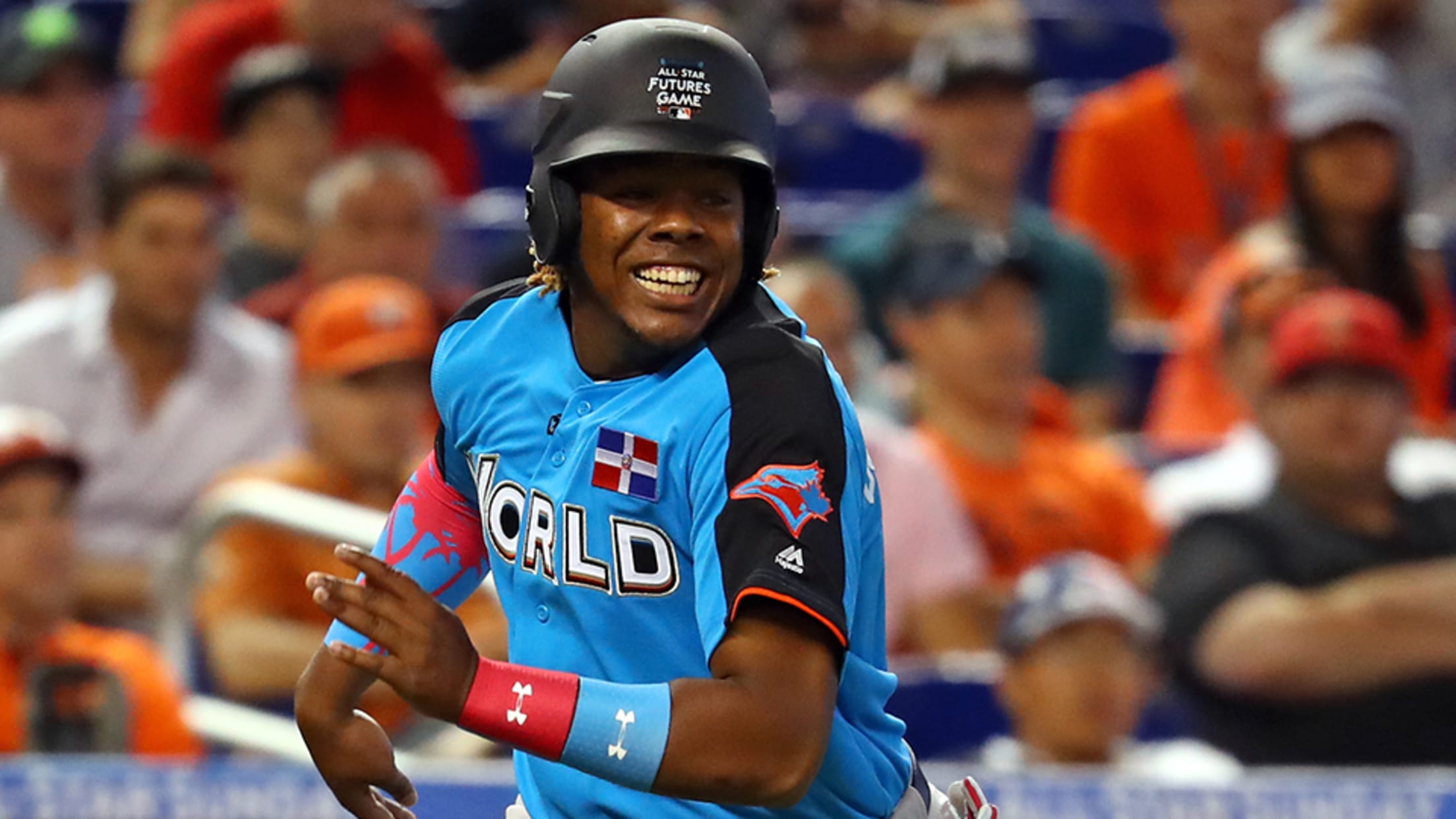 Blue Jays third baseman Vladimir Guerrero Jr. retains top billing on MLB Pipeline's new Top 100 prospects list, slotting in just ahead of another player with a Major League upbringing, Padres shortstop Fernando Tatis Jr., who leads a group of 10 Friars to make the cut.After breaking camp with Double-A
2019 Prospect Projections: NL East rookies
Talented Robles could serve as Harper replacement for Nationals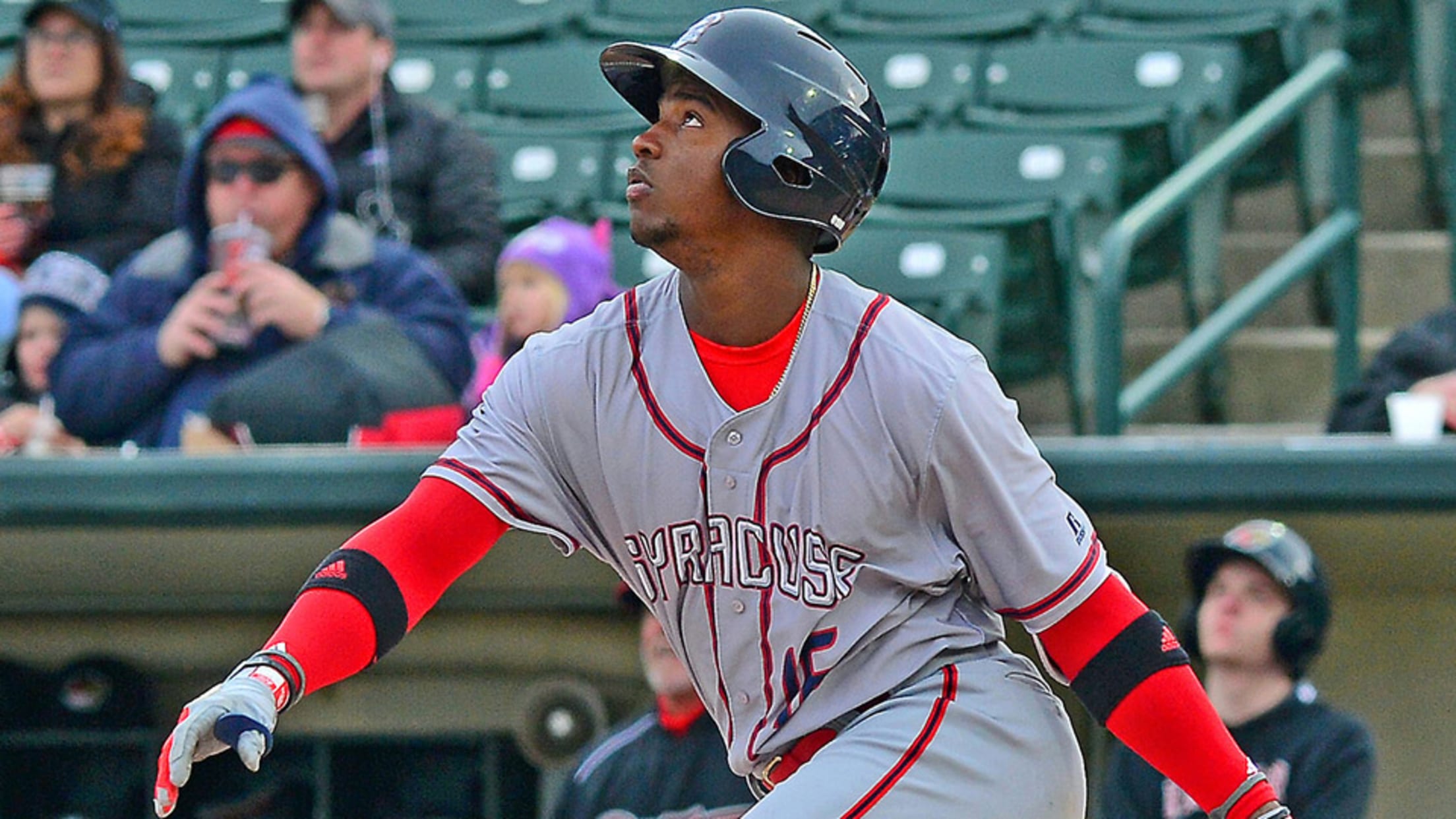 This is the second in a six-part Toolshed series that uses FanGraphs' Steamer600 projections to look at how prospects would fare over a full Major League season in 2019. The system bases its forecast on 600 plate appearances for position players, 450 plate appearances for catchers, 200 innings for starting
Robles racks up four more hits for Chiefs
Top Nats prospect triples, extends hitting streak to six games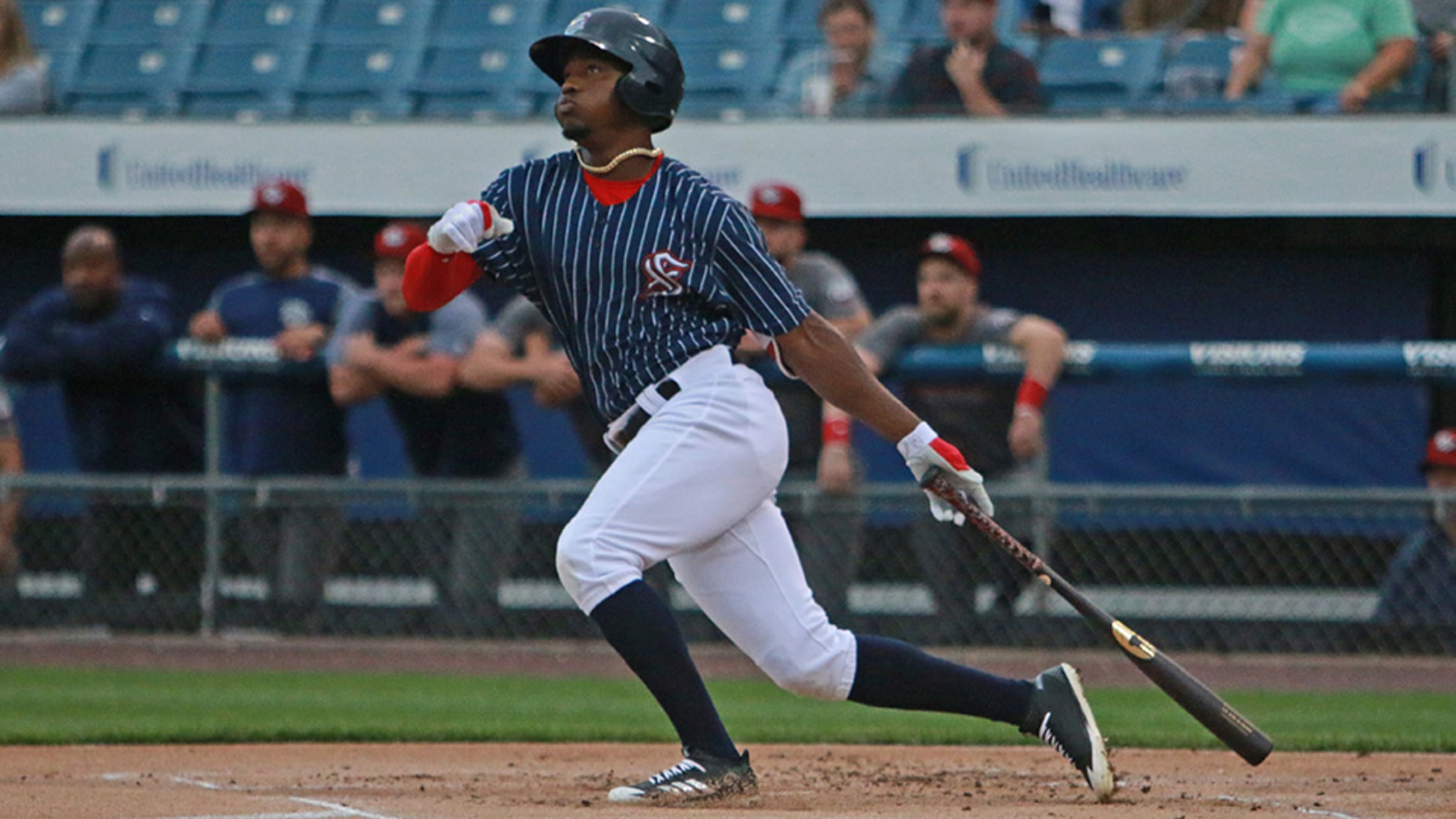 Before Major League rosters expanded to 40 players on Saturday, Victor Robles was a prime candidate to join the big club in Washington.But the Nationals opted not to immediately return their top prospect to the fold for the final month of the season. And that's bad news for the International League.
Toolshed: September expansion preview
A look at which top prospects should, could, won't move up soon
The prospects are coming. The prospects are coming.Major League active rosters are set to expand Saturday, Sept. 1, allowing teams the opportunity to include any members of their 40-man rosters in time for the final playoff push. That means a good amount of MLB.com's Top 100 Prospects will pour into
Prospect Roundup: Games of Aug. 19
Braves' Wright, Nationals' Robles keep it going at Triple-A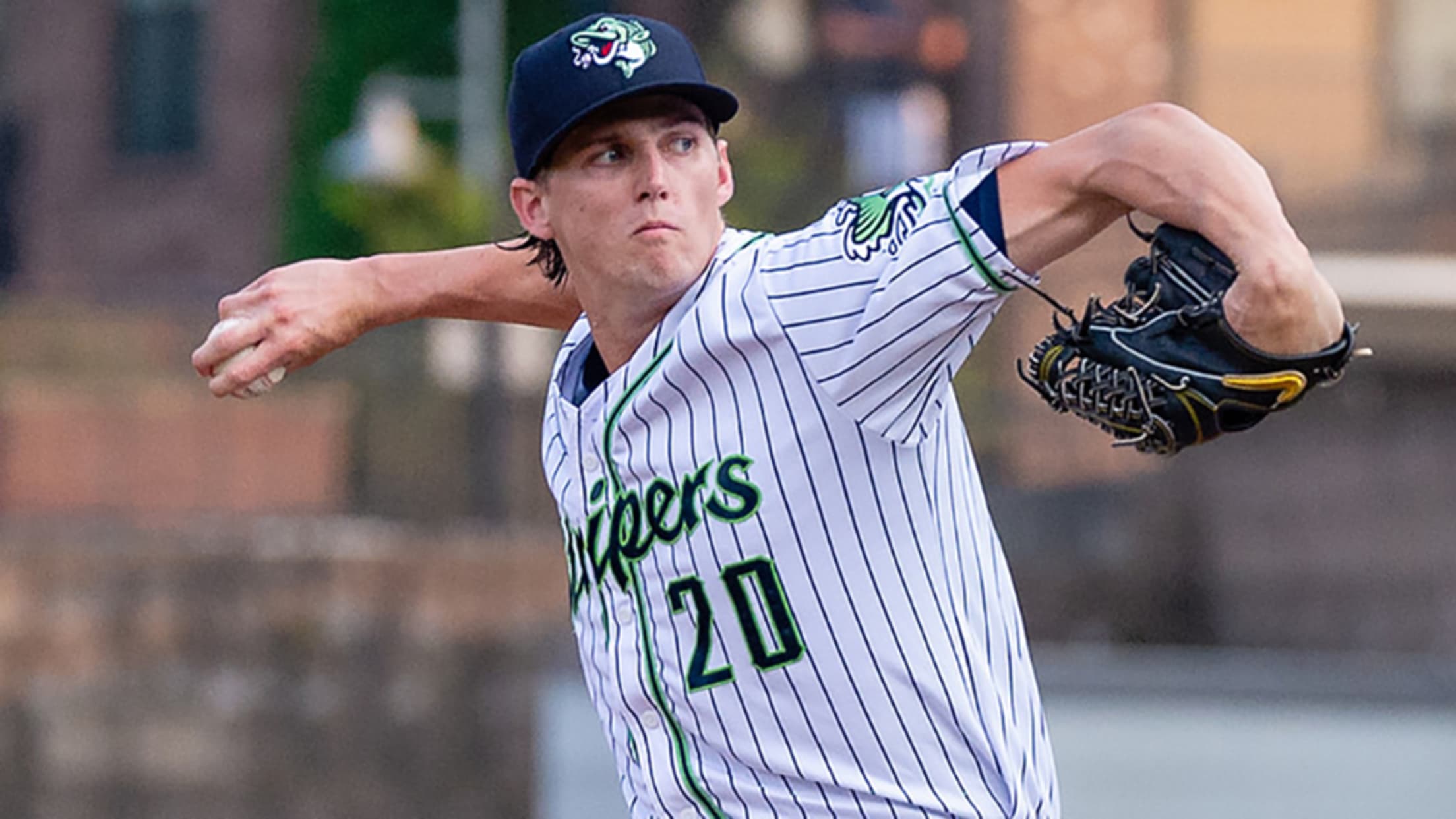 Theme of the dayIt's all happening in the AL Central: Sunday's biggest news was that of Michael Kopech's imminent Major League debut. The White Sox will summon their No. 2 prospect to the big leagues Tuesday, which comes as a pleasant surprise given the service-time implications. Kopech leads the Minors
Nats' Robles breaks out for Syracuse
No. 5 overall prospect ends 2-for-29 funk with four-hit night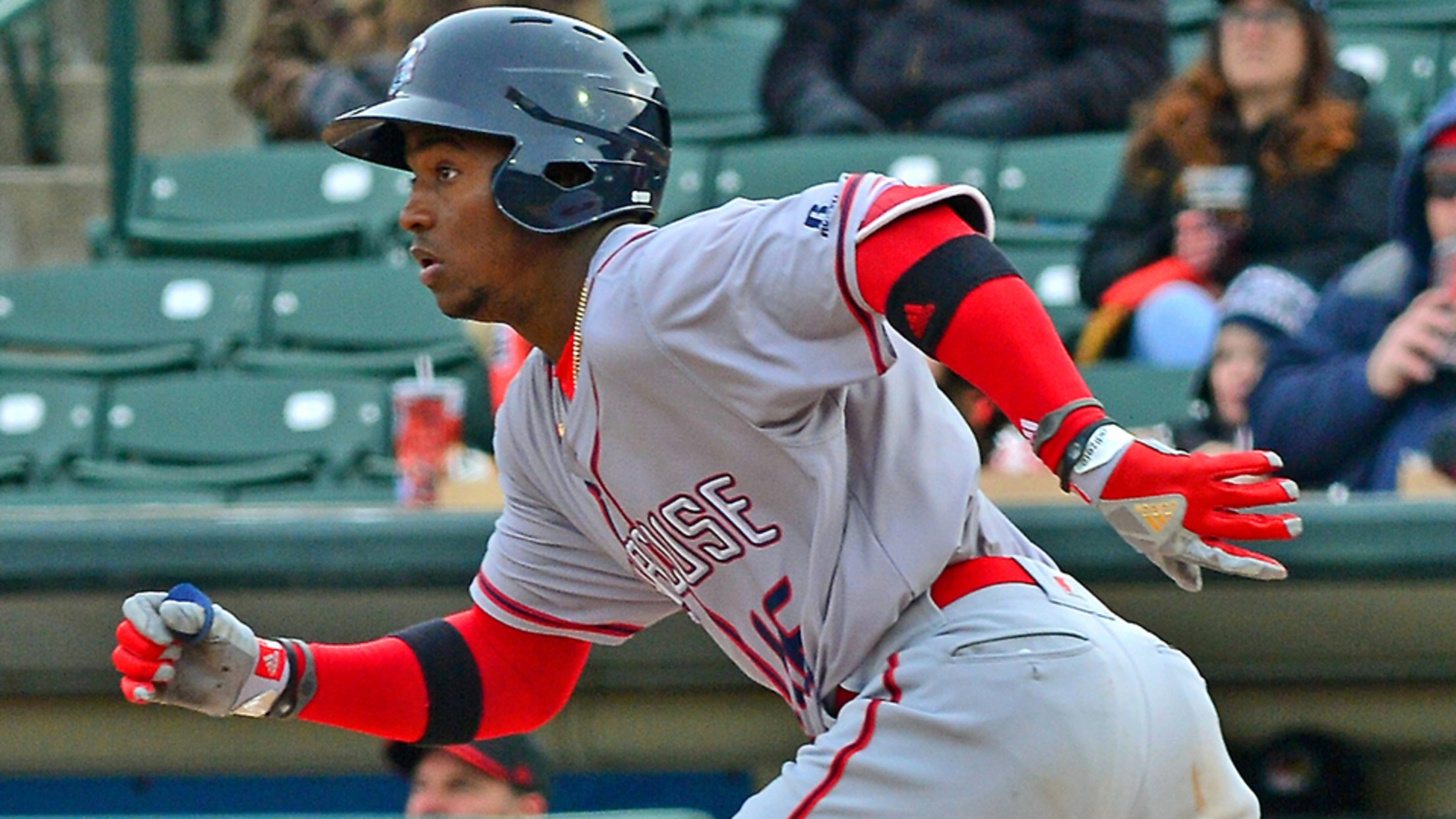 After an impressive display in his first Major League action last year, Victor Robles figured to make 2018 his final season in the Minors. But a lengthy absence due to injury largely derailed those hopes for the top-ranked Nationals prospect.Some struggles at the plate did not brighten his outlook upon
Prospect Roundup: Games of Aug. 8
Nationals' Garcia continues to pop off; Guerrero bests Wright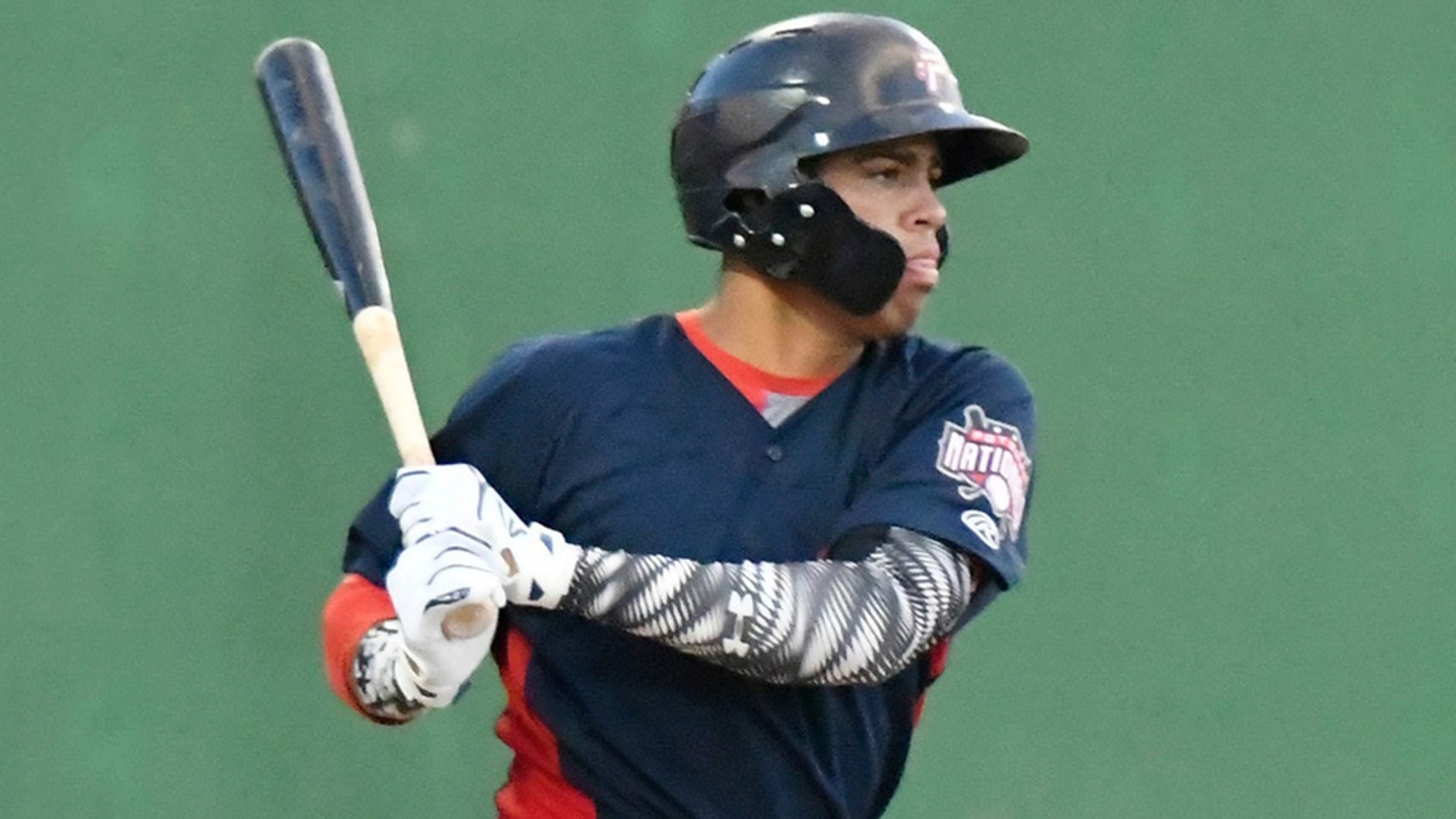 Theme of the nightBall tricks:Willians Astudillo and Carlos Correa are known for different things. Astudillo pushed his way to the Majors this season after years of being the Minors' low-strikeout, low-walk, put-everything-in-play king. Correa is an All-Star shortstop and defending World Series champion currently rehabbing from back soreness with Double-A
Robles' night spearheads Chiefs rally
Top Nats prospect reaches safely four times, scores three times
Victor Robles is back, healthy and ready to resume his march toward Washington D.C.The top Nationals prospect collected three singles, scored three runs and reached base four times as Triple-A Syracuse rallied from an early seven-run deficit to defeat Pawtucket, 11-10, in 13 innings Monday night at NBT Bank Stadium. 
Robles rejoins Chiefs with a vengeance
Top Nationals prospect homers, reaches base four times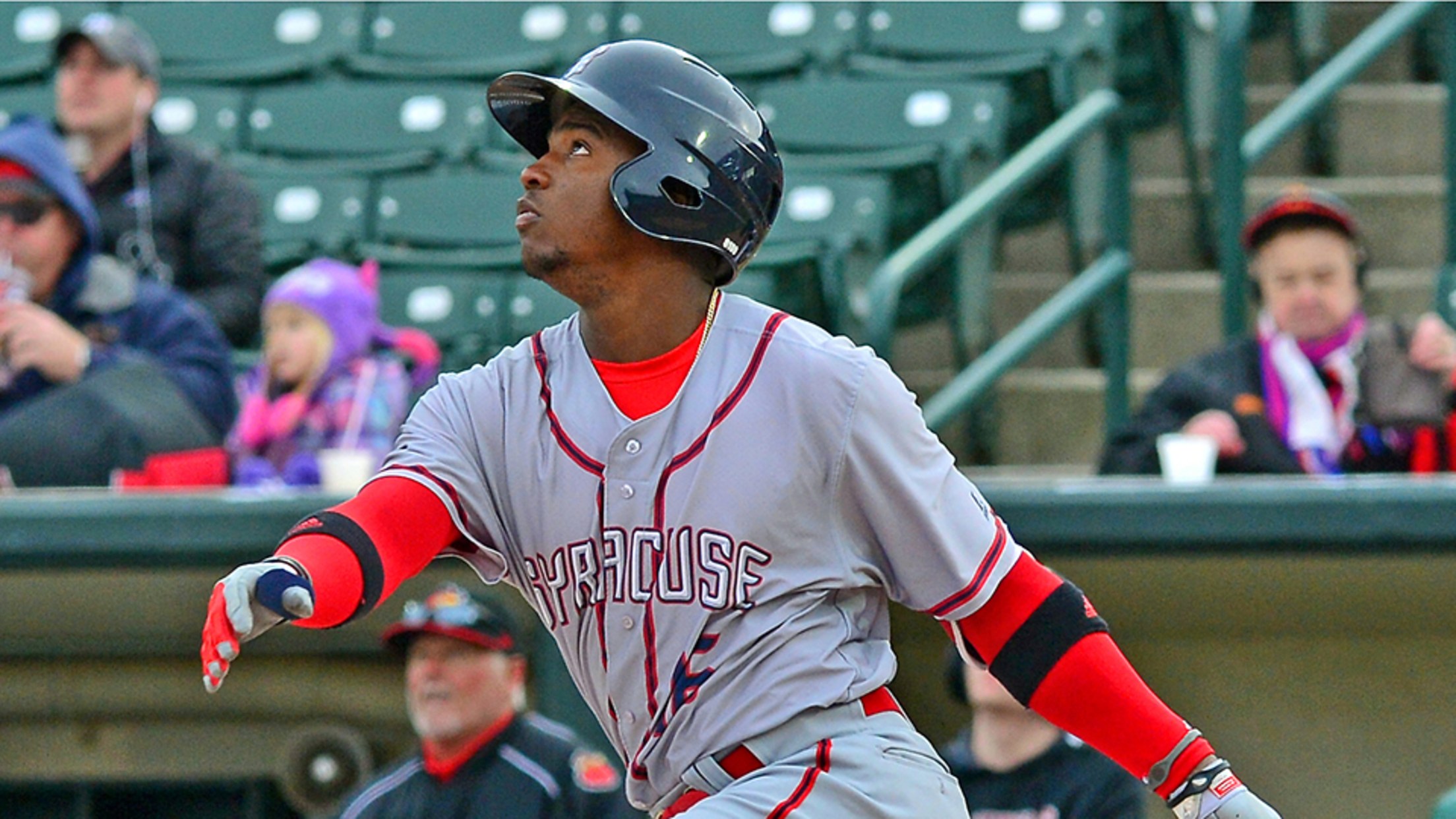 It didn't take long for Victor Robles to reacclimate himself to the Triple-A level.  After an elbow injury shelved him for three months and he rehabbed in the New York-Penn League, the Nationals' top prospect homered and reached base four times in his first game back with Syracuse, which outslugged Durham,
Prospect Roundup: Games of April 16
Phils' Suarez fans 10 over eight innings; Verdugo homers again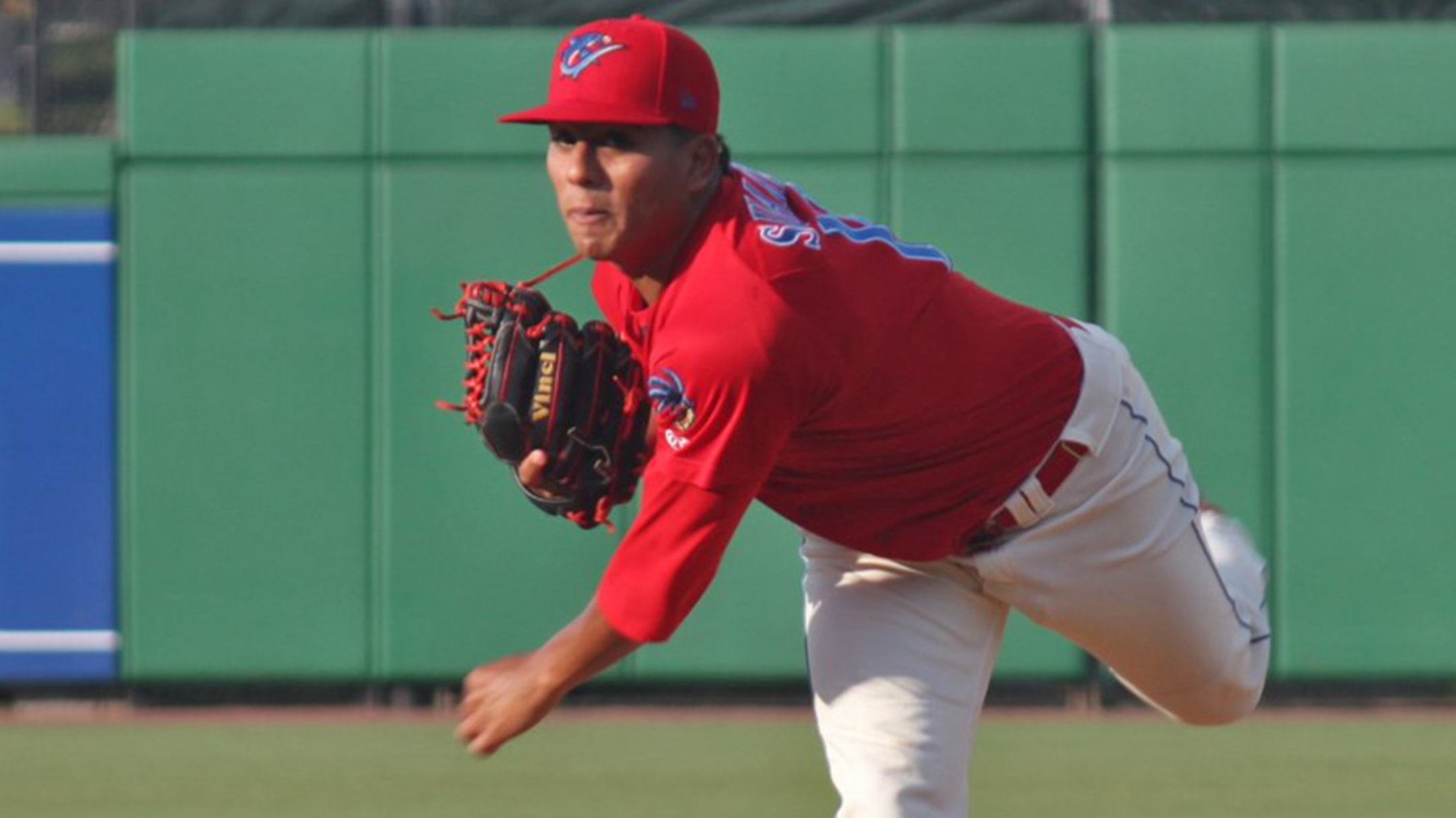 Theme of the daySighs of relief: There was plenty of action on the field Monday, but the biggest news came from elsewhere. No. 6 overall prospectVictor Robleswon't need surgery on his left elbow, the Nationals announced, after it was determined there were no tears resulting from his scary dive in
Nationals get good news on Robles
Top prospect won't need surgery on injured left elbow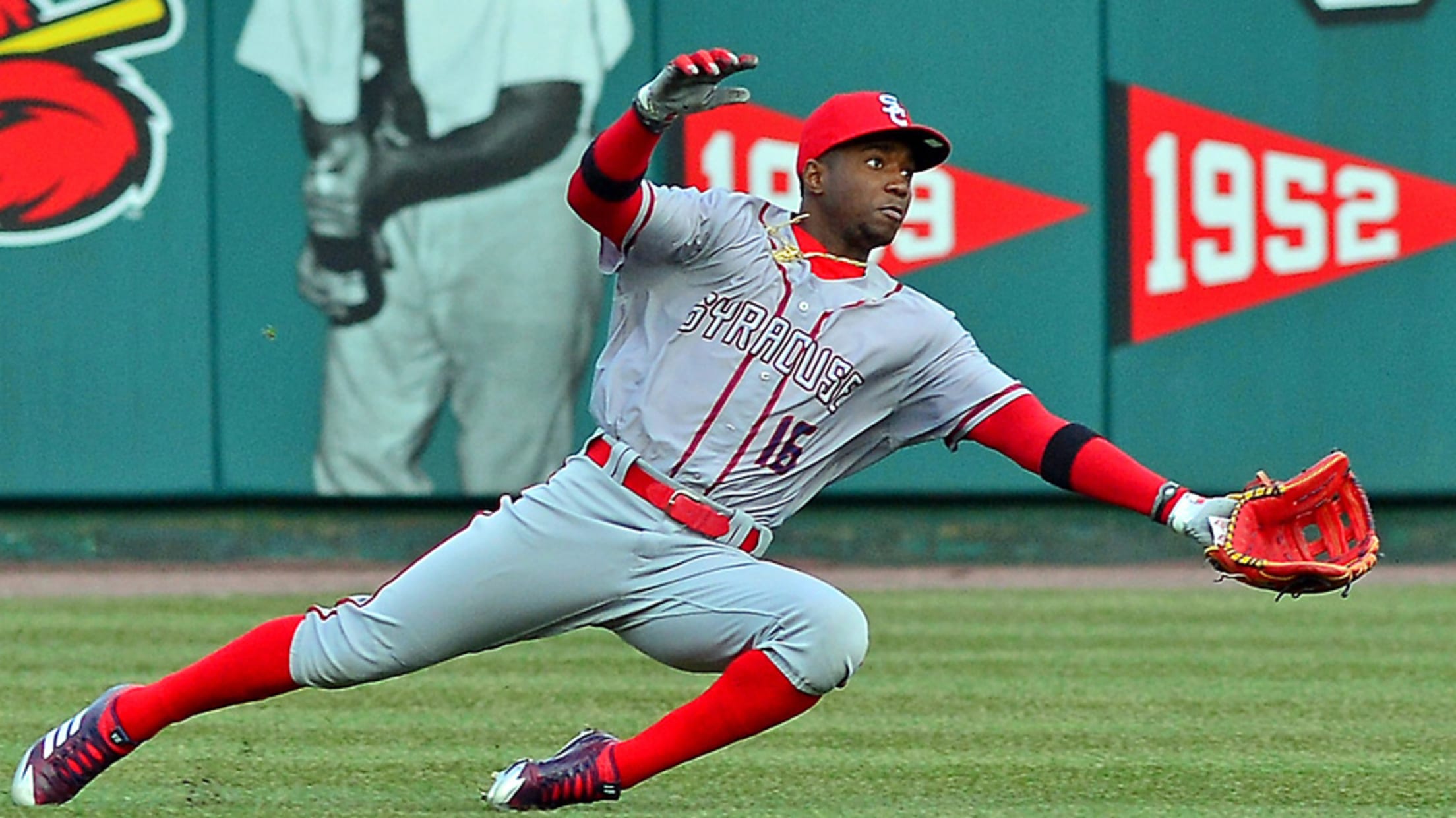 The Nationals got some good news about their No. 1 prospect Monday.Victor Robles will not need surgery to repair his injured left elbow, according to Washington manager Dave Martinez.
Robles diagnosed with hyperextended elbow
Top-ranked Nationals prospect to undergo additional testing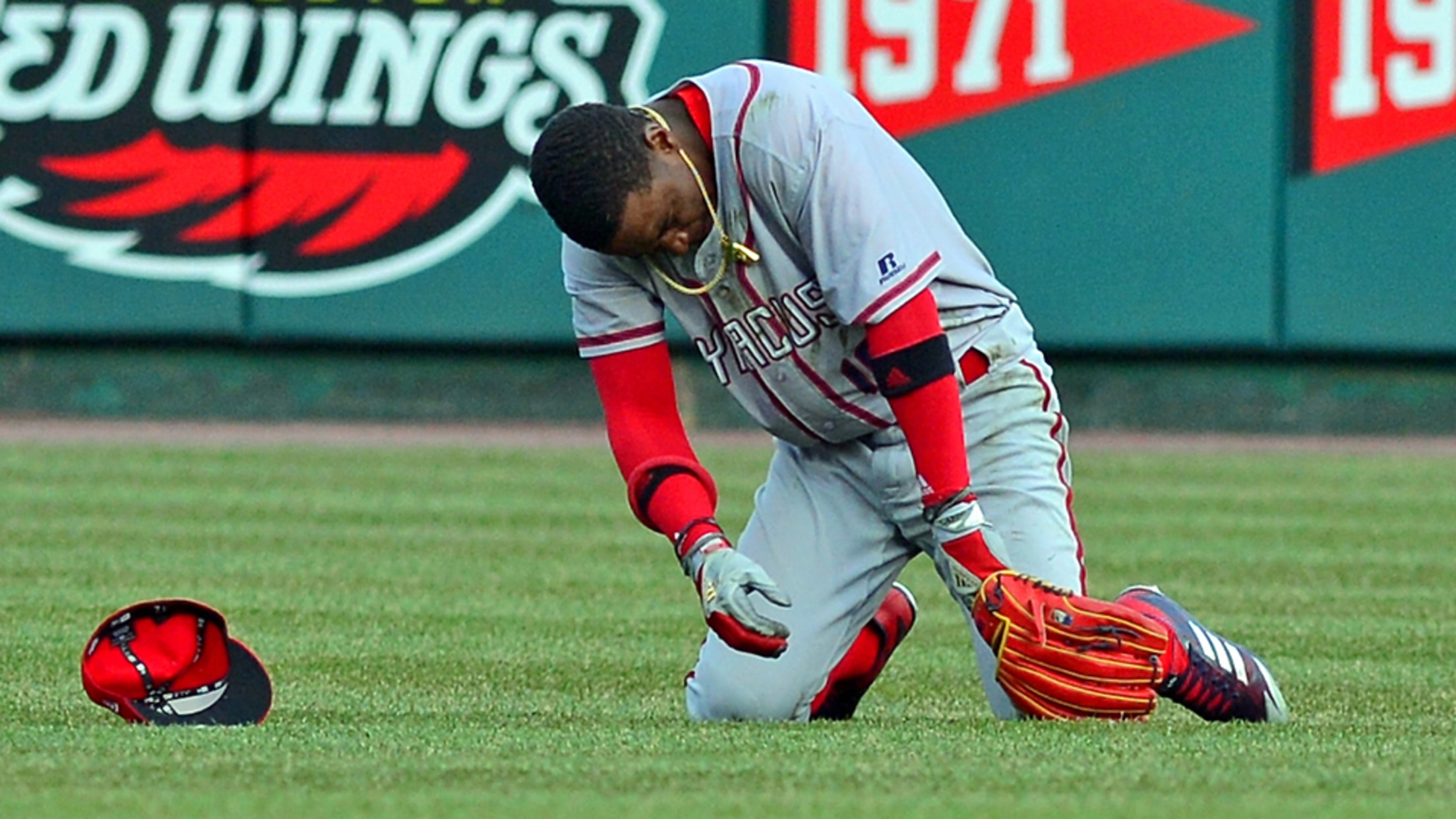 Victor Robles might have been on the doorstep of the Majors, but his potential return to The Show has hit a setback.The top-ranked Washington prospect has been diagnosed with a hyperextended left elbow, Nationals manager Dave Martinez told reporters Tuesday night. X-rays were negative, but Robles will have more tests
Nats' Robles injures arm on attempted catch
Baseball's No. 6 overall prospect exits after rolling over left arm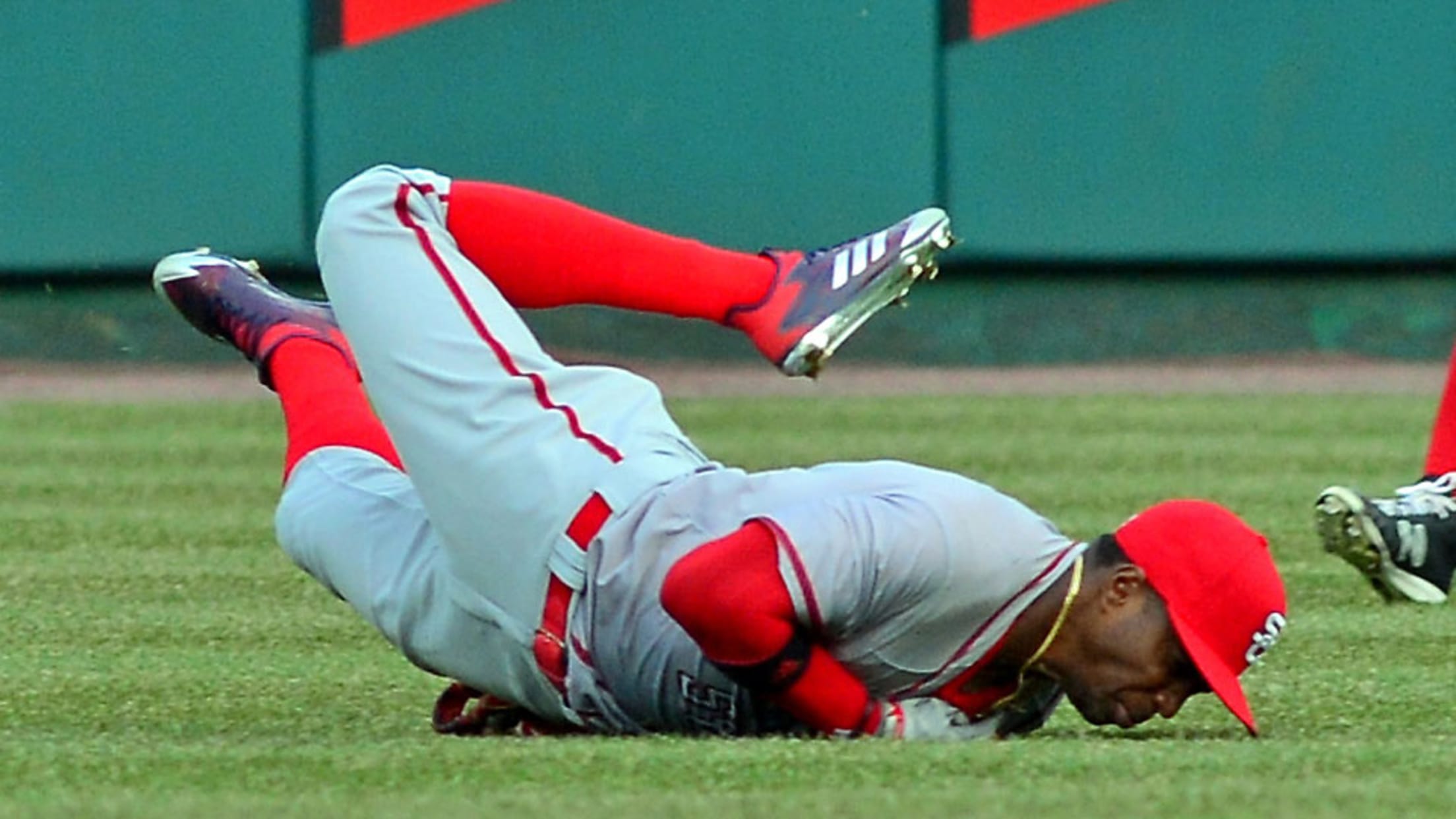 The defensive prowess and all-out hustle of Victor Robles seems to have hurt him Monday.Washington's top prospect left Triple-A Syracuse's game with Rochester in the bottom of the second inning with an apparent injury to his left arm. With two outs and nobody on, Red Wings shortstop Gregorio Petit blooped
Robles makes presence known in Chiefs 4-3 win
20-year old reaches base five times, scores game-winning run
Moosic, PA (April 7, 2018) - Nationals' top-ranked prospect (per Baseball America) Victor Robles reached base five times, with four hits, and scored the game winning run as the Syracuse Chiefs picked up their first win of the season, 4-3, Saturday night over the Scranton/Wilkes-Barre RailRiders. The 20-year old went
Nats' Robles notches four hits in second IL game
No. 6 overall prospect helps Chiefs overcome Torres' two-run shot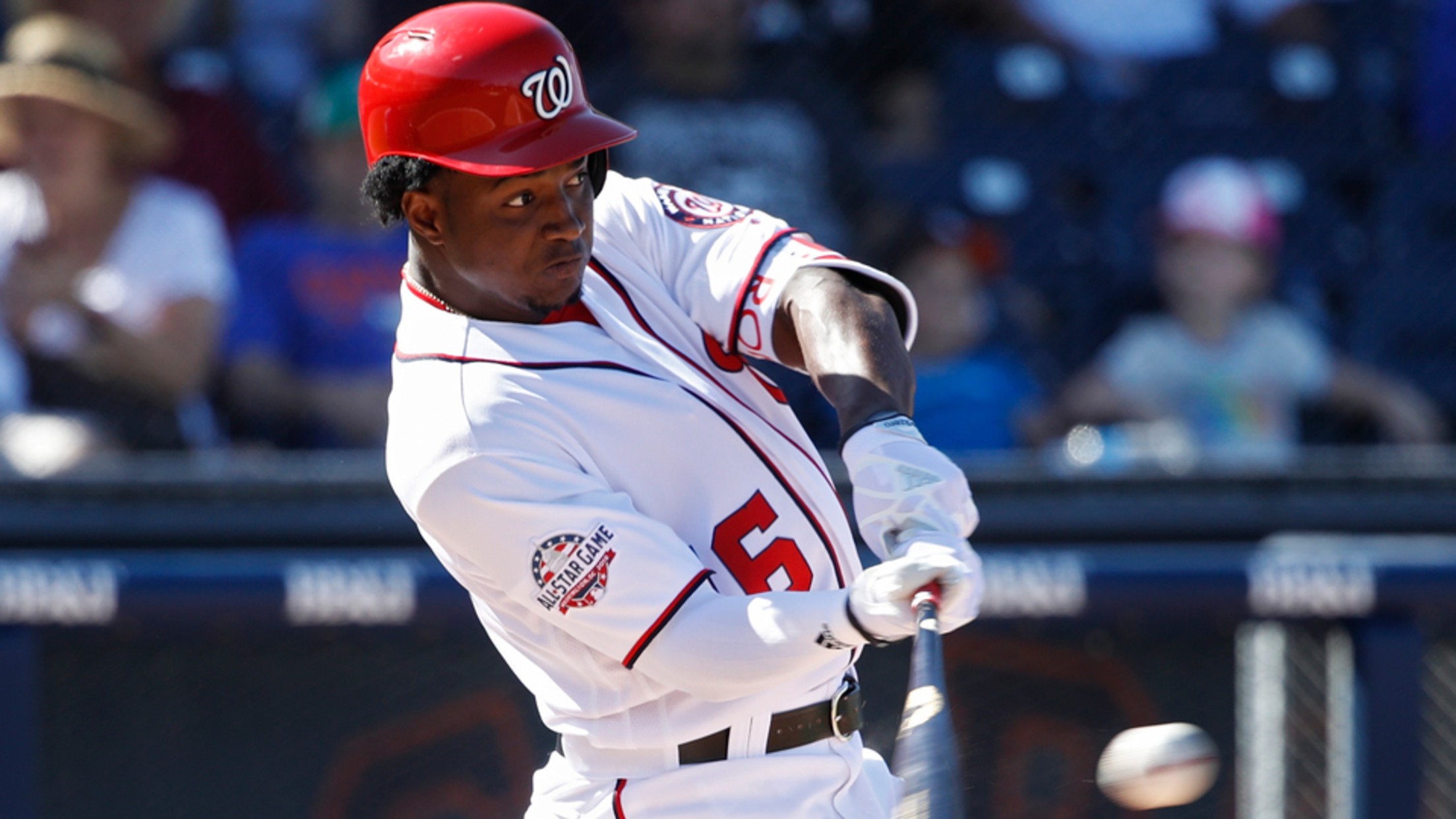 After a 1-for-5 performance on Opening Day, top Nationals prospectVictor Robles was in stellar form in his second Triple-A game.Robles, who turns 21 next month, went 4-for-4 with a walk, stealing a base, collecting an RBI and scoring twice -- including the go-ahead run in the ninth inning -- as
Chiefs fall on Opening Night
RailRiders' five-run ninth spoils Stevenson, Voth's big days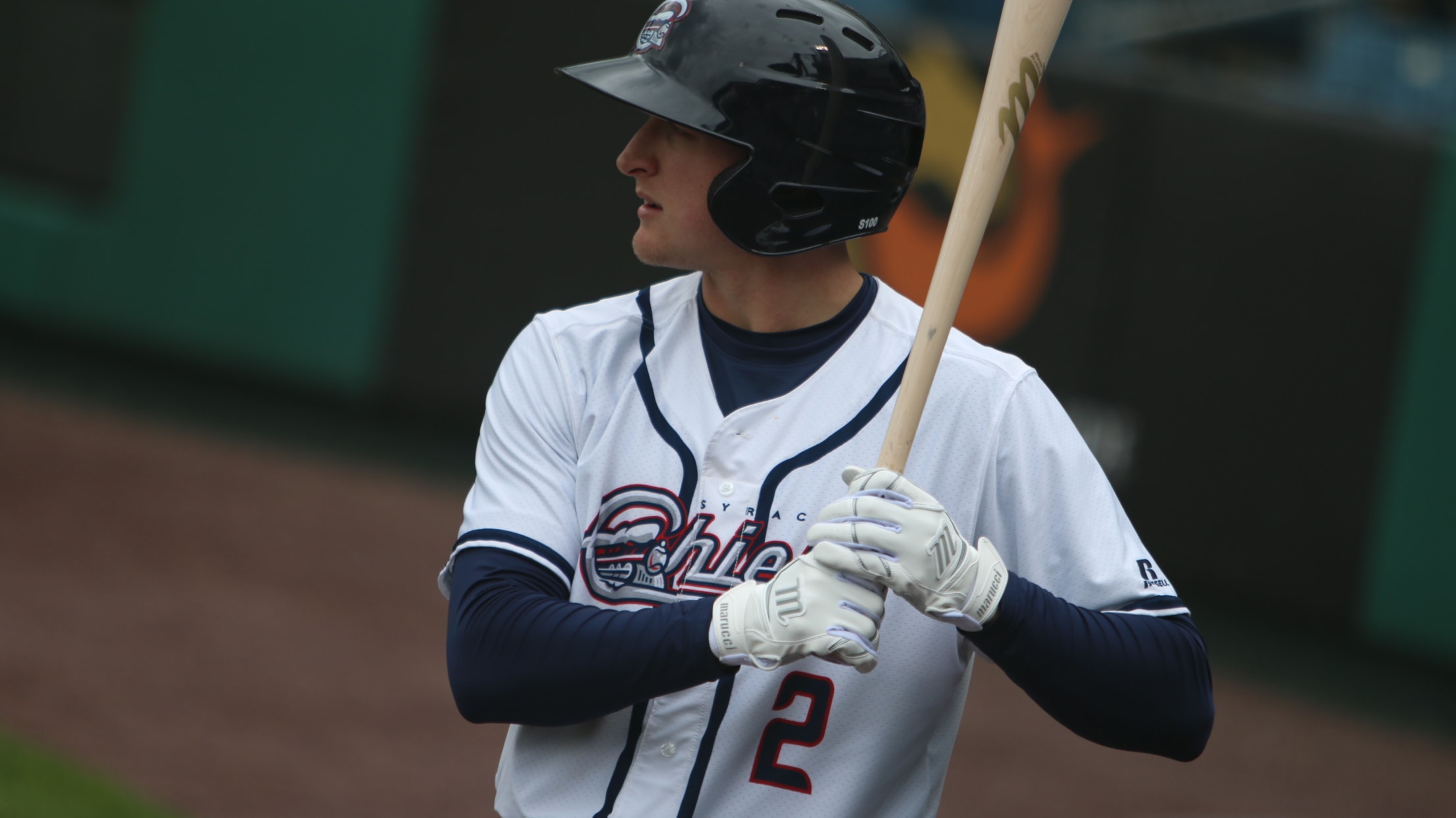 MOOSIC, PA (April 6, 2018) - After a promising start to the 2018 season opener, the Syracuse Chiefs allowed five runs in the ninth inning to fall, 6-5, to the Scranton/Wilkes-Barre RailRiders Friday night. Abiatal Avelino hit a walk-off three-run home run on a line drive over the right-field fence
Nationals Prospect Primer: Robles at the ready
No. 6 overall prospect 'a luxury'; Soto, Kieboom shake injuries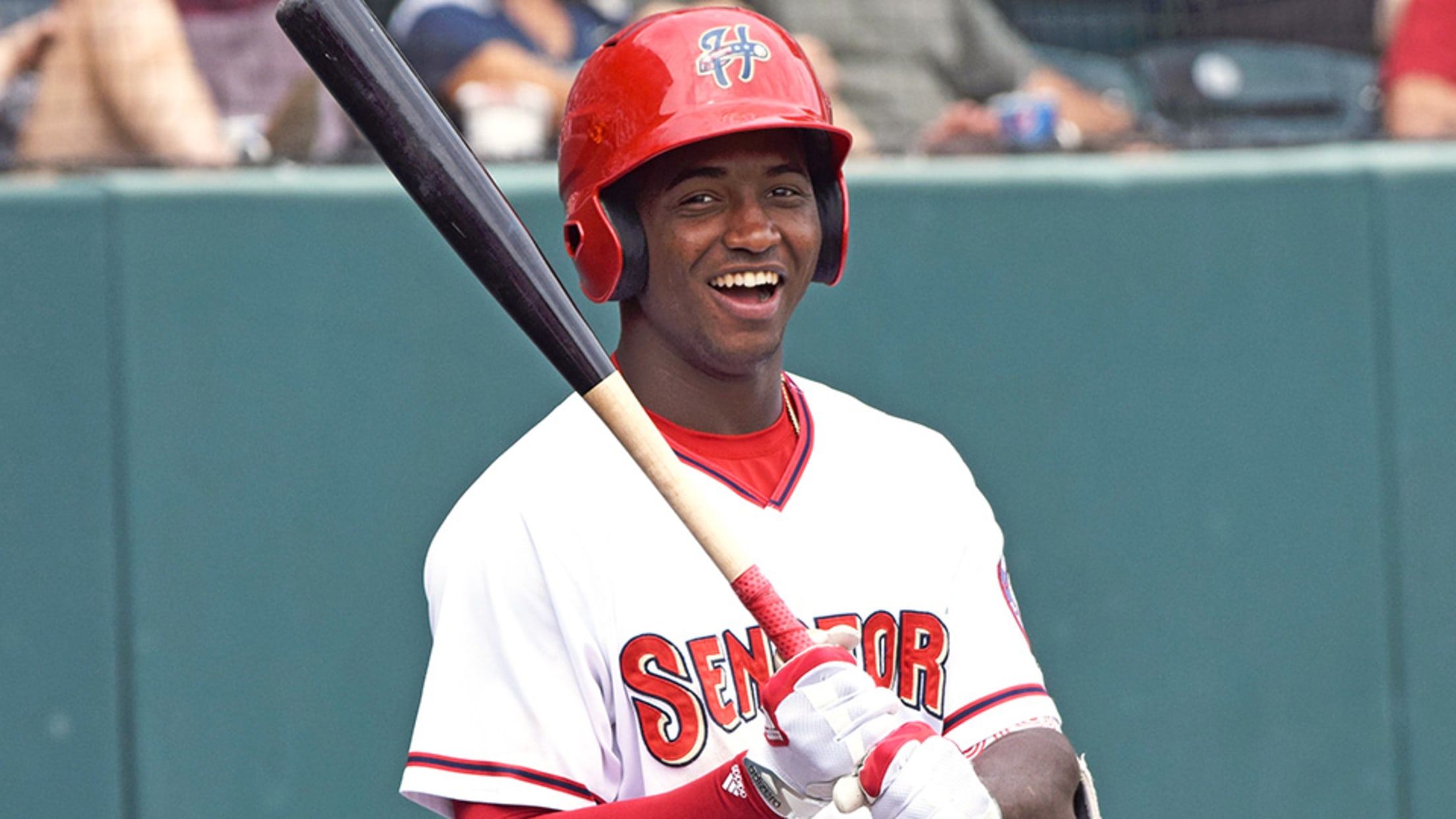 Some players are on the verge of stardom, others are entering a crucial phase of their development and still others are getting their first tastes of full-season ball. With the 2018 season approaching, MiLB.com takes a look at the most intriguing prospects from each MLB organization.Shining star: Victor Robles, OFThe