Prospect Q&A: White Sox outfielder Rutherford
2016 first-rounder talks about his continuing offensive education
There was a time when Blake Rutherford was one of the most interesting prospects in baseball. Rutherford, 25, was selected by the Yankees with the No. 18 overall pick in the 2016 Draft out of Chaminade Prep High School in West Hills, California. He was dealt to the White Sox
Knights Charge Past Bulls, Win 6-4 Thursday
Goodwin Hits Two Homers, Beckham's Two-Run Single Helps Knights to Win
(DURHAM, NC) – The Charlotte Knights scored four runs over their final two innings to battle back and beat the Durham Bulls by a score of 6-4 on Thursday night in game three of their six-game series from Durham Bulls Athletic Park. The win was their fifth over their last
Prospect Roundup: Games of July 7
Tigers' Skubal fans 11 in Double-A debut; Yanks' Abreu shines
Tigers LHP Tarik Skubal, Double-A Erie: 5 IP, 1 R, 0 ER, 1 H, 2 BB, 11 K -- Detroit's 17th-ranked prospect didn't allow an earned run in his Double-A debut in the SeaWolves' 3-2 loss to Altoona. Skubal struck out multiple hitters in each of his five innings to match
Prospect Roundup: Games of July 6
M's Lewis caps perfect night with walk-off; Raleigh plates six
Mariners OF Kyle Lewis, Double-A Arkansas: 3-for-3, 2B, 2 BB, RBI -- A tremendous start to the second half for Seattle's No. 7 prospect continued Saturday as he reached base in all five of his plate appearances and ripped a walk-off, ground-rule double in the 11th inning to give the
Prospect Roundup: Games of June 24
Barons' Rutherford racks up four hits; Indians' Keller dominates
White Sox OF Blake Rutherford, Double-A Birmingham: 4-for-5, 2 RBIs -- Chicago's No. 8 prospect posted a season high in hits with his first four-hit game since April 19, 2018 for Class A Advanced Winston-Salem as Birmingham edged Chattanooga, 7-5. Rutherford singled to right field in the second inning, left
Adolfo Sparks Comeback as Barons Rally to Beat Shuckers
White Sox No. 8 prospect delivers three-RBI double in win
BILOXI, Miss. -Micker Adolfo ignited a three-run comeback with a bases-clearing double as the Birmingham Barons (2-3) erased an early deficit to earn a 5-3 win in their series finale against the Biloxi Shuckers (3-2) on Monday night at MGM Park.
2019 Preview: Birmingham Barons
A talented pipeline of players has the Barons marked as perennial contenders. Will 2019 mark the season that Birmingham secures its seventh Southern League title?2018 RECORD: 66-72, 4th in the SL North Division2018 PLAYOFFS: N/AOPENING DAY: Wednesday, April 10 vs Tennessee (Chicago-NL)
Robert, Madrigal headed to White Sox camp
Chicago also invites Rutherford, four other ranked prospects
Before they reach Chicago's South Side, a bunch of White Sox prospects will get the chance to impress the big club in the Southwest.The White Sox extended non-roster invitations to Major League Spring Training camp to Top-100 prospectsLuis Robert, Nick Madrigal, Blake Rutherford and 17 others, the organization announced Tuesday.
Eloy sparkles as White Sox continue rebuild
No. 3 overall prospect ascended to International League, thrived
Each offseason, MiLB.com goes position by position across each system and honors the players -- regardless of age or prospect status -- who had the best seasons in their organization. Click here to locate your favorite club.The White Sox went all-in on a rebuild before the 2017 season when they
Dalbec, Dash highlight Carolina All-Stars
Salem slugger wins MVP; Winston-Salem boasts four honorees
The Carolina League crowned its champion Tuesday when Buies Creek defeated Potomac, 2-1, in a winner-take-all, one-game Mills Cup Final. Two days later, it's handed out more awards.No. 6 Red Sox prospectBobby Dalbec is Carolina League MVP, No. 5 Nationals prospect Wil Crowe takes home Pitcher of the Year honors
Winston tops Down East 7-4 in series opener at Grainger Stadium
Devan Watts earns first win as White Sox farmhand
KINSTON, N.C. (Aug. 31, 2018) - The Dash used a five-run third inning and 3.1 innings of perfect relief from Devan Watts to overcome the Wood Ducks 7-4 on Friday night at Grainger Stadium. With the win, Winston-Salem (41-24, 82-53) finishes the month of August with a 17-9 record.Down East (23-44, 58-79) got
Toolshed: Reviewing 2017 deadline moves
Checking in on prospects dealt in last year's biggest July trades
In today's media landscape, a trade rumor may have a longer lifespan than the news of an actual trade. Teams are rumored to be keeping an eye on a player. Then, they're circling. Next, they're getting close. This can all take days or even weeks, depending on the size of
Rutherford exits after flipping over wall
White Sox No. 7 prospect day-to-day after precautionary removal
Another top White Sox prospect hobbled off the field Wednesday.Chicago's seventh-ranked prospectBlake Rutherford departed Class A Advanced Winston-Salem's game in the top of the second inning after trying to make a catch in right field and flipping over the short wall in BB&T Park. But according to a White Sox
Rutherford collects three hits, four RBIs
No. 7 White Sox prospect homers in second straight game
Blake Rutherford probably doesn't want to see June come to an end.The seventh-ranked White Sox prospect homered in his second straight game, drove in four runs and collected three hits to lead Class A Advanced Winston-Salem to an 8-2 victory over Down East on Friday night at BB&T Ballpark.
Winston tallies 13 hits in 8-2 win over Wood Ducks
Rutherford goes 3-for-4 with a homer and four RBIs
WINSTON-SALEM, N.C. (June 22, 2018) - The Dash pounded out 13 hits - including five extra-base hits - to cruise to an 8-2 win over Down East on Friday at BB&T Ballpark.Blake Rutherford gave Winston-Salem (2-0, 43-29) the lead in the bottom of the first, when he drilled a two-run homer
Rutherford, Adolfo power Dash past Wood Ducks
Luis Robert goes 1-for-3 with an RBI and a stolen base in High-A debut
WINSTON-SALEM, N.C. (June 21, 2018) - Back-to-back home runs from Blake Rutherford and Micker Adolfo lifted the Dash to a 4-2 win over Down East on Thursday at BB&T Ballpark to open the second half of the season.Winston-Salem (1-0, 41-29) scored in the bottom of the first inning against Wood Ducks right-hander Steven Bruce (1-4)
Five-run sixth propels Winston to win over Birds
Dash pound out 10 runs, 16 hits to widen Southern Division lead
WINSTON-SALEM, N.C. (June 11, 2018) - A five-run bottom of the sixth inning, highlighted by a bases-clearing triple from Blake Rutherford, lifted the Dash to a 10-7, series-opening win over Myrtle Beach on Monday at BB&T Ballpark.With the game tied at four in the sixth, Mitch Roman walked with one out signaling the end
Rutherford's blast gives Winston extra-inning win
Dash sweep Red Sox at Haley Toyota Field, win fifth game in a row
SALEM, Va. (May 9, 2018) - Blake Rutherford crushed a three-run home run off the scoreboard in right field in the top of the tenth inning to propel the Dash to a 10-8 win over the Red Sox at Haley Toyota Field on Wednesday night. The victory is Winston-Salem's (20-13) fifth in a
Dash's Rutherford plates career-high five
White Sox No. 7 prospect hits go-ahead three-run homer in 10th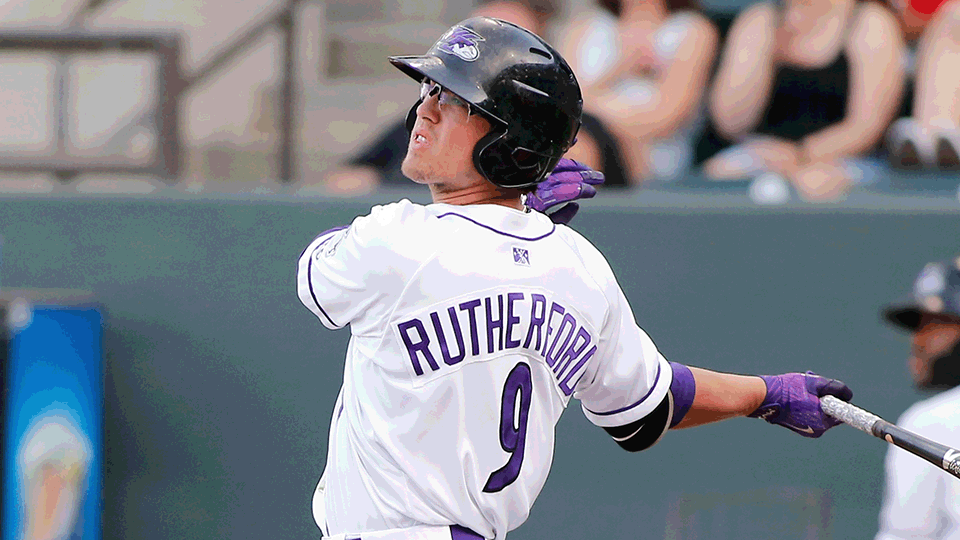 Blake Rutherford received some sage advice this offseason. "Don't worry about hitting home runs -- those will come later. Worry about hitting hard line drives."That's what Brewers outfielder Christian Yelich emphasized for Rutherford when the two Southern California natives trained together in the offseason. 
Flores shines in Winston's 6-2 win over Buies Creek
Call, Rutherford smack home runs to lead offense
WINSTON-SALEM, N.C. (May 5, 2018) - Bernardo Flores cruised through a season-high seven innings and tied a career-high with eight strikeouts to help the Dash even their series against Buies Creek with a 6-2 win on Saturday night at BB&T Ballpark.Flores allowed two runs in the first on an Abraham Toro two-run
Rutherford racks up career night at plate
White Sox No. 7 prospect collects four hits, four RBIs for Dash
Blake Rutherford came into Thursday's game with four RBIs this season. He doubled that with a career night.The White Sox No. 7 prospect went 4-for-5 with a professional-best four RBIs in Class A Advanced Winston-Salem's 9-5 win over Salem at BB&T Ballpark. The outing came on the heels of a
Rutherford's career night carries Dash past Red Sox
Rutherford ties career-high with four hits, sets new career-best with four RBIs
WINSTON-SALEM, N.C. (April 19, 2018) - Behind a career-high four RBIs from Blake Rutherford , the Dash cruised to a series-opening, 9-5 win over the Salem Red Sox on Thursday night at BB&T Ballpark.Winston-Salem (9-6) jumped out to a 2-0 lead in the first inning. With a runner on third and two
Second opinion: 'Extra' looks at new rule
Players, front office execs, farm directors weigh in on big change
On March 14, Minor League Baseball unveiled a new set of pace-of-play rules and procedures. One of them garnered a lot of attention since it marked a distinct shift from the way that the game has always been played. "At all levels of Minor League Baseball, extra innings will begin with
White Sox Prospect Primer: South Side on top
System continues to blossom with Jimenez, Kopech, Robert, more
Some players are on the verge of stardom, others are entering a crucial phase of their development and still others are getting their first tastes of full-season ball. With the 2018 season approaching, MiLB.com takes a look at the most intriguing prospects from each MLB organization.Shining Star: Eloy Jiménez, OFAcquired
Burger notches cycle on second five-hit night
White Sox 2017 first-round pick doubles in ninth to make history
Jake Burger had the works Thursday. The No. 12 White Sox prospect hit for the cycle and reached base six times in his second career five-hit game to lead Class A Kannapolis to a 6-5 win over Greensboro in 11 innings at Intimidators Stadium.