Waters, Shewmake Each Homer in Stripers' 6-1 Win at Norfolk
Drew Waters' two-run shot in third breaks 1-1 tie, backs Bryce Elder's 5.2 one-run innings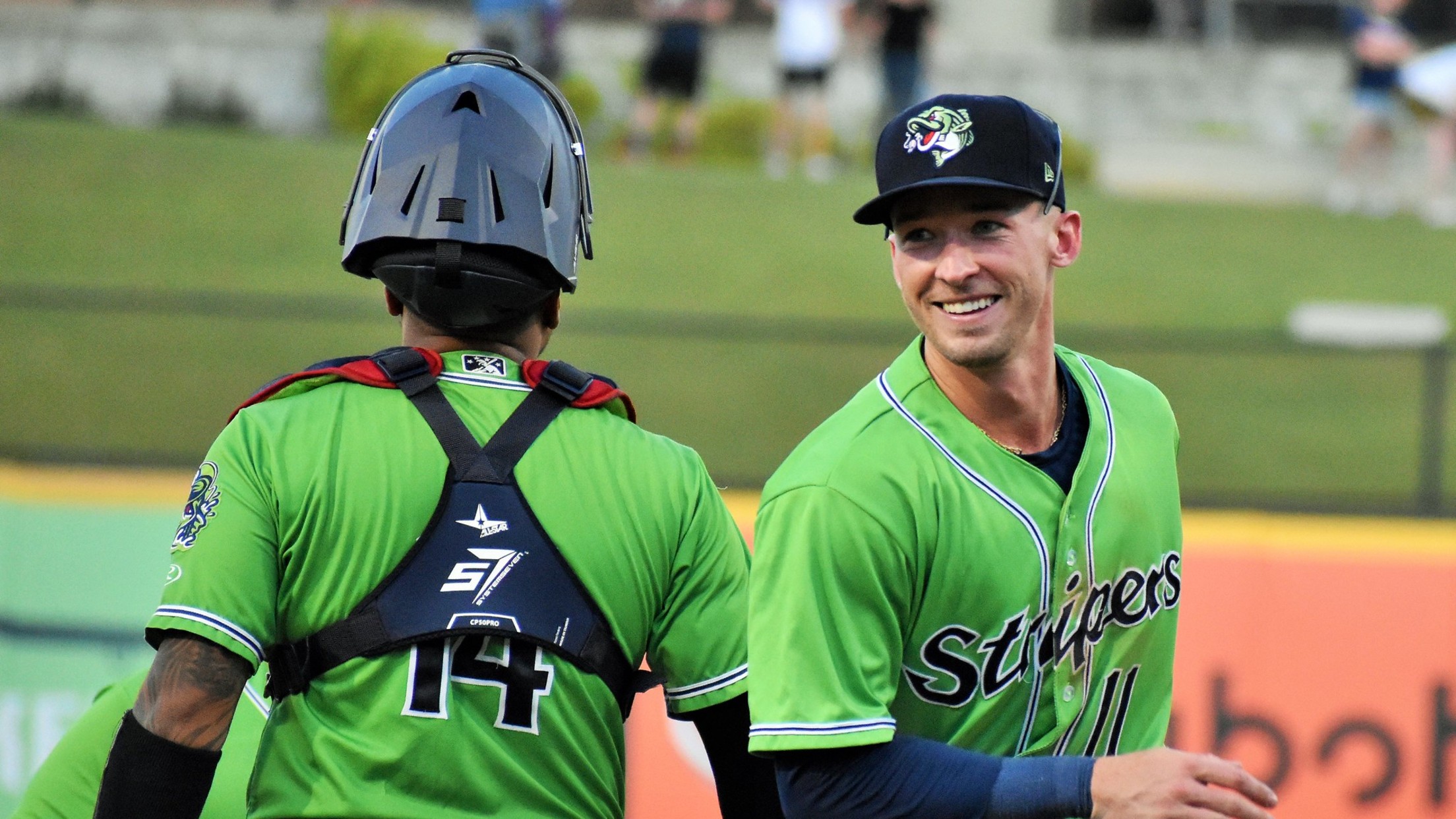 NORFOLK, Va. – Home runs by Drew Waters and Braden Shewmake lifted the Gwinnett Stripers (37-40) to a 6-1 win over the Norfolk Tides (37-40) on Saturday night at Harbor Park. Stripers' starter Bryce Elder allowed just one run on four hits over 5.2 innings for the win. Decisive Plays:
Stripers Back Davidson's Gem With Two-Out Hits in 7-2 Win
DeShields, Waters, and Dunand combine for five two-out RBIs in victory at Nashville
NASHVILLE, Tenn. – Tucker Davidson spun 6.2 scoreless innings and struck out nine, and two-out hits by Delino DeShields Jr., Drew Waters, and Joe Dunand led the Gwinnett Stripers (34-34) to a 7-2 win over the Nashville Sounds (40-27) on Wednesday night at First Horizon Park. Decisive Plays: DeShields opened
Late Homer Sinks Stripers in Finale vs. Indianapolis
Travis SSwaggerty's two-run shot in the eighth hands Gwinnett a 5-3 loss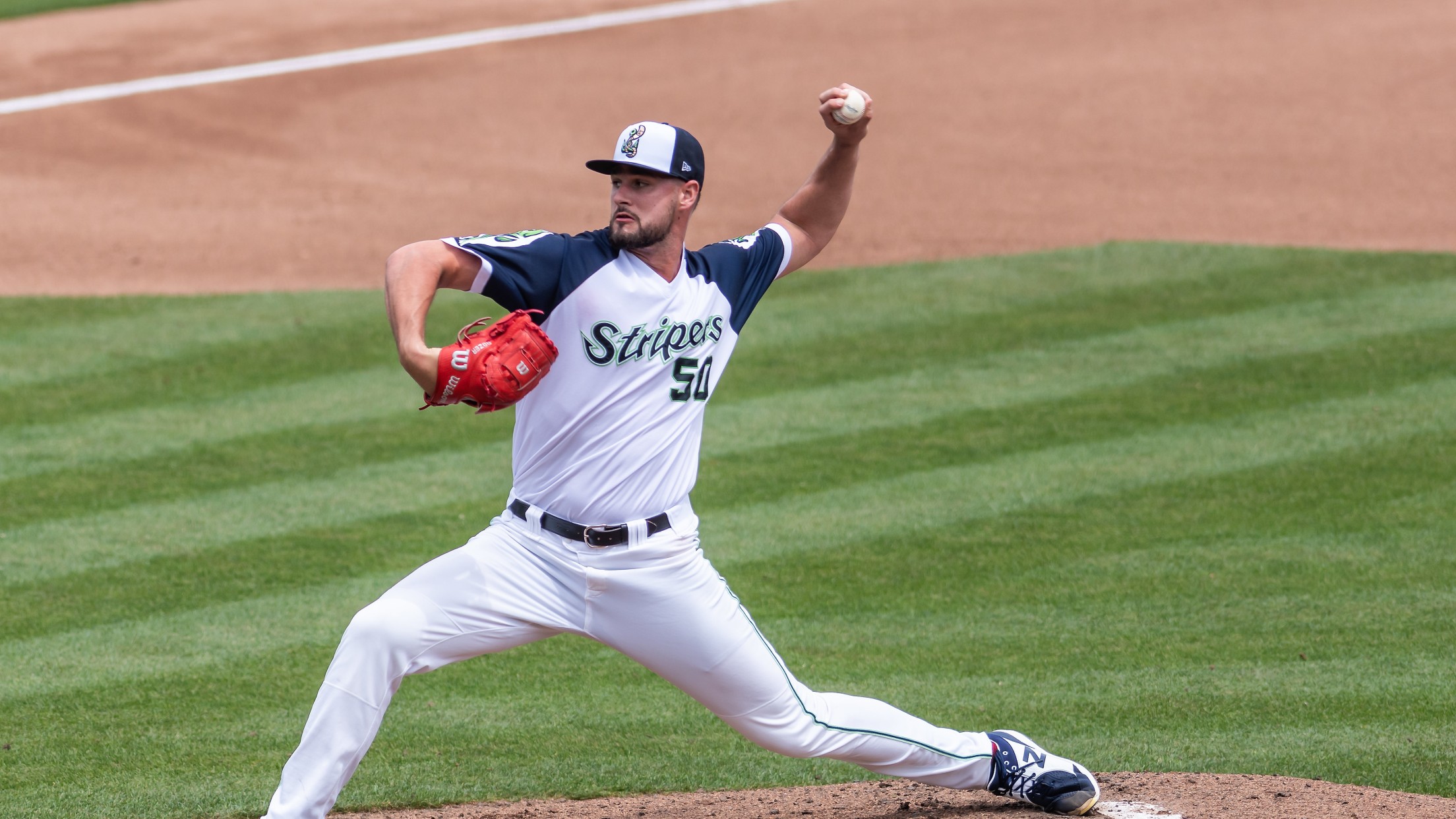 LAWRENCEVILLE, Ga. – The Gwinnett Stripers (33-33) rallied back from a 3-0 deficit to tie the game in the seventh inning, but Travis Swaggerty's two-run home run in the eighth lifted the Indianapolis Indians (32-32) to a 5-3 win on Sunday afternoon at Coolray Field. Decisive Plays: Rodolfo Castro's three-run
Ynoa Tosses Seven No-Hit Frames in Stripers' 7-0 Win at Jacksonville
Huascar Ynoa unhittable over 7.0 innings, Gwinnett combines to one-hit Jumbo Shrimp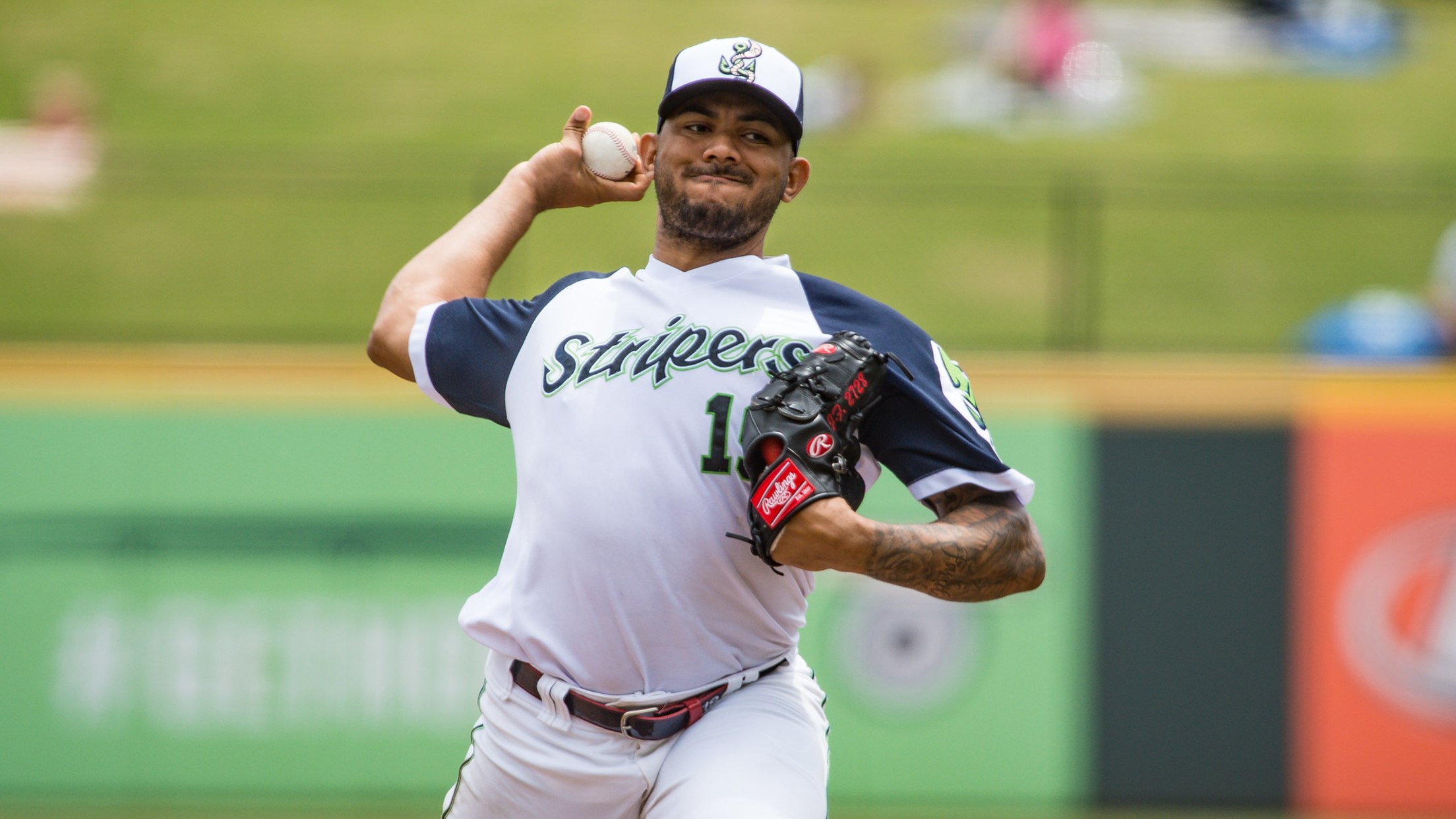 JACKSONVILLE, Fla. – Huascar Ynoa was dominant over 7.0 no-hit innings as the Gwinnett Stripers (28-27) opened the road trip with a 7-0 win over the Jacksonville Jumbo Shrimp (28-27) on Tuesday night at 121 Financial Ballpark. Jacksonville ended the no-hitter against Brandyn Sittinger with one out in the eighth,
Stripers Bash Four Homers in 8-4 Win at Durham
Waters, Valaika, Tromp, and Dickerson all go deep as Gwinnett wins fourth straight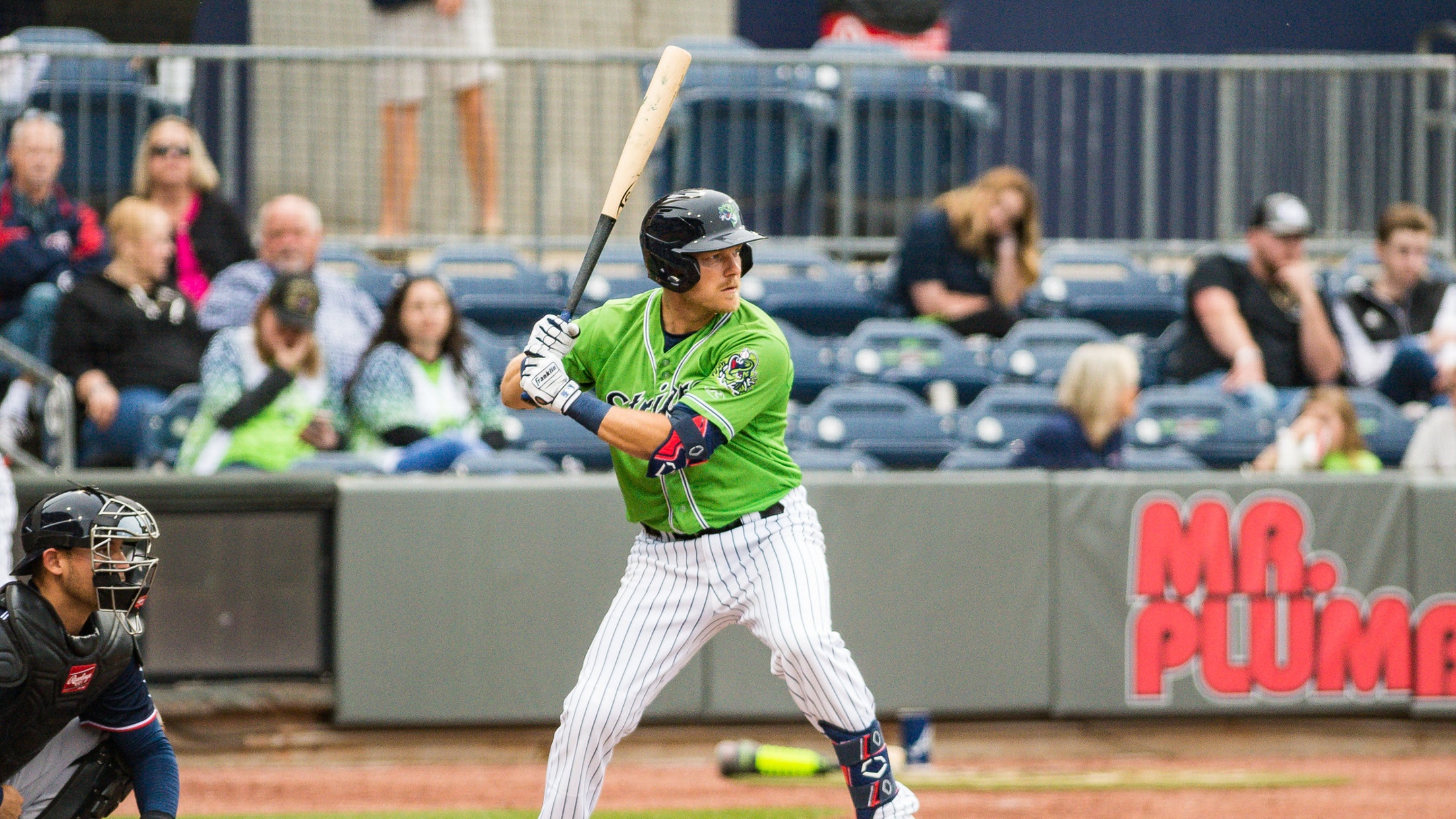 DURHAM, NC – Drew Waters sent the game's first pitch over the center field fence for a leadoff home run and the Gwinnett Stripers (17-15) never trailed all night, downing the Durham Bulls (12-20) 8-4 on Wednesday night at Durham Bulls Athletic Park. Pat Valaika, Chadwick Tromp, and Alex Dickerson
Waters, Tromp Lead Stripers Over Charlotte in Slugfest
Drew Waters goes 4-for-4 in first game back, Chadwick Tromp homers twice in 11-7 win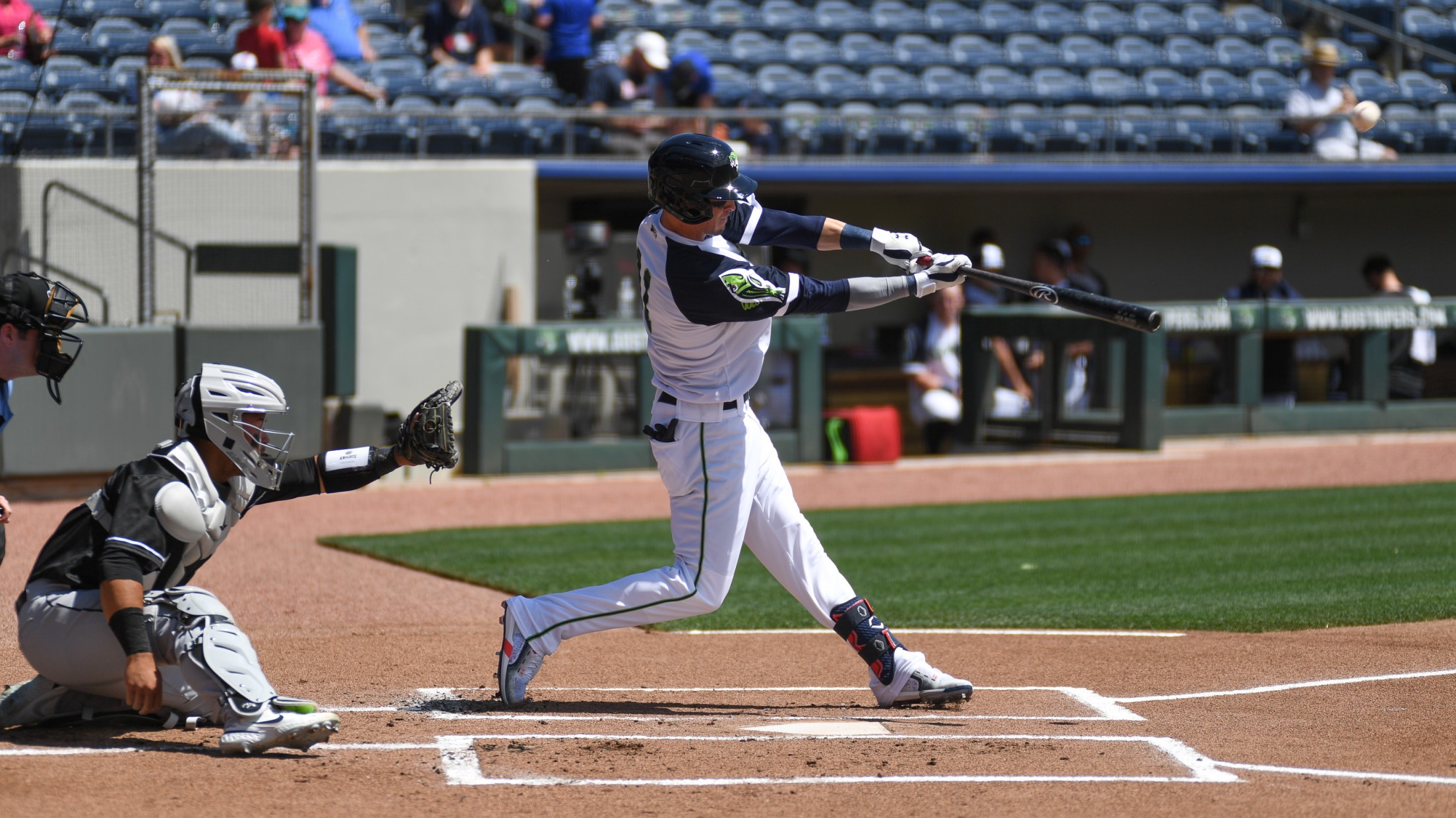 LAWRENCEVILLE, Ga. – The Gwinnett Stripers (12-13) rode the bats of Drew Waters and Chadwick Tromp to an 11-7 win over the Charlotte Knights (10-15) on Tuesday afternoon at Coolray Field. Waters went 4-for-4 with a leadoff home run in his first game with Gwinnett this season, while Tromp tallied
Braves Trim Roster, Option Six to Gwinnett
Top prospects Kyle Muller, Tucker Davidson, Jasseel De La Cruz, Patrick Weigel among players sent to Stripers roster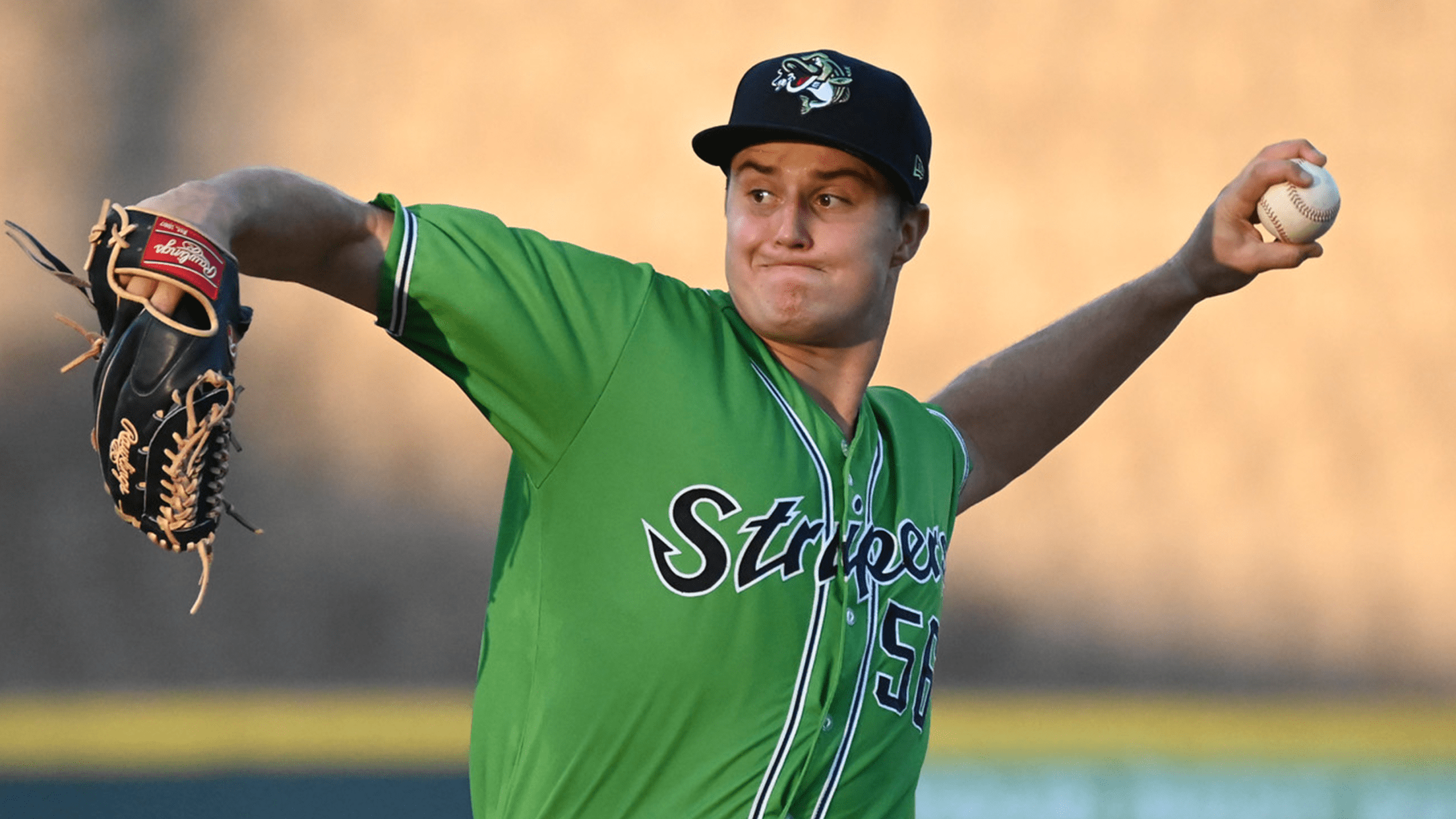 The Atlanta Braves announced 24 transactions to their Spring Training roster today, optioning six players to Triple-A Gwinnett and reassigning 18 players to minor league camp. All six players joining the Stripers roster are pitchers, including four members of MLB.com's Braves Top 30 Prospects list: left-handers Kyle Muller (No. 6)
Seven Former Stripers Among Braves' Non-Roster Invites for 2021
Burrows, Creasy, Hoekstra, Johnstone, Morales, Kazmar Jr., and Waters all part of 25-man group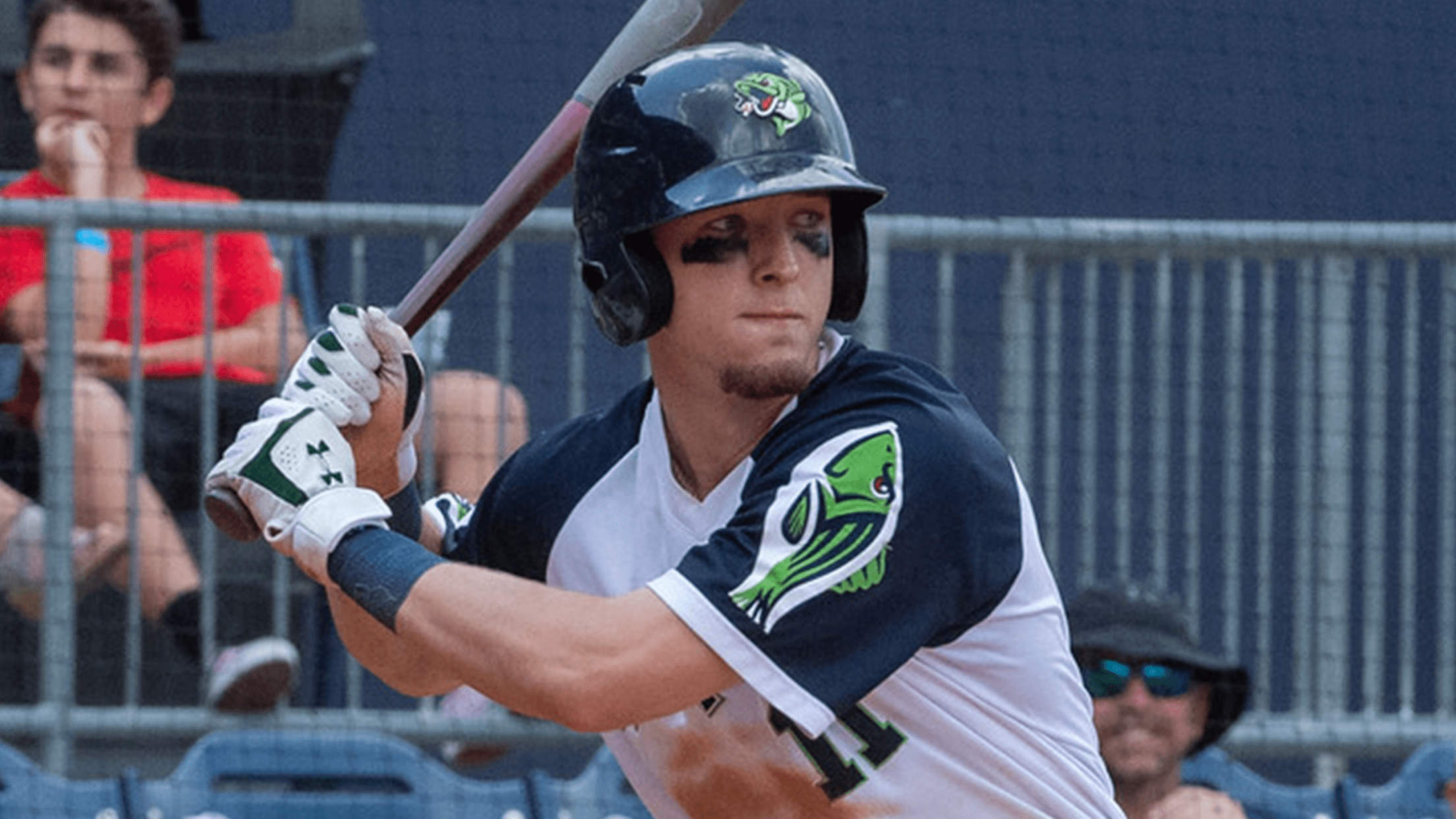 On Monday, the Atlanta Braves announced their list of non-roster invites to Major League Spring Training for 2021. The 25-player group that will train alongside Atlanta's 40-man roster in North Port, Fla. includes seven players who have spent time in a Gwinnett Stripers uniform: pitchers Thomas Burrows, Jason Creasy, Kurt
State of the System: Atlanta Braves
Pache, Anderson lead ready-to-contribute wave of talent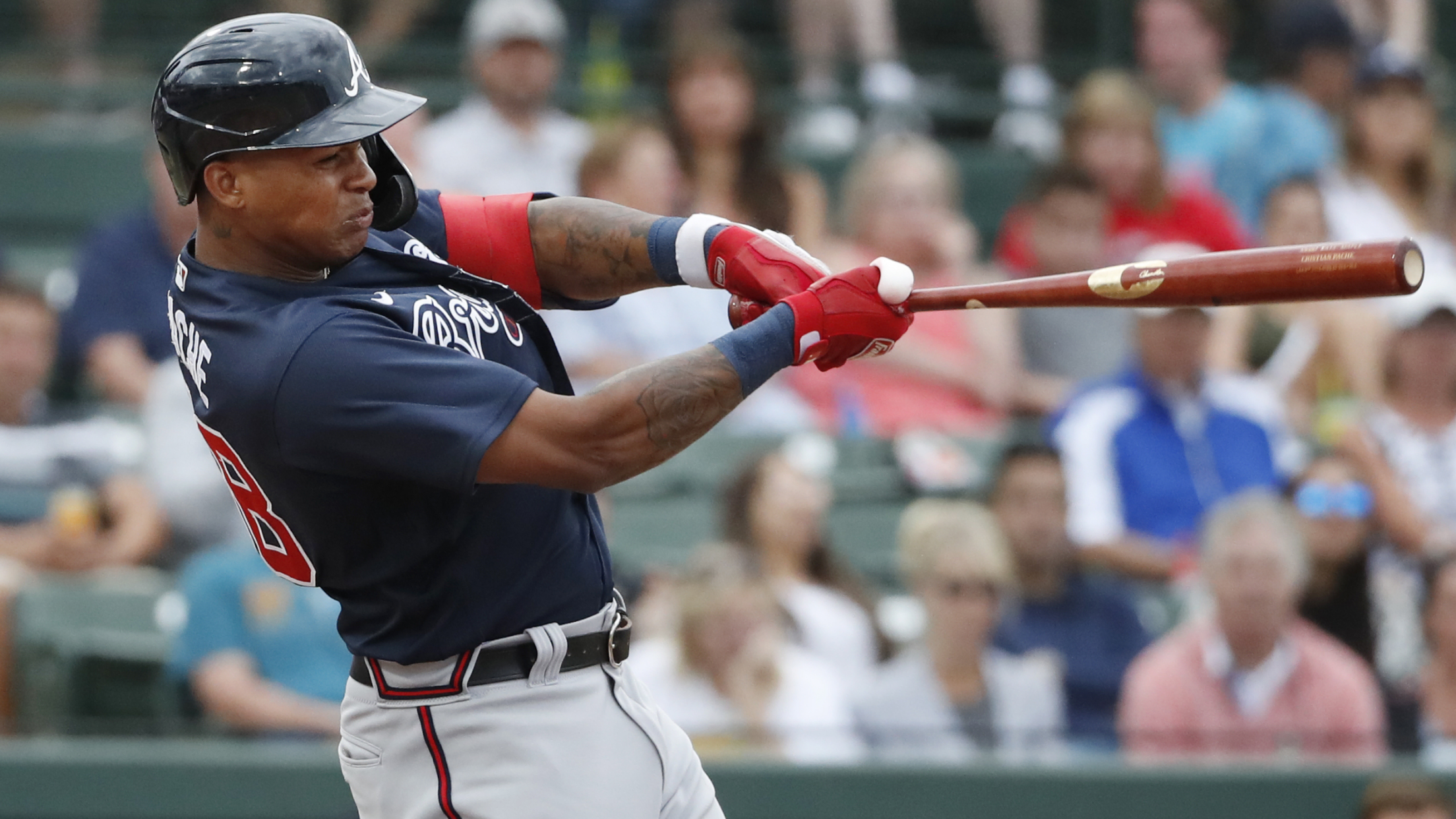 Starting in October and running through the end of the year, MiLB.com's State of the System series evaluates the strengths and weaknesses of each Major League organization, highlighting prospects who've made the biggest strides in 2020 and offering a peek at 2021. The Braves' playoff run this season seemed to
Prospects in the Braves' 2020 player pool
Pache, Waters headline talented Atlanta prospects at camp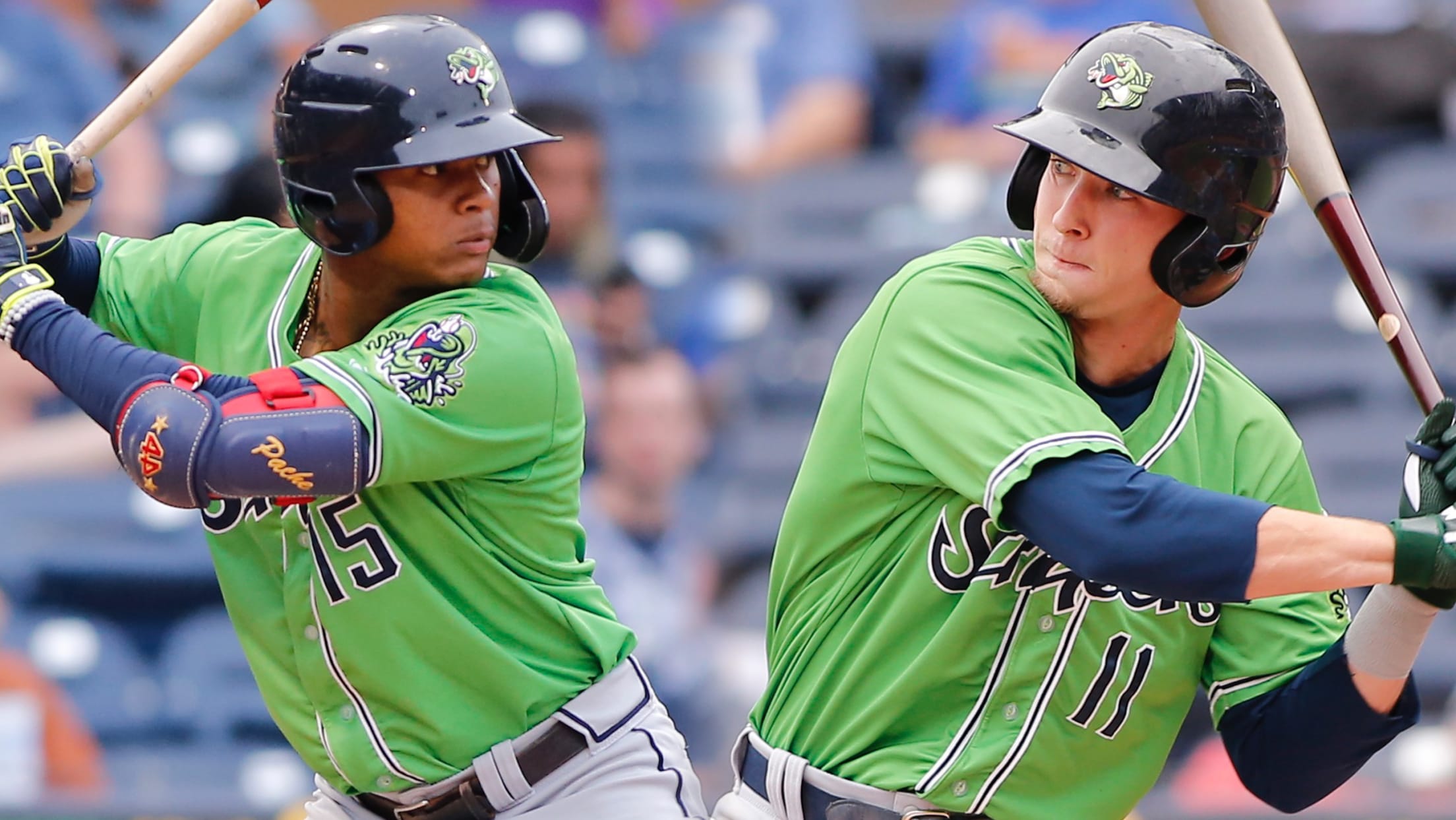 As part of the new rules for the 2020 Major League season, each of the 30 organizations will maintain a 60-man player pool for the duration of the campaign. Some members of the player pool will feature on the active Major League roster while others will work out at an
Toolshed: Non-roster invitees to follow
Madrigal, Rutschman, Gore worth watching in Spring Training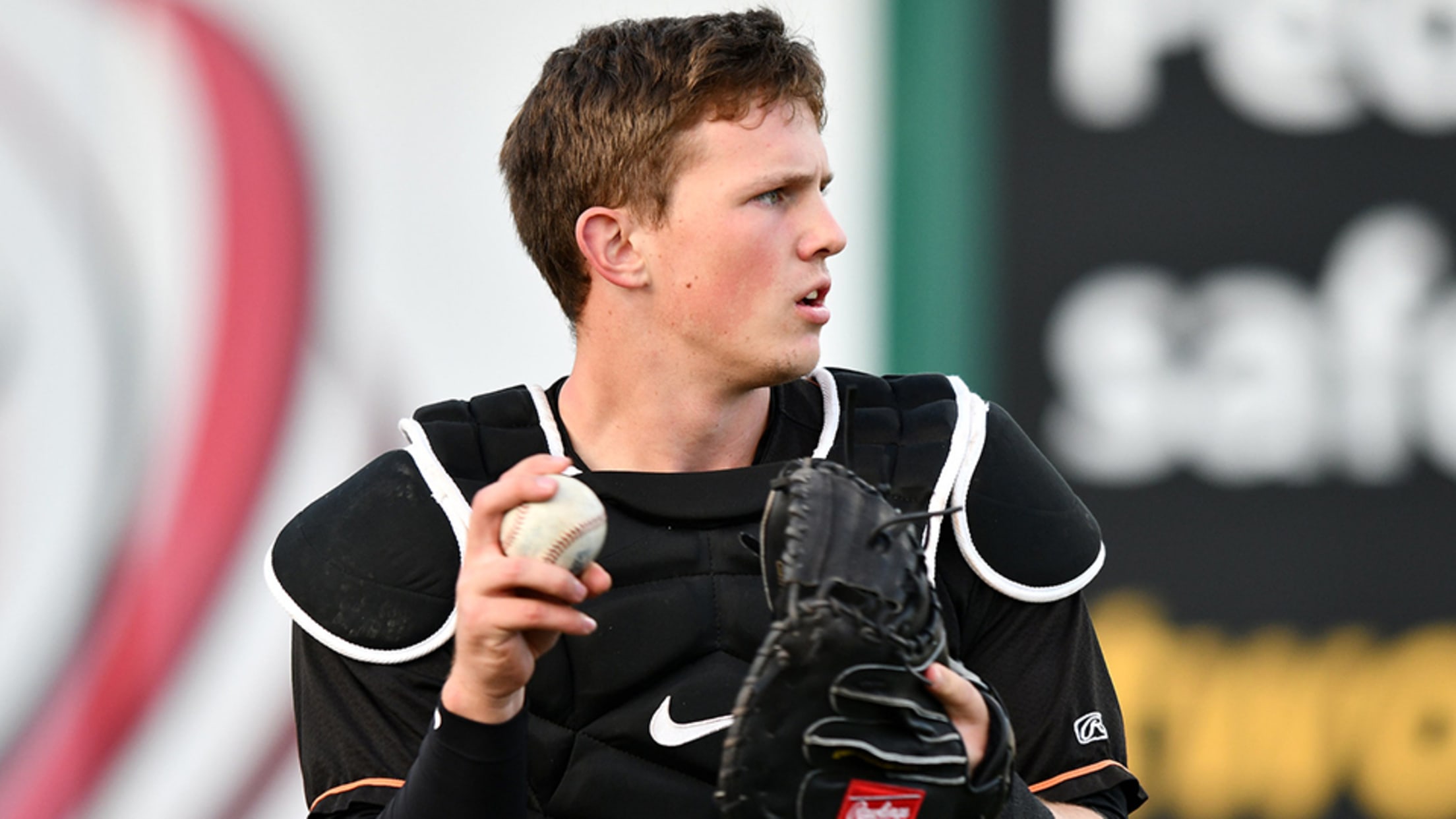 Saturday means the start of February, which means the start of Spring Training, which means the return of baseball.The storylines will pile up with players descending on Arizona and Florida in the coming weeks. Some of them are not on 40-man rosters but will still participate in Major League camp
Braves' Waters, Anderson receive invites
Catcher Langeliers also heading to Major League spring camp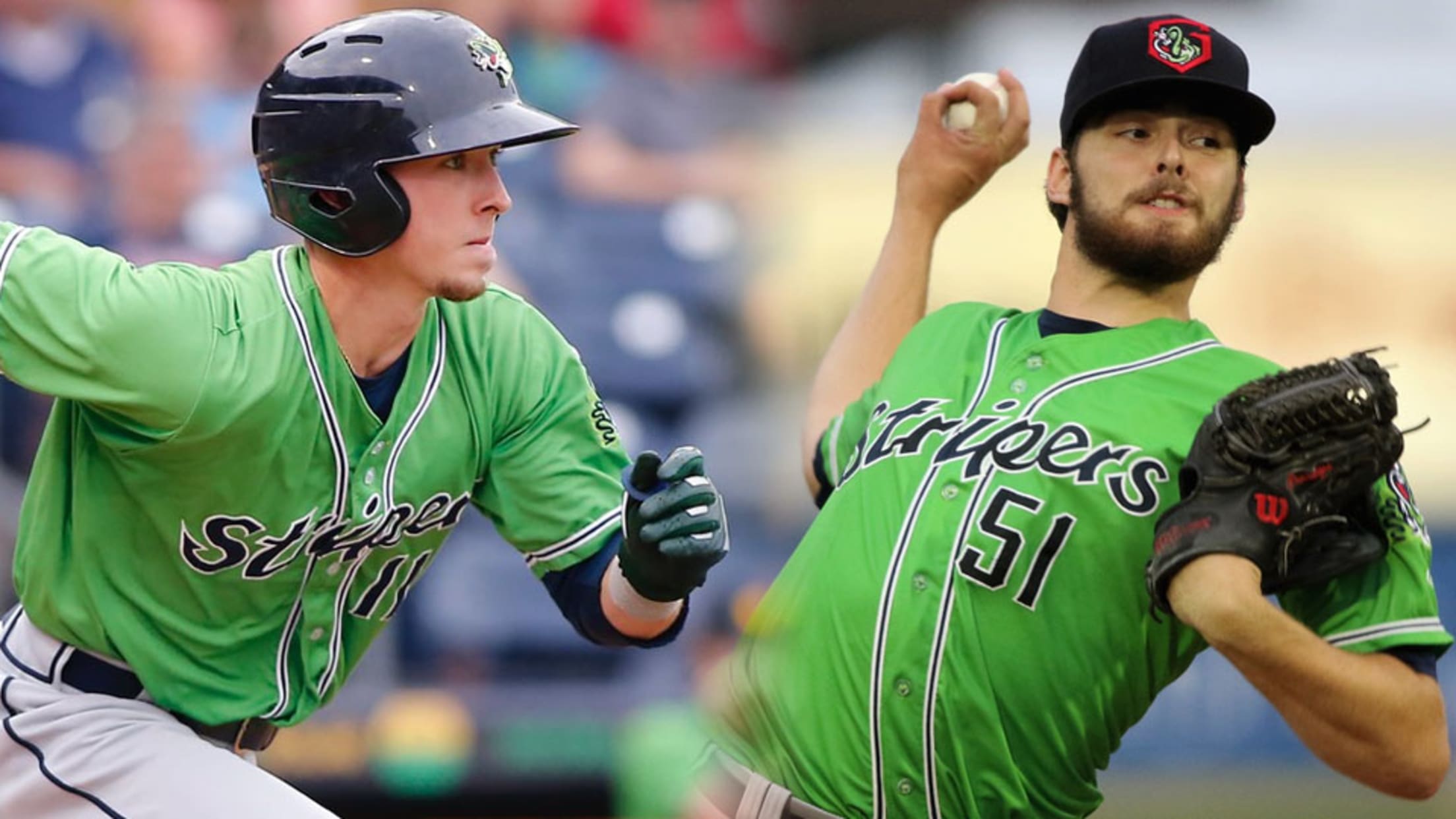 The Braves won their second straight National League East title in 2019 with help from homegrown players like Ronald Acuña Jr., Ozzie Albies, Mike Soroka and Freddie Freeman. The next wave isn't far behind.Atlanta extended non-roster invitations to Major League Spring Training to No. 23 overall prospectDrew Waters, No. 31
Mississippi Braves All-Decade Team - Outfielders
Acuña Jr., Demeritte, Smith, Waters lead group of memorable outfielders this decade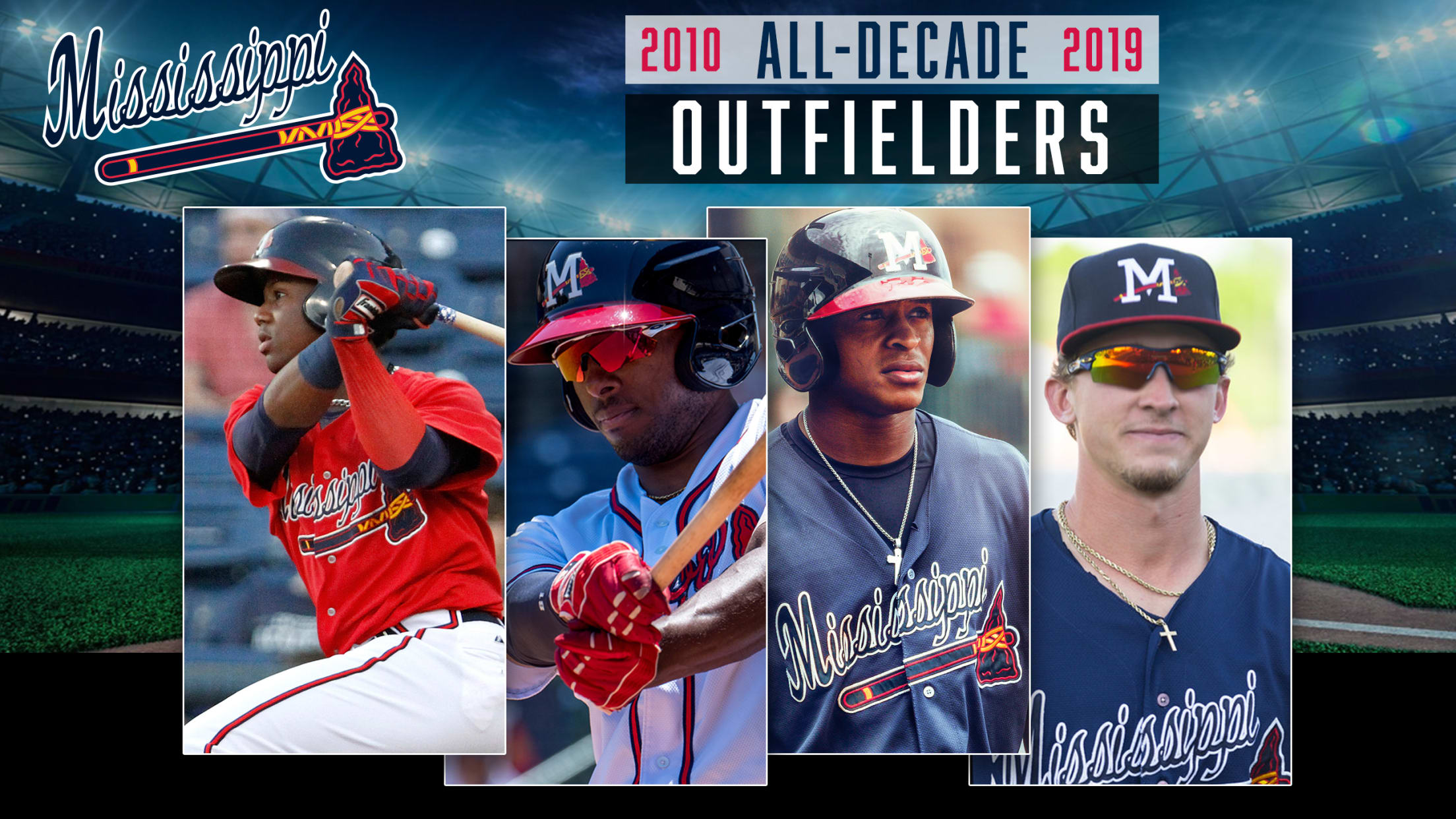 PEARL, MS - As the decade comes to a close later this month, the Mississippi Braves are announcing their All-Decade squad from 2010 to 2019. The criteria for being named to the team are production while playing in Mississippi - weighed equally to results in major league baseball. The players
Dalbec slams Team USA to win in opener
Four prospects homer in first game of Premier12 tournament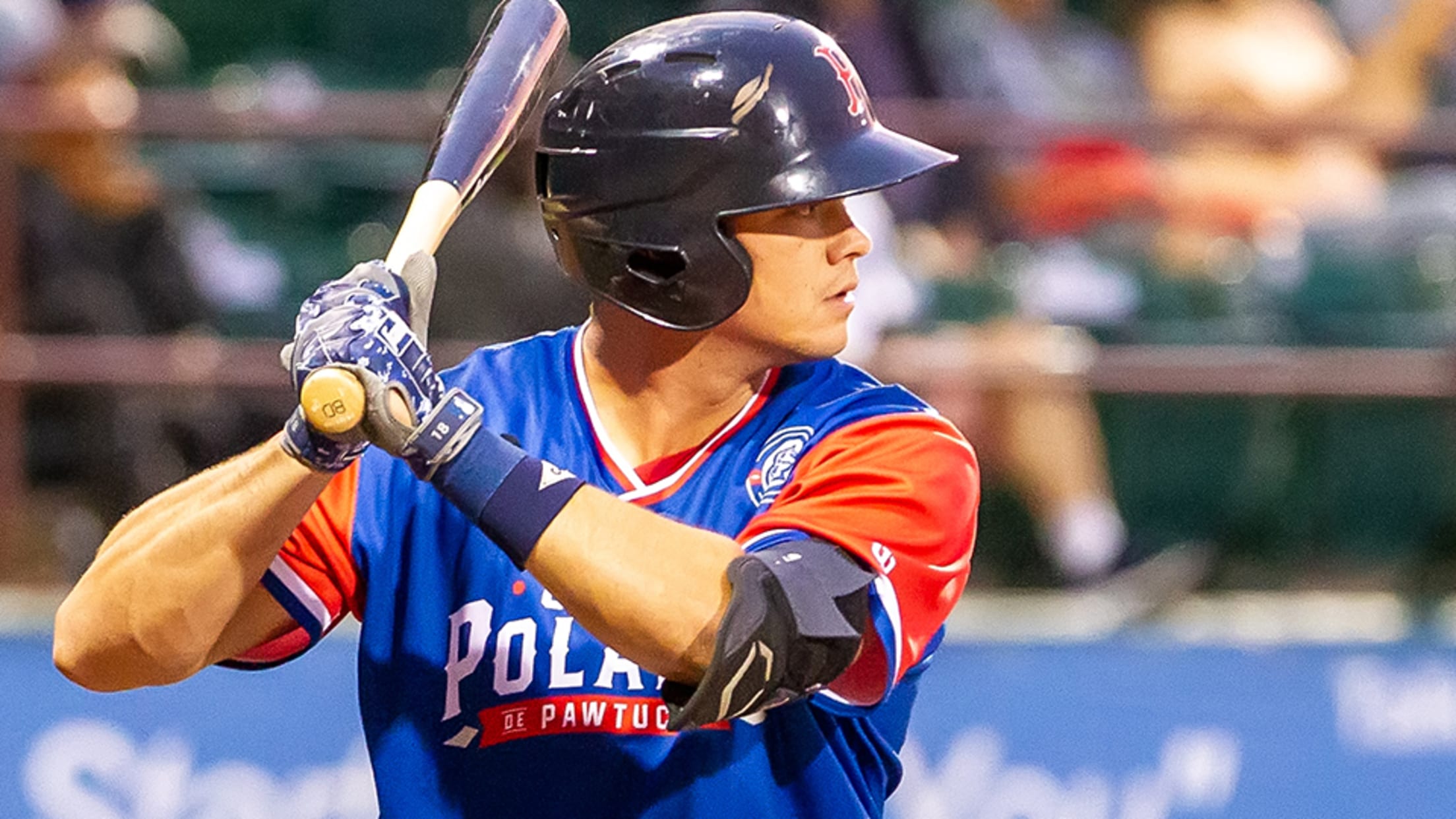 A power surge carried Team USA to victory on Saturday, with Bobby Dalbec delivering the biggest blow.The second-ranked Red Sox prospect belted a grand slam in the fifth inning to put the game out of reach as the Americans used four home runs to crush the Netherlands, 9-0, at Estadio
Adell, Vaughn, Waters named to U.S. roster
Prospects headed to Premier12 tournament in Olympic qualifier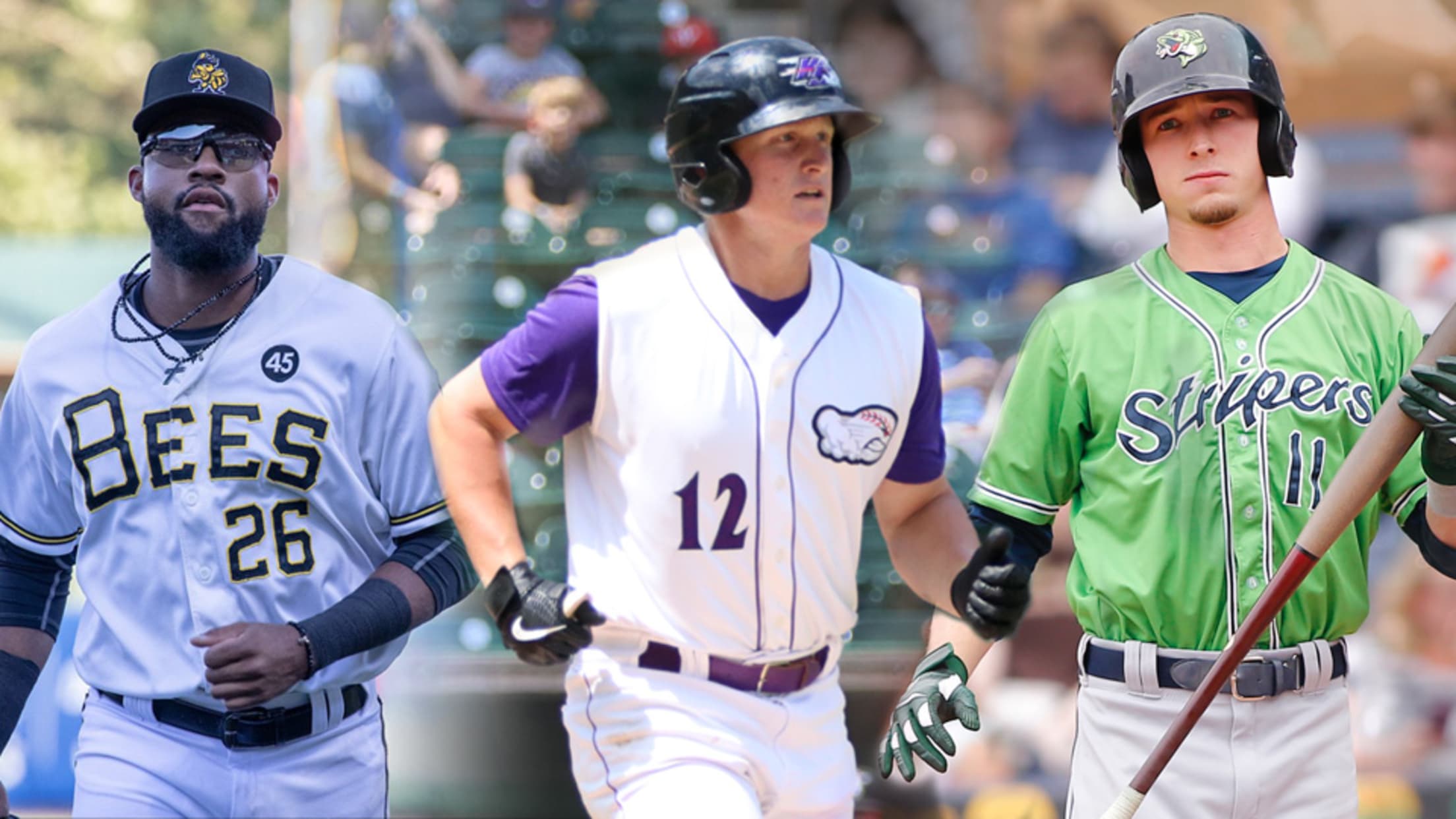 At this year's Premier12 tournament, USA Baseball will take on a distinct prospect flavor.Seven of MLB.com's Top-100 prospects, including No. 5 Jo Adell (Angels) and No. 21 Andrew Vaughn (White Sox), were named to the 28-man U.S. roster on Thursday ahead of the WBSC Premier12 tournament in Guadalajara, Mexico from
Pache, Waters next in line for Atlanta
A bountiful crop of prospects has the Braves sitting pretty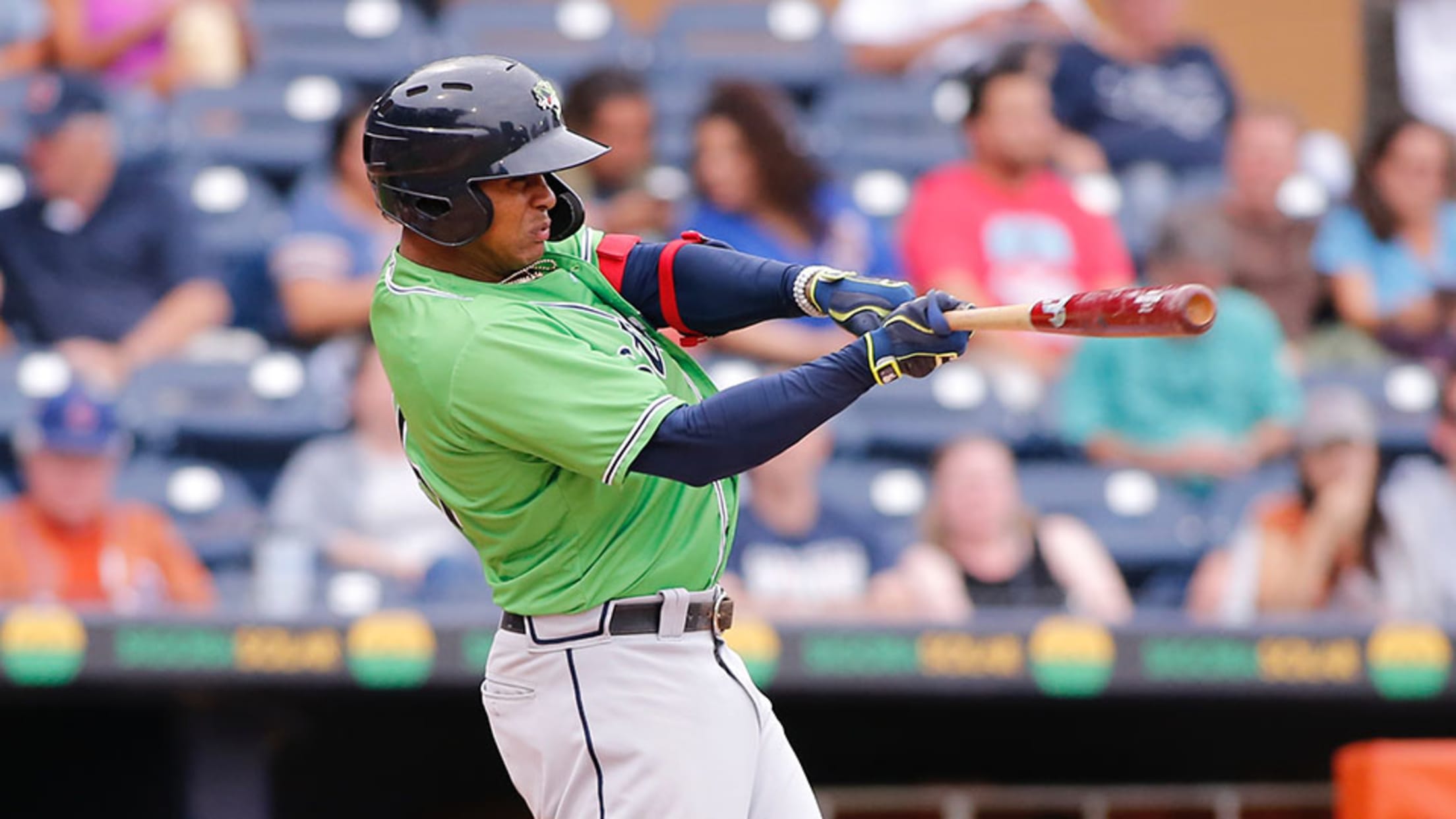 Each offseason, MiLB.com goes position by position across each system and honors the players -- regardless of age or prospect status -- who had the best seasons in their organization. Click here to locate your favorite club.If anyone wondered how long it would take the Braves to get into position
Toolshed: BABIP and top prospects
Evaluating how balls in play impacted stats for Top-100 talents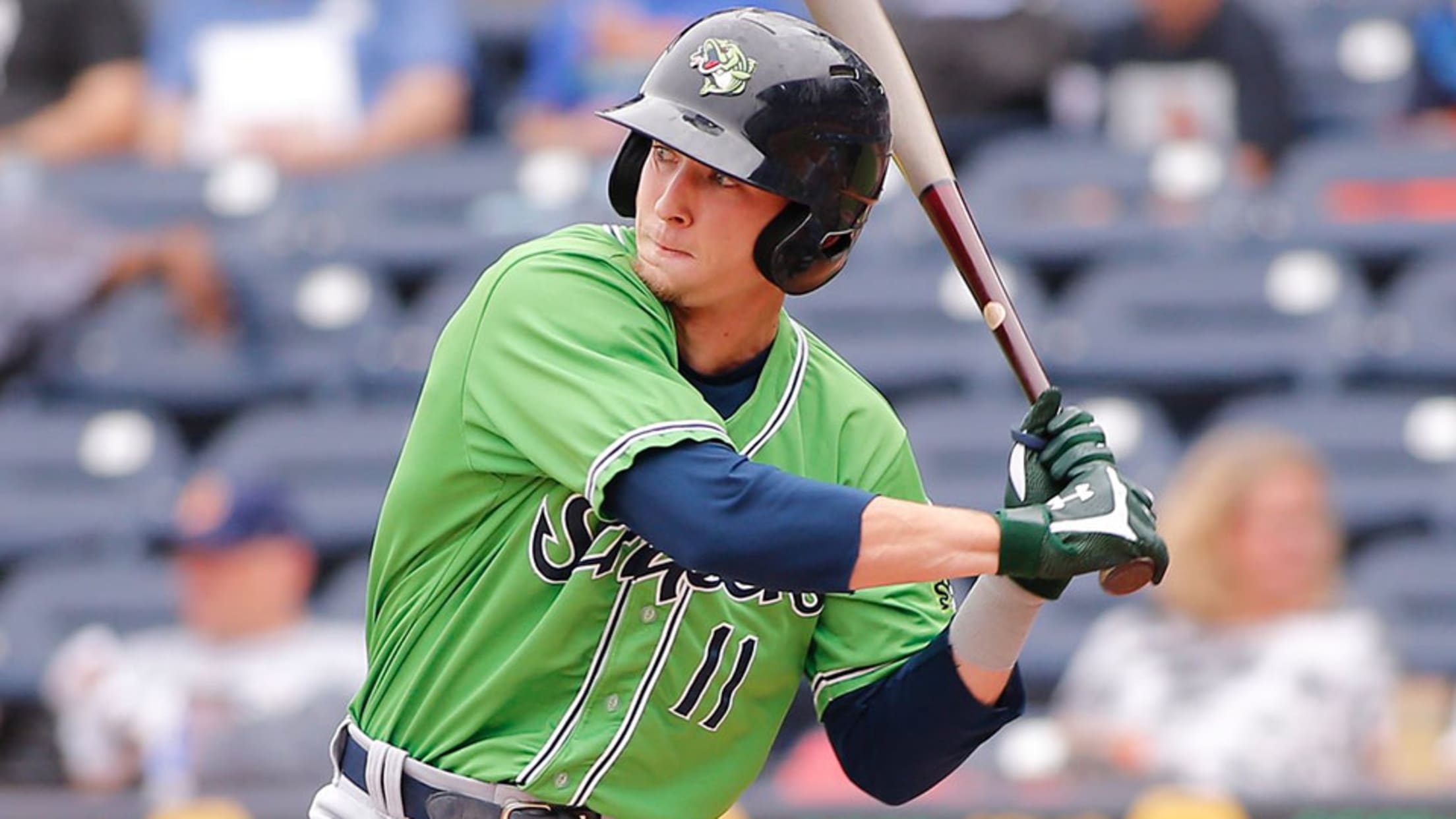 In play, out(s).In play, no out.In play, run(s).These are common phrases to anyone who has followed an MLB.com or MiLB.com Gameday feed in the past two decades. It seems simple enough with three types of general outcomes once the bat meets the ball and the ball stays within the lines
Waters, Supak headline Southern stars
Braves, Brewers prospects take home top All-Star honors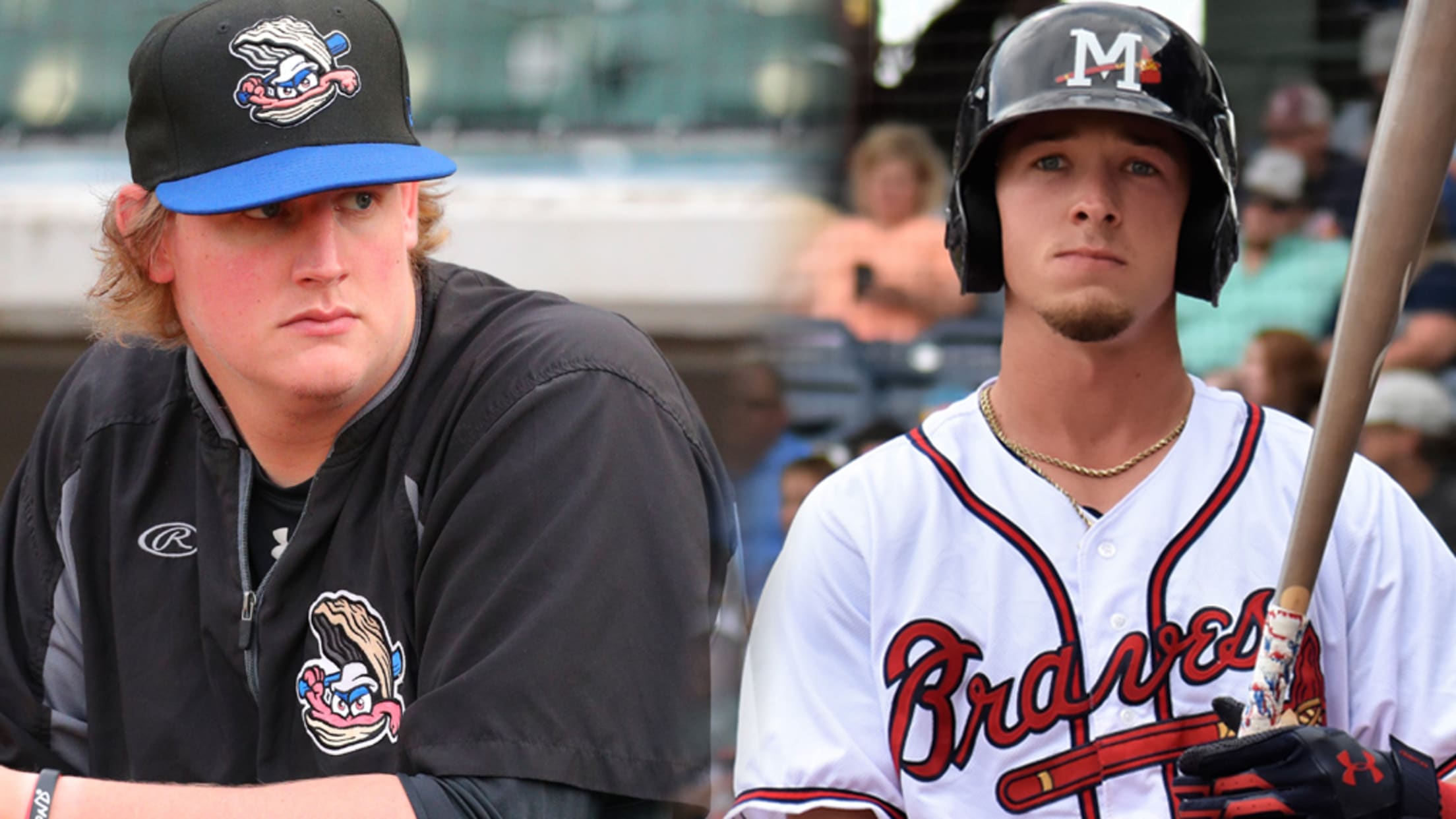 Start strong. Finish strong. It's not easy to do both, but Drew Waters and Trey Supak did so to earn some well-deserved hardware.The Southern League announced its postseason All-Stars on Wednesday, with Waters named Most Valuable Player and Supak taking home the Most Outstanding Pitcher award.
2019 SL Postseason All-Star Team
MARIETTA, GA - The Southern League of Professional Baseball Clubs are proud to announce their postseason award winners, as well as the 2019 Southern League postseason All-Star team.Mississippi Braves outfielder Drew Waters has been named the Southern League's Most Valuable Player; becoming the first M-Braves hitter and the first Atlanta
Prospect Roundup: Games of August 18
M's Gilbert posts five zeros; Braves' Waters collects three hits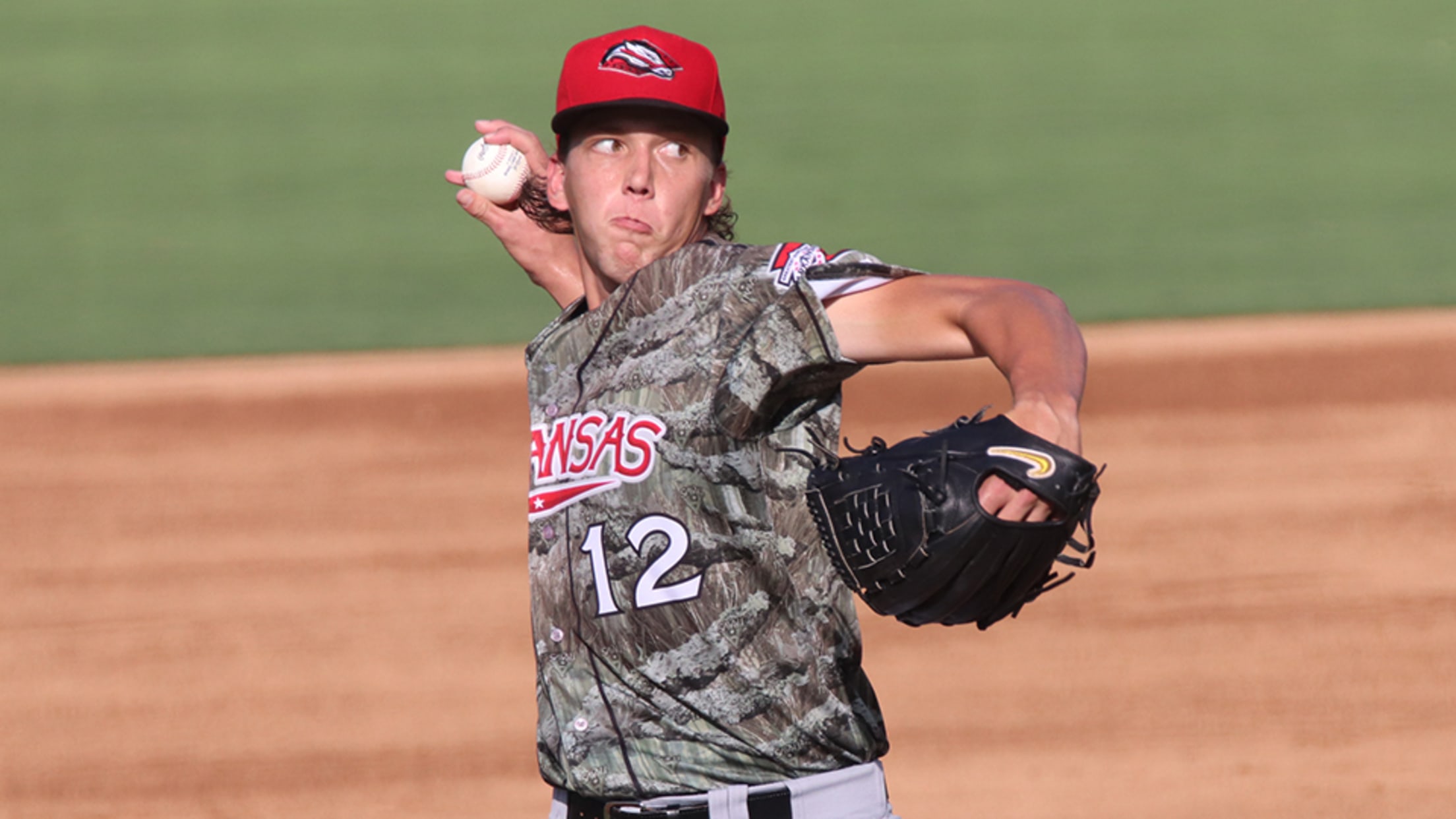 Mariners RHP Logan Gilbert, Double-A Arkansas: 5 IP, 2 H, 0 R, 3 BB, 8 K -- Seattle's third-ranked prospect has struck out eight in winning each of his last three starts for the Travelers. Against Springfield, Gilbert faced the minimum through two innings before escaping a bases-loaded jam in
Prospect Roundup: Games of August 9
Cards' Gorman homers twice; Lewis hits first Double-A dinger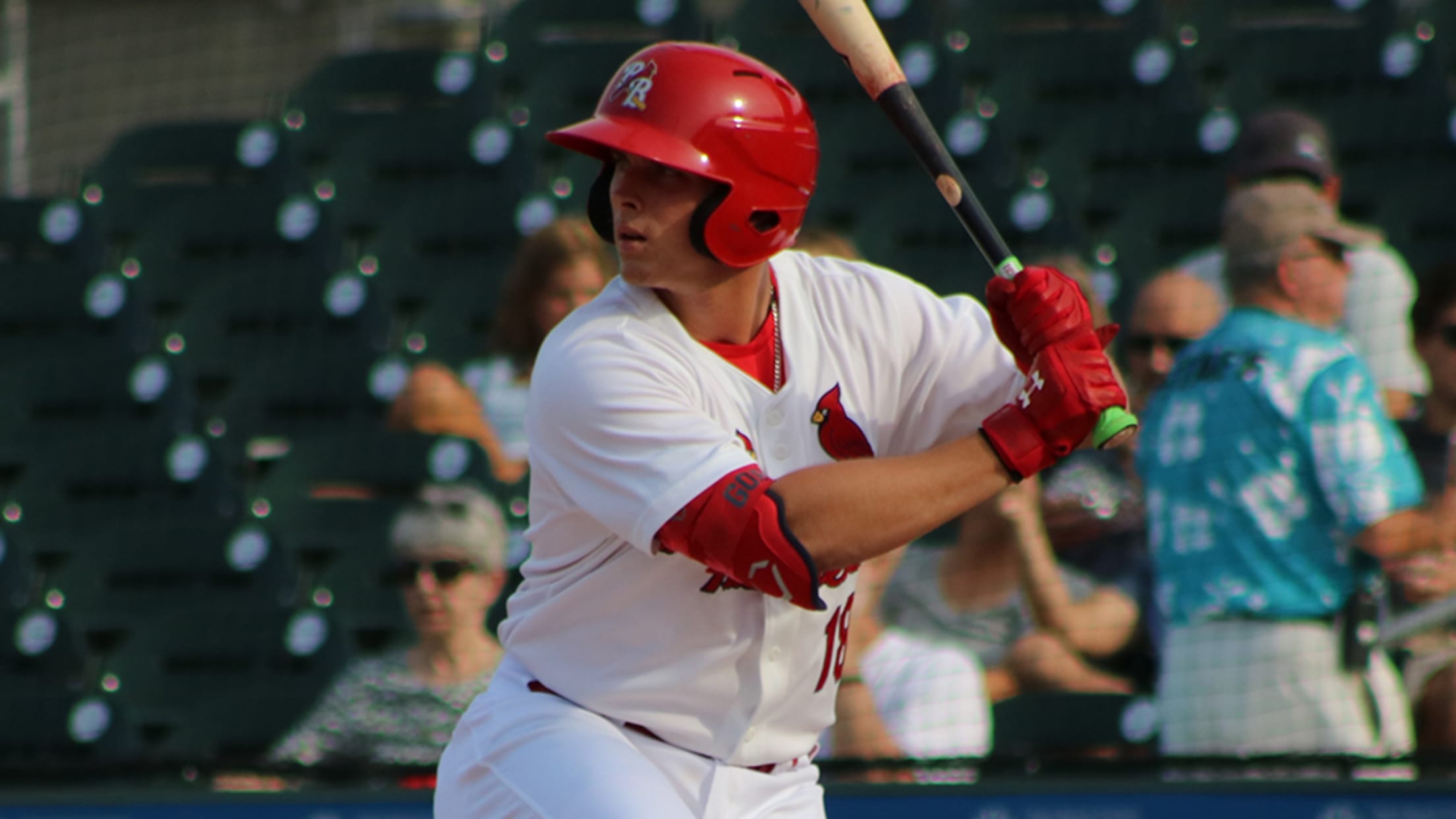 Cardinals 3B Nolan Gorman, Class A Advanced Palm Beach: 3-for-4, 2 HR, 2B, 2 RBI, 2 R -- The top Cardinals prospect had hit safely in eight of his previous nine games but hadn't homered since July 13. That changed in back-to-back at-bats during the opener of the Cards' doubleheader
Waters rushes into hit column for Gwinnett
Braves No. 2 prospect collects three singles in Triple-A debut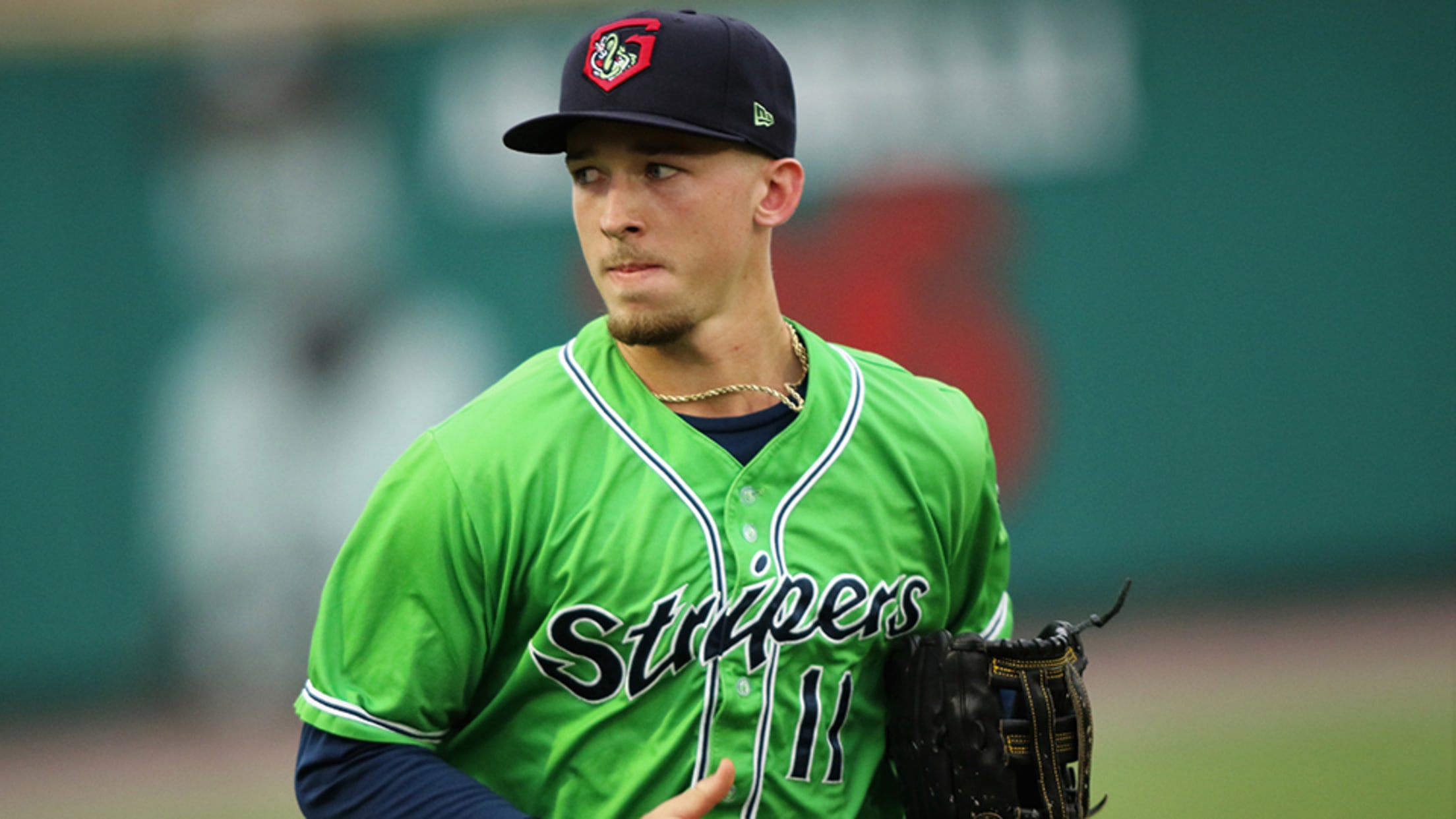 Drew Waters proved himself more than capable of succeeding against Double-A competition. His Triple-A debut Tuesday offered a similar impression.Atlanta's second-ranked prospect singled three times, drove in a run and scored once in his first game for Triple-A Gwinnett, which fell to Rochester, 8-3, at Frontier Field. 
Braves' Waters, Anderson promoted to Triple-A
No. 2, 3 Atlanta prospects joining Pache on Gwinnett roster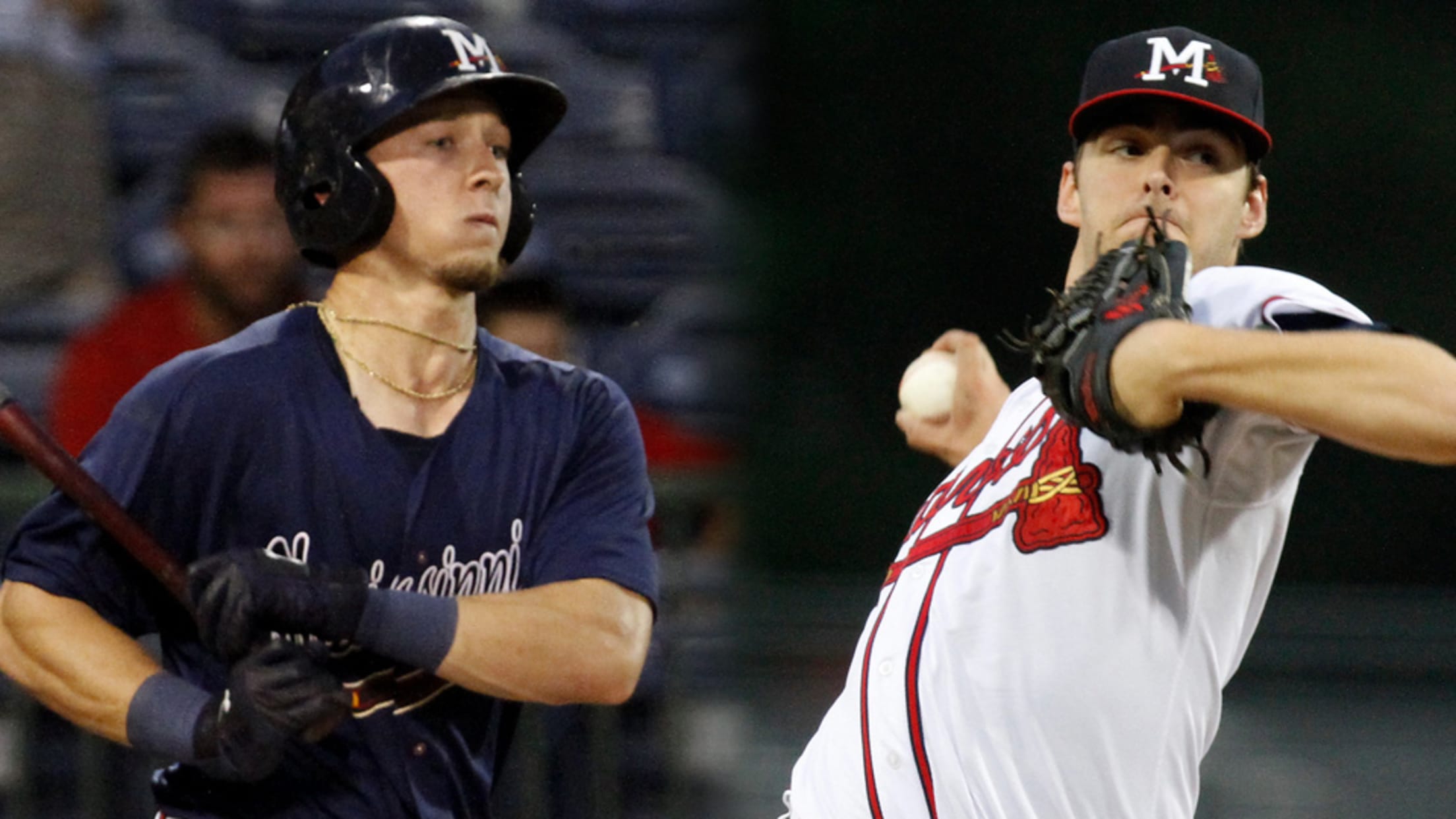 On Sunday, news broke that Cristian Pache was being promoted to the Minors' top level. On Monday, he got some company.The Braves are also promoting No. 2 and 3 prospectsDrew Waters and Ian Anderson from Double-A Mississippi to Triple-A Gwinnett. With those transactions, each of Atlanta's top four prospects --
Contreras, Waters power M-Braves
Top prospects support Wentz with seven hits, four RBIs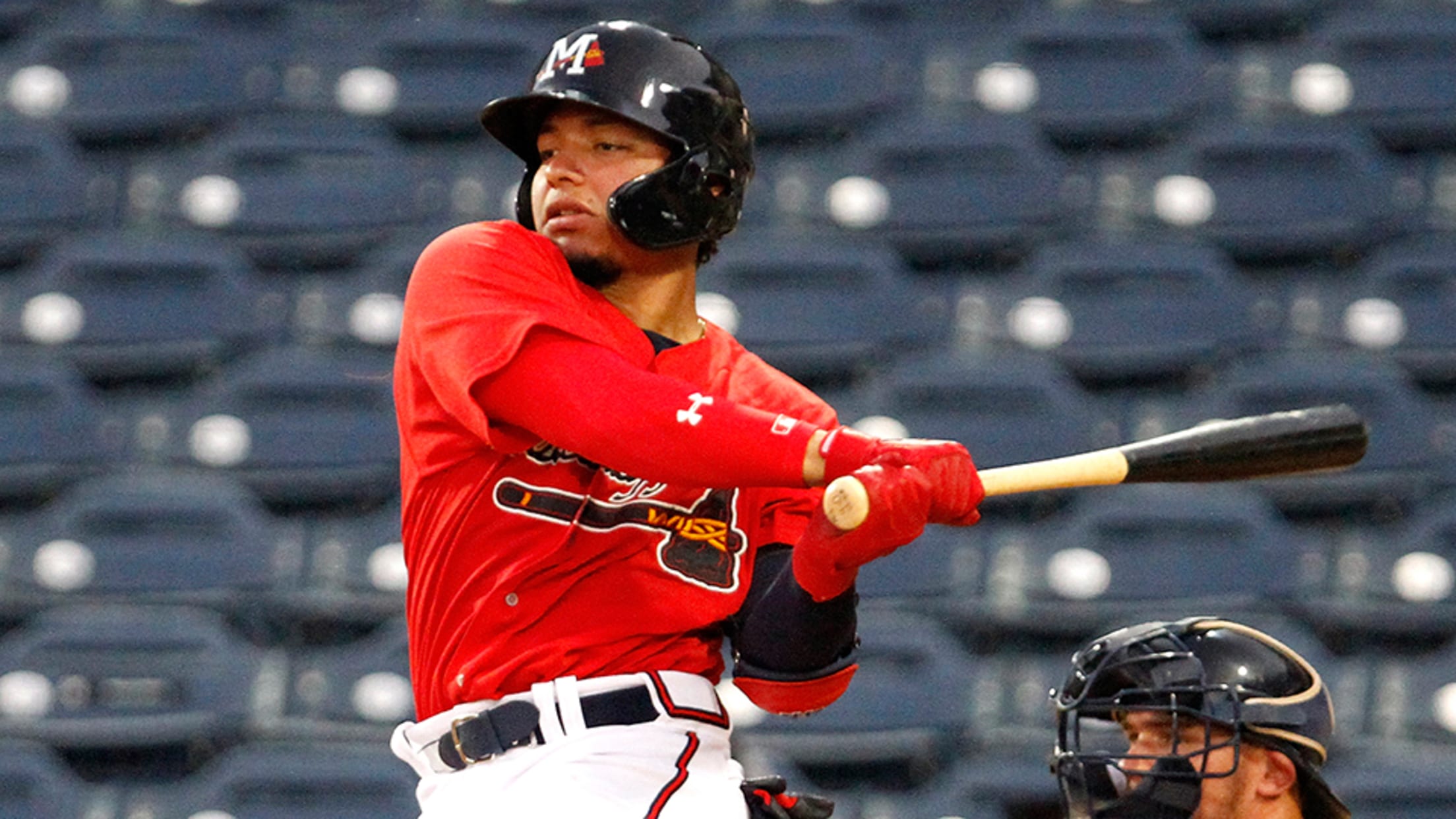 Double-A Mississippi relied on two of its biggest bats -- and one of its vaunted arms -- on Sunday.Braves No. 6 prospect William Contreras and fourth-ranked Drew Waters combined for seven hits, four RBIs and three runs scored as Mississippi took down Pensacola, 8-3, at Trustmark Park.
Waters, Gausman named Farm Bureau Player and Pitcher of the Week
Waters hit .391 last week while Gausman allowed no earned runs over 6.0 innings in a start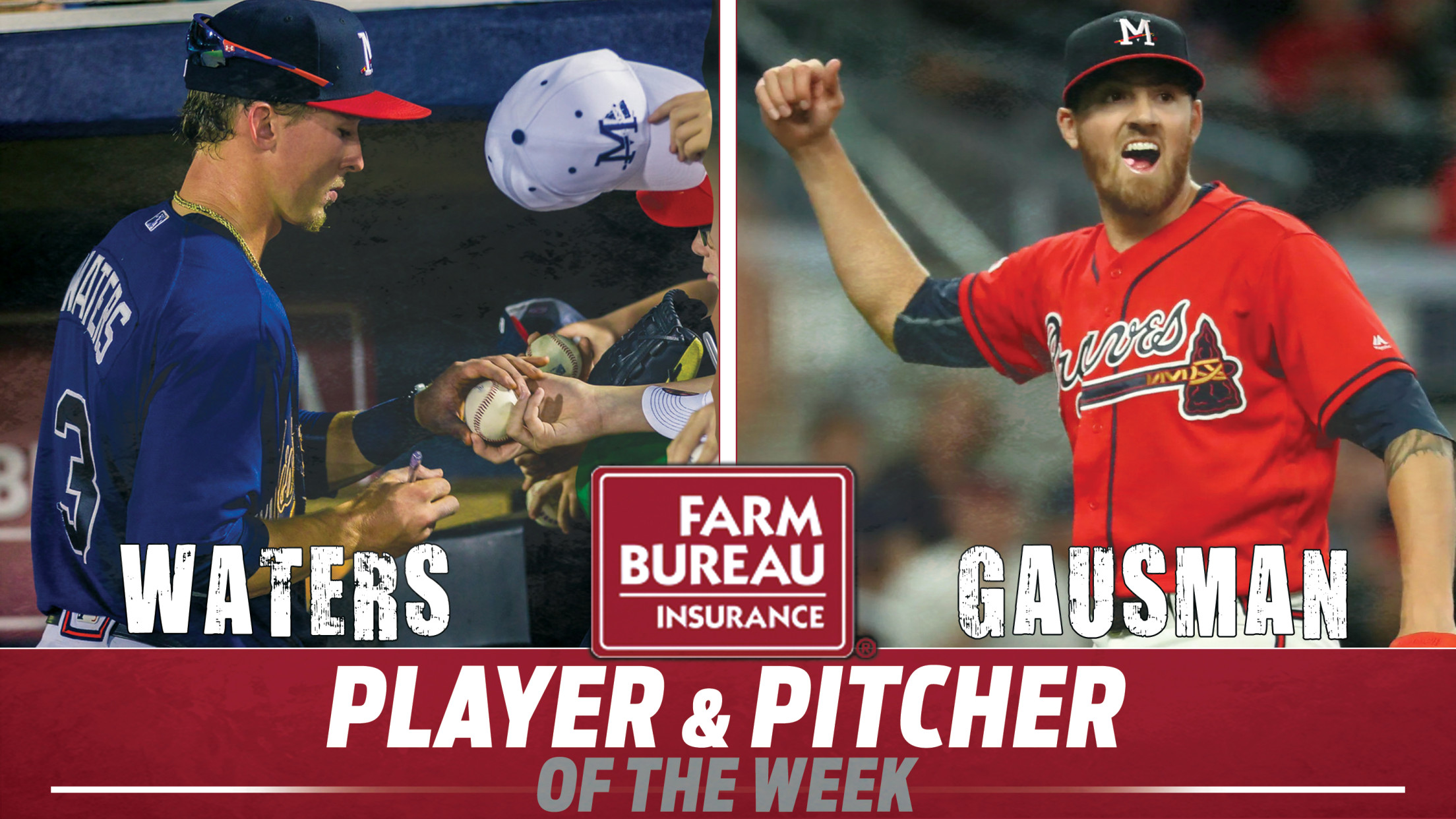 PEARL, MS - Mississippi Braves outfielder Drew Waters  and right-handed pitcher Kevin Gausman have been named Farm Bureau Player and Pitcher of the Week. The awards were given for their performances for the M-Braves from July 8-15.