Tamarez and Gruller Combine to Shutout Cannon Ballers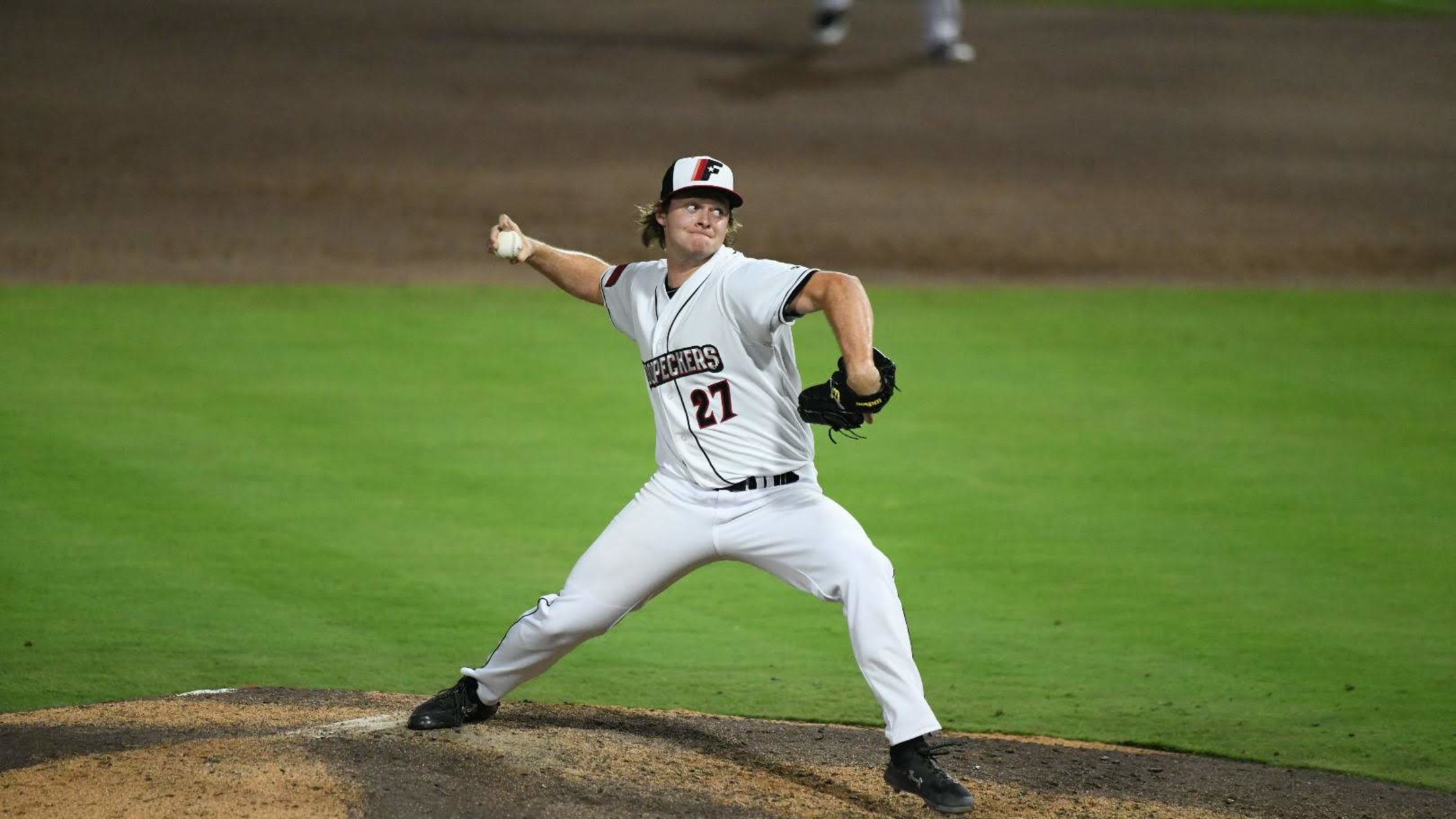 FAYETTEVILLE, NC - Misael Tamarez (W, 4-2) and Kyle Gruller (S,1) combined to strikeout 16 and toss the third shutout of the season for the Fayetteville Woodpeckers (31-39) in a 7-0 victory over the Kannapolis Cannon Ballers (22-48) on Friday night at Segra Stadium. The offense complimented the effort on
FAYETTEVILLE, NC - Misael Tamarez (W, 4-2) and Kyle Gruller (S,1) combined to strikeout 16 and toss the third shutout of the season for the Fayetteville Woodpeckers (31-39) in a 7-0 victory over the Kannapolis Cannon Ballers (22-48) on Friday night at Segra Stadium. The offense complimented the effort on the mound with a pair of homers and seven runs across a three inning stretch.
Tamarez and Chase Solesky (L, 1-5) put up a pair of scoreless innings to start the night, before Justin Dirden ripped a solo homer to right field in the third. The blast was his ninth of the season and second of the series. Ronaldo Urdaneta added a solo homer of his own in the fourth off Solesky, who was lifted from the game after striking out Cristian Gonzalez for the second out. Ty Madrigal inherited a pair of runners and allowed a Jordan Brewer RBI single that made it 3-0.
Cushioned with a lead, Tamarez continued his scoreless start, striking out two in the third, two in the fourth, and punching out Caberea Weaver to end the fifth. The right-hander struck out seven, surrendered one walk and one lone base hit, a single in the fourth. He also became the first pitcher two reach four winning decisions this season.
Madrigal allowed four more runs in the fifth. Nate Perry was hit with a pitch, Urdaneta walked, and Kenedy Corona loaded the bases with a single. Yohander Martnez followed with a two-run single, and Corona proceeded to come across on a passed ball. Cristian Gonzalez capped the scoring with a broken-bat single to center that scored Martinez and made it 7-0.
Gruller took over for Tamarez and allowed a leadoff double to Jose Rodriguez in the top of the sixth. The Houston Baptist product followed it up with a strikeout of Samil Polanco and two groundouts to escape the inning scoreless. In the seventh, Gruller struck out the side in order, and continued his roll with three more consecutive strikeouts in the eight. After Polanco grounded out to second to start the ninth, Gruller struck out Bryan Ramos and Luis Mieses to close the game retiring 12 in a row.
The six-game series is now tied at two games a piece with the upper-hand on the line on Saturday. First pitch at Segra Stadium is scheduled for 5:00 pm ET with RHP Angel Acevedo (1-4, 6.57 ERA) scheduled to start for Kannapolis and RHP Jayson Schroeder (2-1, 7.61) starting for Fayetteville. The first 1,500 fans through the gates will receive a specialty J.Cole bobblehead.
FULL BOX SCORE: https://www.milb.com/gameday/cannon-ballers-vs-woodpeckers/2021/07/23/649185#game\_state=final,lock\_state=final,game_tab=box,game=649185