Bulls win second Governors' Cup in five years
Robertson plates four, bullpen holds on to take Game 4, series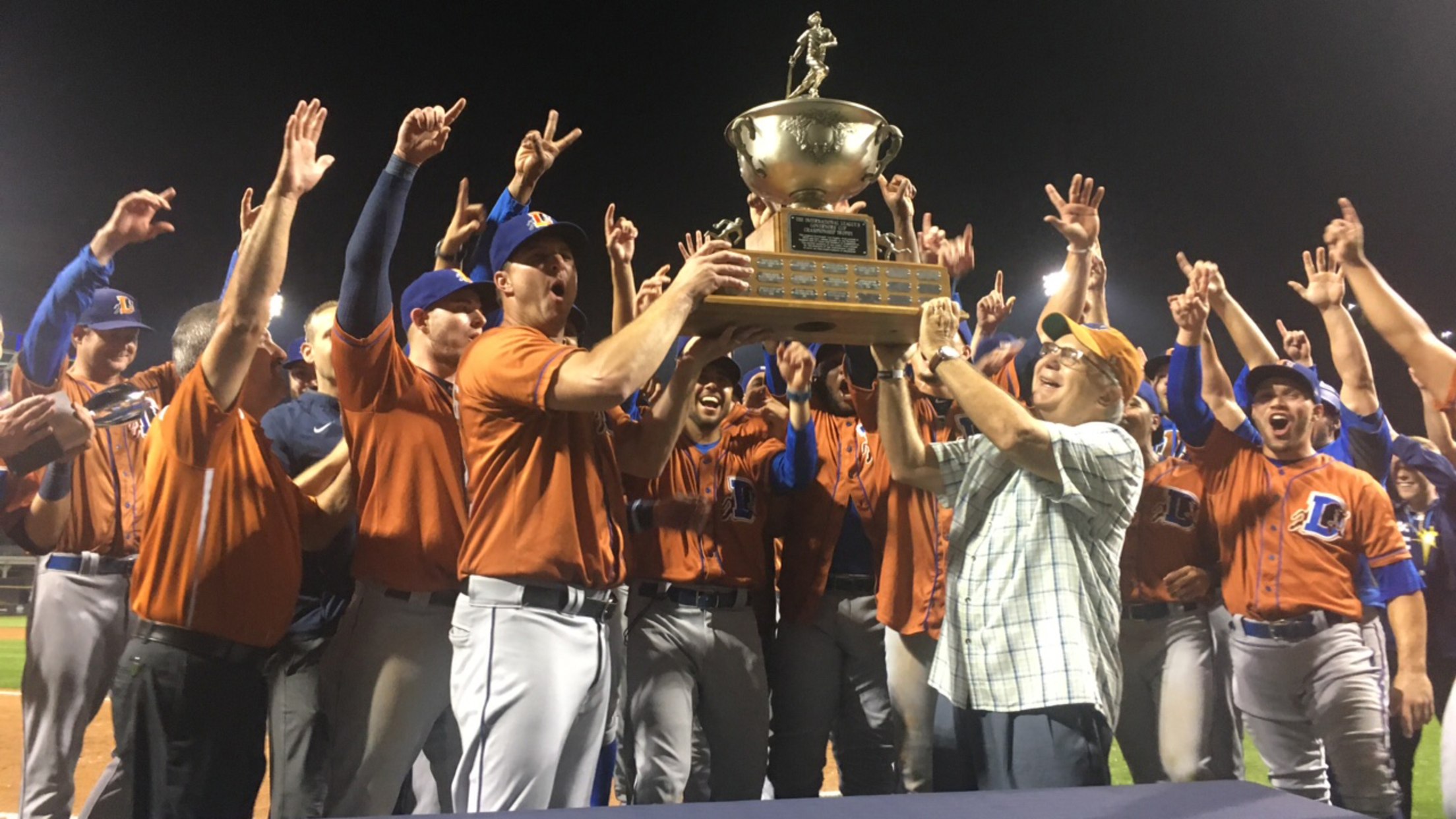 The Durham Bulls celebrate their first Governors' Cup title since defeating Pawtucket in 2013. (Durham Bulls)
MOOSIC, Pennsylvania -- All night, the Durham Bulls battled. In the end, it was all worth it.Durham won the Governors' Cup with a 6-4 victory over Scranton/Wilkes-Barre as Daniel Robertson went 3-for-3 with a homer and four RBIs on Friday night at PNC Field. The Bulls took the best-of-5 International League
MOOSIC, Pennsylvania -- All night, the Durham Bulls battled. In the end, it was all worth it.
Durham won the Governors' Cup with a 6-4 victory over Scranton/Wilkes-Barre as Daniel Robertson went 3-for-3 with a homer and four RBIs on Friday night at PNC Field. The Bulls took the best-of-5 International League Championship Series, 3-1, hoisting the Cup for the first time in team history and the second time in five years.
Fifth-ranked Rays prospect Jake Bauers earned series MVP honors after batting .412 over the four games.
"This team, I've said from the get-go, has been one of the best teams I've ever been on," Durham manager Jared Sandberg said. "They came to compete every single night and they finished it off. It's hard to win championships, but they brought the winning tradition back to Durham."
Box score
Friday's clincher began with the RailRiders taking a 1-0 lead in the third inning on an RBI single by Yankees No. 6 prospectMiguel Andújar. The Bulls responded with three runs off in the fourth off starter Brady Lail (0-1) as Robertson singled home a pair and Patrick Leonard scored on an error by catcher Kyle Higashioka.
"I went up there with the bases loaded and two outs and I was hungry," Robertson said. "I was aggressive. I told myself to see the off-speed pitch up, but more importantly I wanted to see something away, something I could drive the other way."
Durham added a run off Lail in the fifth on an RBI double by Rays No. 2 prospect Willy Adames. Robertson struck again an inning later when he smashed a cutter from reliever Jonathan Holder over the right-field wall for a two-run blast that stretched the lead to 6-1.
The RailRiders responded with three unanswered runs, loading the bases in the sixth and seventh. The Bulls bullpen held, however, with closer Diego Castillo fanning two en route to a five-out save.
Complete playoff coverage
"We leaned on our experience," Sandberg said. "We had a fantastic bullpen effort the entire season. It seemed like whoever was on defense tonight was on their heels. The offenses kept coming at each other. It wasn't easy, but we persevered and dealt with some adversity."
After Castillo struck out Yankees No. 19 prospect Jake Cave for the final out, the Bulls rushed the mound. Bauers said he rejoiced as he was finally able to exhale.
"It was stressful. It was stressful the whole game," the first baseman said with a laugh. "They kept putting up a fight. Once Diego came in, it was almost like a calming feeling. ... Thankfully, he went 1-2-3 [in the ninth]. They put up a great fight. Props to them, they have a great team."
Hunter Wood (1-0) picked up the win after recording the final out in the sixth. Starter Burch Smith yielded one run on three hits and three walks while striking out four over 4 2/3 frames. Durham's starters combined to allow two runs over 22 2/3 innings for a 0.79 ERA in the series.
The Bulls will return to PNC Field on Tuesday for the Triple-A National Championship, facing Memphis or El Paso as the Pacific Coast League representative.
"This stuff doesn't come around too often," Robertson said. "When it does, you really cherish it."
"This is my first championship," Bauers added. "I'm fired up about it. I'm fired up for our whole team in there. Obviously, we're enjoying it. One more to go."