Bulls' McKay rolls through RailRiders
Rays No. 3 prospect fans seven, including Stanton, Judge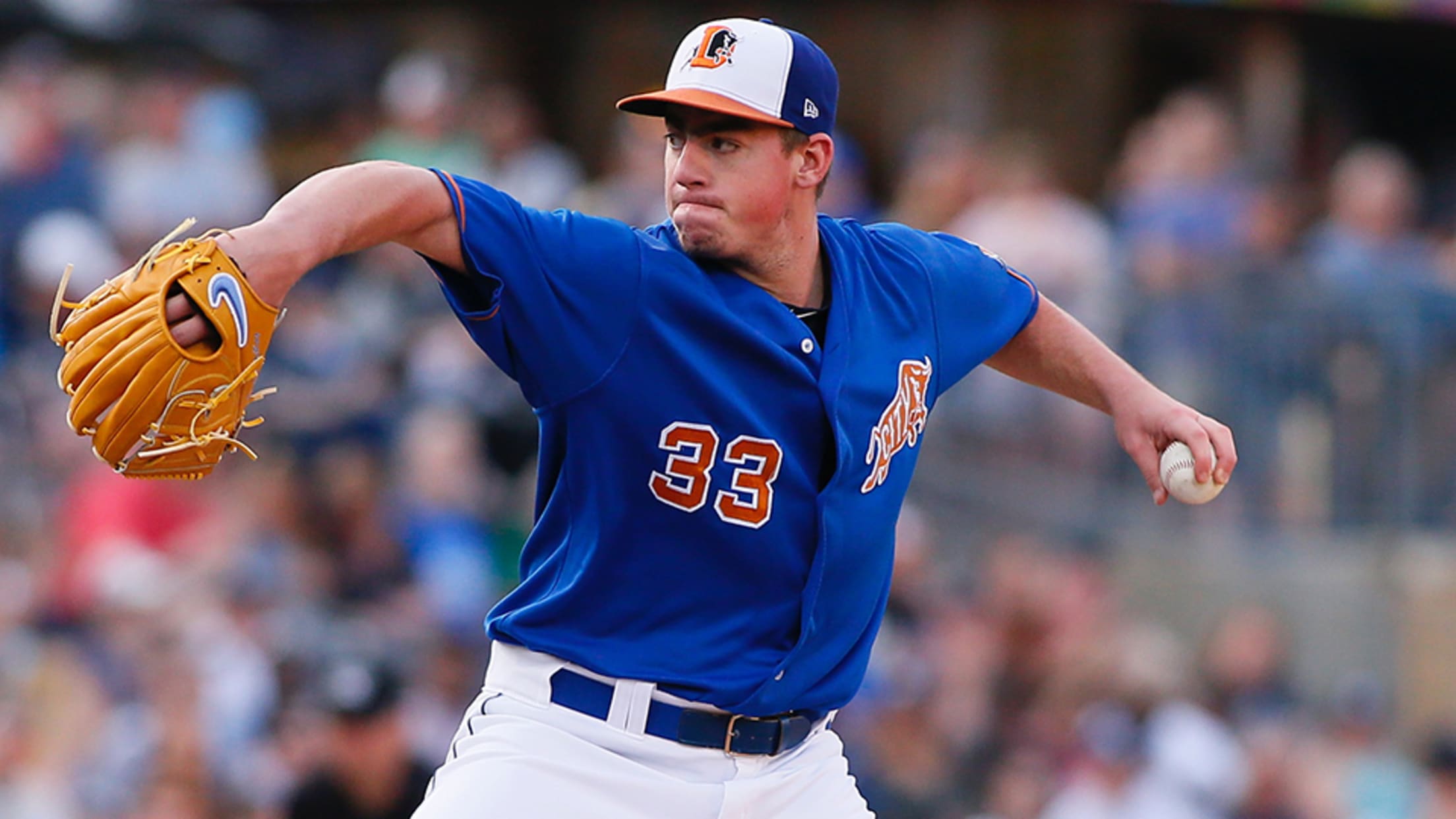 Brendan McKay has 21 strikeouts against three walks over 20 innings since is promotion to the IL. (Chris Robertson/MiLB.com)
Soon enough, Brendan McKay will be taking the mound in a big league stadium. On Saturday, two of the Majors' most prominent sluggers came to him. He rose to the challenge and then some. The third-ranked Rays prospect delivered five scoreless frames out of the bullpen, striking out seven and allowing
Soon enough, Brendan McKay will be taking the mound in a big league stadium. On Saturday, two of the Majors' most prominent sluggers came to him. He rose to the challenge and then some.
The third-ranked Rays prospect delivered five scoreless frames out of the bullpen, striking out seven and allowing a hit and a walk, as Triple-A Durham blanked Scranton/Wilkes-Barre, 2-0, in front of 12,000 -- the largest crowd ever at Durham Bulls Athletic Park.
"He's a really calm, collected pitcher," Bulls manager Brady Williams said. "You don't really see a lot of emotion out of him. But that doesn't mean the fire doesn't burn inside with him. He attacked them. I thought he pitched [Giancarlo Stanton and Aaron Judge] to his strengths."
Stanton and Judge were in the RailRiders' lineup as part of their rehab assignments for the Yankees. Jake Cronenworth opened the game for the Bulls, which meant McKay (3-0) had to wait until the third inning to get his first crack at the duo.
By that point, MLB.com's No. 25 overall prospect had worked around a leadoff double in the second. With one out in the third, McKay and Judge battled to a 3-2 count before the 2017 American League Rookie of the Year bounced a grounder to shortstop. The southpaw broke off three straight curveballs to whiff Stanton and end the third.
"I thought his curveball was maybe the best it's been all year," Williams said. "I think his fastball command was a tick off. I also think he was missing up more than normal, but I do think that missing up allowed his curveball to play better, because he was getting strikes on takes and swings and misses."
Gameday box score
Thairo Estrada drew a two-out walk against McKay in the fourth, marking the last time a RailRider reached base against him. The 2017 first-rounder retired the final seven hitters he faced, striking out the side in the sixth. In that frame, he caught Judge and Stanton looking on 2-2 counts -- the first of possibly many battles with those two opponents at the next level.
"Honestly, I don't think he even thinks like that," Williams said. "I think he thinks in terms of competing and attacking hitters with his best stuff. I don't think he really focuses on who is up and down the lineup."
McKay threw 41 of 67 pitches for strikes and faced one batter over the minimum. He made 65 pitches in each of his first three outings since being promoted from Double-A Montgomery and has lowered his ERA to 1.35 with 21 punchouts over 20 innings in the International League. It was the left-hander's first scoreless outing since his Durham debut on May 28.
The efficiency can be traced back to two pillars of his game: fastball command and an enhanced understanding of the flow of a game.
"I think he has a good feel of what's going on," Williams said. "If he has a free strike, he'll throw it. If he doesn't, he won't and will attack in a different way. When hitters think they're going to get a pitch, they throw a different pitch. He just has a knack to really understand what hitters are trying to do and he attacks the oppposite, which is really special in a young kid."
Though he's only completed four outings for Williams, McKay's demeanor and the way in which he executes a game plan has impressed the skipper.
"He doesn't seem to get wavered whether he's ahead in the count or behind in the count," he said. "He's not afraid to throw his changeup 2-0. He's not afraid to throw his curveball on a count. ... He trusts his stuff and he knows where the ball is going the majority of the time."
Across 22 career relief outings, McKay has yet to allow a run. During his first time pitching out of the bullpen this season, with the Biscuits on May 22, he posted six zeros and whiffed nine.
Tampa Bay has been one of the forebearers of the "opener" movement, and the 23-year-old may find himself pitching out of the bullpen in the big leagues.
"They've opened with guys in front of pitchers," Williams said. "Is it something that we're going to continue to do? Probably not, but at least it's something he's been through and done it, and if it is something he has to do in the big leagues, he's prepared for it."
There's an uncertainty that comes with following an opener. The first inning can be quick or lengthy, and either scenario affects how a pitcher -- especially someone accustomed to a pre-start routine such as McKay -- warms up. But Williams felt McKay handled it well.
"Preparing differently is something he's going to have to get used to, if that's how he's going to be used," the manager said.
The Rays will continue to be creative with McKay. Williams mentioned the possibility he could enter a game after the third or fourth inning and finish the game to gain experience pitching during later innings.
Rarely will McKay face hitters three times in a day at Triple-A, as the Rays will keep his workload manageable by capping the 23-year-old's innings-per-outing at five. Of course, that is with the goal of McKay perhaps making it to Tampa Bay this season and providing valuable innings to a team in the hunt for the AL East title.
"He's doing that at minimal pitch counts, so there's not a whole lot of extended outings," Williams said. "He's not really laboring a whole lot."
The University of Louisville product made his first eight appearances of 2019 for Montgomery, where he posted a Southern League-best 1.30 ERA with a 0.82 WHIP and a .172 opponents' batting average. In 2018, his first full season in the Minors, he started six games for Class A Bowling Green and nine with Class A Advanced Charlotte and struck out 94, while compiling a 2.55 ERA over 72 1/3 innings.
Kean Wong had two hits and scored a run, while Michael Perez clubbed a solo homer for Durham.
Scranton/Wilkes-Barre starter Raynel Espinal (3-5) struck out nine over six innings and allowed a run on four hits and a walk. Judge and Stanton both went 0-for-4, with Stanton whiffing three times.
Chris Bumbaca is a contributor to MiLB.com. Follow him on Twitter @BOOMbaca.