Adames, Arroyo, Bauers among Rays cuts
Trio of Tampa Bay Top-100 prospects sent to Minor League camp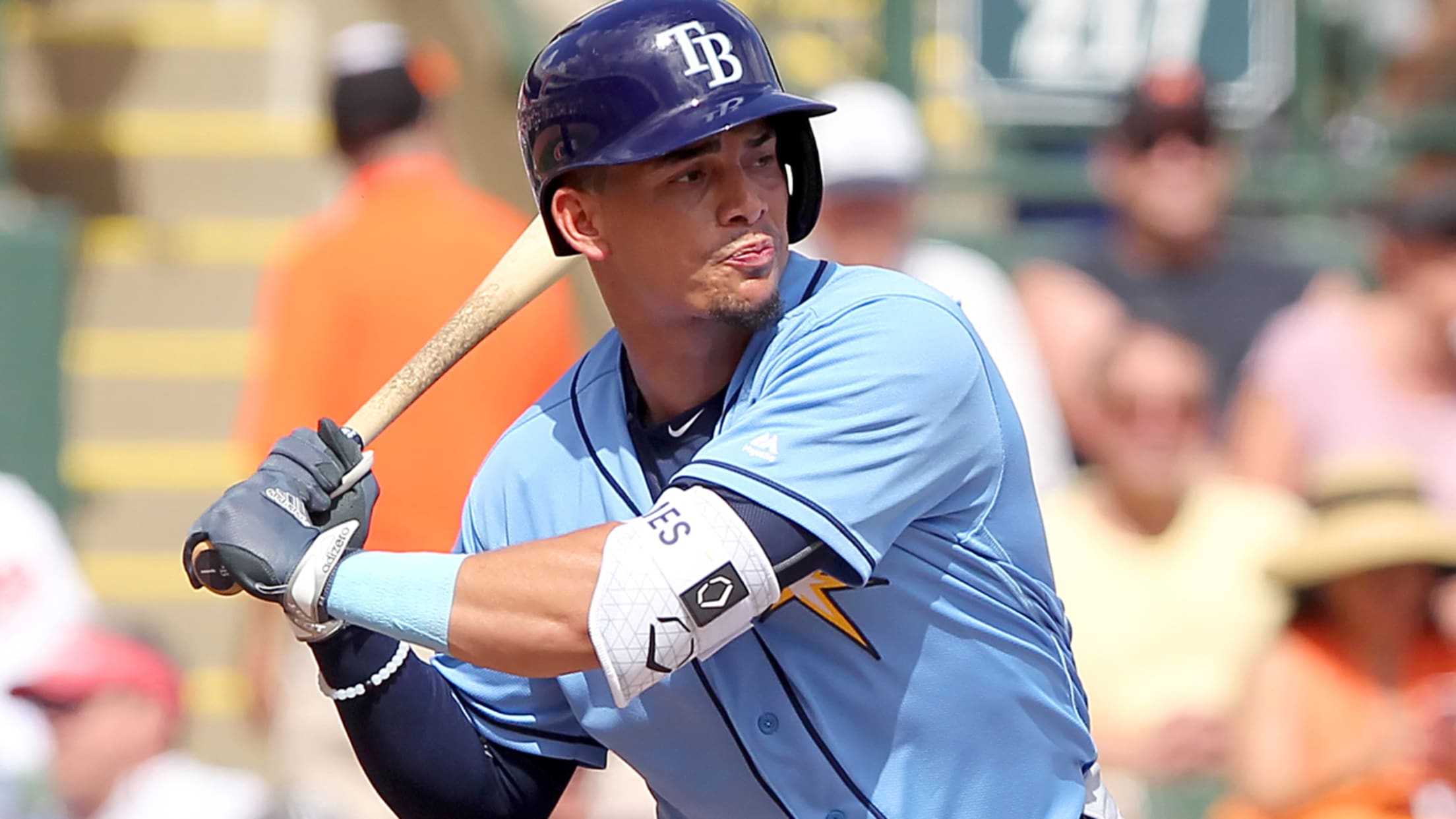 Willy Adames has hit .364/.400/.727 with two homers, two doubles and six RBIs in 10 Grapefruit League games. (Cliff Welch/MiLB.com)
The Durham Bulls won their first Triple-A championship in eight years last September, and it looks like they'll be starting 2018 with even more talent than a year ago.Tampa Bay sent seven players to Minor League camp on Sunday, including MLB.com's No. 22 overall prospect, shortstop Willy Adames , 64th-ranked Jake
The Durham Bulls won their first Triple-A championship in eight years last September, and it looks like they'll be starting 2018 with even more talent than a year ago.
Tampa Bay sent seven players to Minor League camp on Sunday, including MLB.com's No. 22 overall prospect, shortstop Willy Adames , 64th-ranked Jake Bauers and No. 81 Christian Arroyo. Adames and Bauers contributed to Durham's championship run in 2017, while Arroyo, acquired from San Francisco in December, likely will begin the year as well.
Adames was named to the Triple-A All-Star team last year and earned a spot among MiLB.com's Rays Organization All-Stars after a season in which he batted .277/.360/.415 in 130 games. Playing at the Minors' highest level for the first time at the age of 21, Tampa Bay's No. 2 prospect finished third in the International League with 140 hits and fifth with 210 total bases. Adames impressed in 10 big league games this spring, batting .364/.400/.727 with two homers, two doubles and six RBIs.
Part of the trade that sent big league third baseman Evan Longoria to the Giants, Arroyo provides the Rays major depth on the left side of the infield. While Adames played some second base last year for the first time in his career, Arroyo has seen action at both second and third. The natural shortstop was limited to 59 games between Triple-A Sacramento and San Francisco in 2017 due to a right wrist injury and a broken left hand that required surgery. In the Pacific Coast League, the Rays' No. 6 prospect hit .396/.461/.604 in 25 contests and earned an April promotion to the big leagues. There, he managed a .192/.244/.304 line in 34 games. The 2013 first-round pick also had a solid spring, batting .318/.400/.364 in nine games.
Bauers played more than 130 games for the second straight season in 2017, doing so in his debut stint at Triple-A. In 132 contests with the Bulls, the first baseman hit .263/.368/.412 with 13 homers -- one shy of matching his career high -- and 63 RBIs. The 2017 Rays Organization All-Star tallied a career-best 78 walks and stole 20 bases, doubling his previous personal high. Like Adames and Arroyo, the Rays' No. 5 prospect enters the 2018 season at just 22. Bauers put up a .240/.296/.400 line with a homer in 10 Grapefruit League games.
The Rays also optioned No. 10 prospect Justin Williams and 13th-ranked Joe McCarthy to Minor League camp. Both outfielders spent last year with Double-A Montgomery and earned end-of-season Southern League All-Star nods. Catcher Brett Sullivan and right-handed pitcher Hunter Wood were cut from the big league side as well.
Tyler Maun is a contributor to MiLB.com. Follow him on Twitter @TylerMaun.