Rays' Gillaspie among Players of the Week
No. 89 overall prospect goes 12-for-25, plates 10 in seven games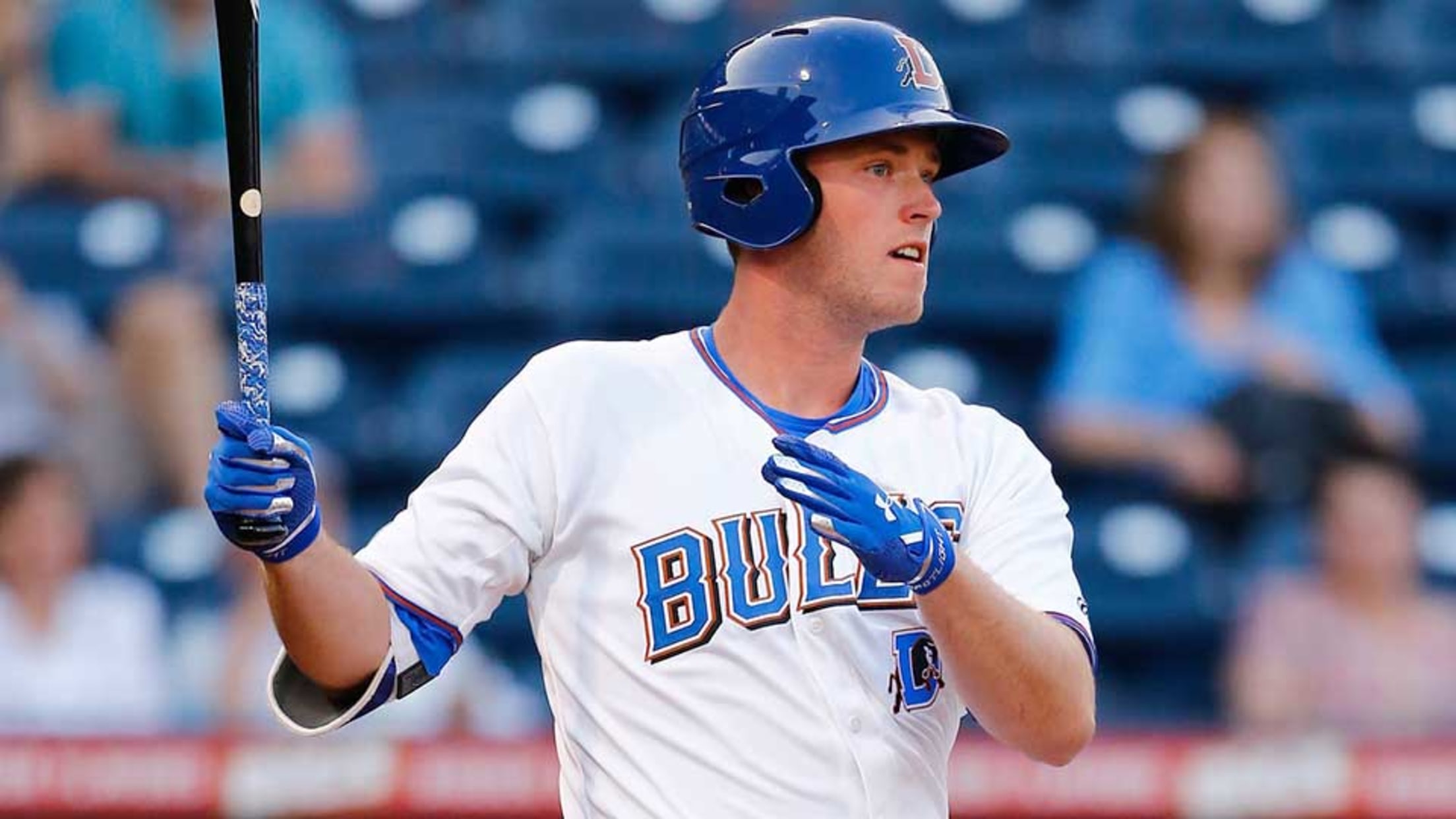 Casey Gillaspie has collected 10 hits in his last five games alone for Triple-A Durham. (Chris Robertson/MiLB.com)
Casey Gillaspie likely began the season thinking a Major League debut was a significant possibility at some point in 2017. As late as the middle of June, it had become clear that he'd have to start hitting and hitting in bunches, if that was going to happen.Last week brought good
Casey Gillaspie likely began the season thinking a Major League debut was a significant possibility at some point in 2017. As late as the middle of June, it had become clear that he'd have to start hitting and hitting in bunches, if that was going to happen.
Last week brought good news on that front.
The Rays' No. 5 prospect has been named International League Player of the Week after going 12-for-25 (.480) with a homer, five doubles, 10 RBIs over seven games last week for Triple-A Durham.
Gillaspie has collected multiple hits in four of his last five games with his standout performance coming Saturday, when he went 3-for-4 with a homer, a double, two walks and three RBIs. His nine runs scored were the most by any IL player during the week of June 19-25 and his 12 hits were tied at the top with Rochester's Zack Granite and Syracuse's Andrew Stevenson. He's also walked more times (five) than he has struck out.
Those would be impressive numbers, no matter the hitter, but they're especially so for the 24-year-old, switch-hitting first baseman, who entered the week hitting just .202/.272/.324 over his first 62 games of the season. His .595 OPS at the time ranked 70th among the 77 qualfied hitters in the International League. That wasn't the start anyone envisioned for a player who had hit .307/.389/.520 with seven homers in 47 games at the Minors' highest level in 2016. It was his ability to initially thrive at the Minors' highest level that pushed Gillaspie to the No. 89 spot in MLB.com's top 100 rankings.
• View the Pitcher of the Week winners »
Gillaspie told MiLB.com over the weekend that he felt like he was trying to force the issue in April and May, which had the opposite of the intended effect on his performance at the plate.
"You always want to start out good and come out of the gates playing well. I just wasn't able to do that this year," he said. "I've started picking it up the last few games after I told myself to just start over, take one at-bat at a time and not try and hit three homers every game.
"I'm putting myself in better counts to hit in. My focus is on that, so I'm trying to forget the first few months but learn from it at the same time. I can't go back and change the past. What's happened has happened, but I'm not gonna lie -- the first two months were tough on me. Any time you struggle, there's a lesson to be learned and I think I've definitely learned mine."
Gillaspie has raised his season slash line to .228/.301/.369 following last week's breakout and has risen seven spots on the IL OPS leaderboard, sitting 63rd with a .669 OPS.
Thankfully for all involved, the Rays haven't needed to push their 2014 first-rounder this season. Led by a resurgent Logan Morrison (22 homers, .933 OPS), Tampa Bay first basemen rank fifth in the Majors with a collective 2.7 WAR, and Corey Dickerson (.330/.371/.587, 17 homers) has Rays designated hitters leading their cohorts with 3.2 WAR. That's given Gillaspie, who has spent his entire Minor League career at first base, ample time to work on his offensive game, and it appears the fruit of those labors is ripening in late June.
Here's the complete list of the Minor League Offensive Players of the Week for June 19-25:
Sam Dykstra is a reporter for MiLB.com. Follow and interact with him on Twitter, @SamDykstraMiLB.