Walls continues to rake for Hot Rods
Rays No. 30 prospect notches second straight four-hit game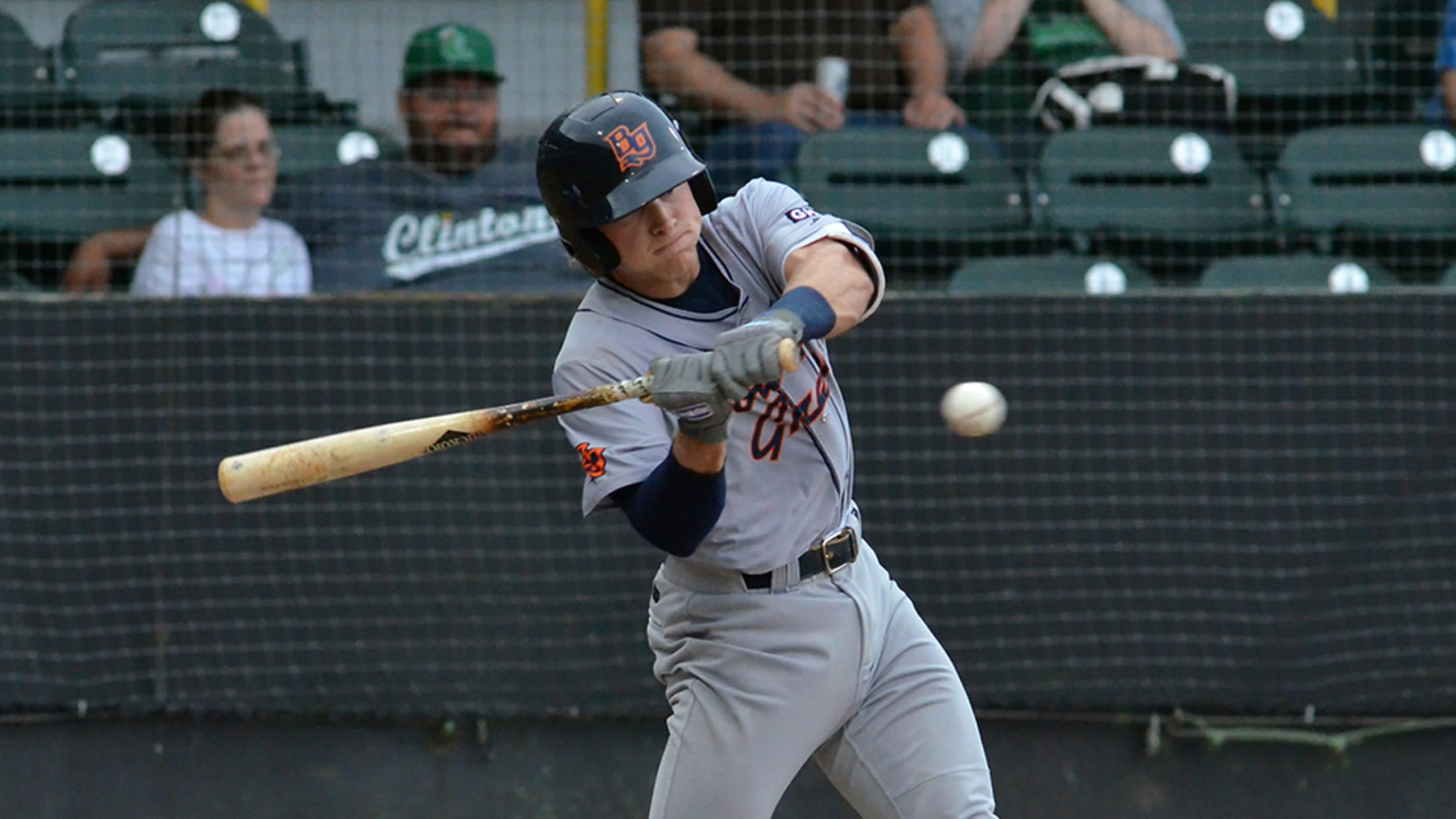 Taylor Walls ranks third in the Midwest League with a .427 on-base percentage and fourth with a .891 OPS. (Paul R. Gierhart/MiLB.com)
As a switch-hitter, Taylor Walls has developed a unique routine to find a rhythm from both sides of the plate. To say it's been working the past few days would be an understatement. The 30th-ranked Rays prospect collected four hits for the second straight game, falling a homer shy of the
As a switch-hitter, Taylor Walls has developed a unique routine to find a rhythm from both sides of the plate. To say it's been working the past few days would be an understatement.
The 30th-ranked Rays prospect collected four hits for the second straight game, falling a homer shy of the cycle in Class A Bowling Green's 7-5 come-from-behind victory over Fort Wayne on Tuesday at Parkview Field. Walls doubled twice, tripled, scored three times and collected two RBIs.
Gameday box score
In May, the 21-year-old is hitting .340 with an .840 OPS to raise his slash line to .337/.427/.464. It's a marked improvement over his first season in the Minors, when he batted .213/.330/.287 in 46 games with Class A Short Season Hudson Valley.
Sitting fourth in the Midwest League in batting, Walls said he's found a game plan that's both comfortable and producing consistent results. With 11 hits in the last four contests, he hopes the torrid pace continues into June.
"Right now, I'm just very comfortable, I guess," he said. "I'm just seeing the ball well and just executing as far as my approach goes and what I'm looking to do every at-bat. And the hits happen to be falling right now. I'm just squaring it up."
Working with the Bowling Green coaching staff, Walls has honed in on tweaking specific things on each side of the batters' box. Two months into his first full season, the 2017 third-round pick thinks the biggest adjustment he's made is putting a bigger emphasis on the quality of swings rather than the quantity of reps in the batting cage.
"I have a different routine lefty than I do righty because there's different tendencies that I have left-handed from what I might do right-handed or there might be things I do right-handed and not left," Walls said. "I have a routine for both of them every day, but I've been really working on toning down the amount of swings. I came in probably doing a little too much before every game. I've been trying to find that perfect in-between."
Batting from the right side in the first, the Florida State product whacked a 2-1 offering from left-hander Aaron Leasher into left field for a double. Two innings later, with Adrian Rondon at second, Walls ripped the third pitch into left field and legged out his fourth triple of the year.
"I saw [left fielder Robbie Podorsky] dive for it and I knew it was going to take a little bit to get up and get the ball in," Walls said. "I was around second and just figured. And it was less than two outs, it was my job to try and get third base and get somebody an RBI."
After leading off the sixth with a single and lining into a forceout in the seventh, the shortstop found himself in a prime spot to do damage in the ninth. With the Hot Rods trailing, 5-4, and Eleardo Cabrera and Rays No. 18 prospect Vidal Brujan on first and second, Walls ripped the sixth pitch from Travis Radke into left field, tying it with his second two-bagger of the night.
After failing to get down a sacrifice earlier in the at-bat, the Georgia native and the Hot Rods were pleased with the result.
"A 3-2 count, personally, I think it's a hitter's count," Walls said. "With runners on first and second and no outs, I'm just looking for something up in the zone or out over the plate hard the other way and do a job and get the runners over. ... I actually went into that at-bat bunting and then just eventually letting me swing way. [Radke] left the changeup up, 3-2, and I just was able to put the barrel on it."
The Hot Rods grabbed the lead on an RBI groundout by 19th-ranked prospect Ronaldo Hernandez and extended it on Devin Davis' single.
Andrew Battifarano is a contributor to MiLB.com. Follow him on Twitter, @AndrewAtBatt.