Miracle's Grzelakowski has career night
Twins catcher posts career-best five hits, drives in two runs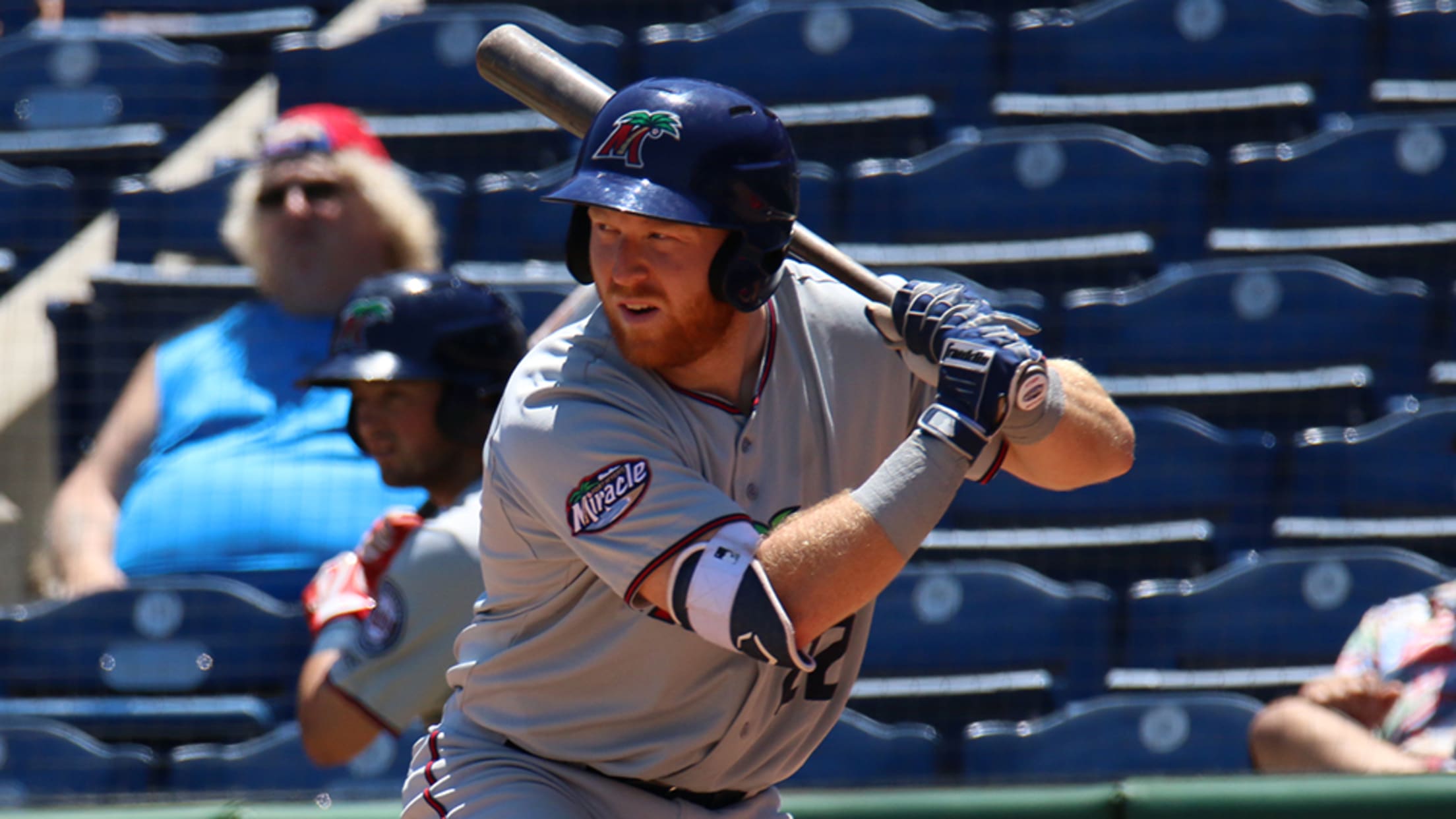 Taylor Grzelakowski raised his average from .274 to .289 with his five-hit night. (Joshua Tjiong /MiLB.com)
Taylor Grzelakowski was not drafted out of tiny Madonna University, an NAIA school in southeast Michigan. So just playing professional baseball is a blessing to him. Getting five hits in a game was downright indescribable.But Grzelakowski pulled that off Thursday, going 5-for-6 with a double and two RBIs as Class
Taylor Grzelakowski was not drafted out of tiny Madonna University, an NAIA school in southeast Michigan. So just playing professional baseball is a blessing to him. Getting five hits in a game was downright indescribable.
But Grzelakowski pulled that off Thursday, going 5-for-6 with a double and two RBIs as Class A Advanced Fort Myers outlasted Daytona, 9-8, in 11 innings at Jackie Robinson Ballpark.
Gameday box score
The 24-year-old said he could not remember getting that many hits in any level of competition, whether it was high school, college or his stint in the independent United Shore Professional Baseball League.
"Not to my memory," Grzelakowski said. "I knew I had a couple of hits, but I was just kind of chill, just trying to find the barrel. ... I've never even talked to a professional scout. Right after college, I just signed in indy ball."
The Fraser, Michigan native hooked on with the Utica Unicorns after school largely because they were "in my backyard."
He had a degree in business administation with a concentration in marketing, and had interned for a sporting goods and apparel company called TeamSports Inc. He figured he might play indy ball for a couple of years and then go get a job.
"It was close to home, and they draw like 3,500 [people] a night, it's not bad. I was just going to try it for the rest of that summer and then another year."
Grzelakowski played about a month for Utica -- posting a 1.045 OPS -- when he caught the eye of Twins scout Billy Milos.
"Billy was my savior, phenomenal guy," Grzelakowski said, adding that he proposed to his girlfriend, Sarah, on the field in Utica when he inked his deal with Minnesota.
She completely supported the decision, he added, which gave him the desire to move forward.
"I've dated her since freshman year of high school, and there was no question. She said, 'Go play until someone tells you not to.' ... Even now, she's a schoolteacher and she's supporting us [financially]."
Grzelakowski had the support of his partner, but quickly discovered the difference between the NAIA, indy ball and affiliated ball.
"Oh my God, I can't even tell you," he said. "I played one month in the [Rookie-level Gulf Coast League] last summer, and I had to adapt. In the NAIA, I was seeing 87-90 [mph] and now I'm seeing 96, 98."
Grzelakowski went 8-for-36 in the GCL last summer and came to Minor League camp this spring just hoping to make a full-season club.
"My goal was to make low-A and I ended up in high-A," he said. And he has acquitted himself well. Following Thursday's outburst, the lefty swinger is hitting .289/.369/.462 with 25 extra-base hits and 29 RBIs.
His started his night with a flyout to left field, but in the fourth, Grzelakowski began his run of five straight hits with a single to center off Daytona starter Tejay Antone. In the sixth, he lined a single the opposite way against Antone, and two frames later, he doubled beyond the reach of center fielder Taylor Trammell, the No. 3 Reds prospect.
In the ninth, he singled home Twins top prospectRoyce Lewis during a four-run rally that briefly put the Miracle ahead, 6-5.
After the Tortugas tied it on Brantley Bell's single in the ninth, Fort Myers grabbed the lead again in the 10th, after right fielder Malik Collymore's fielding error allowed Aaron Whitefield to score. Grzelakowski then smacked the second offering from reliever Carlos Diaz into center for an RBI base knock.
Daytona knotted the score in the bottom half on Collymore's two-run homer. But another fielding error -- by Daytona first baseman Ibandel Isabel -- allowed the Miracle to regain the lead for good in the 11th.
After his terrific night at the plate, Grzelakowski was not ready to look far ahead. He's not even talking about a jump to Double-A
"Not at all," he said. "I'm just happy to have another day to play baseball."
Vince Lara-Cinisomo is a contributor to MiLB.com. Follow him on Twitter @vincelara.