Taylor's two-homer night propels Bisons to big comeback win over Saints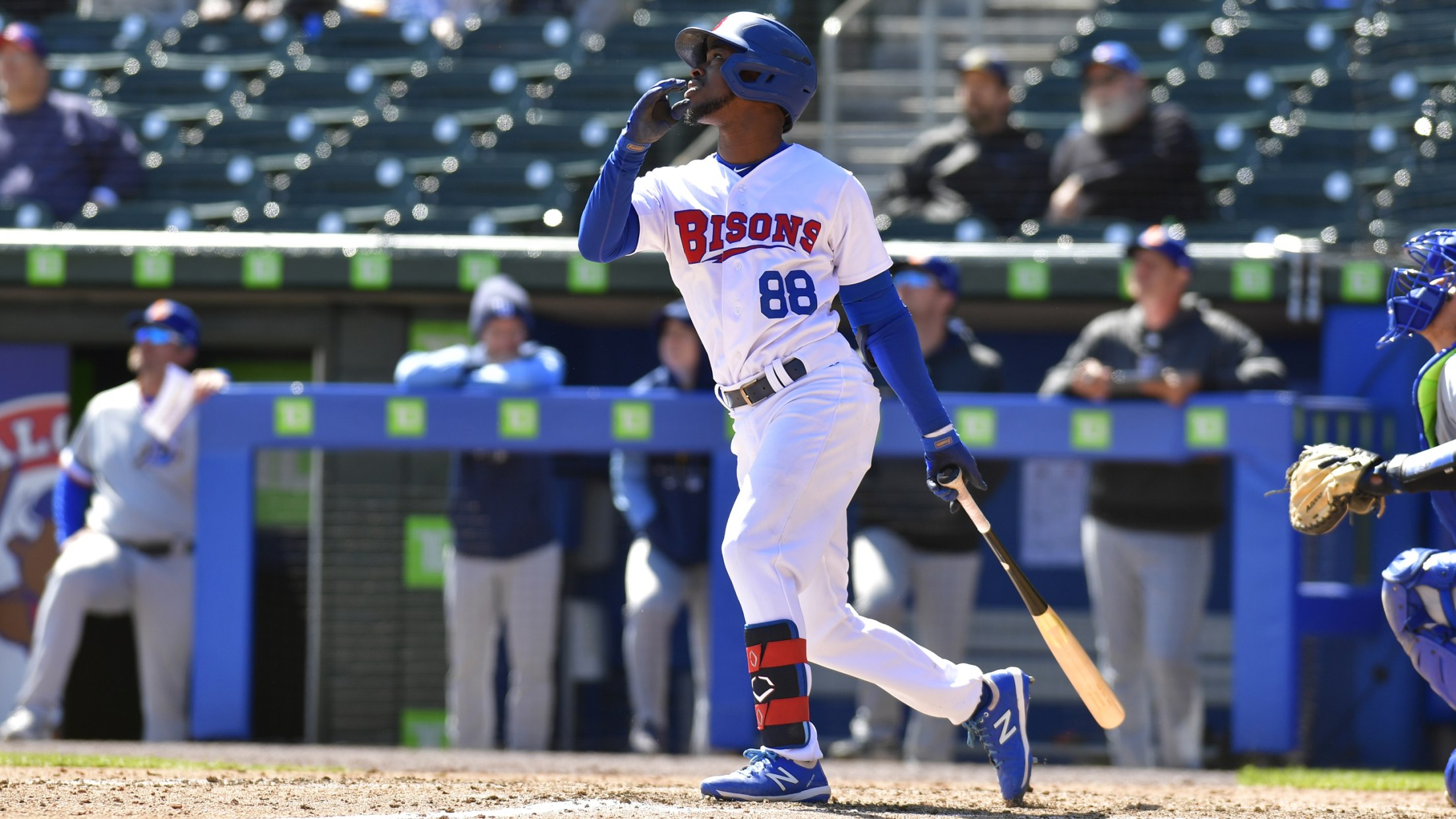 BUFFALO, NY — Led by a two-homer, five-RBI night by Samad Taylor, the Buffalo Bisons defeated the St. Paul Saints 8-7 on Tuesday night from Sahlen Field after trailing by five on three separate occasions. It was yet another bullpen night for the Herd, with Brandon Eisert getting the start
BUFFALO, NY — Led by a two-homer, five-RBI night by Samad Taylor, the Buffalo Bisons defeated the St. Paul Saints 8-7 on Tuesday night from Sahlen Field after trailing by five on three separate occasions.
It was yet another bullpen night for the Herd, with Brandon Eisert getting the start and throwing two strong innings to open things up. Joe Biagini followed and would go on to give up five runs, though just two of them were earned as a costly error by Taylor on what could've been an inning-ending double play ball extended the inning.
The Bisons ultimately used seven pitchers over the first seven innings with none going more than two; Tayler Saucedo faced just three batters without recording an out before he was ejected for arguing after he got squeezed on a few pitches.
The Herd would score their first runs of the game off a pair of solo home runs, one by Stevie Berman in the fifth and one by Taylor in the sixth.
The highlight of the night, however, was the incredible catch made by Chavez Young in the fifth. With the bases loaded and nobody out — the aftermath of Saucedo's outing — Jermaine Palacios hit what would've been a grand slam to centerfield, but Young leaped up over the wall and brought it back, saving three runs in the process.
Palacios would ensure the next one went out for good, however, this time crushing a ball over the wall in left his next time up. The Herd responded in the bottom half thanks to an RBI sac fly by Taylor and an RBI single by Jordan Groshans to cut the deficit to three.
The Bisons continued to chip away in the eighth, cutting the lead to just two after Young scored on a double by Nick Podkul which knocked out Jovani Moran and brought on Yennier Cano and his 0.60 ERA.
With two on and Taylor back at the plate representing the go-ahead run, he promptly crushed his second home run of the night into left to put the Bisons on top 8-7. Derek Holland then came on and closed things out in order to finish off the big comeback win.
The Bisons and Saints will continue their series tomorrow night, with Casey Lawrence back on the mound after a brief stint with the Blue Jays. First pitch is set for 7:05 p.m. EST.