Tebow, Mets blast Red Sox, 6-3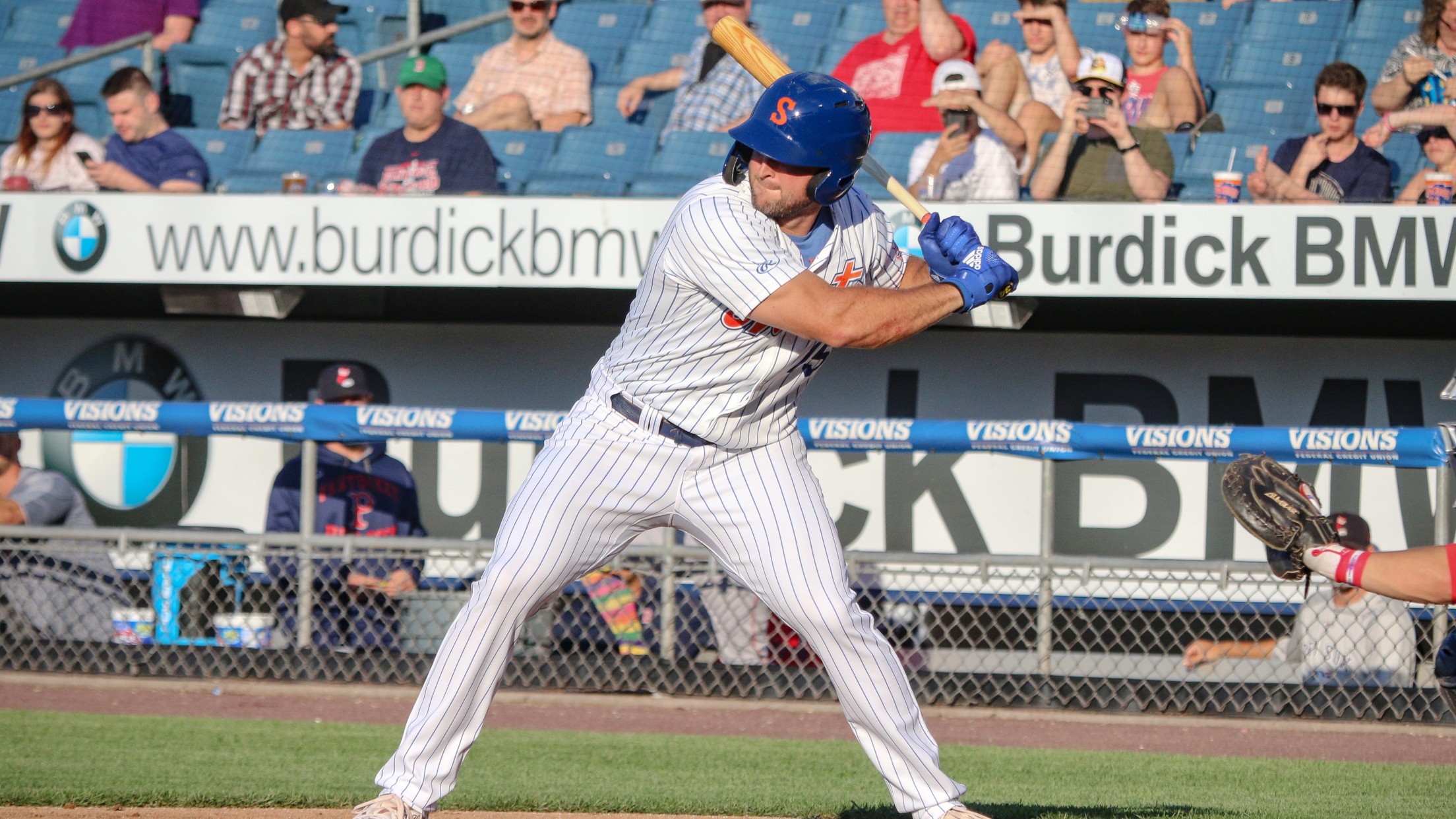 Tim Tebow reached base twice, including with a two-run double in Syracuse's win on Wednesday night (Danny Tripodi)
Syracuse, NY - Tim Tebow knocked a go-ahead, two-run double to left field in the seventh inning to propel the Syracuse Mets to a 6-3 victory over the Pawtucket Red Sox at NBT Bank Stadium on Wednesday night. Luis Guillorme also stayed hot with a game-high three RBIs on the
Syracuse, NY - Tim Tebow knocked a go-ahead, two-run double to left field in the seventh inning to propel the Syracuse Mets to a 6-3 victory over the Pawtucket Red Sox at NBT Bank Stadium on Wednesday night. Luis Guillorme also stayed hot with a game-high three RBIs on the night.
Syracuse (38-40) scored the game's decisive runs in the bottom of the seventh inning. The game was tied, 2-2, heading into the frame when Aaron Altherr singled and Arismendy Alcantara walked to bring up Tebow with runners on first and second and one out. Tebow ripped a double to the left-field wall to plate both runners and give the Mets the lead, 4-2. The next batter, Rajai Davis, then singled, and both Davis and Tebow came around to score on a Guillorme single after that, making it a 6-2 ballgame.
Pawtucket (31-45) added its final run in the ninth inning on a groundout into a double play by Jake Romanski that scored Chris Owings from third to trim the Syracuse lead to three, 6-3. Gorkys Hernández followed with a groundout to third base, ending the game.
The Mets scored the game's first run in the fourth. Dilson Herrera hit the first pitch of the inning over the right-field fence. Herrera's team-leading 17th home run of the season gave the Mets a 1-0 lead.
The Red Sox took a brief lead in the top of the sixth. Chad De La Guerra hit a solo home run to center field with one out to tie the game, 1-1. Bryce Brentz then doubled, and after a groundout and intentional walk, Owings singled to left to score Brentz and give the PawSox a 2-1 lead.
The Mets quickly tied the game in the bottom of the sixth. Guillorme led off the inning with his third home run with Syracuse this season, which came on the first pitch of the frame and knotted the score, 2-2.
Starting pitcher Harol Gonzalez made his Syracuse debut Wednesday after being called up from Double-A Binghamton. The 24-year-old allowed two earned runs on six hits with four strikeouts in five and 2/3 innings. Mets relievers Daniel Zamora and Tim Peterson didn't allow a hit or run in two and 1/3 combined innings on the mound. Jacob Rhame closed out the game for Syracuse in the ninth.
Syracuse and Pawtucket play once more on Thursday night. First pitch is scheduled for 6:35 p.m. at NBT Bank Stadium.