Bisons mourn passing of Ted Savage
Savage was inducted into Buffalo Baseball Hall of Fame in 2016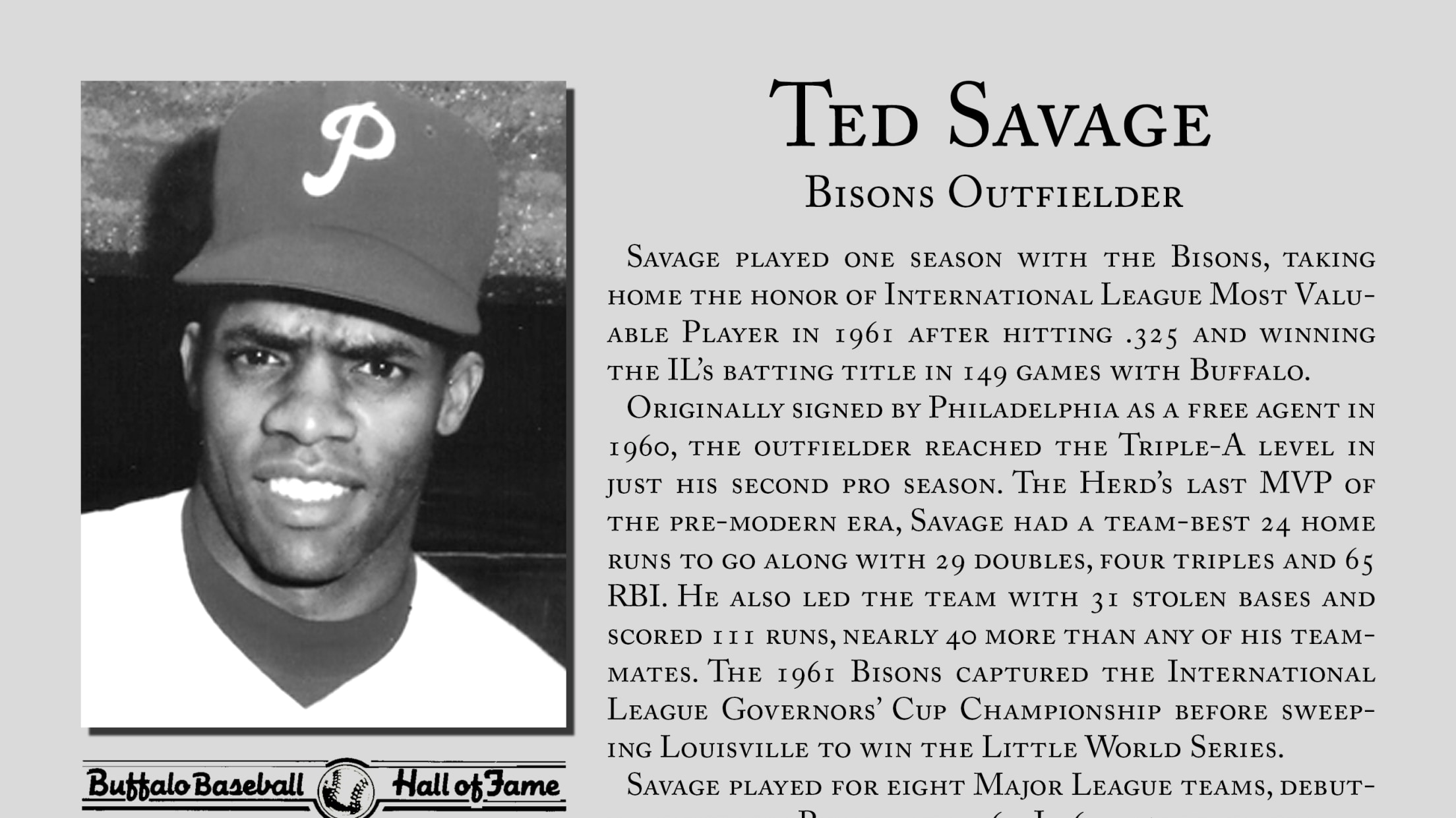 BUFFALO, NY - The Buffalo Bisons mourn the passing of Buffalo Baseball Hall of Fame member Ted Savage. Savage was elected as a member of the Buffalo Baseball Hall of Fame in 2016. He played one season with the Bisons, taking home the honor of International League Most Valuable Player
BUFFALO, NY - The Buffalo Bisons mourn the passing of Buffalo Baseball Hall of Fame member Ted Savage.
Savage was elected as a member of the Buffalo Baseball Hall of Fame in 2016. He played one season with the Bisons, taking home the honor of International League Most Valuable Player in 1961 after hitting .325 and winning the IL's batting title in 149 games with Buffalo.
The St. Louis native was signed by the Philadelphia Phillies as a free agent in 1960, the outfielder reached the Triple-A level in just his second professional season. Savage had a team-best 24 home runs to go along with 29 doubles, four triples, 65 RBI and 31 stolen bases (also lead the Bisons that season) and became the Herd's final pre-modern era MVP. He also scored 111 runs that season, nearly 40 more than any of his teammates.
The 1961 Bisons went on to capture the International League Governors' Cup Championship before sweeping Louisville to win the Little World Series.
Savage made his Major League debut with the Phillies in 1962, one of eight teams he would play for across nine MLB season. In 642 games, he hit .233 with 34 home runs, 163 RBI and 49 stolen bases. He set personal bests with 114 games played, 12 home runs and 50 RBI in 1970 with the Milwaukee Brewers.