'Iron Man' Antone twirls gem for Lookouts
Reds right-hander allows one hit over eight scoreless frames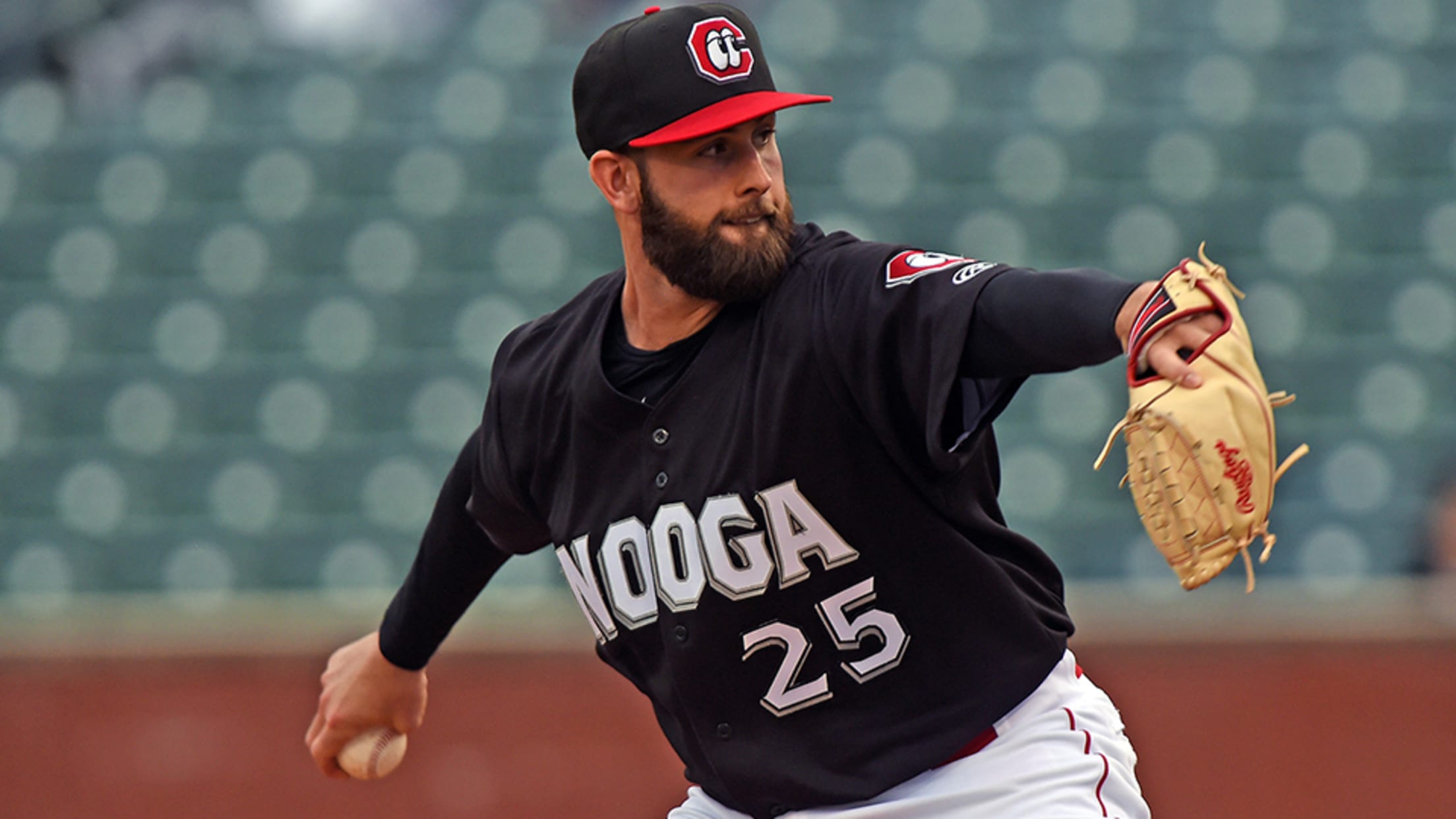 Tejay Antone has won his last three starts and leads the Southern League with seven victories. (Brian McLeod/MiLB.com)
It's all about confidence for Tejay Antone.The Cincinnati right-hander -- who is enjoying one of the best stretches of his professional career -- attributes his run of success to being confident. Enough for Antone to turn in his second gem of the season Monday, working around a hit and three
It's all about confidence for Tejay Antone.
The Cincinnati right-hander -- who is enjoying one of the best stretches of his professional career -- attributes his run of success to being confident. Enough for Antone to turn in his second gem of the season Monday, working around a hit and three walks while whiffing seven over a season-high eight scoreless frames to pace Double-A Chattanooga past Mobile, 3-1, at AT&T Field.
Gameday box score
Not only did he know he had a no-hit bid in the seventh inning, the 2014 fifth-round pick admitted he was working hard to achieve it.
"I go out there every time trying to throw a perfect game," said Antone (7-3), who tossed six perfect innings at Tennessee on May 9. "If it doesn't happen, it doesn't happen. But that's my mentality every time I go out there.
"I knew about the no-hitter since the first inning, and I wanted it. But after I gave up the hit my thinking just shifted to just throw a complete game now."
Antone's seven punchouts tied the season high he notched on April 28 and May 23. The Southern League wins leader earned his third straight victory and lowered his ERA to 2.83. His 63 2/3 innings rank second on the circuit to Biloxi's Trey Supak, Milwaukee's No. 11 prospect, while his 1.05 WHIP is tied for fifth-best and his .211 average against ranks ninth.
Against the BayBears, Antone worked around plunking No. 4 Angels prospectJahmai Jones with one out in the first inning by inducing a flyout to center field from Bo Way and getting 23rd-ranked Jack Kruger to roll over a sinker and ground out to short.
"I've been working on trusting my sinker more," the Weatherford College product said. "That's my best pitch, but in certain situations like when I'm trying to put a guy away or maybe there's a guy on base, I want to throw something else. But our pitching coach (Danny Darwin) has been telling me to just trust the sinker, get the ground-ball out, save your arm and be more efficient. And that's what helped me work so quickly tonight -- just trusting the sinker more."
The Mansfield, Texas, native faced the minimum over the next five frames -- erasing a one-out walk to Connor Justus in the third by getting MLB.com's No. 14 overall prospectJo Adell to hit into an inning-ending 6-4-3 double play. Antone benefited from another double play in the fifth after a leadoff walk to Brendon Sanger. He needed just six pitches to navigate through the fourth, and he used 13 pitches or fewer in five of his seven frames.
The only time Antone labored was in the seventh. After Jones popped out to short on the first pitch of the inning, Way knocked a single to center on an 0-1 pitch that caught too much of the zone. After punching out Kruger, Sanger worked a seven-pitch walk to push Mobile's only runner in scoring position against Antone. But he escaped the jam by striking out Jhoan Urena, having tossed 20 of his 98 pitches in the frame.
"It was nice to be up and down for most of the game. Guys were swinging early and I was having quick innings," Antone said. "But in the seventh, I had to work a little longer. I had to really bear down and pull out some pitches to get through that inning. I knew that threw off my pace. When I came back after the eighth and P.K. [Lookouts manager Pat Kelly] told me that was it, I was like, 'Darn.'"
The 6-foot-4, 205-pound hurler retired the side in the eighth on 11 pitches. He collected 10 of his 24 outs on the ground.
"I had mixed emotions when I got pulled, because I understand I can't win the game by myself," Antone said. "I would love to have gone out there in the ninth and be competing, but we have a bullpen full of guys that can get the job done and throw a heck of a lot harder than I do.
"I realize it's not just me. I just throw it. The guys behind me make the plays and we have a really good offense that can put up runs. So we all did our job tonight and got the win."
Antone has yet to allow more than three earned runs in a start this season.
Jesse Stallings allowed a run on two hits and whiffed one in the ninth to notch his second save.
Mitch Nay led Chattanooga with three RBIs. Cincinnati's No. 2 prospectTaylor Trammell collected a hit and scored while 13th-ranked TJ Friedl and No. 29 Alfredo Rodriguez each added a pair of knocks and a run.
Jones doubled and scored the BayBears' run in the ninth.
Rob Terranova is a contributor to MiLB.com. Follow him on Twitter, @RobTnova24.