Cornelius crushes two homers for Smokies
Cubs prospect finishes triple shy of cycle, drives in four runs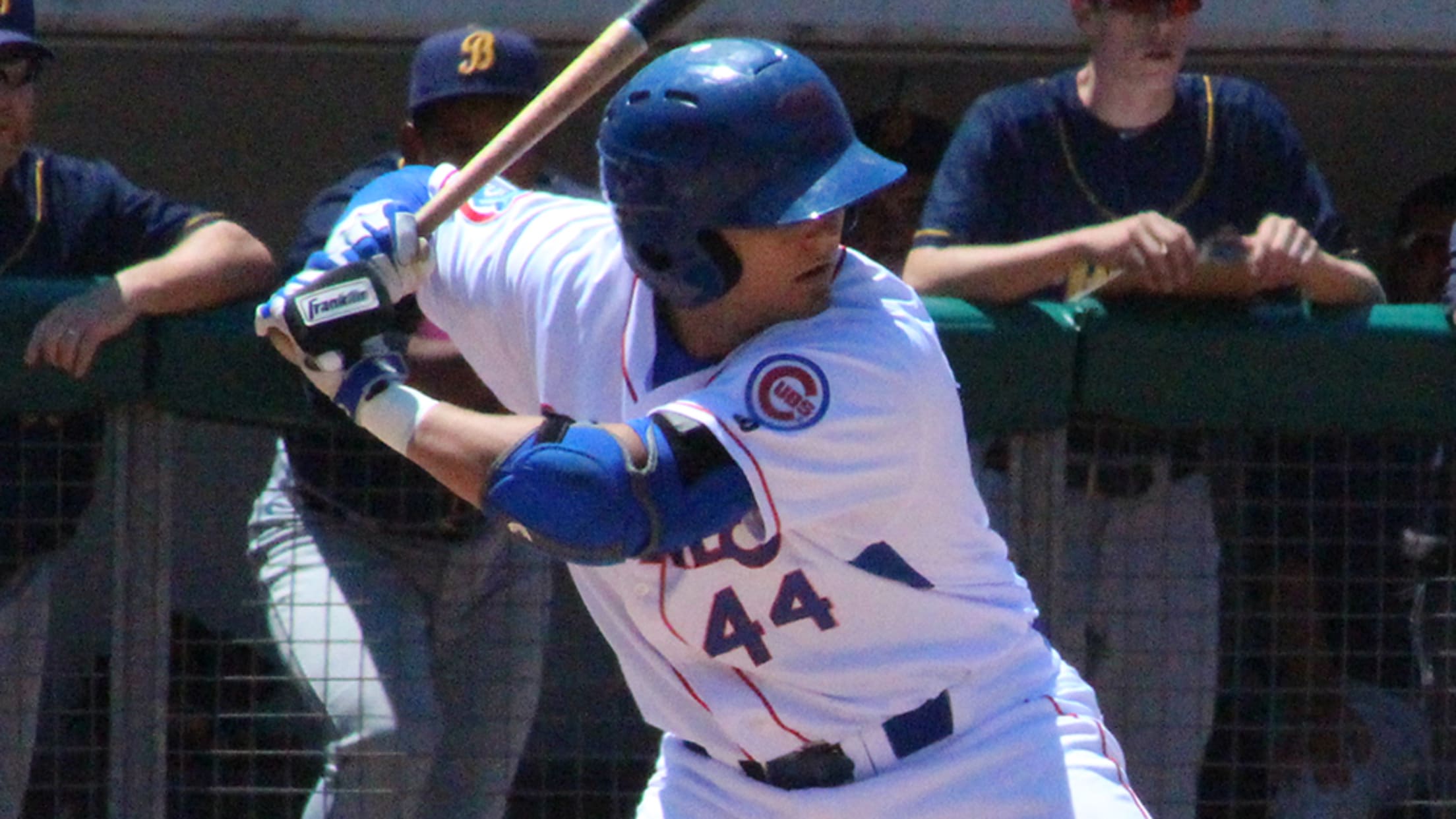 Kevin Cornelius has raised his OPS more than 280 points to .697 over the past week. (Tennessee Smokies)
It's been a rough season for Kevin Cornelius, but he had collected five hits in his previous four games to provide a flicker of hope. That flicker turned into a spotlight after his performance on Tuesday afternoon.The Cubs prospect homered twice and finished a triple shy of the cycle in
It's been a rough season for Kevin Cornelius, but he had collected five hits in his previous four games to provide a flicker of hope. That flicker turned into a spotlight after his performance on Tuesday afternoon.
The Cubs prospect homered twice and finished a triple shy of the cycle in Double-A Tennessee's 8-4 win over Montgomery at Smokies Stadium. He set a career high with four hits as part of his third multi-homer game in the Minor Leagues.
Gameday box score
"I've had some struggles recently and it felt good to have a good day at the plate," Cornelius said. "I wasn't doing well before, but I'm starting to figure it out now with help from my coaches and teammates."
Cornelius led off the bottom of the second inning after the Smokies sent seven men to the plate and scored twice in the first. He took two balls from Biscuits starter Logan Darnell before lifting the left-hander's next pitch over the right field wall for a solo homer.
"He got behind quick with two curveballs and Cruzie [Tennesee hitting coach Jacob Cruz] has been telling me to be aggressive on outside fastballs in positive counts, and that's what I was figuring when I was up there," Cornelius said. "He left it up and away and I went with it."
The 24-year-old first baseman came up again in the third , but Darnell got him in a 1-2 hole with a runner on first and one out. Unfazed by the count as a result of watching teammates like Charcer Burks -- who ranks ninth in the Southern League with a .293 batting average -- Cornelius went yard to center to extend the Smokies' lead to 5-0.
"I got behind and it was actually an inside pitch -- still a fastball -- and another thing we talked about is always try to hunt the fastball and react otherwise," Cornelius said. "I was still waiting for a fastball and happened to keep my hands in long enough and took it out to center.
"Watching other guys like Burks, I like to watch him when he's behind in the count. It seems like it never gets to him. I tried to take something he does and use it as my own."
After Fernando Baez struck him out in the fifth, Cornelius poked an RBI single to center off Brad Schreiber in the sixth before doubling to center in the eighth off Yoel Espinal. That left him a triple shy of the cycle with little chance of batting again, but Cornelius wouldn't trade either of his homers for the elusive triple, which would have been the third of his five-year career.
"I'm not the fastest guy, so chances are I probably wouldn't have gotten to third either way," he said.
After the Cubs added the 2013 31st-round pick in December's Rule 5 Draft, ending his four-year tenure in the Yankees organization, Cornelius broke his hand during the first week of live batting practice this spring and rehabbed in extended spring training before making his Double-A debut on May 12. He was hitting .158/.222/.193 through 63 plate appearances before going 9-for-19 in his past five games to pull that line up to a more respectable .237/.289/.408.
"It goes back to working with Cruz. I was doing a lot of different things wrong that I have not done in the past, and he cued on that and starting helping me out," Cornelius said. "We really focused on keeping my hands inside the ball, really just trying to enforce that and create the muscle memory. He's helped me a ton. We've been working on it for longer than the past couple weeks, but it's starting to show now."
With his Spring Training and April wiped out by the injury, Cornelius is just now finding his way at the plate after getting the number of live at-bats most players get leading up to the start of the season. He also had only 31 at-bats from May 24-June 30, but he's started five of the Smokies' last seven games as his bat has come back to life.
"I think the main deal is that as a hitter it's good to see pitches," Cornelius said. "The only thing I can say is I missed a lot of at-bats, and losing ABs means losing sight of the ball or not being comfortable. I wasn't as comfortable as I would've liked when I first got here, but I'm starting to feel a bit better."
Jason Vosler and Trey Martin both had three hits and two RBIs for Tennessee, while Carlos Penalver went 3-for-4 with two runs scored.
Cubs No. 14 prospect Duane Underwood (8-4) recorded his fourth win in six starts after allowing three runs on five hits and three walks while striking out six over 5 1/3 innings.
Nathan Lukes was 3-for-5 with a solo homer for Montgomery, which got two hits -- including a two-run homer -- from Dalton Kelly.