Texas League playoff preview
Peters, Tulsa face Arkansas; Corpus, San Antonio meet in South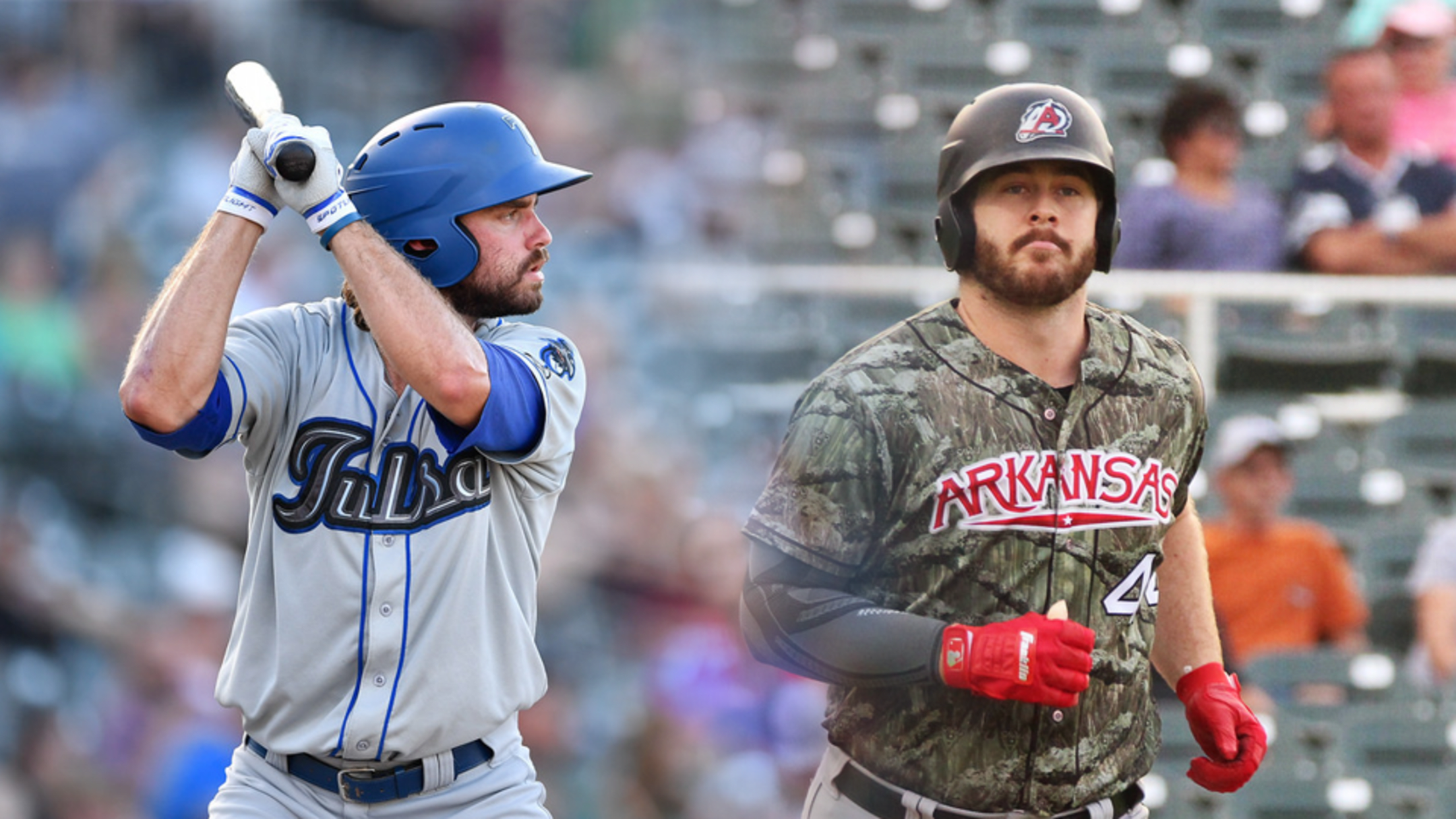 Tulsa's DJ Peters led the loop with 29 homers, while Arkansas' Joey Curletta was league MVP. (Shane Roper / Joshua Tjiong)
One thing's for certain in the Texas League playoffs -- there will be a different champion for the first time in five years.The Midland RockHounds' record-breaking string of four consecutive titles came to an end when they failed to qualify for this year's playoffs, which begin Wednesday in Arkansas and
One thing's for certain in the Texas League playoffs -- there will be a different champion for the first time in five years.
The Midland RockHounds' record-breaking string of four consecutive titles came to an end when they failed to qualify for this year's playoffs, which begin Wednesday in Arkansas and Corpus Christi. The team the RockHounds edged in a five-game series last year, however, is making a repeat performance.
The Tulsa Drillers, who missed clinching the first-half North Division title by one game, earned another chance at a Texas League title by winning the second half by four games. The Drillers will open the division series on Wednesday at Arkansas; Corpus Christi and San Antonio will play in the other division series.
"We had a bad taste in our mouth, losing Game 5," Tulsa manager Scott Hennessey said. "Everyone is a competitor. And they want to win one more game. That's our motto: Just one more game than last year."
Arkansas Travelers (71-68, North Division first-half champion) vs.
Tulsa Drillers (74-65, North Division second-half champion)
Season series tied 16-16
Game 1 at Arkansas, Sept. 5 at 7:10 p.m. ET

Game 2 at Arkansas, Sept. 6 at 7:10 p.m. ET

Game 3 at Tulsa, Sept. 7 at 8:05 p.m. ET

Game 4 at Tulsa (if necessary), Sept. 8 at 8:05 p.m. ET

Game 5 at Tulsa (if necessary), Sept. 9 at 2:05 p.m. ET

The Drillers' formula has been simple this season.
"There's no secret to what we do," Hennessey said. "We're trying to play for the three-run homer. Sometimes we get it. Sometimes we don't."
The Drillers have gotten enough of them to set a team record with 184 roundtrippers heading into Wednesday's first round of the Texas League playoffs. The power also led Tulsa there by way of the second-half Texas League North Division championship and a chance at what they came so close to obtaining a year ago: a league title.
Tulsa will play against first-half North Division winner Arkansas in a best-of-5 series starting Wednesday at Dickey-Stephens Park in North Little Rock, Arkansas.
The bats figure to be the Drillers' best chance for being the last club standing.
In addition to home runs, Tulsa led the Texas League with 687 runs scored. DJ Peters has anchored the Drillers' lineup with 29 home runs, while Jacob Scavuzzo had 24 and Drew Jackson finished with 15. Will Smith -- who was promoted to Triple A Oklahoma City -- hit 19, and Luke Raley -- who was involved in a trade.
Standing in their way of another trip to the Championship Series is the Travelers, who boast the league's most consistent hitter.
First baseman Joey Curletta was named Texas League Player of the Year after hitting .282 with 23 home runs and 94 RBIs.
"You see what he's capable of doing and it's just a matter of him putting it together at this level," Arkansas manager Darren Brown said. "I'm a little biased, but he's had the best year in the league as far as a hitter goes."
Curletta and center fielder Braden Bishop helped lead the Travs to the first-half title, but Bishop was lost for the season in July when he was hit by a pitch and suffered a broken forearm.
Since, the Travs offense has lagged, but their pitching has maintained consistency.
Williams Pérez has a 2.28 ERA in 13 starts since joining the team in June, while Johendí Jiminian has a 3.49 ERA in 16 starts. Matt Festa, a post-season Texas League All-Star selection, leads the Texas League with 20 saves even after two stints with the Seattle Mariners.
"I think it'll come down to pitching -- it always does," Brown said. "It's about pitching and getting the job done on the mound. We do that, we'll have a chance."
Corpus Christi Hooks (82-56, South Division first- and second-half champion) vs.
San Antonio Missions (71-67, South Division Wild Card)
Corpus Christi won the season series, 17-11
Game 1 at Corpus Christi, Sept. 5 at 7:35 p.m. ET

Game 2 at Corpus Christi, Sept. 6 at 7:35 p.m. ET

Game 3 at San Antonio, Sept. 7 at 8:05 p.m. ET

Game 4 at San Antonio (if necessary), Sept. 8 at 8:05 p.m. ET

Game 5 at Corpus Christi (if necessary), Sept. 9 at 5:05 p.m. ET

Randy César set the Texas League mark for consistency this year, so it only made sense that his team was the most consistent all year.
Cesar, the Corpus Christi Hooks' third baseman, broke a 49-year-old record by hitting safely in 42 consecutive games this season. Cesar, in his first season at Double-A, hit .296 with 10 home runs and 62 RBIs, a force the helped the Hooks finish the regular season with the league's best record for the third time in the last four seasons.
The Hooks have one of the league's most consistent pitchers, too, in Ryan Hartman. He led the Texas League in wins (11), ERA (2.69), and strikeouts (143). He's complemented by Corbin Martin (7-2, 2.97 ERA), and Brandon Bielak (2-5, 2.35 ERA).
San Antonio is in the playoffs for the second consecutive year but will be without its two best players. Shortstop Fernando Tatis Jr., the San Diego Padres' No. 1 prospect, hit .286 with 16 home runs and 43 RBIs before suffering a season-ending thumb injury on July 19. Logan Allen was named Texas League Pitcher of the Year after going 10-6 with a 2.75 ERA and striking out 25 batters in 121 innings before being promoted to Triple-A El Paso.
The Missions still have plenty of firepower, though, in the form of catcher Austin Allen, who hit .290 with 22 home runs and 56 RBIs, and Josh Naylor, who hit .297 with 17 home runs and 74 RBIs.

In brief
Ending it right:
Richie Martin
's first full season at Double-A Midland didn't include many hiccups, but the Oakland Athletics' 2015 first-round pick was at his best as the season ended. Martin finished with 11 hits over his last four games, including two four-hit games. He hit .309 over August to finish at .300 with six home runs, 42 RBIs and 25 stolen bases.
Speed kills:
Corpus Christi will likely have a speed advantage in the postseason. The Hooks boast the top two finishers in stolen bases in the Texas League in outfielders
Stephen Wrenn
(44) and
Myles Straw
(35). And though Straw has been at Triple-A Fresno for much of the season's second half, the Hooks still have four other players with 11 stolen bases or more. Their 181 stolen bases led the Texas League.
Finally coming around:
Kyle Lewis
struggled through his first few weeks at Double-A Arkansas. The Seattle Mariners' No. 1 prospect was hitting just .179 on Aug. 27, 29 games into his stint with the Travelers. But on that night, he went 3-for-4 with a homer and two runs scored. That set him on a path toward a positive finish to the regular season. Lewis will enter the playoffs having hit two home runs over his last eight regular season games.
Troy Schulte is a contributor to MiLB.com.