Jenkins makes early bid for catch of year
Rangers outfielder combines speed, acrobatics in foul territory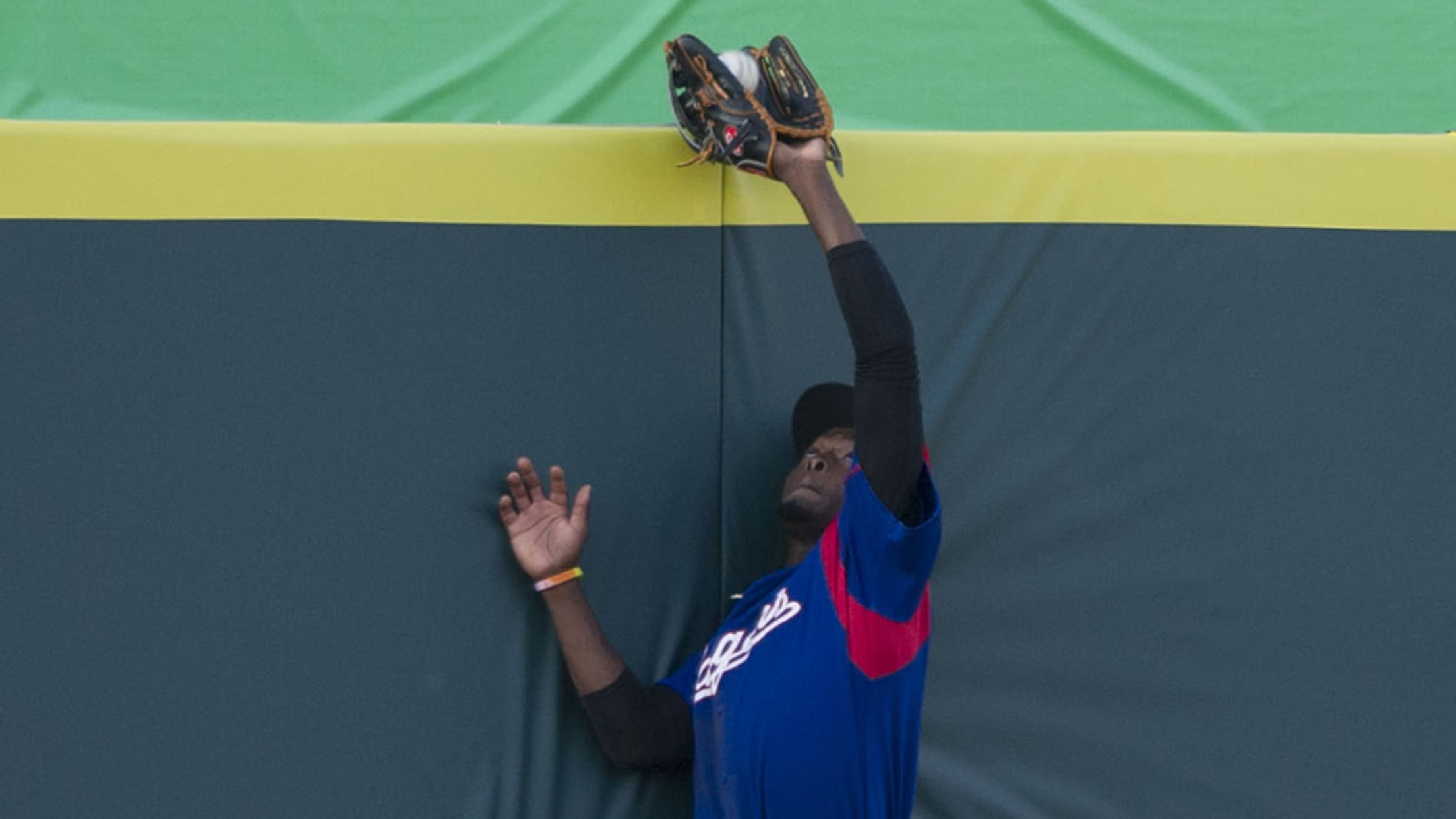 Eric Jenkins deemed the over-the-fence catch to be the "best he's ever made." (Tracy Proffitt/Hickory Crawdads)
Eric Jenkins knew he had done something special when he looked at his phone.The Texas outfielder made a highlight-reel catch in the fourth inning of Class A Advanced Down East's 11-4 victory over Frederick. And he was greeted with texts, a litany of Twitter notifications and new Instagram followers almost
Eric Jenkins knew he had done something special when he looked at his phone.
The Texas outfielder made a highlight-reel catch in the fourth inning of Class A Advanced Down East's 11-4 victory over Frederick. And he was greeted with texts, a litany of Twitter notifications and new Instagram followers almost immediately.
"I've never made a catch like that before," Jenkins said. "I've robbed a home run before, but that's the best catch I've made in my career. "
Gameday box score
In the fourth inning with bases loaded and one out, Cole Billingsley lofted the ball into foul territory in left field, the 2015 second-round pick sprinted to catch it and subsquently tumbled over a chain-link fence in a modified cartwheel. Wilson Garcia scored on the play, but Jenkins wasn't hurt and got the ball in quickly.
"I looked up at the fence when I was running,and I saw I had enough room to catch the ball," Jenkins said. "As soon as I did that, my hip hit the fence. As soon as I did that, my instincts told me to grab the bottom of the fence, so I didn't break my neck. I just landed on two feet.
"I've never did anything like that before. I happened so fast, so quick. I didn't have time to think."
Media outlets picked up on the play and when Jenkins later looked up from dinner with his family at an Applebees in Kingston, he saw the catch projected on the screen.
"It's been a crazy day," Jenkins said.
The play and the win enabled the Wood Ducks to sweep the Keys.
Josh Horton is a contributor to MiLB.com. Follow him on Twitter @joshhortonMiLB