Beras plates six in Wood Ducks' loss
Rangers No. 16 prospect goes yard for second straight night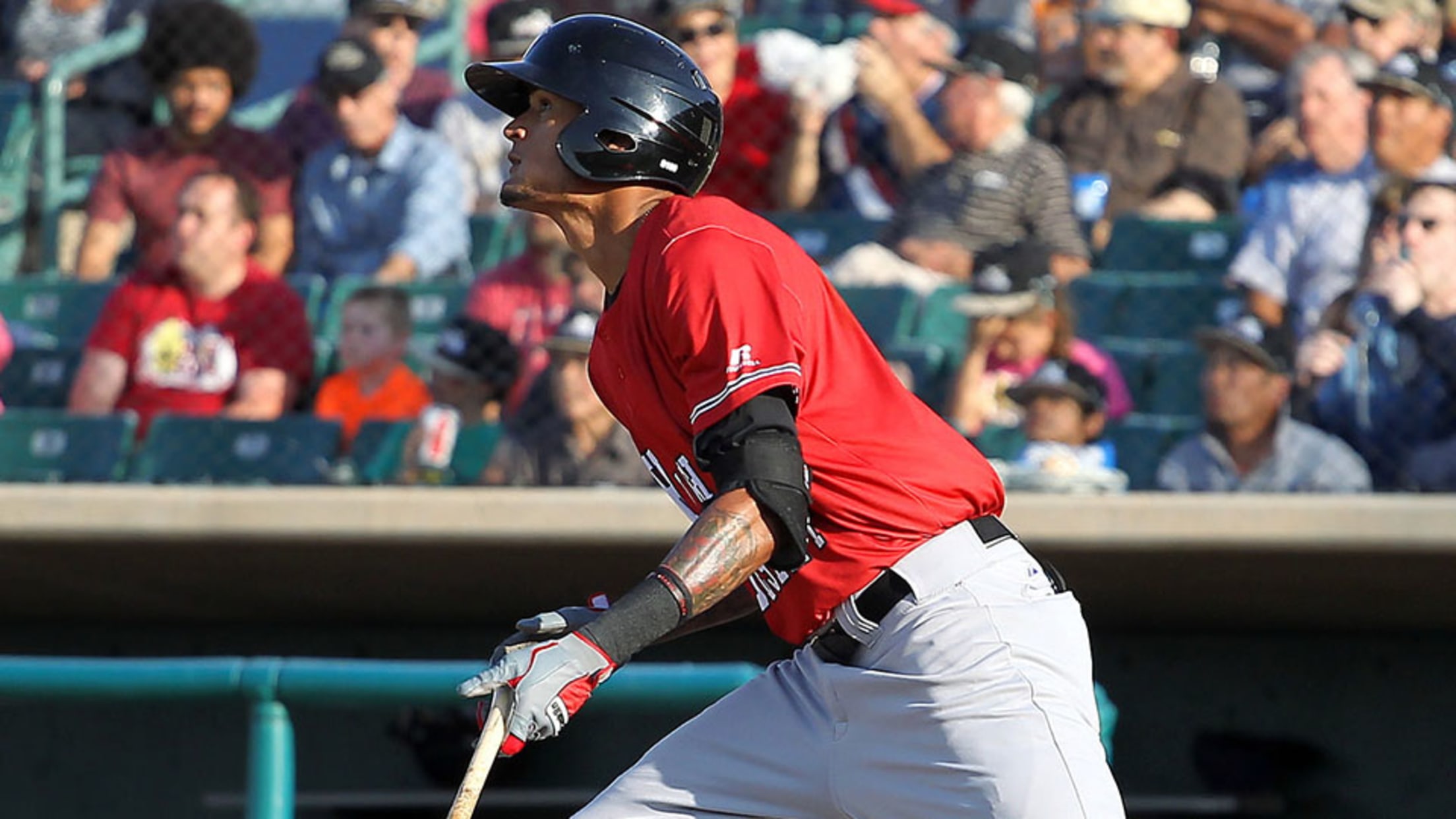 Jario Beras finished fourth in the California League with 54 extra-base hits last season. (Ben Sandstrom/MiLB.com)
Jairo Beras finished strongly in Class A Advanced Down East's first-ever regular-season game on Thursday, homering in the ninth innings to put the Wood Ducks in front for good. That success carried over into Friday's contest.The Rangers' 16th-ranked prospect drove in a career-high six runs over the opening two innings
Jairo Beras finished strongly in Class A Advanced Down East's first-ever regular-season game on Thursday, homering in the ninth innings to put the Wood Ducks in front for good. That success carried over into Friday's contest.
The Rangers' 16th-ranked prospect drove in a career-high six runs over the opening two innings of the Wood Ducks' 11-10 loss to Salem, clearing the bases with a double in the first and following that up with a three-run homer in the second. Beras finished 2-for-4 with a walk and two runs scored in the encore to his season-opening heroics.
Box score
"I have a lot of confidence at the plate," Beras said through assistant coach and translator Guilder Rodriguez. "I'm just looking for one pitch and trying to handle that pitch, and I did well today."
After LeDarious Clark led off the game with a double and Luis La O singled, Red Sox left-hander Matt Kent hit Eduard Pinto with a pitch to bring Beras to the plate with the bases loaded. After a first-pitch ball, the 6-foot-6, 195-pound outfielder drove a double to center to give Down East a 3-0 lead.
"I'm just playing and trying to make contact with men on," Beras said. "I want to hit it hard and make good contact with the pitch."
Beras scored on a fielder's choice before La O hit another single in the second and Pinto was plunked again to bring the native of the Dominican Republic up with two on and two outs.
The 22-year-old made Kent pay for keeping the inning alive, lining a three-run shot to left-center field to extend the Wood Ducks' advantage to 7-3. It was his fourth straight at-bat with a hit, including his final two plate appearances Thursday.
"That second at-bat was against the lefty and he started with the same pitch as the first 'AB,'" Beras said. "Then I made the adjustment and took his changeup and hit it."
Kent got a small measure of revenge by striking out Beras in the fourth, and right-handed reliever Austin Glorius walked the powerful outfielder two innings later before Beras ended his night with an eighth-inning strikeout.
After Beras homered twice and drove in five runs in a California League game last August, then-High Desert manager and current Down East skipper Howard Johnson talked about him controlling his at-bats and cutting down on the strikeouts -- Beras fanned 121 times in 107 games in 2016.
While he has struck out twice in each game this season, Beras also has been more aggressive, as three of his four hits have come within the first two pitches of the at-bat. The 2012 international signee was with the Rangers during Spring Training and credited some of his hot start to that experience.
"I learned a lot about pitchers at Spring Training," Beras said. "I feel a lot of confidence at home plate."
Beras totaled 22 homers and 78 RBIs a year ago and his sights are set even higher in his first season in the Carolina League.
"[My goal is to] finish strong and put up really good numbers," he said. "[I want] 30 home runs and 90 RBIs."
Clark and La O both went 3-for-6 at the top of the lineup, with Clark smacking three doubles and scoring twice and La O crossing the plate three times.
Right-hander Pedro Payano, Texas' 28th-ranked prospect, allowed three earned runs on four hits and four walks, striking out four over four innings. Austin Pettibone (0-1) took the loss, allowing two runs on two hits and two walks while retiring one batter.
The Red Sox scored six times in the bottom of the ninth to win, with No. 23 prospect Josh Tobias delivering a two-run double and Austin Rei coming through with a walk-off single.
Kent went five innings and surrendered seven earned runs on eight hits and a walk while striking out four. Bobby Poyner (1-0) picked up the win after yielding arun on three hits with three strikeouts in the final two innings.
Chris Tripodi is an editor for MiLB.com. Follow him on Twitter @christripodi.