Ducks' Palumbo racks up career-high 10 K's
Rangers' No. 6 prospect allows two hits, no walks in six frames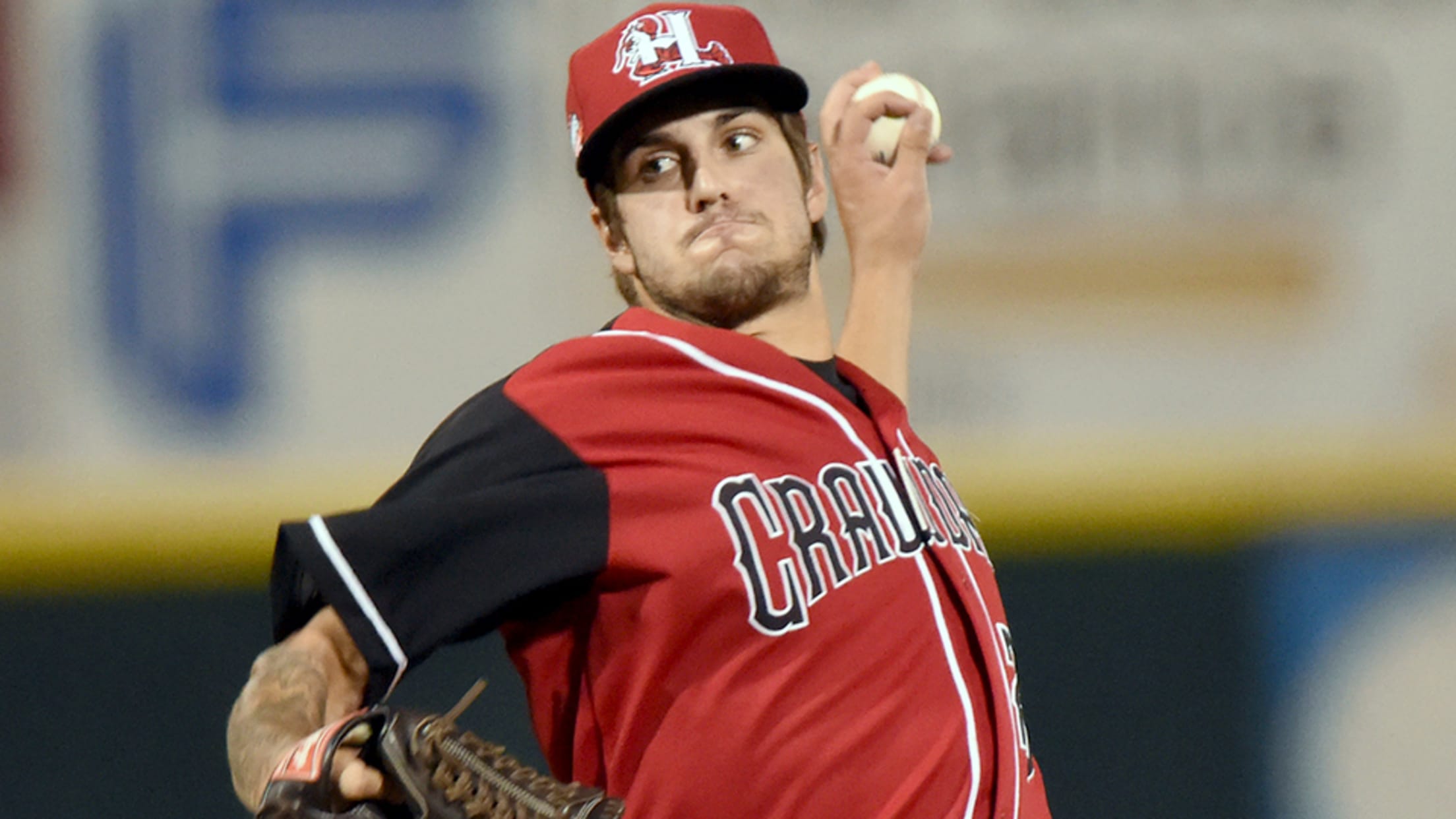 Joe Palumbo has averaged 10 K/9 during his pro career but hadn't hit double digits in a start until Wednesday. (Brian McLeod/MiLB.com)
Joe Palumbo wants to be a starter, and after a dominant run out of Class A Hickory's bullpen last season, the Texas Rangers moved him into the rotation in July. On Wednesday, he showed why he might never have to look back.The Rangers' No. 6 prospect set a career high
Joe Palumbo wants to be a starter, and after a dominant run out of Class A Hickory's bullpen last season, the Texas Rangers moved him into the rotation in July. On Wednesday, he showed why he might never have to look back.
The Rangers' No. 6 prospect set a career high with 10 strikeouts, allowed one unearned run on two hits and did not walk a batter over six innings to lead Class A Advanced Down East to a 6-1 win over Winston-Salem at Grainger Stadium.
Palumbo fanned half the batters he faced and beat out his previous best of eight punchouts, which he achieved on Aug. 28, 2016 with Hickory and Aug. 7, 2014 in the Rookie-level Arizona League. The 22-year-old left-hander didn't need long to settle into a groove Wednesday as he fanned the first four hitters in the Winston-Salem lineup. He needed only 81 pitches to complete his six frames and threw 60 of those for strikes, 14 of which were swings and misses.
"My fastball felt really good with its command, and I feel like I was able to place it well," he said. "They were pretty late on the fastball too, so I just kinda stuck with that. It was the same with my curveball too. I tried my best to make it look like the fastball coming out and was able to get some good swings and misses on it."
Also impressive, the Winston-Salem lineup included eight right-handed batters among its starting nine. (Palumbo struck out left-handed batters at a 33.6 percent clip and held them to a .149 average last season, compared to 29.7 percent and .221 for right-handers.) He limited the Dash to Johan Cruz's single in the third and Alex Call's triple in the sixth. The Dash's only lefty -- Aaron Schnurbusch -- went 0-for-3 with two strikeouts against the Down East starter.
It was an exciting second Class A Advanced start for the 2013 30th-round pick, who has become an intriguing arm in the Texas system. He climbed from No. 28 to No. 6 in MLB.com's ranking of Rangers prospects this offseason on the strength of his 2016 campaign. Palumbo began last season with a 2.16 ERA and 83 strikeouts in 58 1/3 innings out of the Hickory bullpen before getting his first start on July 23. He showed few issues with the move, posting a 2.37 ERA and 39 punchouts in 38 innings over his seven starts.
The Rangers saw enough from Palumbo in that role to test him as a starter in the Carolina League, and it hasn't take long to pay dividends. He believes there's still a part of him that remains a reliever, however.
"I felt like coming out of the bullpen helped me, even after I transitioned back to starting," he said. "I know how many pitches I need to warm up. I know what I need to be ready to go for the first pitch. There is no easing into anything. It's still a reliever mentality."
Palumbo's fastball sits in the low-90s with a big curveball that's been graded by MLB.com at 60 on the 20-80 scale and an average changeup. He's struggled with his control at times through his five seasons in the Minors, and that issue reared its head in his 2017 debut last Thursday. The southpaw needed 61 pitches to get through three innings at Salem and issued three walks. In the five days between starts, he went to work on making sure he'd find the zone with more regularity.
"Fastball command is a big thing for the Rangers and a big thing for me," Palumbo said. "It's not necessarily how hard I throw, but getting the glove-side fastball down is a big thing for me. I practiced it a ton, and like all of my pitches, it just comes to constantly throwing it and getting it better."
Palumbo, who is eligible for the Rule 5 Draft next offseason, will have to use this year to prove he's worthy of being protected on the 40-man roster. One way to help make that happen would be to remain a starter, something he's hoping to force the Rangers to do.
"I really enjoy starting," he said. "I like it way better than relieving, I think. I just like the fresh mound, pitching on a fresh field. I like being the guy on my day, the guy everyone depends on. I plan to get after it every day to make that happen, even on days when I'm not starting, and have a good season here with Down East."
Wood Ducks center fielder Michael O'Neill, nephew of Yankees outfielder Paul O'Neill, powered the offense Wednesday, going 2-for-4 with a homer and three RBIs. Shortstop Arturo Lara also went deep in the victory.
Sam Dykstra is a reporter for MiLB.com. Follow and interact with him on Twitter, @SamDykstraMiLB.