Morgan getting smarter with tools of ignorance
Rangers prospect using AFL to hone catching skills, increase utility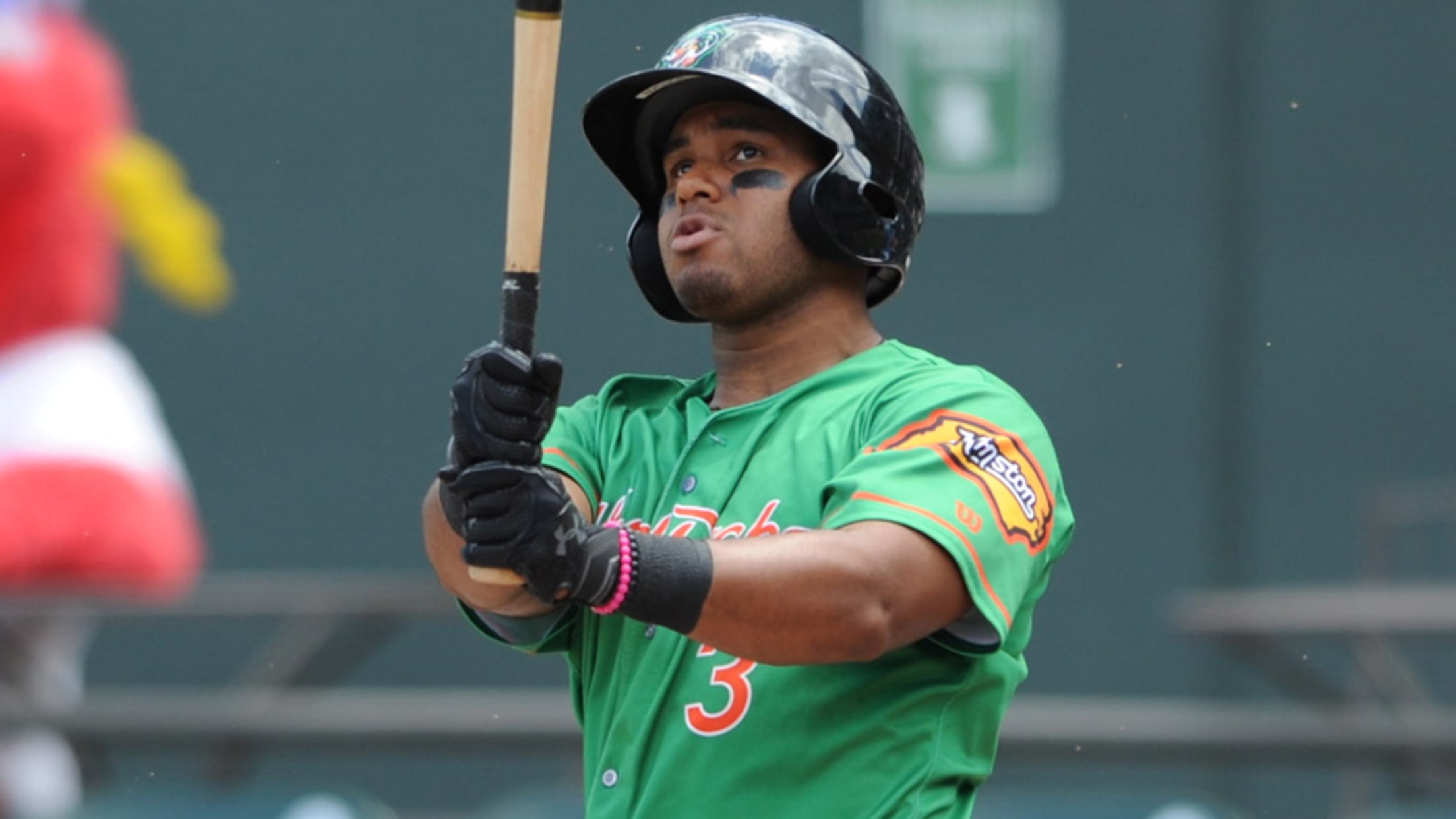 Josh Morgan batted .270/.318/.380 with 21 doubles, three triples and six homers over 106 Carolina League games this year. (Tracy Proffitt/MiLB.com)
In the closing weeks of the Minor League season, Class A Advanced Down East manager Howard Johnson broke some news to Josh Morgan."HoJo sat me down and said, 'Hey, man, congratulations. You're going to the [Arizona] Fall League,' and I said, 'OK, great,'" Morgan recalled. "He said, 'And you're going
In the closing weeks of the Minor League season, Class A Advanced Down East manager Howard Johnson broke some news to Josh Morgan.
"HoJo sat me down and said, 'Hey, man, congratulations. You're going to the [Arizona] Fall League,' and I said, 'OK, great,'" Morgan recalled. "He said, 'And you're going as a catcher.'
"I said, 'Oh!'"
The Rangers' No. 15 prospect has predominantly been a shortstop but spent the last two instructional leagues learning the ropes behind the plate, and he caught in 36 regular-season games for the Wood Ducks this year. Neither the player nor the organization, however, has the end goal of Morgan necessarily working exclusively as a catcher.
"We did something similar with Isiah Kiner-Falefa, where we wanted to expose him to catching as well as keeping him on the dirt," said Texas assistant director of player development Paul Kruger. "It's important for them to be as versatile as they can, and there's a lot of value in being able to [catch and play the infield]."
For Morgan to be able to do both at an elite level, he needs more innings as a backstop. For now, the six-week AFL stint as a taxi-squad player with the Surprise Saguaros will be intensive enough for him to make steady progress, both through games and through the work he'll do away from the lights.
"I don't know exactly what my schedule will be, how many games they'll have me at shortstop and how many as catcher. But I know I'm here to get my catching skills better," he said.
"I know the games I won't be catching or playing short in, I'm going to be catching bullpens, seeing those [top-ranked] arms. With the advanced pitchers that are here -- that's going to be really good for my development, just to see the live arms, to see what kind of run they put on their balls, the kinds of pitches I'll see in the future."
The chance to work with some of the most electric hurlers in the Minors is chief among the benefits the Rangers see in sending the 21-year-old native of Southern California to Surprise, too, and they hope what he learns will prepare him to do anything in 2018.
"Just like with [Kiner-Falefa], when he gets to Double-A, we want him to be able to play shortstop, second base, catcher and get him into the lineup every day," Kruger said. "This is an opportunity to get him around the big pitchers, the priority guys, and catch in the 'pen and be around our strength and conditioning and medical staff, to increase that flexibility and mobility and strength behind the plate without losing any ability in the infield."
Beyond catching a staff that includes 2015 Twins first-rounder Tyler Jay and No. 9 Cardinals prospectSandy Alcantara, Morgan aims to improve his game behind the plate in just about every possible way.
"If I focus on all the little details -- calling a game, blocking, throwing out runners, pitcher-catcher relationships, receiving -- it's going to help me in the big picture," he said. "And if I learn from the catchers that are here as well as the coaching staff and the pitchers, that's going to help me a lot going forward. But I know I need to work on everything, and I'm glad the Rangers gave me this opportunity to do [that work]."
If that seems like a lot to chew on in a short amount of time -- not to mention stepping into the box against top-tier pitchers -- the organization is confident the 2014 third-rounder can handle it. His intelligence and personality were part of what made Texas decide to try him as a catcher in the first place.
"If you watch him play, you see he's a leader of the club, not only on the field but in the clubhouse. He connects with everybody and brings everybody together. That's a big characteristic and trait that catchers have," Kruger said. "To allow him to be able to do the catching position, just like Isiah, exposes him to a different opportunity to get into a Major League lineup. Having that ability, whether it becomes his priority position or not, that gives the manager more options."
Johnson took advantage of that versatility in the game that won a share of the Mills Cup for the Wood Ducks this year. Morgan caught until the last inning of Down East's 2-1 win over Myrtle Beach and played shortstop for the final frame.
"It was definitely an adrenaline rush, that's for sure," he said. "Usually you don't see guys start a game at catcher and go to shortstop, but that's what the game called for. It was a cool experience, and I probably won't ever do it again."
All these responsibilities come as little surprise considering the Rangers' history. Even before Kiner-Falefa began working behind the plate, Jose Trevino, who was primarily an infielder at Oral Roberts, donned the tools of ignorance on an almost full-time basis after being drafted three rounds behind Morgan in '14. He won his second straight Minor League Gold Glove as a catcher this year. Although Morgan said he's learned a lot from his close friend Trevino, he and Kiner-Falefa are in a different situation.
"When we signed Jose and assigned him to Spokane, yeah, he played [other positions], but the idea was to catch him," Kruger said. "We drafted him as a catcher and that's [how we saw him]. These other two guys, we signed them as infielders, and we want to expand that tool box.
"We have a lot confidence in Chris Briones, our catching coordinator. The catching position is the hardest position to coach, and it takes a special kind of coach. Catching is a unique position. We wanted to make sure our guys were with coaches who knew what they're doing, and Chris, he does -- he's like a fourth coach [with the Minor League affiliates]."
Plenty of other solid coaching hands will be on deck for Morgan through the AFL. Spike Owen, who's been with Texas since 2009, is managing the Saguaros. Wade Lamont, who worked with Double-A Frisco this year, is serving as the strength and conditioning coach. On top of that, Surprise plays home games at the Rangers' Arizona facility. Whatever anybody there asks of Morgan, he's excited to deliver.
"I just wanted to be in the Fall League. That alone is a great goal to accomplish," he said. "I'm very happy the Rangers chose me to go, and I'm very happy to have the opportunity to represent them.
"Whenever I'm not playing short, I miss [it]. I grew up playing short, but I'm also really starting to enjoy catching. Whatever gets me to the big leagues and keeps me there, that's what I'm happy to do -- if that means catching full-time, that's what it means. If it means short and catcher, that's what it means. I'm liking what I'm doing right now, so I'm excited to keep going and see what the future brings."
Josh Jackson is a contributor to MiLB.com. Follow and interact with him on Twitter, @JoshJacksonMiLB.