Heineman leads charge in Express' victory
Rangers prospect homers, drives in six runs from leadoff spot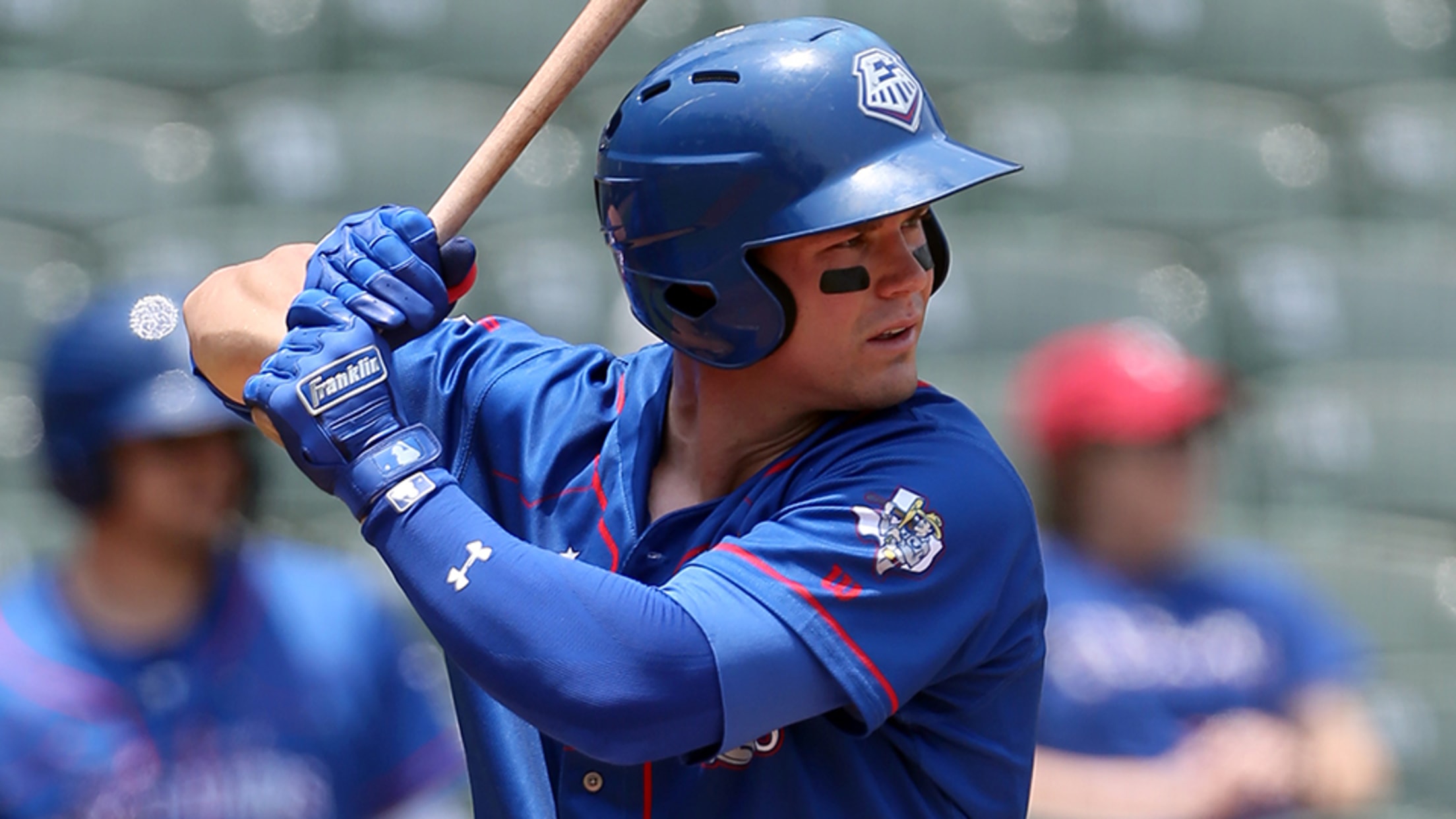 Scott Heineman is 10-for-22 with four homers and 14 RBIs in his last five games for Round Rock. (Jamie Harms/MiLB.com)
The leadoff spot doesn't typically lend itself to high RBI totals, but that hasn't applied to Scott Heineman lately. The Rangers prospect went 3-for-5 with a homer and a career-high six RBIs on Sunday in Triple-A Round Rock's 10-6 win over Las Vegas at Cashman Field. It came one day after
The leadoff spot doesn't typically lend itself to high RBI totals, but that hasn't applied to Scott Heineman lately.
The Rangers prospect went 3-for-5 with a homer and a career-high six RBIs on Sunday in Triple-A Round Rock's 10-6 win over Las Vegas at Cashman Field. It came one day after he homered twice and drove in four runs.
"I just take advantage of the opportunity," Heineman said. "I know during the first at-bat, I'm going to have no one on, so you sort of lick your chops when you do get the opportunity with guys on, and it's a tribute to the guys in the bottom half of the order that are constantly getting in base. ... If those don't get on, then there's no RBI."
The outfielder drilled a three-run homer to left-center field off Major League veteran Chris Flexen (4-5) in the third inning, then lined a two-run single to left in the fourth. He poked an RBI single up the middle off reliever Joseph Zanghi in a four-run ninth.
Heineman was one of the driving forces in a dominant offensive series for Round Rock, which totaled 40 runs in the three-game sweep.
"Sometimes it just clicks here and there and obviously, the past couple of series we've played in some hitter-friendly ballparks compared to outside of the league, and I think that's helped," Heineman said. "The team's on fire and hitting on all cylinders, and it's hard not to join in."
Gameday box score
Heineman started the season with Double-A Frisco but batted .522/.613/.739 in seven games and was promoted to Round Rock in mid-April. He's driven in at least one run in five straight games and is riding a 13-game hitting streak that's pushed his Triple-A slash line to .288/.350/.428.
Round Rock hitting coach Howard Johnson, a 14-year big league veteran, has been a helpful resource for Heineman, who said his coach has recovered well since fracturing his left cheekbone after being struck by a liner while observing a Spring Training game from the dugout.
Injuries marred what was shaping up to be a sterling college career at Oregon for Heineman. He missed the final 34 games of his freshman season in 2012 with to a foot injury and played only eight games in 2014, his first draft-eligible season, due to shoulder surgery. The Royals still selected Heineman in the 19th round of the 2014 Draft, but he did not sign and was chosen by the Rangers in the 11th round the following year.
Outside of right foot surgery in 2015 that he underwent just seven days after signing with the Rangers, Heineman has stayed off the disabled list in his Minor League career.
"Hopefully, I got all of that stuff out of my system in college," he said. "I'm just lucky to put on a uniform every day and I am definitely smarter now than I was in college about how I go about my business, putting my body in the best position to hopefully not have an injury. ... I'm just doing everything I can to control what I can control."
Heineman has a brother playing in the Brewers system at Double-A Biloxi. Tyler Heineman, with whom Scott often competed when he was younger, attended UCLA, which only added fuel to the fire.
Now that both siblings are pursuing professional careers, a friendly rivalry has evolved into a symbiotic union in which the two rely on each other for support about matters on and off the field.
"Earlier in our baseball career in high school and college, that's when our rivalry kicked in," Heineman said. "I'm not a huge check on stats [guy], I have been in the past and I'm trying to get away from that ... but he's the one guy I'll check every day to see how he's doing and shoot him a text here and there.
"We're pulling for each other every night. We talk constantly, just to keep each other in check and focused. And we talk obviously about things outside of baseball that allow us to get away from the game briefly, too. ... I'm incredibly fortunate to have him by my side, and him being a couple years older than me and all the things he's taught me, it's just been unbelievable."
Rangers No. 2 prospect Willie Calhoun doubled, singled and walked for Round Rock, while Ryan Rua belted a three-run homer.
Josh Horton is a contributor to MiLB.com. Follow him on Twitter @joshhortonMiLB