Streaking Calhoun locked in for Express
Rangers No. 2 prospect keeps rolling with three hits, home run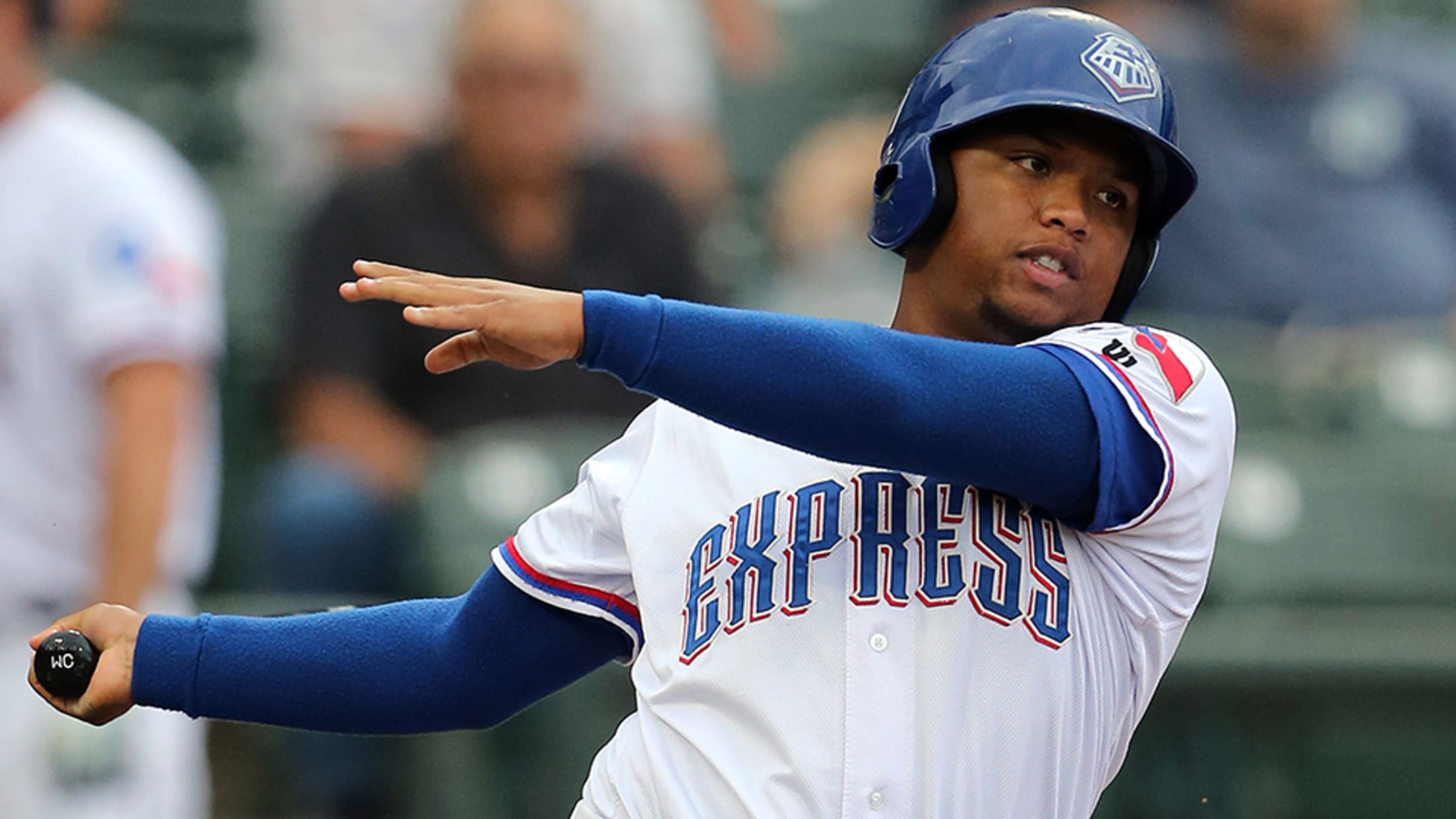 Willie Calhoun's 18-game hitting streak is tied for the sixth-longest in the Pacific Coast League this season. (Jamie Harms/MiLB.com)
Willie Calhoun isn't dwelling on the past anymore, nor is he fixated on the future. It's that sweet spot in his mindset that's led to him tearing up the Pacific Coast League again. The Rangers' second-ranked prospect extended his hitting streak to 18 games and raised his batting average above .300 for
Willie Calhoun isn't dwelling on the past anymore, nor is he fixated on the future. It's that sweet spot in his mindset that's led to him tearing up the Pacific Coast League again.
The Rangers' second-ranked prospect extended his hitting streak to 18 games and raised his batting average above .300 for the first time this season after going 3-for-4 with a homer and three RBIs in Triple-A Round Rock's 7-5 loss to Oklahoma City on Saturday at Dell Diamond.
MLB.com's No. 45 overall prospect is hitting .500 with two homers and four doubles in 12 games in July and .425 (31-for-73) during the streak, which dates to June 24.
"Ever since I put that first month behind me, I feel like I've really kept my foot on the gas and never really led up," said Calhoun, who batted .229 in April but is hitting .305 with a .797 OPS for the season.
Acquired from the Dodgers last year as the centerpiece of a Trade Deadline swap that sent Yu Darvish to Los Angeles, Calhoun made his Major League debut with Texas in September but hasn't made it back. He said he was frustrated and felt like there was nothing left to prove in Triple-A after hitting .243/.282/.324 in Spring Training. But he doesn't think about that much anymore.
Gameday box score
His hitting coach, former Major Leaguer Howard Johnson, attested to how much Calhoun has grown this season.
"There's no doubt about it, Willie has matured as a hitter, as a person," he said. "He's always been able to hit and never really had any struggle until this year at the start when he dug himself a bad hole. But he just kind of worked his way back and not tried to look down the road too far, just take each game at a time, and I think that's been the secret for him."
The 23-year-old hit .300/.355/.572 with 31 homers and 27 doubles at Oklahoma City and Round Rock last season. His power numbers are down -- he has nine homers just past the All-Star break -- but that's just fine for him. In fact, it's what he was hoping to accomplish, spraying the ball all over the field rather than settling for pullside power, which he believes has turned him into a more well-rounded hitter.
"Last year, I was kind of just 'rip and dip,' trying to hit home runs and pulling the ball" Calhoun said. "This year, I've gotten shifted a lot and I feel like I came into the season trying to eliminate the shift, because it took away a lot of hits last year. This year, I think I've done a pretty good job. I was looking at my spray chart and over 60 percent of my hits this year have been to left field.
"I told myself I wanted to be a .300 hitter, be more gap-to-gap, and the home runs will come. This year, I've finally put it all together after I put that first month behind me."
Calhoun was primarily a second baseman in the Dodgers system with some outfield appearances sprinkled in once he reached Triple-A, but the Rangers have used him exclusively in left field this season. Zeroing in on one position has helped Calhoun develop a comfortable approach defensively.
"I'm 100 percent confident right now," he said. "I've got about 100 games under my belt there ... my reads are there."
Questions about his defense have followed the 5-foot-8, 187-pound outfielder, but he said he pays little to no attention. Calhoun believes he's earned a reputation as a defensive liability because of pre-conceived notions about his limitations in the field.
"A lot of people say I'm a defensive liability, but they've never actually seen me play," he said. "It's kind of like an unfair judgment for them to say that. They just go off of what the other person says and they go with that, so they're just going to keep on saying it and saying it no matter what. I could be a Gold Glover and they'll still say, 'He's a liability out there.'
"Whatever they say about that, it really doesn't matter. Because I know what I'm capable of and I know that I'm working really hard to get better out there."
After walking in his first at-bat Saturday, Calhoun quickly ended any drama about extending his streak, clubbing a two-run homer in the third inning to give the Express a 2-1 lead.
He followed with an RBI single in the fourth and singled again in the seventh to complete his fifth three-hit game of the season.
Johnson said he's been most impressed with Calhoun's recent consistency, with the outfielder going hitless only five times since June 1. The attitude predicated on living in the moment that's helped in that regard.
"When I watch him every day, I watch his at-bats closely," Johnson said. "And I try to pick my spots about what to say because I want him to figure some things out on his own. Many times I've told him the importance of waiting, being aggressive, but on a pitch that you can handle rather than try and chase hits and try and chase results and numbers. You can't survive that way.
"It's just been a steady improvement in the at-bats. There's a bad at-bat here, there's a bad at-bat there, but it hasn't affected the rest of his game. That's the kind of stuff I look for. ... When I see him do what he's doing now, I know that he's in a good spot and he can help a Major League team right now."
Andy Ibáñez also collected three hits for the Express.
Kyle Garlick slugged a go-ahead grand slam in the eighth for the Dodgers.
Josh Horton is a contributor to MiLB.com. Follow him on Twitter @joshhorton22