Frisco's Mendez, Wiles snag weekly honors
Duo shares Texas League award after dominating doubleheader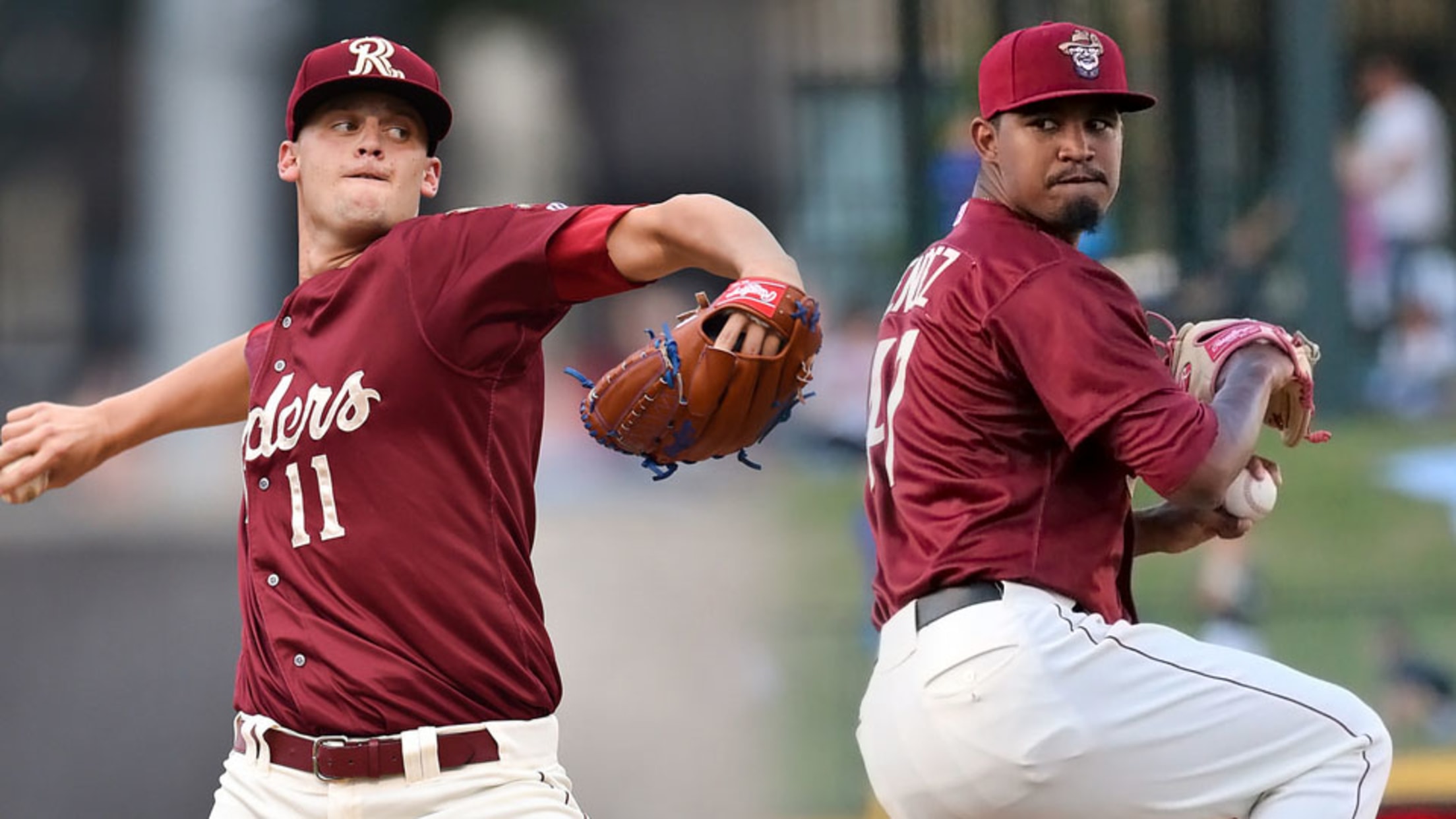 Collin Wiles (left) and Yohander Mendez held Arkansas to five hits over two games on June 3. (Shane Roper, Joshua Tjiong)
They may play in the Lone Star State, but Frisco teammates Yohander Méndez and Collin Wiles will both be getting stars this week.Each hurler pitched a shutout during the RoughRiders' doubleheader Saturday, prompting the Double-A Texas League to give out co-Pitcher of the Week awards. Mendez and Wiles combined to
They may play in the Lone Star State, but Frisco teammates Yohander Méndez and Collin Wiles will both be getting stars this week.
Each hurler pitched a shutout during the RoughRiders' doubleheader Saturday, prompting the Double-A Texas League to give out co-Pitcher of the Week awards. Mendez and Wiles combined to hold Arkansas to five hits over 14 shutout frames on June 3, earning them a rare shared honor.
"I think this was a first, so it was a good day for the team and for both of them," Frisco pitching coach Brian Shouse said after the twin bill.
Mendez, ranked as the Rangers' No. 2 prospect and No. 48 overall by MLB.com, matched the longest outing of his career by limiting the Travelers to three hits in seven frames. He struck out five and walked one in a 7-0 win in Saturday's opener.
Wiles kept the scoreless string going in the nightcap, holding the Angels affiliate to a pair of hits with two strikeouts and a walk over seven innings in a 2-0 win for his fifth victory.
• View the Player of the Week winners »
"I think they both remembered what they were able to do and what they weren't able to do, and I think they kind of stuck with that game plan," Shouse said. "I think they both accomplished what they set out to do."
Mendez improved to 3-3. He owns a 3.52 ERA and has struck out 53 and walked 26 in 69 innings this year. The 22-year-old, who made his Major League debut last September, is holding batters to a .196 average this year. He's gone at least six innings in nine of his last 10 starts.
Wiles, 23, is 5-2 with a 3.15 ERA in 12 outings. The Rangers' Minor League Pitcher of the Month for April struck out 49 and walked just nine in 65 2/3 frames. A Kansas native, Wiles was a supplemental first-round pick by Texas in 2012 and was a South Atlantic League All-Star with Class A Hickory in 2015. The 6-foot-4 righty has also seen brief time in Major League Spring Training with Texas in each of the last two years, throwing 1 2/3 innings.
Shouse was impressed with both on Saturday.
"What he's able to do when guys get on there is that he focuses a little bit more," Shouse said of Mendez. "He's just really able to execute the pitches when he needs to. He's able just to come up with that big pitch ... to help him get out of those innings."
He said Wiles was also aggressive in going after batters.
"I thought they just attacked the zone, they went after the hitters. I thought they did a good job of going in and out with the fastball and changing eye levels at times and just kept guys off-balance and got some quick outs," he told MiLB.com.
Below is a full list of the Minor League Pitchers of the Week for May 29 - June 4: